With Weight Watchers and Intermittent Fasting, you don't have to limit what you eat … just when you eat it. You can choose to eat during the times that work best for your individual lifestyle. Both programs are the least restrictive "diets" you'll ever try, and both have amazingly high success rates. You don't have to deny yourself that chocolate chip cookie or those Cheddar Bay Biscuits – you just have to know the point value, count it, and eat it during your OPEN window times.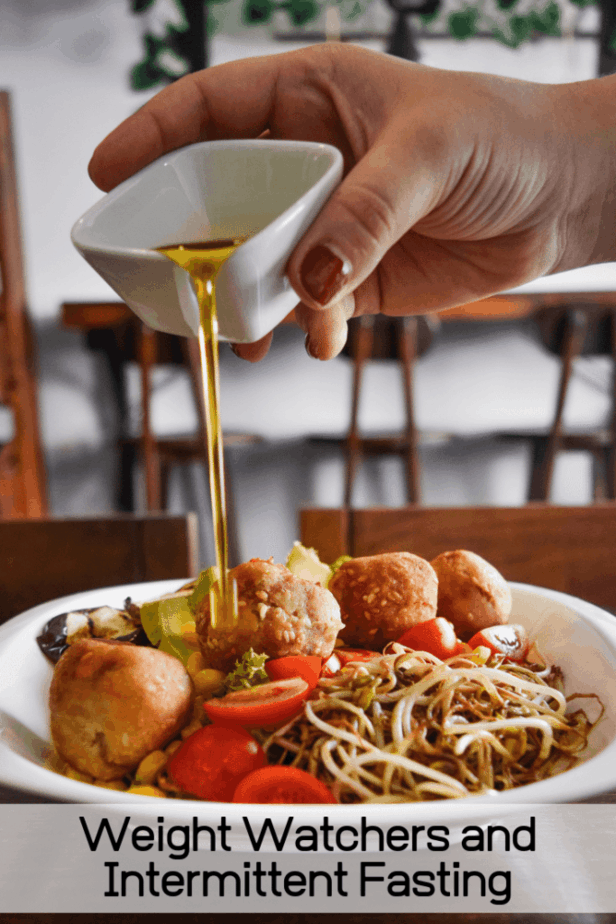 Weight Watchers and Intermittent Fasting
You may have questions about Intermittent Fasting, so my goal here is to answer them. If you have other questions, please leave them in the comments. We are all learning as we go, and we're all in this together!
If you're new to Weight Watchers, check out a sample meal plan here.
What is Intermittent Fasting?
The word "fasting" scares the crap out of me. I picture starving all day, only being able to drink water, and having zero energy. However, Intermittent Fasting actually has the opposite effect! IF is an eating pattern where you eat during a certain window of time, and do not eat (or drink – except water and black coffee) during the rest of the day/night. If you think about it, we are already fasting after dinner until breakfast (for the most part), with breakfast literally being the "breaking" of the "fast".
If you go to bed at 10PM and wake up at 8AM, you've fasted for 10 hours. Stop eating 2 hours before bed, and don't eat 2 hours after you wake up, and you're fasting for 14 hours without thinking much of it. 16:8 is the most popular fasting cycle, so add an hour to each side (so stop eating 3 hours before bed and don't eat until 3 hours after you wake up), and you're doing Intermittent Fasting!
Intermittent Fasting is not about restricting the foods you eat, but rather when you're allowed to eat them. Because I would go overboard if I was allowed to eat anything I wanted, I combine Weight Watchers with Intermittent Fasting. This method of eating is simple and pretty easy to do.
Intermittent Fasting has a reputation for being great for quick weight loss, and it works quickly for most people as long as they follow the rules. More about those later. 😉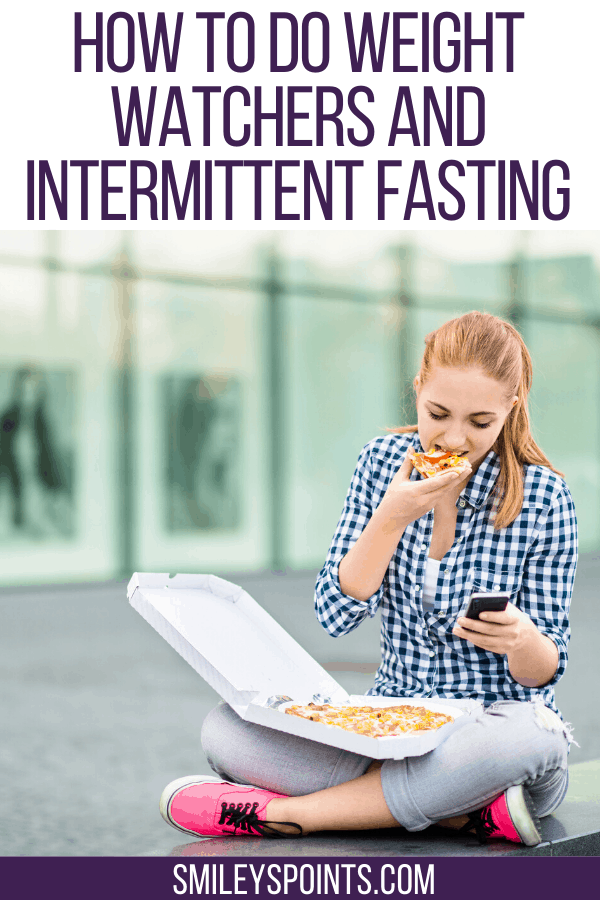 Intermittent Fasting Benefits
There are so many benefits of Intermittent Fasting, especially when combined with the weight loss principles of Weight Watchers. The benefits you see may not immediately be present on the scale, but there are more important measures of health and weight loss than that pesky number.
Intermittent Fasting can improve numerous risk factors for heart disease such as blood pressure, cholesterol levels, triglycerides, and inflammatory markers.
With Intermittent Fasting, you'll:
— drink more water
— have more freedom over what you eat
— experience less bloating
— have increased physical ability
— have increased mental clarity
Intermittent fasting helps you eat fewer calories, while boosting metabolism slightly. It is a very effective tool to lose weight and belly fat. IF can also reduce insulin resistance, lowering your risk of Type 2 Diabetes. Studies also show that intermittent fasting can reduce inflammation in the body.
How do You do Intermittent Fasting and Weight Watchers?
Much like when you combine Weight Watchers and Keto, you're combining the principles of Intermittent Fasting along with what you already know about Weight Watchers.
What Are the Rules for Intermittent Fasting?
It's simple: the main "rule" you have to be aware of with fasting for weight loss with IF is only unflavored water and unflavored coffee are allowed during your fasting windows. Your window is CLOSED to everything else during this time. When your window is OPEN, you can eat whatever you'd like … obviously staying within your points and keeping carb count/quality in mind while doing so.
Intermittent Fasting Schedule
You can do 12:12, 16:8, 20:4, or even 23:1. 12:12 is 12 hours fasting, with a 12 hour eating window.
16:8 is 16 hours fasting, with an 8 hour eating window. 20:4 is 20 hours fasting, with a 4 hour eating window.
You have to choose the Intermittent Fasting schedule that work best for your lifestyle. I like 12:12 but seem to have best results with 16:8. For a few months now, I've been reading about fasting for weight loss and the general consensus is that 16:8 works optimally well for most people.
Yes, you eat all of your points for the day during your "open" window times. The open window doesn't mean pig out, but if your window is only 4 hours, you'll most likely be eating more than you're used to in one sitting and that's okay. You'll still lose weight! That's the beauty of Intermittent Fasting.
Sample 16:8 Fasting Schedule
6AM – Black Coffee
11AM – Breakfast
1PM – Snack
3PM – Lunch
6PM – Dinner
You can eat from the time your window "opens" til it "closes", but this is a sample of a 16:8 fasting schedule.
Use this sample Weight Watchers meal plan for ideas on what to eat during your "open" window.
Exercising While Fasted
I have had amazing results with fasted workouts, so if you can do those I always recommend it! However, some folks need that fuel before a workout to be able to push through. Either way, adding exercise to your daily schedule is going to give you optimal results, so plan a time to work out and stick with it.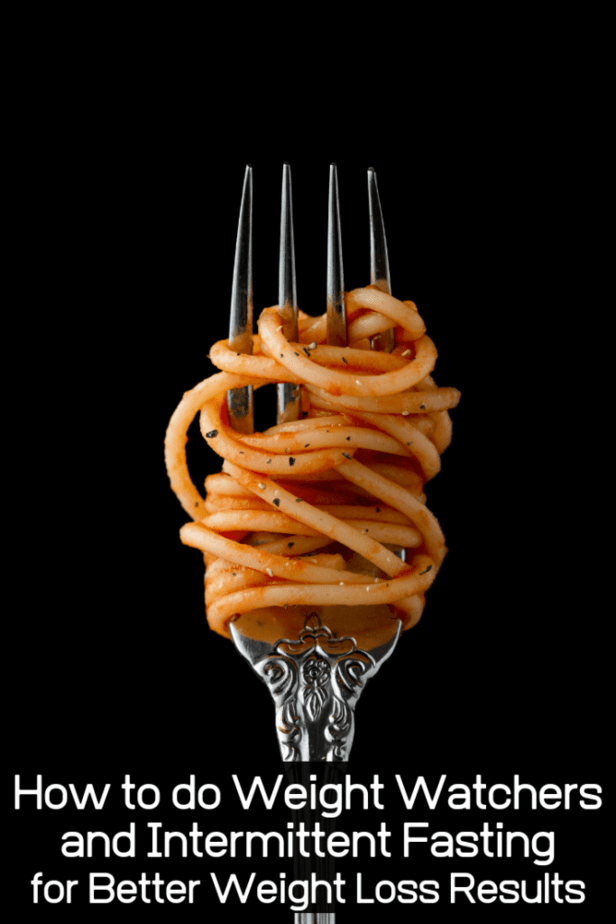 How Quickly Will Intermittent Fasting Work?
If you're looking for a diet to lose weight fast, Intermittent Fasting may be right for you. However, it doesn't always work fast – and it should NOT be about losing weight as fast as you can, but how to lose weight in a healthy way and turning this into a lifestyle rather than a fad diet you quit in a few weeks.
All things considered, it can take 6-8 weeks to notice results with Intermittent Fasting – with or without Weight Watchers. However, I know many people see several pounds lost right away in the first week. Like with any way of eating and living, Intermittent Fasting will have a different effect on everybody.
Make sure you're drinking enough water (I strive for half my bodyweight in ounces but your preferences may vary), and watch your carb intake during your fasting window. Yes, you are technically allowed to "feast" during your open window, but you can't binge on brownies and expect to lose 10 pounds a month. Focus on what you are putting into your body, be patient and stay the course. You will see amazing results, especially by combining Intermittent Fasting and Weight Watchers.
During the first week of fasting, you will most likely lose a few pounds – I have heard stories of folks losing 10 pounds the first week! If you're close to your goal weight, you may not lose weight just yet. The first week or so is fluid/water weight loss, followed up by the next few weeks giving you increased energy but maybe not so much weight loss. You may be losing inches during this time, though, so be sure to measure before you start.
When you hit the 4-6 week mark, you're going to notice your body has probably changed quite a bit – both in how it looks, how much you weigh, and how you feel. For me, feeling great is much better than losing a few pounds, so as long as you're feeling better I wouldn't stress too much about the numbers on the scale. Take photos so you can see your progress. You will lose weight if you stick with it.
How Important is Water During Fasting?
Water is extremely important any time of day, but it's especially important during your fasting times. Water has many benefits: besides keeping you hydrated, it will also keep you from feeling like you're "starving" during your longer fasting periods. If your cells are dehydrated, your weight loss will not be optimized. When you eat, be sure to eat foods that are high in water, like fruits and veggies.
If you add fruit to your water during your fasting times, it's considered "dirty fasting" and may not be as effective. A "dirty fast" is going to be much more effective than dehydrating yourself, but the goal here is a clean fast (ONLY unflavored water and unflavored coffee during fasting times). Find yourself absolutely unable to drink plain water? Try sparkling water on ice.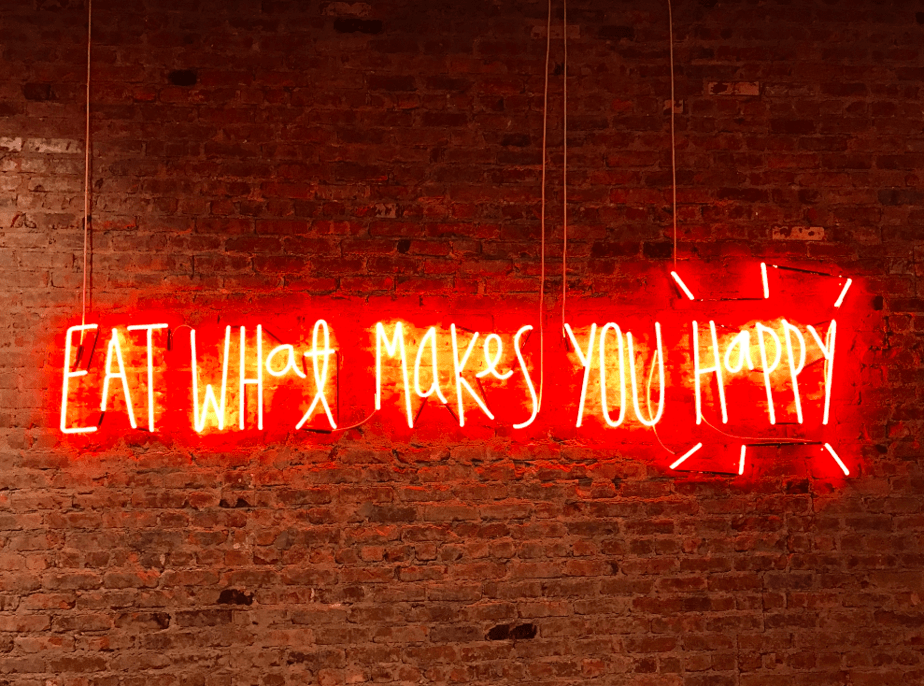 Intermittent Fasting Meals
There are no specific meals you "have" to eat while doing Intermittent Fasting. The beauty is you can eat whatever you want, within reason, and still lose weight. For those of us who need parameters, it's great to combine Weight Watchers with Intermittent Fasting because you don't overeat during your open window, and you're still getting the calories and nutrients you need.
When doing IF, if I only eat 2 meals they will be higher in points. So if you're needing to add points to your meals, think healthy fats: avocado, coconut oil, etc. If you're needing snacks, here are my favorite Weight Watchers snacks.
Chili Cornbread Casserole
Low Point Chili Mac
Chicken Parmesan
Weight Watchers Casseroles
If you find yourself closing in on your last point of the day but you still have more time (and are still hungry), check out these Zero Point Recipes.
How to Get Started With Intermittent Fasting
You've read this post that gives you all the details needed to be successful with Intermittent Fasting and Weight Watchers. When you sit down to eat, you can eat what you want (within your points – use your Weeklies and have an alcoholic drink, too!) and enjoy it. I know in this day and age it's easy to get stuck in the trap of eating on the go, but let's get back to sitting down, making ourselves a plate, and enjoying our entire meal.