Best Weight Watchers Friendly Vegetarian Recipes
Whether you're doing a Meatless Monday or are a vegetarian every day of the week, I've been searching and finally found the BEST Weight Watchers friendly vegetarian recipes. My wife was a vegetarian for many years, so getting her to eat anything but chicken now can be a feat. She loves when I make vegetarian recipes that fit with our Weight Watchers lifestyle.
These recipes fit with Intermittent Fasting and Weight Watchers programs.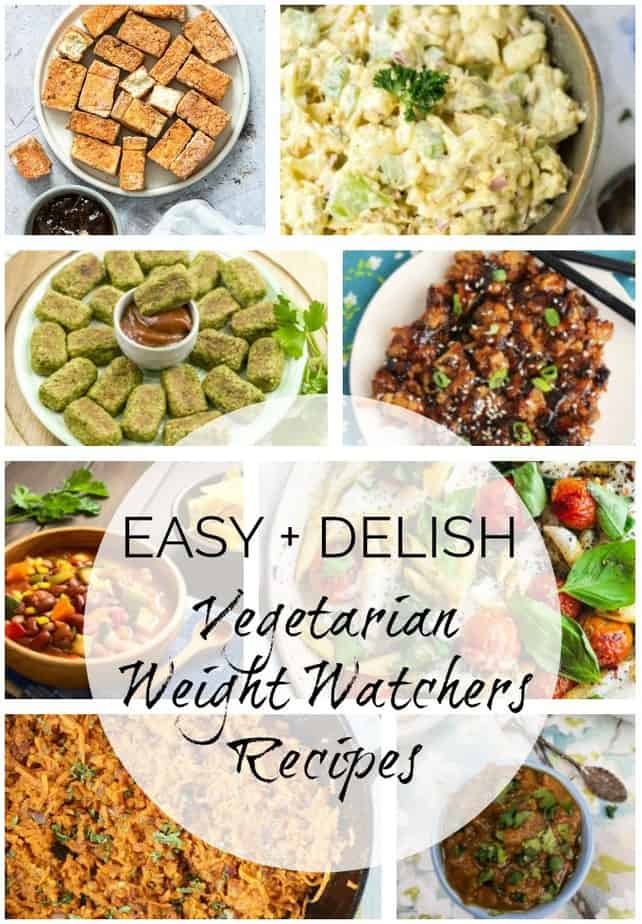 Best Weight Watchers Friendly Vegetarian Recipes
We have scoured the net to find some of the best Weight Watchers friendly recipes out there. We keep looking for, making and posting new recipes all the time so check back often. We will update this post as we find more tasty low point recipes. We are also creating new meals in our kitchen all the time so check back often for updates.
Delicious Vegetarian Meals
Have you been searching for great vegetarian recipes that are also Weight Watchers friendly? Have you tried several and found they lacked flavor or the recipe just wasn't right? Here you will find tried and true recipes that we have made ourselves. All of the recipes are easy to understand and follow. The pictures are our own after we made the meal in our own kitchens. get ready to be surprised at how easy and delicious these meals are.
NOTE: ALL POINTS ARE FREESTYLE SMARTPOINTS
Weight Watchers Vegetarian Breakfasts
Feeling hungry for a vegetarian breakfast? Me, too! There are many options other than eggs, including sweeter breakfasts like pancakes and French Toast.
Oatmeal Clusters – 4 Points
Instant Pot Omelette Casserole – 1 Point
Lemon Ricotta Pancakes – 2 Points
Gruyere & Spinach Rolls – 5 Points (Gruyere isn't technically vegetarian but you can swap cheeses)
Weight Watchers Vegetarian Side Dishes
Sometimes I eat side dishes as a full meal, depending on the day – and how hot it is outside! They also make great snacks to keep you satisfied between meals.
Corn on the Cob – 0 Points
Roasted Vegetable Couscous – 5 Points
Stuffed Portobello Mushrooms – 2 Points
Sweet Potato Hash – 3 Points
Broccoli Cheese Tots – 2 Points
Cauliflower Potato Salad – 3 Points
Crockpot Veggie Loaded Spaghetti Sauce – 0 Points
Cheddar Butter Bean Bites – 4 Points
Quinoa Black Bean Salad – 6 Points
Weight Watchers Vegetarian Soups and Chilis
Sweet Potato Black Bean Chili – 3 Points
Vegetarian Chili – 0 Points
Instant Pot Vegetable Soup – 2 Points
Instant Pot Mexican Black Beans – 1 Point (use veggie stock)
Weight Watchers Vegetarian Dinners
Broccoli Cheddar Soup – 0 Points (Leave out the chicken!)
Bruschetta Toast – 7 Points
Vegetable Lasagna – 6 Points
Air Fryer Tofu – 0 Points
Caprese Pasta – 7 Points
Pasta with Roasted Vegetables, Rosemary and Feta – 6 Points
Pressure Cooker Baingan Bharta – 0 Points
Pasta Primavera – 5 Points
Spinach & Feta Casserole – 4 Points
Roasted Vegetarian Enchiladas – 7 Points
Sesame Ginger Cauliflower – Slap Dash Mom – 2 Points
Pasta e Fagioli – 7 Points
Do you have any favorite vegetarian recipes? Add them to the comments below!