Our wonderful Weight Watchers friendly baked potato soup was created in the Instant Pot. The wonderful thing about the Instant Pot is you can make anything in it. From bread to dessert and every part of your meal in between. We made our baked potato soup a soup worthy of being served the best soup kitchens. Try it out and let me know what you think or what you would add. Weight Watchers baked potato soup goes great with Instant Pot Corn on the Cob.
Baked Potato Soup
BLUE PLAN: 5 Points

GREEN PLAN: 6 Points

PURPLE PLAN: 2 Points
Please calculate EVERY recipe you find online in your recipe app. I have found the WW app updates frequently, making some counts inaccurate. All points are accurate at the time of posting, but just to be safe I recommend calculating points by using your recipe builder. You can do this in  Healthi formerly iTrackBites as well (for free!).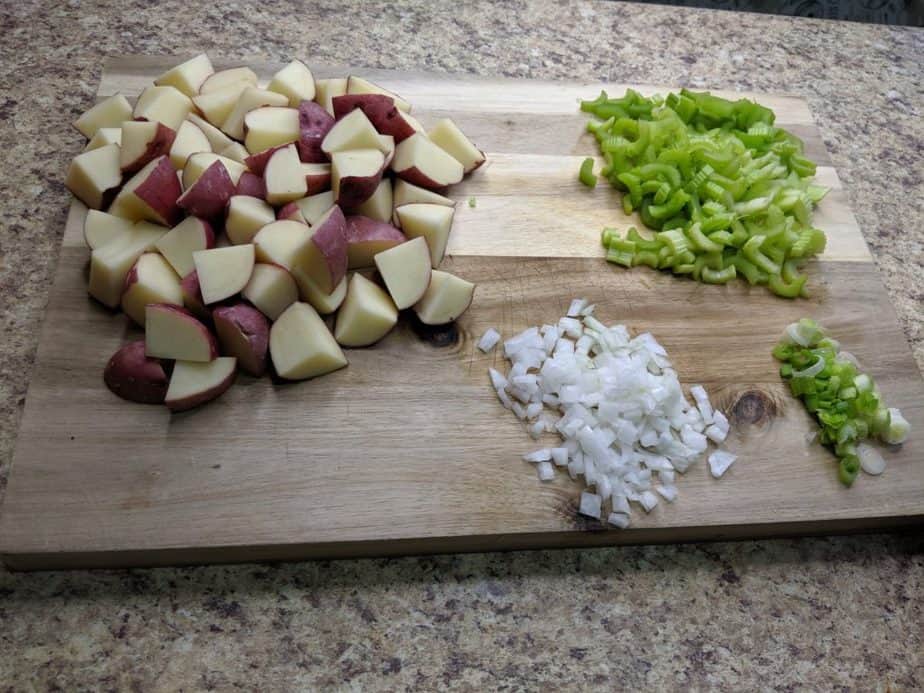 ---
"Healthi formerly iTrackbites is an alternative to Weight Watchers. "
---
White Potatoes
White Potatoes get a bad rap because of how we eat them. Here is a little information on white potatoes that may surprise you. They keep you help you to feel full longer than other complex carbs. According to a study, people who eat potatoes and meat felt full longer than those who ate meat with rice or pasta. Eating white potatoes also resulted in a lower calorie intake overall. You heard that right, eating potatoes makes you feel full longer so you actually eat less.
White potatoes a good source of resistant starch. When digested, white potatoes pass through the large intestine where it can feed on the good bacteria in your gut. White potatoes are beneficial for blood sugar control and insulin sensitivity. They also provide antioxidants. White potatoes are a good source of flavonoids, carotenoids, and phenolic acids, which can neutralize free radicals and prevent cancer, heart disease, and other chronic conditions. The moral is manage how many you eat and how you prepare them, but you don't have cut them out of your diet altogether.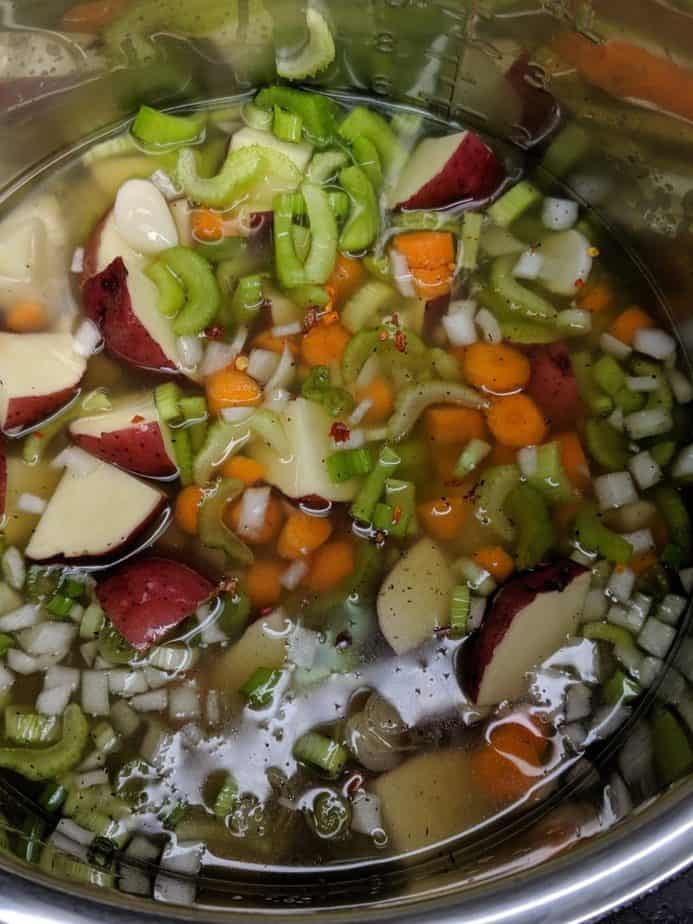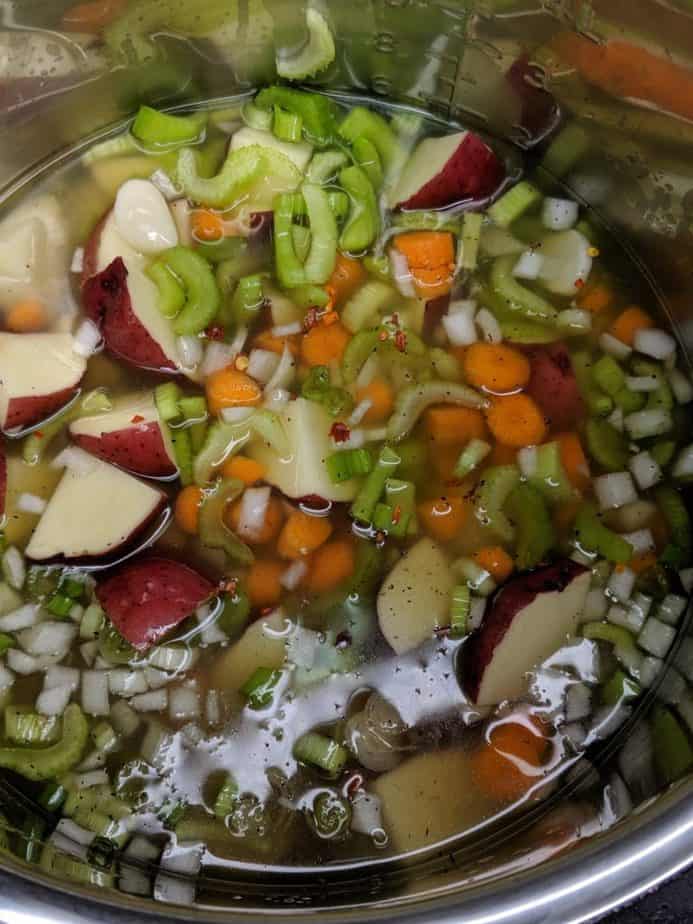 Which Potato is Best?
It all depends on how you eat them, no more french fries or potato chips, pass on the butter, sour cream (make your own) or use a lite variety its zero points :), and use fat-free cheese. Potatoes are high in Weight Watchers points, but they can still be a significant part of your meal, make sure to account for the points and be careful what you put on them.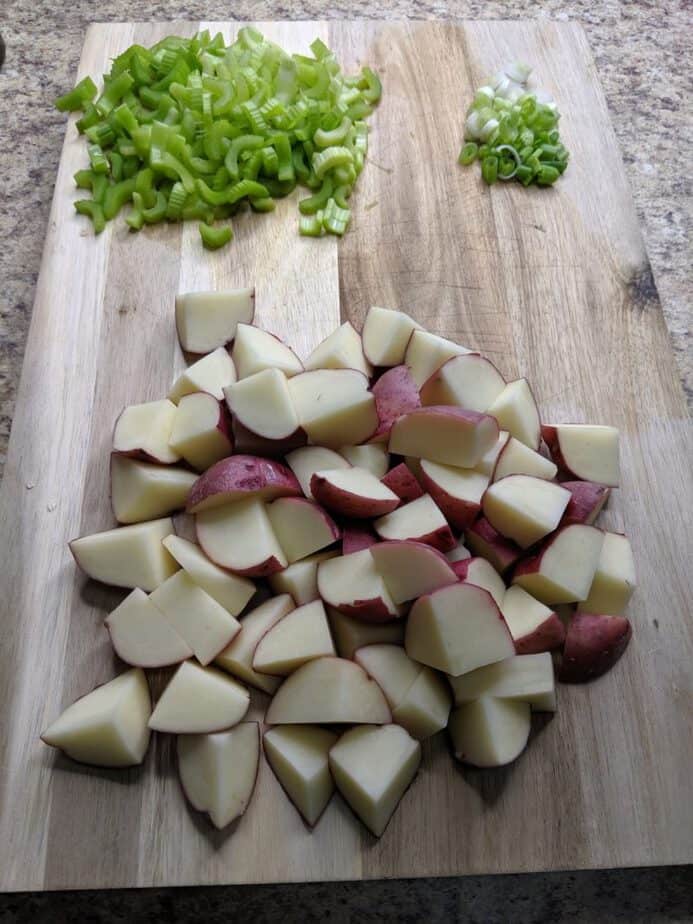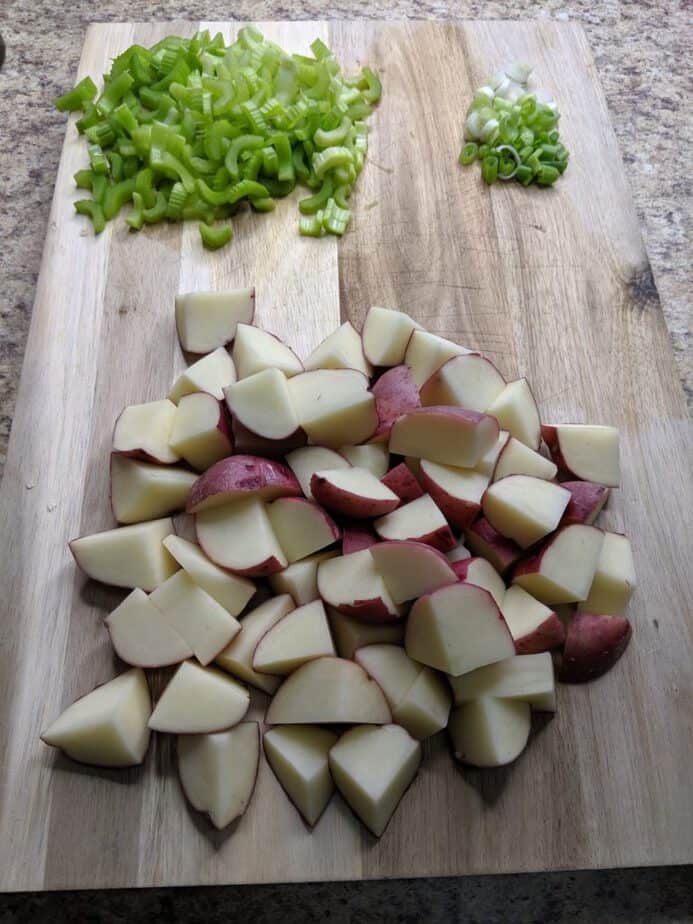 Enjoy a bowl of this delicious soup with Chicken Piccata.
Print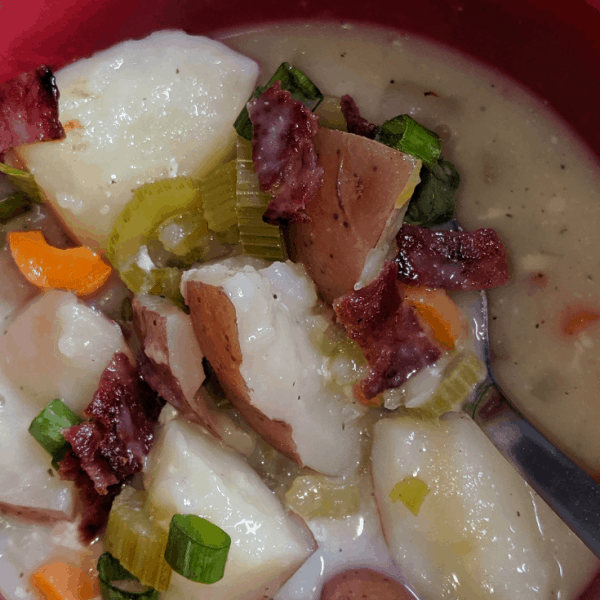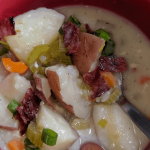 Weight Watchers Friendly Baked Potato Soup
---
Description
Are you ready for autumn? This one is sure to get you in the mood 🙂
---
1

medium onion (minced)

3

cloves of garlic

4

medium red potatoes (cubed)

2

carrots (sliced)

1

stalk of celery chopped (chopped)

4 cups

of vegetable broth

½ teaspoon

black pepper

1 cup

of fat free milk

½ cup

lite sour cream

1/2 cup

fat free cheese

3

slices of turkey bacon

2 tablespoons

of cornstarch

1/2 cup

of green onions sliced.

1/2 teaspoon

crushed red pepper (optional)
---
Instructions
Slice and cut potatoes into cubes and add to the Instant Pot.
Add broth, carrots, celery, garlic, onion, black pepper and crushed red pepper.
Put the lid on, turn the valve to sealing and select Manual, high pressure, for 3 minutes.
While the soup is cooking fry your bacon, crumble and set aside.
It will take about 20 minutes total, including the time it takes to build pressure.
Once the cook time is over, do a gradual quick release by slowly opening the valve to release the pressure. If you do this part to fast it will make a mess:)
Remove the lid
Turn the Instant Pot to saute.
Whisk together the milk and cornstarch and stir into the soup.
Cook and stir until thickened, about 3 minutes.
Season with salt and pepper to taste.
Add bacon on top
Garnish with green onions
Notes
Serves 6, 1 big cup each
5 BLUE POINTS