Turkey Sweet Potato Skillet
Our turkey sweet potato skillet has been all the rage in our home lately. When you want an easy delicious meal look no further.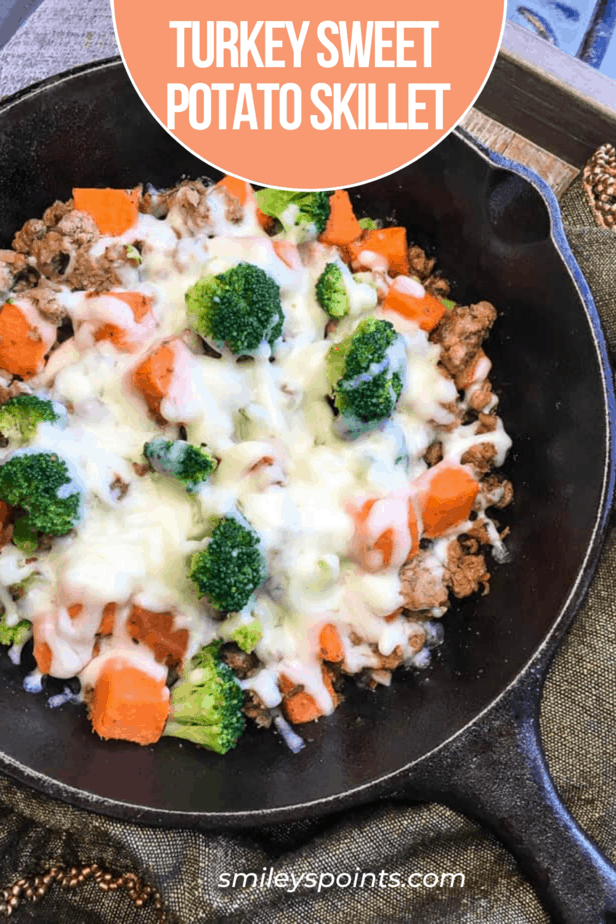 ---
"Healthi formerly iTrackbites is an alternative to Weight Watchers. "

---
Turkey sweet potato skillet is an all-in-one meal
One of the things I love about this turkey sweet potato skillet is it's an easy all-in-one meal. You get your protein, veggies, and starch and only have to dirty one pan! And since you are spending no more than 11 points, you have some room for dessert! These apple crisp cookie cups are delish! This chocolate marshmallow fudge is another a great choice.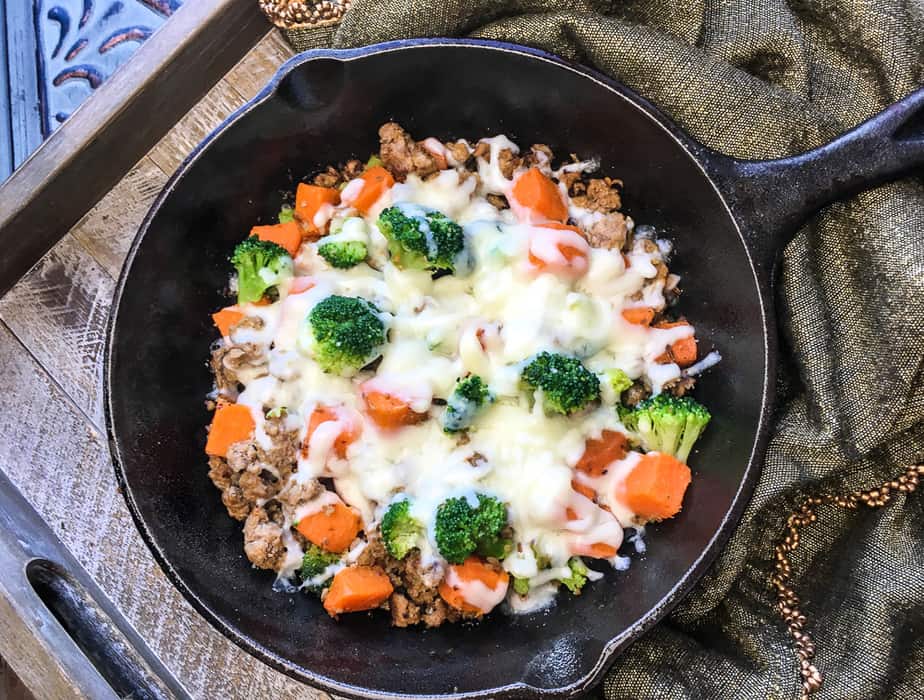 Cast-Iron skillet meals for the win
You can make this turkey sweet potato skillet in any pan you have around the house, but a cast-iron skillet will help to meld the flavors together beautifully. Everyone will want seconds of this delicious dish!
Is cast-iron always non-stick?
Cast-iron will be non-stick unless it needs to be re-seasoned. If it's properly seasoned, it will be non-stick.
Why should you use a cast iron skillet?
Cast-iron is an amazing work-horse that belongs in every kitchen. You can find these gems for around $15-$20 just about anywhere. Thrift stores are also a great place to find cast-iron. People often don't know how amazing these pans are and donate them. Unlike many other types of cookware, the older the better for cast-iron.
Cast-iron usually comes seasoned. If it doesn't, it's an easy process to season it. And once it's seasoned, it's basically non-stick. Cooking things like turkey sweet potato skillets will be a breeze with a non-stick surface. You do want to avoid acidic food, however. If there are unseasoned spots, the acid can possibly leech some metallic flavors into your food.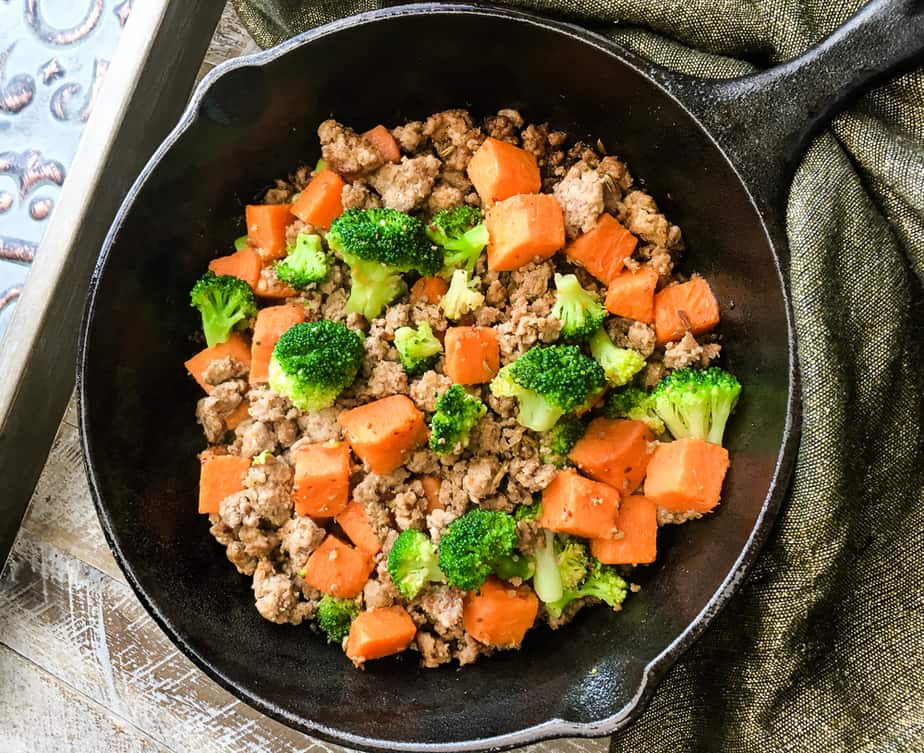 When you heat up a cast-iron skillet it's HOT and stays hot. That's one of the benefits of using cast-iron, some recipes call for a high heat and cast-iron fits the bill.
Clean up is a breeze with cast-iron. You simply rinse with really hot water and scrub with a stiff brush. If you have stubborn food, boil some water in the skillet, let it stand 10 minutes and then rinse again. Make sure you dry the skillet though to prevent rust.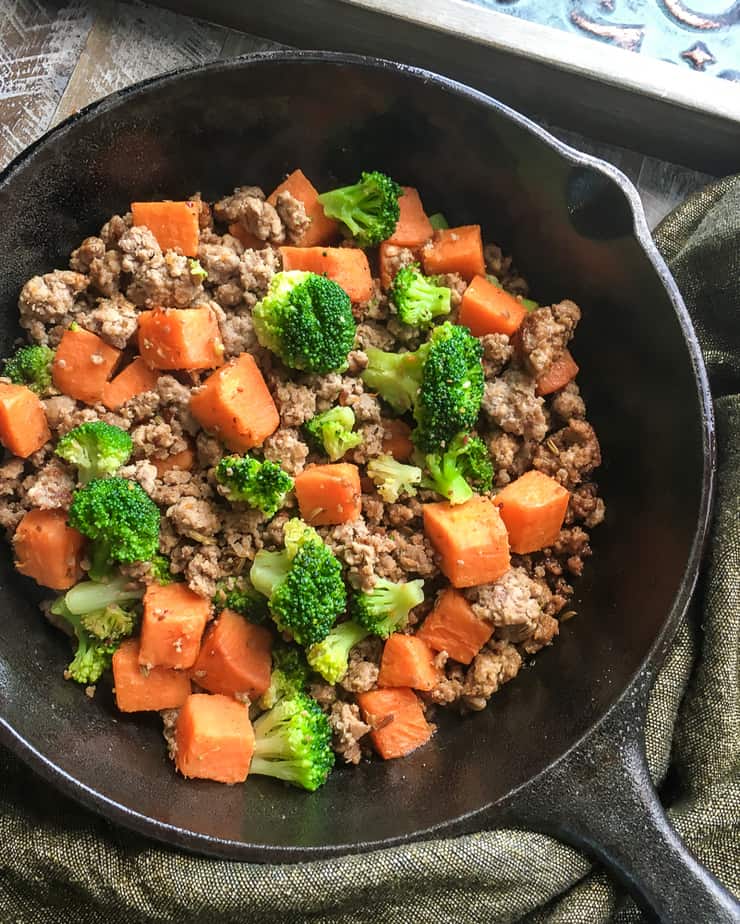 If your food starts to stick or the skillet turns dull, it's time to reseason. Preheat your oven to 400°. Line the bottom of the oven with foil, or you can put a pan larger than your skillet on the rack underneath the pan. Clean your pan with hot soapy water, scrub with a stiff brush, and dry it well. Spread oil over the entire surface, inside and out. Then place the pan upside down on the top rack and bake for an hour. Let it cool completely in the oven and you're done. It's best to do this after dinner and just leave it in the oven to cool overnight.
This article will give you even more info on how to reseason your skillet.
How do I stay on track with my weight loss?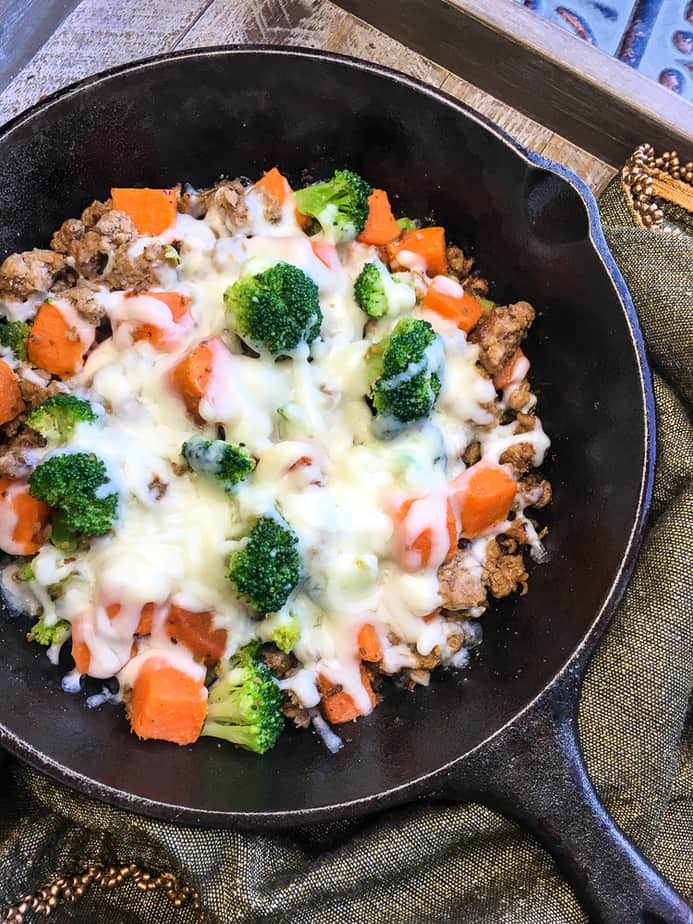 Planning is key for any weight loss plan. I have had great success with Healthi formerly iTrackbites. It's easy and helps keep me on plan.
cost: Healthi formerly iTrackBites costs $36 for the year (using this link for 40% off makes it $36 – use COACH_SMILEY to save!!), WW is $20+ for the month, and it's the same formula and less options
choices: I can choose PointsPlus, Freestyle, or any other plan I want with Healthi formerly iTrackBites. Even with the new WW changes, they only offer 3 plan options (not PointsPlus).
logs: You can export your tracker data by the week, month, or quarter with Healthi formerly iTrackBites. WW does not give you access to quarterly data.
accuracy: I've found inaccurate info in the WW app due to members submitting and not paying attention to the right numbers. With Healthi formerly iTrackBites, I know if I see the green check, it's been verified as accurate. This puts my mind at ease!
BLUE PLAN: 11 Points
GREEN PLAN: 11 Points
PURPLE PLAN: 7 Points
Print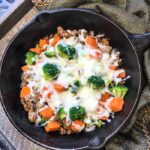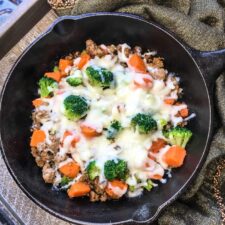 Turkey Sweet Potato Skillet
---
1 T. extra virgin olive oil
1 lb. bulk turkey sausage
2 large sweet potatoes, peeled and diced into small cubes
1 12-oz. bag frozen broccoli florets
¾ c. Mozzarella cheese, shredded
---
Instructions
Heat the olive oil in a large skillet over medium heat. Add the turkey sausage. Cook until the turkey is slightly browned and no longer pink, breaking the sausage into small chunks. Cook for 6-8 minutes. 
Add the sweet potatoes to the skillet and continue cooking until they are soft and slightly crisp around the edges, approximately 10-12 minutes.
Add the broccoli and stir to combine. Cover and allow the broccoli to steam for 2-3 minutes.
Remove lid and sprinkle the shredded Mozzarella on top. Cover for another 1-2 minutes or until the cheese is nicely melted. Remove from heat and serve immediately.