Air Fryer Or Ninja Foodi Eggplant Parmesan
I was testing out our Ninja Foodi and decided that the best way was to make Eggplant Parmesan using the Airfryer option of the Ninja Foodi. Well, it takes some trial and error when you are using a new kitchen appliance, but I got it nailed down and I know, you are going to love my latest recipe.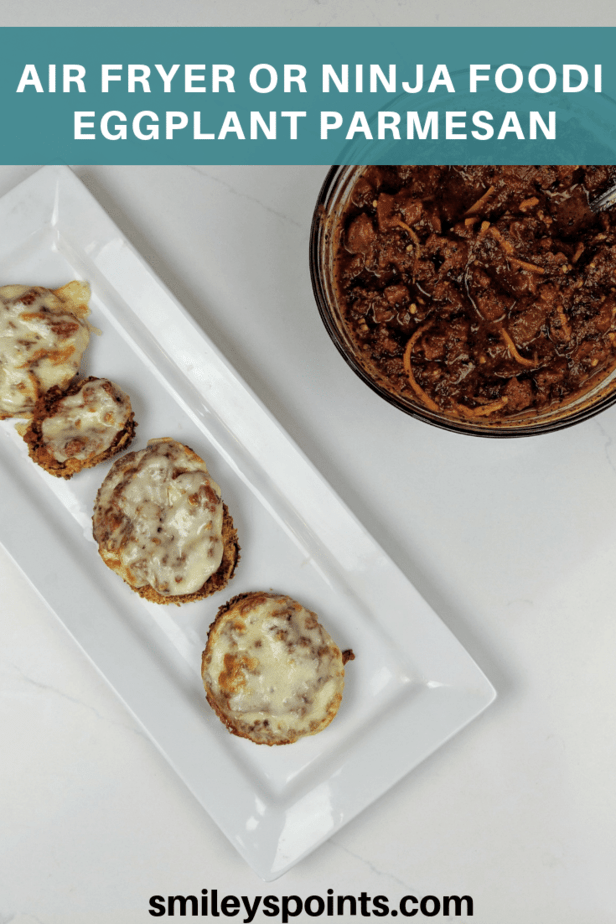 Eggplant Parmesan
BLUE PLAN: Zero Points per slice

GREEN PLAN: 1 point

PURPLE PLAN: Zero Points
Traditionally Eggplant Parmesan is fried so that it is crispy on the outside and tender inside. I love the texture and crispness, but I wanted it to be fewer points. I refuse to give up the flavors of my favorite dishes, but I still want to lose weight. Weight Watchers is a great way to do that. Weight Watchers is a lifestyle change, not a diet which is why it works so well. In this recipe, I have all but removed the oil that is required for traditional frying. I still use a bit crisp up the eggplant slices.
Ninja Foodi or Airfryer Eggplant Parmesan
I love using my Air Fryer or Ninja Foodi to make crispy and tender eggplant parmesan. This recipe is simple, with very few steps from start to finish. Then you have that restaurant quality eggplant parmesan to serve up your family and friends. I love being able to throw together this Eggplant Parmesan in just a few minutes using my Ninja Foodi. If you don't have a Foodi, any air fryer will work, and you will still have amazing Eggplant Parmesan.
By air frying, I was able to cut out as much as 80% of the fat. My recipe is quick, easy, and gives you those classic eggplant parmesan flavors without all the fuss.
So give my eggplant parmesan a try today in your Ninja Foodi. You will be glad you did. I am sure of it.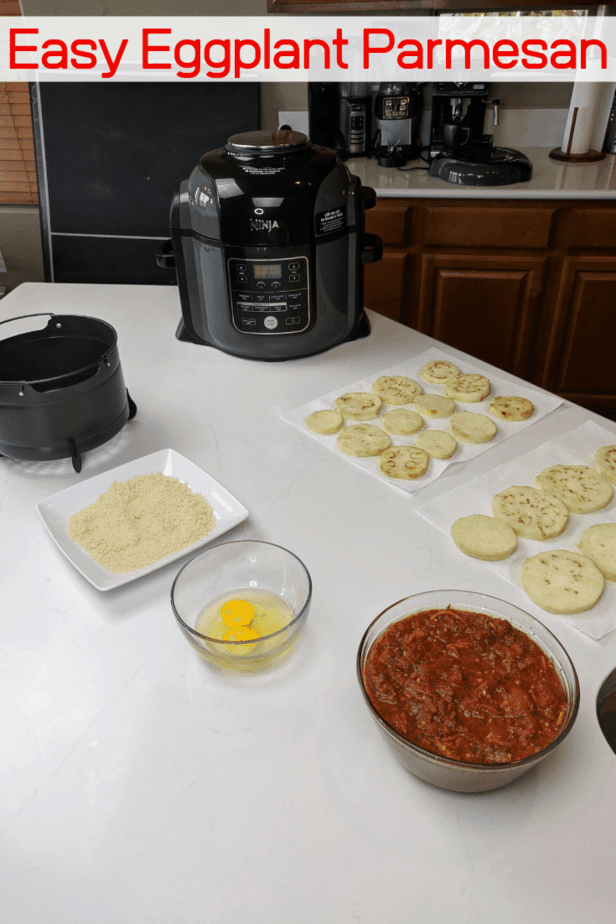 Easy Eggplant Parmesan
I use my own homemade zero point marinara sauce, but if you are making this on a weeknight and want to speed up the meal a bit, use your favorite brand of spaghetti sauce or store-bought marinara as long as you count the points as most have a bit of added sugar.
Pro-Tip
Make sure to use a spatula and not tongs to remove your eggplant once it's done. I tried it with the tongs and got burned on the lid to the Ninja Foodi. Ouch. Learn from my mistake and use a spatula, plus it's easier to get them out with a spatula 🙂 Working on that learning curve:) Bonus tip: Sprinkle a little salt on your eggplant slices and let them rest for 5 minutes or so. they will start to "sweat" The salt draws the water out of the eggplant and makes the flesh a little denser. This keeps that wonderful soft texture inside while the outside crisps. Perfect Eggplant Parmesan every time. Enjoy this wonderful meal and let me know in the comments how it turns out for you.
I used a medium eggplant and got 10 slices from it. About 1/2 inch thick slices.
Print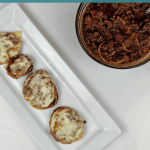 Air Fryer Or Ninja Foodi Eggplant Parmesan
---
Description
Airfryer Eggplant Parmesan made in the Ninja Foodi, or Airfryer
---
1 medium eggplant
2 eggs beaten
1/4 cup Panko breadcrumbs
1 cup H-E-B fat-free part skim mozzarella cheese
2 cups of zero point marinara sauce
Olive Oil Spray
Low-Fat Parmesan Cheese approx. 5 tablespoons 
---
Instructions
Preheat your Ninja Foodi or Air Fryer for 3- 5 minutes. Spray your crisper basket with Olive Oil Spray.
Peel and slice the eggplant into 1/4″ slices.

Place the breadcrumbs in a shallow dish

In a small bowl, scramble the egg.

Gently dip the eggplant slices into the egg mixture. Then dip into the breadcrumbs and coat both sides.
You can use your fingers to press the breadcrumbs down, so they stick better.

Place eggplant in a single layer into your basket. Spray the tops of the slices with olive oil spray. Close the crisping lid. Select AIR CRISP, set temp to 400 degrees, set the time to 12 minutes.
After 8 minutes, flip your eggplant slices and spray the tops with olive oil. (Be careful when flipping not to touch the edges of your crisper basket, it will be HOT)

Spray the tops of your eggplant and cook the remaining 4 minutes.

Spoon a tablespoon of spaghetti sauce over the top of your eggplant and spread to cover.

Lay a slice of low-fat mozzarella cheese on top.
Sprinkle with low fat parmesan cheese (about 1/2 a tablespoon per slice)
Close the crisping lid. Select BROIL

Press Start Broil (2-4 min) until your mozzarella cheese looks melted.
Serve over zoodles with a little extra sauce.

The nutrition facts are per slice of eggplant 🙂