Braised Chicken with Mushrooms and Artichokes
Every since we bought the Ninja Foodi, we have been trying out every feature. We loved the results from using the tender-crisp feature. Our braised chicken breast with mushrooms is an excellent example of how well this function works.
Braised Chicken with Mushrooms and Artichokes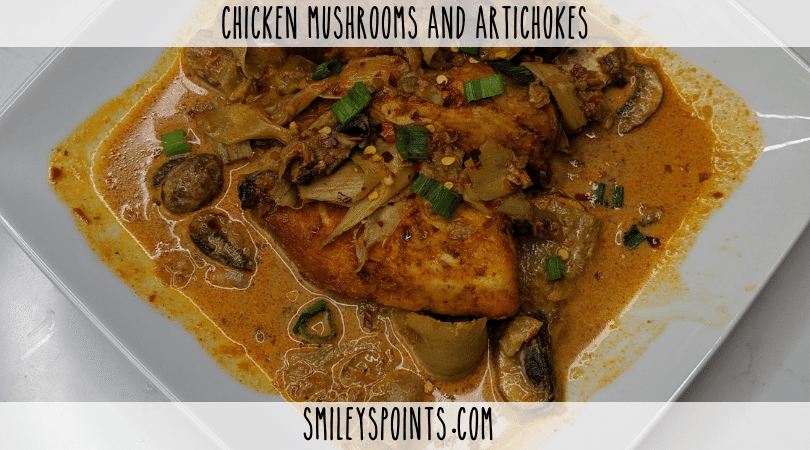 BLUE PLAN: 4 Points

GREEN PLAN: 8 Points

PURPLE PLAN: 4 Points
Whether you are using chicken breasts for a healthier meal or thighs, this recipe is going to blow your socks off.
Chicken in a mushroom sauce is always on our list of comfort foods. The incredible flavor always makes us want seconds. We get full from one serving, but we always make enough to freeze.
Chicken and Mushrooms
We were debating on why to share this recipe. There are so many different chicken and mushroom recipes out there why do we think this one is the best one? We took our time and created this to be perfect for dinner for us. We wanted to enjoy every bite, and that takes time to get just right. When you love to cook, you know what flavors you are looking for and how you want a certain dish to come out. That being said a little trial and error later and here we are with a dish that will warm your heart and have your stomach trying to make room for more.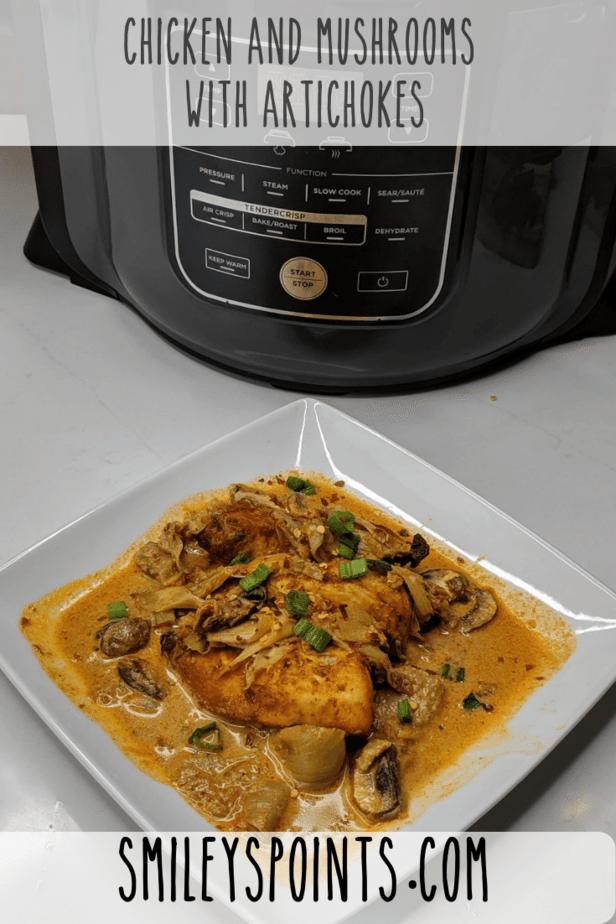 Ninja Foodi
I must say the Ninja Foodie is the best kitchen gadget we own. It does cost a bit more than other devices, but man is it worth it. Let me say here, We are not sponsored or in any way affiliated with Ninja products. The Ninja Foodi is a bit heavier than the Instant Pot, but that is its only drawback. It comes with a nonstick pan that makes clean up a breeze. It comes to pressure faster than the Instant Pot also. The Ninja Foodi has replaced our Instant Pot and our Air Fryer. But wait there's more, it has also replaced out slow cooker and dehydrator. The Foodi saves a ton of counter and cabinet space as well as outperforming its competitors. You can make food faster and tastier with less clean up afterward.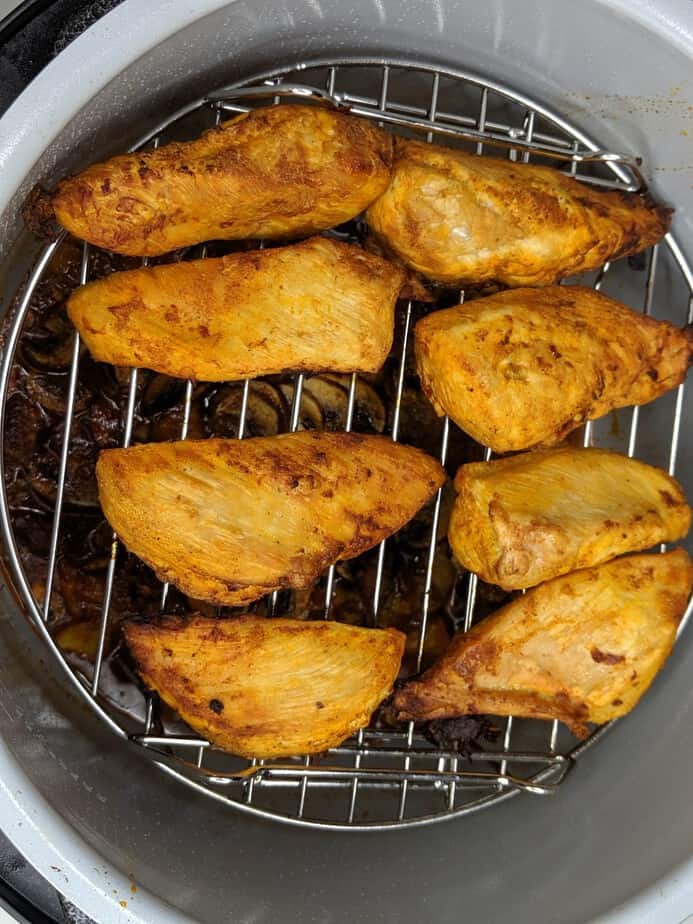 Freezer Meals
No matter what we are cooking for dinner, we always try to make enough for leftovers. Why you may ask? Well, we like to meal prep on Sundays, but sometimes during the week, we do throw a meal or two together. We then calculate our points and freeze what's left. We write the points on the outside of the bag to save time later. Now when one of the kids is hungry of one of us, we grab a meal heat, eat and go, easy peasy.
Print
Braised Chicken with Mushrooms and Artichokes
---
Description
Chicken Breast and Mushrooms with Artichoke hearts
---
4

medium chicken breasts

1 tbsp

olive oil

2 tbsp

onion powder

1/3 cup

chicken broth

1 cup

artichoke hearts (canned or frozen drained)

1 tsp

black pepper

1 cup

mushrooms

1/4 cup

zero carb heavy whipping cream (optional)

1 cup

white wine

4

sprays cooking spray

1/2 tbsp

smoked paprika

1/2 tsp

crushed red pepper (optional)

1 tbsp

garlic powder
---
Instructions
Press saute' or sear on your pressure cooker or Ninja Foodie, put on medium high, and preheat for 5 minutes
Spray your Ninja Foodi or pressure cooker with pan spray or add 1 tablespoon of olive oil to the pot, allow oil to get hot
Add chicken breast and cook until they are seared, 3-5 minutes turn and repeat on the other side for about 1 minute to sear both sides
remove chicken from the pot. If using diced onions add them to the pot and saute' until soft 2-3 minutes. If using onion powder skip to the next step
Add onion powder and wine to the pot and bring to a boil. Cook for 2-3 minutes until mixture has reduced by half.
Add chicken broth, artichoke hearts, smoked paprika, crushed red pepper,garlic powder and pepper to the pot. Stir to mix thoroughly
Place chicken in the pot
Lock the pressure lid into place ensuring the valve is on sealing
Select pressure and set to high. Set cook time to 5 minutes and press start
Quick release. Remove the lid carefully
Using tongs remove the chicken and place it on the reversible rack. Make sure the rack is in the up position.
Add mushrooms to your sauce and mix well
Add chicken back to the pot on the reversible rack
Close the crisping lid and select bake, adjust the temp. to 375 and set the cook time to 12 minutes. Press start
Once complete remove the chicken from the pot and place on a platter. Add heavy cream to the pot and stir.
Pour sauce around the chicken and serve.
Notes
4 servings
4 points per serving