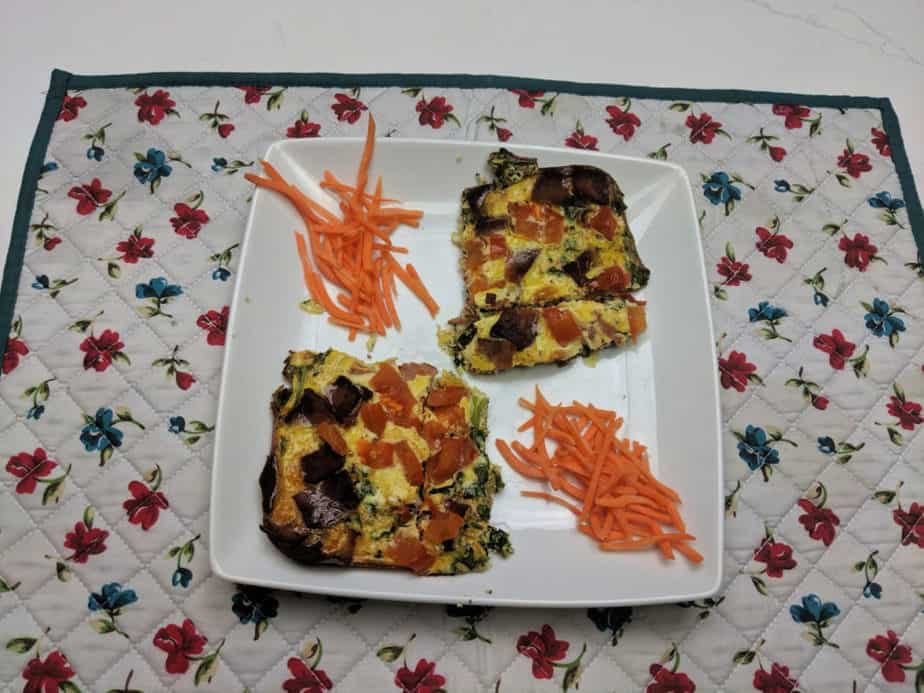 <div id="y4p6ui2zoq97uk5j5luz" data-volume="70" data-ratio="16:9"></div>
<script type="text/javascript" src="//video.mediavine.com/videos/y4p6ui2zoq97uk5j5luz.js" async data-noptimize></script>
Today was an awesome day. We went to the gym and got some steps in for the walking challenge and when we got home I made a wonderful Tomato-Basil Quiche with bacon and spinach. You can't go wrong with a dinner you can throw together and 30 minutes later serve. I got rave reviews from the family and wanted to share. We are all watching what we eat more and learning how to become healthier versions of ourselves. It is a process but we realize we are in it together.
Tomato-Basil Quiche with Bacon and Spinach
BLUE PLAN: 2 Points

GREEN PLAN: 2 Points

PURPLE PLAN: 2 Points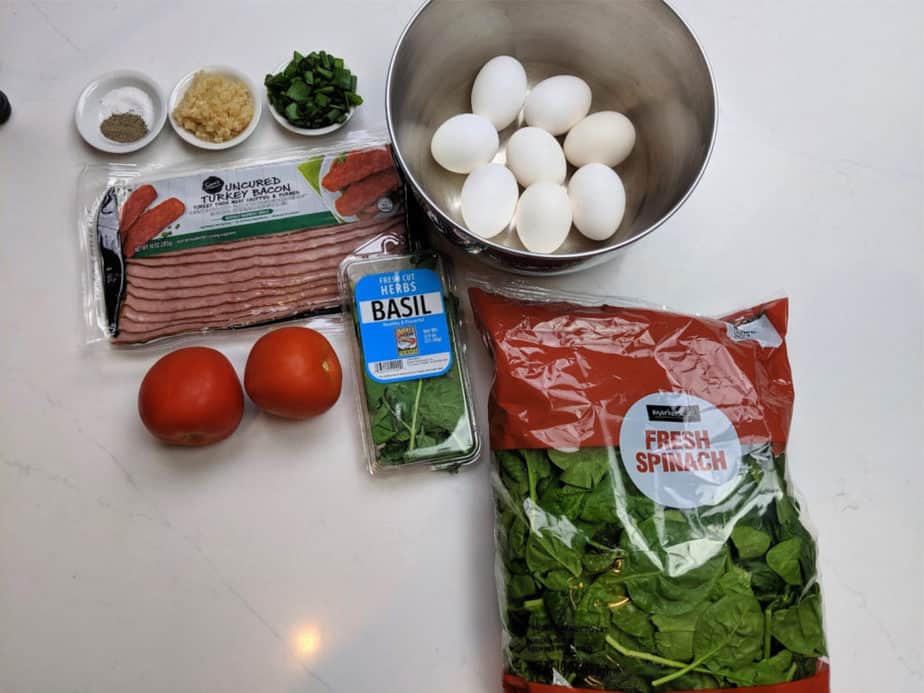 The flavors of fresh tomatoes and fresh basil combined with the eggs and bacon really set this dish apart. It is very versatile you can make it for breakfast or as we did for dinner. My tomato-basil quiche is full of protein to help you feel full longer and Guidedoc.com states that spinach can be eaten every day to fight against age-related issues. Bonus if you ask me. I will look healthier and feel better? Feed me more Seymore 🙂
Fresh or Dried Herbs?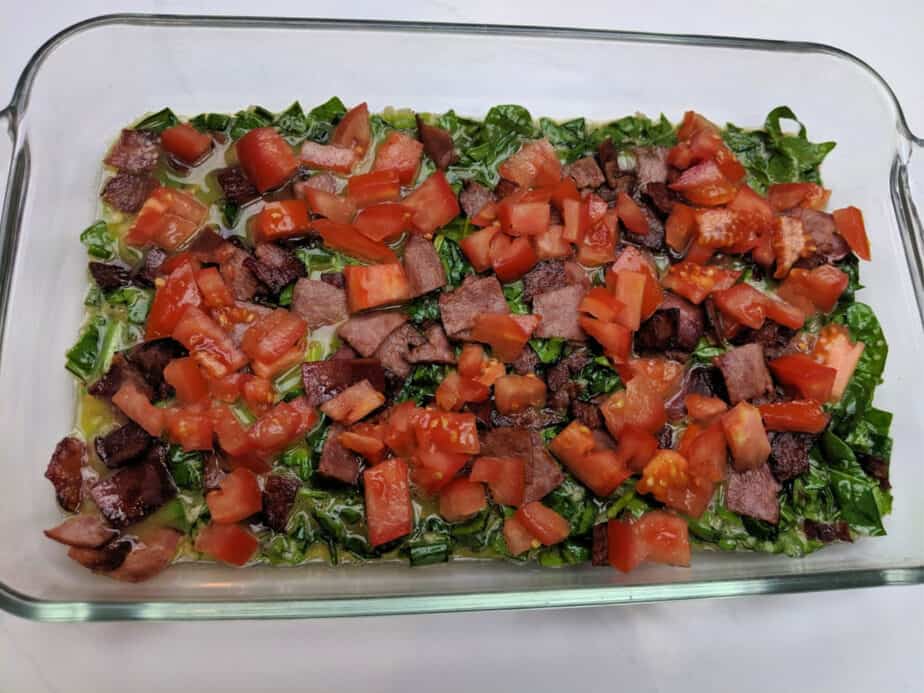 I say usw either, whatever you have on hand or can afford at the time. I, as most of us, do prefer to use fresh because in my opinion fresh herbs taste better, provide more flavor with less used and more nutrients. Dried herbs keep longer and you tend to get more for your money. You still get good flavor and great tasting meals. So it's up to you which you use. I sometimes use fresh garlic and sometimes I use garlic powder, usually depends on if I want to save a few minutes making the meal, or maybe I am just not in the mood to slice the cloves that day. who knows as long as the meal taste great pick what you prefer and go with it 🙂 The same goes with all other herbs in my opinion.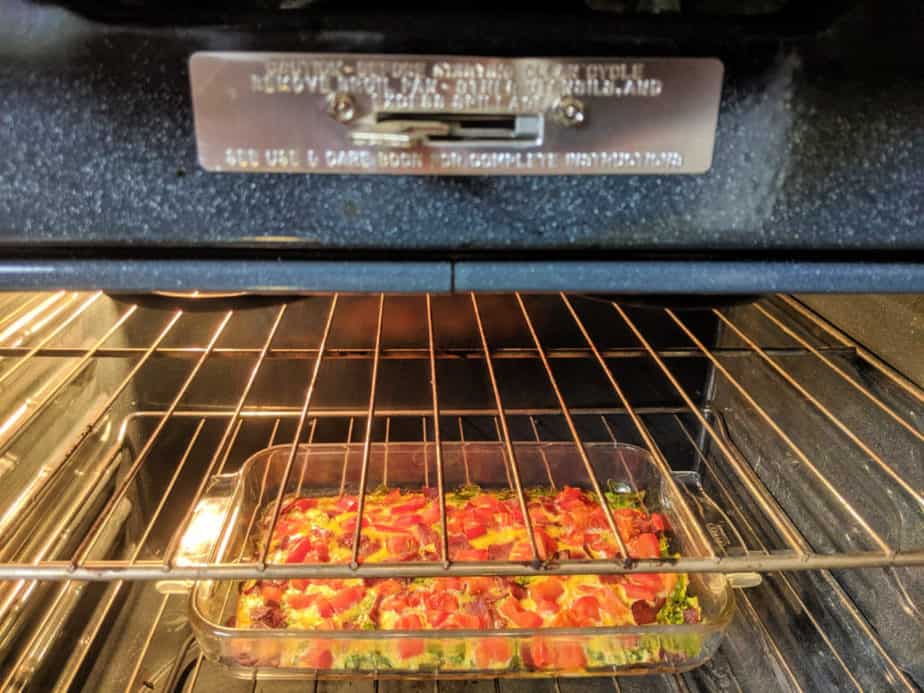 More of My Delicious Recipes
Print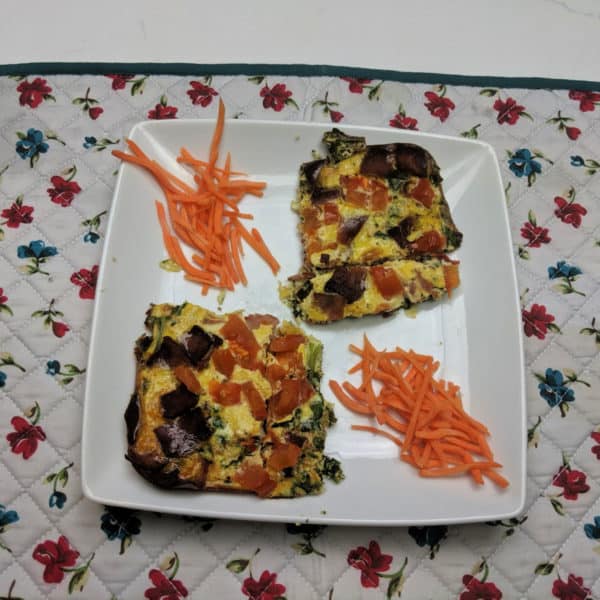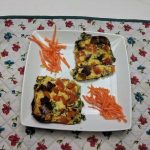 Tomato-Basil Quiche with Bacon and Spinach
---
8 slices of Turkey Bacon  (7 points)
2 cups of chopped spinach
8 eggs
2 cloves of garlic minced or 2 tablespoons of garlic powder
salt and pepper to taste
1 teaspoon of Meatdusters Garlic Habanero spice
2 Tablespoons fresh chopped chives
1/4 cup chopped fresh basil leaves
12 Cherry tomatoes halved or 2 medium tomatoes diced
---
Instructions
Preheat oven to 375
 In a skillet cook the bacon until crispy 8- 10 minutes
Place bacon on a paper towel to drain and set aside
In a large mixing bowl whisk the eggs garlic, chives, basil,salt, and pepper until well mixed
Stir in the spinach
Spray 9 by 13 baking pan with pan spray
Pour egg mixture into the pan.
Crumble bacon into pieces
Top with bacon pieces and cherry tomato halves
Bake for 30-35 minutes or until quiche rises and is golden brown on the edges.
Remove from the oven and cut into  4 servings
Enjoy 🙂
Notes
2 points per serving
Serves 4