Egg and Bacon Spinach Wrap
What is for breakfast? I hear this question every morning, either that or I am hungry. Today it's Egg and Bacon Spinach Wraps. These were super quick and easy to make and the family loved them. With the Freestyle program eggs are 0 points add turkey bacon, a spinach wrap, and some low-fat cheese and you have a breakfast packed with protein to help you feel full longer and vitamins to get you started off on the right foot. 🙂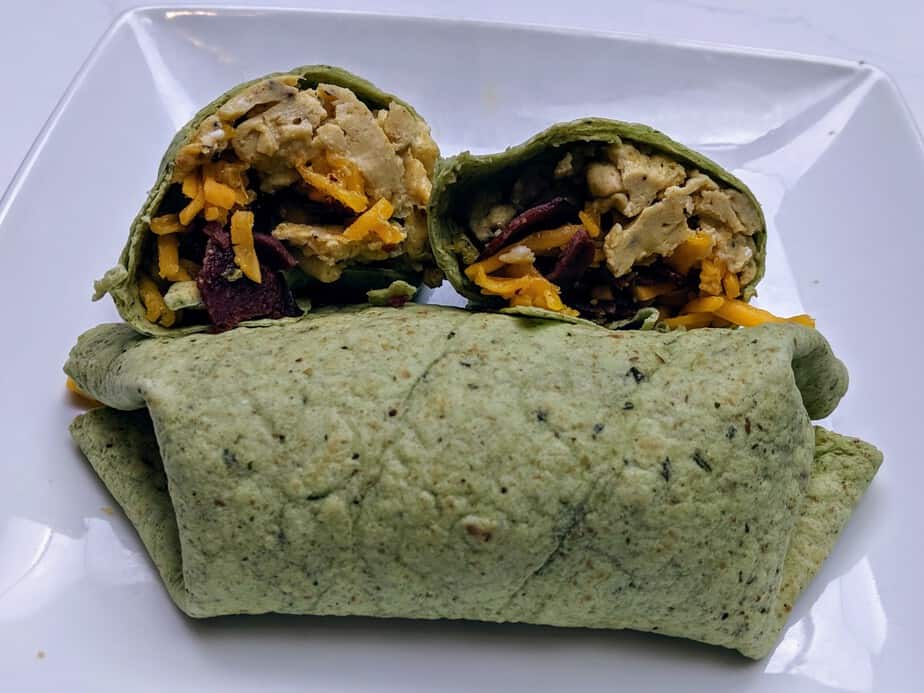 Bacon and Egg Spinach Wrap
BLUE PLAN: 3 Points

GREEN PLAN: 3 Points

PURPLE PLAN: 3 Points
I'm so happy you're here. 🙂 Note: Smiley's Points participates in affiliate programs. That's how the bills get paid! There is no additional charge to you and I only recommend products I know and love.
Spinach Wraps, Which One Do I Use?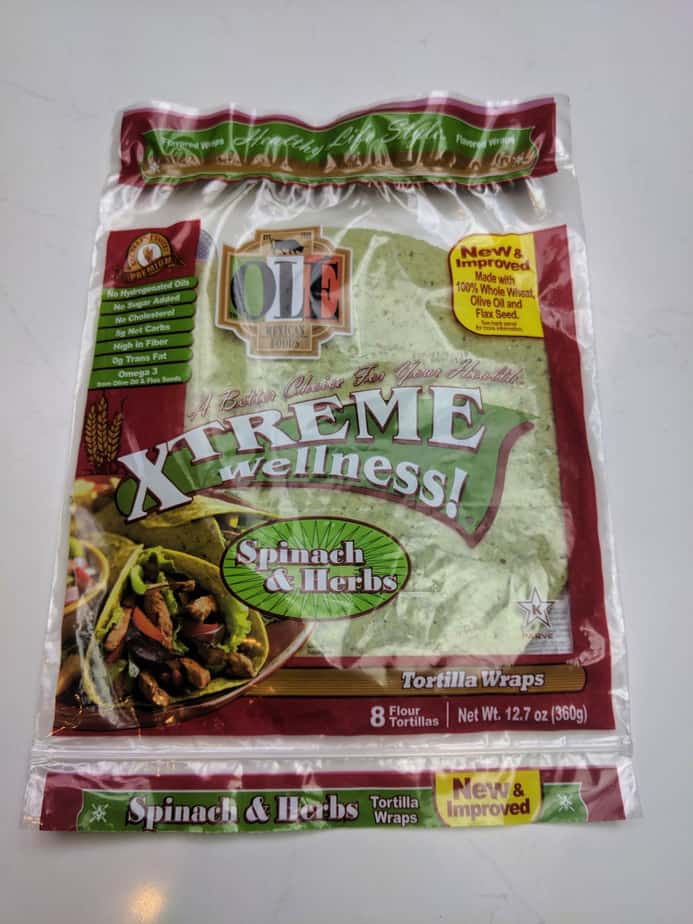 A quick search of the internet, or even just using the WW app you will find quite a few different spinach wraps. All wraps are not created equal though. I have done a tad bit of research and I have found that Ole' brand Extreme Wellness Spinach and Herb wraps are only 1 point. The best thing about these wraps isn't that they are 1 point on the Freestyle program but that they taste delicious. They are soft textured and ready to use right out of the package. I have bought some tortillas in the past that needed to be microwaved or warmed up in a skillet before they were usable. It takes less time and fewer steps to create amazing dishes. The fact that they are lower in points than other spinach wraps is an added bonus 🙂
Zero Point Add-Ins
Want to spruce up this breakfast? I have several tasty ideas you will want and crave. Start off with garlic, not just garlic powder which of course you can use but try adding a fresh clove of garlic sliced thin to the skillet and saute it before adding the eggs. Want to add some heat? I add 1-3 tsp of crushed red pepper. Want to get spicy without the heat? I have recently found a local company that makes spices that are amazing, I have been trying out the different combinations and adding them to everything. What is this mystery spice company you ask? MeatDuster.com I added the garlic spicy to make my Egg and Bacon Spinach Wrap truly pop. Try the original or for a truly flavorful option that doesn't add heat, For a flavorful heat shake a little DEATH on there, but be aware this is not for the faint of heart. I love that it has flavor and is not hot just to be hot. Need to check out the Zero Point List? You can find one here with a free printable 🙂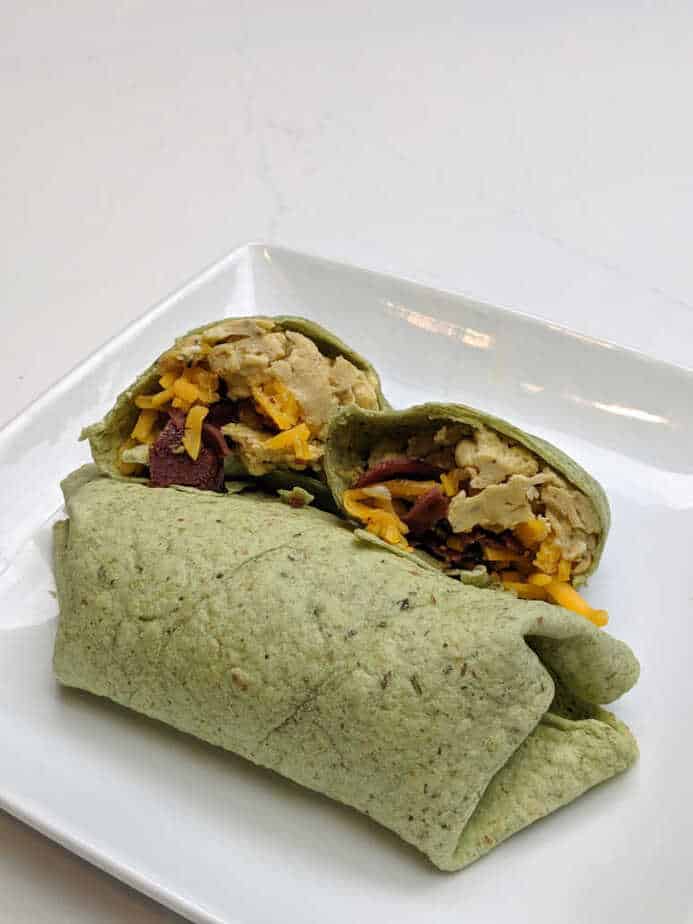 Let's add some delicious veggies to really change up the flavor and texture. Add diced green peppers, or get really fancy and add in a few red or orange peppers to create an appetizing and eye-catching meal. Sauteed mushrooms, matchstick carrots, diced onions, oh my. Smoked paprika, tomatoes, jalapenos, habaneros oh wee now we are getting spicy 🙂 one last zero-point add-in I would recommend is chicken breast the added protein will help keep you full longer and adds a bit of texture to the meal.
Have you hit a plateau and your leader suggested eating your weeklies? Need to add a few points to get to 23 for the day? Try these suggestions to increase the points for this dish.
Heavy cream – 2 tablespoons – 5 points
Cheddar cheese – 1 ounce – 4 points
Sour cream – 1 tablespoon – 1 point
Butter – 1/2 tablespoon – 3 points
Print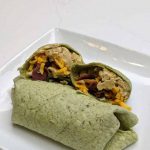 Egg and Bacon Spinach Wrap
---
3 slices of turkey bacon cut in half (3 points)
4 eggs scrambled
1 teaspoon  MeatDuster Garlic Spicy seasonings
3 Ole Extreme Wellness Spinach Wraps (1 point each)
3 oz lowfat cheddar cheese (3 points)
---
Instructions
Break 4 eggs into a small bowl.
Add 1 teaspoon of MeatDuster.com's Garlic Spicy seasoning
Scramble the eggs until the seasonings are well mixed
Spray skillet with pan spray and pre-heat for 5 minutes on med-hi
Put turkey bacon into the skillet and cook until desired crispness 8-10 minutes
Remove from skillet and drain
Spray a medium skillet with pan spray
Pre-heat skillet on high for 2 minutes
Add eggs and scramble until desired doneness (I prefer mine scrambled hard)
Layout one tortilla and fill with 1/3 of the eggs and one piece of bacon crumbled
Add 1 oz of low-fat cheddar cheese
Fold and enjoy
Notes
Makes 3 Wraps 3 Points Each