This light and fresh spicy mango salsa recipe is a great addition to any recipe collection. It is so versatile and can complement many recipes.
Spicy mango salsa has so many uses
I am always looking for new and interesting salsa recipes. This is a wonderful recipe and as with most of our recipes, you can make it mild or kick up the spice.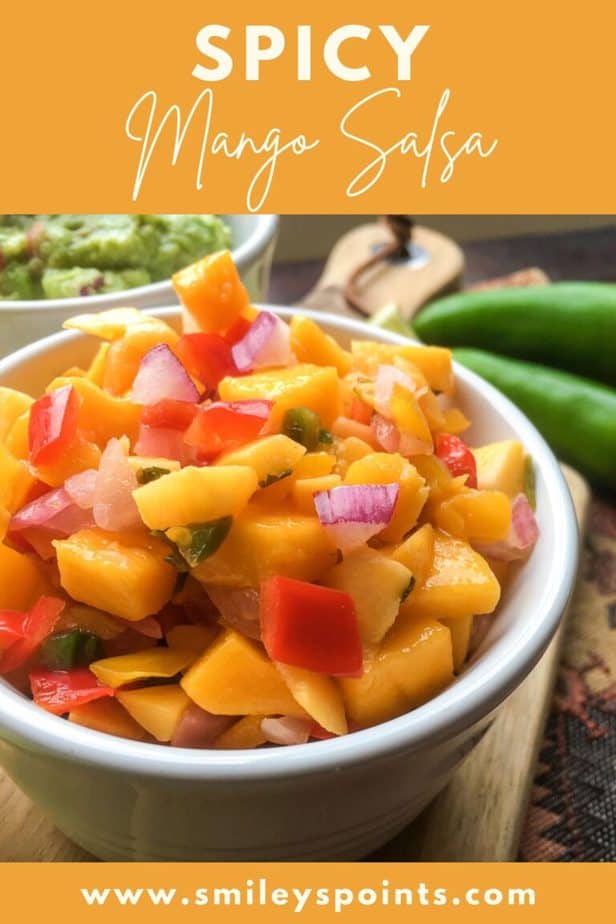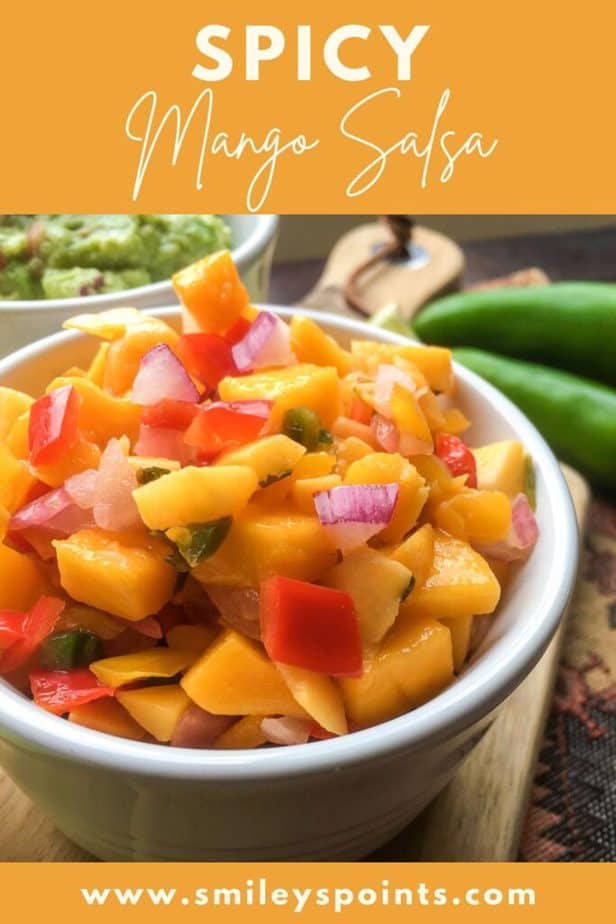 ---
"Healthi formerly iTrackbites is an alternative to Weight Watchers. "
---
Many proteins for one recipe
One of the reasons I'm always looking for new salsa recipes is that it is so adaptable in recipes. You can grill or bake a simple chicken breast and when you top with a delicious, fresh, homemade salsa, it transforms that chicken breast into a wonderful dish.
Whitefish such as tilapia or mahi-mahi are also fabulous sources of protein as a vehicle for a delicious salsa.
Spicy mango salsa is perfect for snacking
This salsa is zero points and there are many ways to enjoy it. Carrots, celery, broccoli are all excellent pairings for this salsa.
There are a variety of crackers that are low in points and give you a lot of bang for your buck. Sea Salt Corn Good Thins are delicious and you can munch on 38 of them for 3 points. Blue Diamond almond nut-thins are also tasty treat and come in at 4 points for 19 crackers. Ritz Crips and Thin are one of my all-time favorite crackers and they are 4 points for 21 crackers.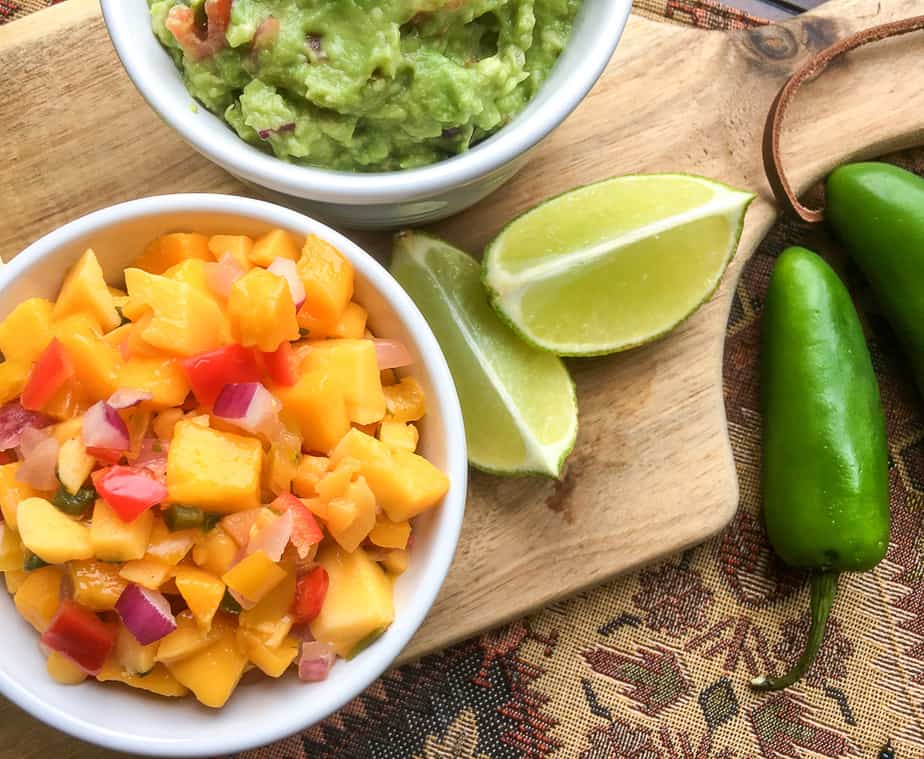 Variations to adapt spicy mango salsa to your pallet
I'm not a huge fan of anything that's spicy. I don't want my food bland, but I don't enjoy my mouth being on fire, or anywhere close to that. If you are like me, then simply omit the jalapeños and you're ready to go. If you like to feel like bees are swarming the inside of your mouth, add more jalapeños than the recipe calls for.
I prefer a milder onion flavor, so I substitute sweet onions for the red onions in my recipes.
If you love the look of this recipe but aren't a huge fan of mangos, you can substitute pineapple for mango and the flavor profile will still work beautifully.
Some other uses for spicy mango salsa
This dish can be used to spice up more bland and ordinary foods. You can scramble up a few eggs and throw in this salsa. Eggs are the perfect foil for this dish as eggs are a wonderful vehicle for sweet or savory foods. Cottage cheese is another wonderful place to add this fabulous dish.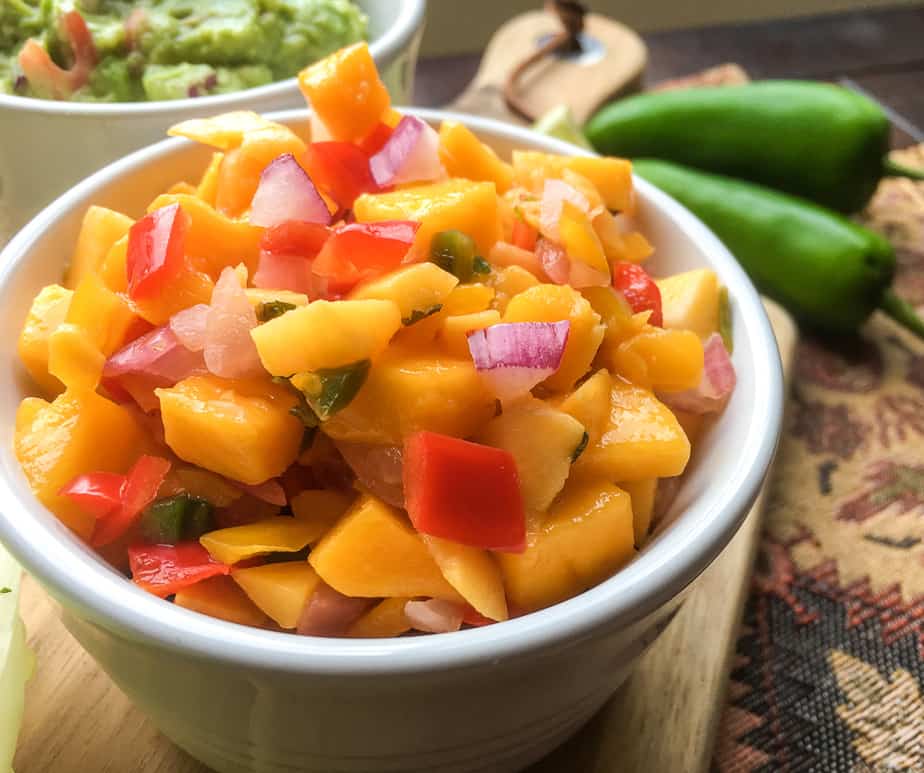 A vegan/vegetarian option to pair with your spicy mango salsa
A delicious main dish to use with this wonderful salsa is our easy black bean wrap. This recipe is full of so much fiber and has a great amount of protein. This both helps to fill you up, which in turn makes sure that you eat less in between meals.
One of the ways that I'm able to stay on track with my eating is by using Healthi formerly iTrackbites. It's a super easy plan and a wonderful company.
cost: Healthi formerly iTrackBites costs $36 for the year (using this link for 40% off makes it $36 – use COACH_SMILEY to save!!), WW is $20+ for the month, and it's the same formula and less options
choices: I can choose PointsPlus, Freestyle, or any other plan I want with Healthi formerly iTrackBites. Even with the new WW changes, they only offer 3 plan options (not PointsPlus).
logs: You can export your tracker data by the week, month, or quarter with Healthi formerly iTrackBites. WW does not give you access to quarterly data.
accuracy: I've found inaccurate info in the WW app due to members submitting and not paying attention to the right numbers. With Healthi formerly iTrackBites, I know if I see the green check, it's been verified as accurate. This puts my mind at ease!
BLUE PLAN: 0 Points
GREEN PLAN: 0 Points
PURPLE PLAN: 0 Points
Print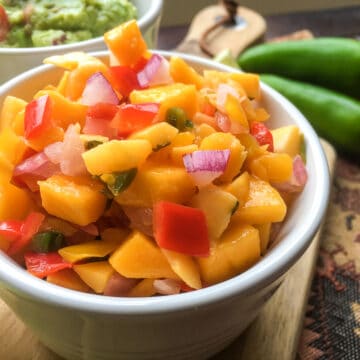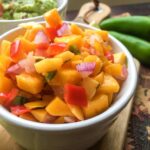 Spicy Mango Salsa
---
Description
This fresh mango salsa offers a nice blend of sweet and spicy flavors. It is delicious paired with our Spicy Black Bean Taco Wraps or served on top of some grilled Atlantic cod. It also makes a fantastic snack when served with some sweet potato or even traditional tortilla chips. You'll definitely want to give this one a try!
Prep time: 10 minutes
Cook time: n/a
Serves: 4
---
2 medium mangos, peeled and chopped small
1 medium red bell pepper, chopped small
½ medium red onion, diced small
½ medium jalapeño, finely minced
3 T. fresh cilantro, finely chopped
2 T. fresh lime juice
Sea salt and black pepper, to taste
---
Instructions
Combine mango, bell pepper, red onion, jalapeño, cilantro, and fresh lime juice in a medium glass or other non-reactive bowl. Season with salt and black pepper, to taste, and stir to combine.
Serve immediately or cover and place in the refrigerator until ready to use. Enjoy!