This air fryer coconut shrimp recipe is a lightened-up version of an old favorite. You give up the fat and calories, but none of the taste!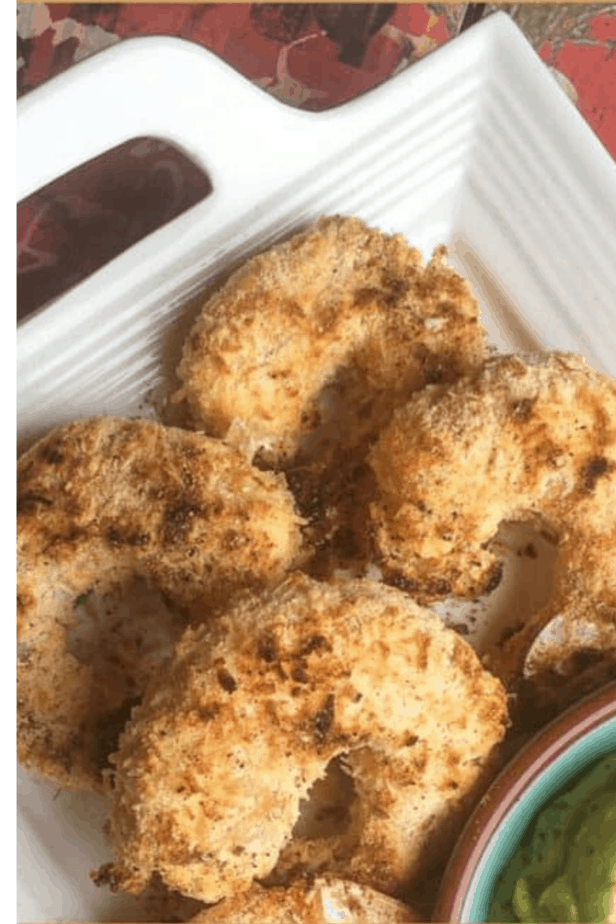 ---
"Healthi formerly iTrackbites is an alternative to Weight Watchers. "

---
Air Fryer Coconut Shrimp has all the taste without the fat and calories
While trying to manage my weight, it is always my goal to find recipes that are satisfying and delicious. I don't want to have to give up things that I enjoy eating, but I do want to eat things that are healthy and good for my body. This recipe is a perfect example of this. All the taste, none of the unhealthiness from frying food.
Modifying a recipe can make it fit any weight management program
In traditional versions of this recipe, the shrimp is coated with sweetened coconut flakes and panko breadcrumbs, then deep-fried. This healthier, lighter version is gluten-free and air-fried, rather than deep-fried. This air fryer coconut shrimp recipe also calls for unsweetened coconut flakes, which allows the other seasonings to take center stage. Here, a tangy avocado-lime dip rounds out the flavors. However, a sugar-free orange marmalade would be a wonderful addition, as well.
What is the best size shrimp to use
In this case, large 10/15 count shrimp were used. However, medium-sized shrimp work better for larger gatherings. Frozen shrimp often goes on sale buy one get one free. This is perfect for this recipe. We primarily use frozen shrimp, as fresh shrimp tends to go bad quickly. The shrimp that you need to peel is cheaper but does take a bit more work. Personally, I don't mind. That kind of mindless cooking work is a bit Zen for me.
To defrost your shrimp, but them in a colander and run cool water over them until they are defrosted. It should only take 10-15 minutes for the shrimp to defrost.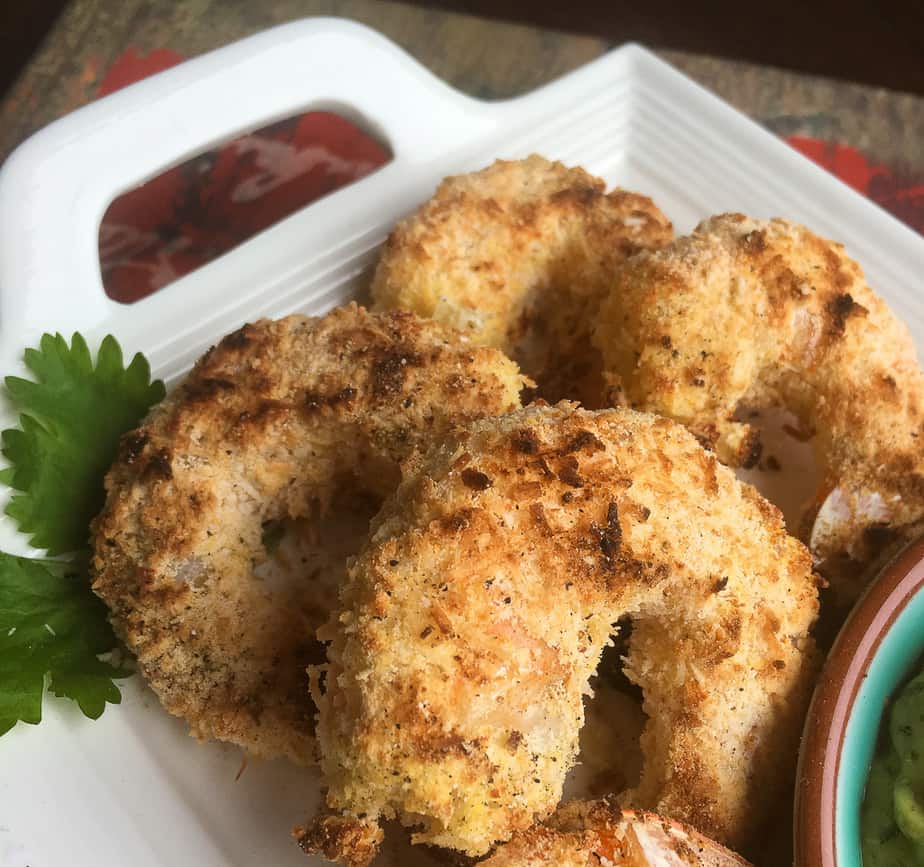 Sides with your coconut air fryer shrimp
This is a delicious meal and is made even better with some sides. Our copycat cheddar bay biscuits are always a hit. I have to double the batch because our kids DEVOUR them. Some comfort food in the form of loaded mashed cauliflower is a great option. If you want something easier, throw some french fries into the oven to bake and some broccoli in the microwave, simple and done!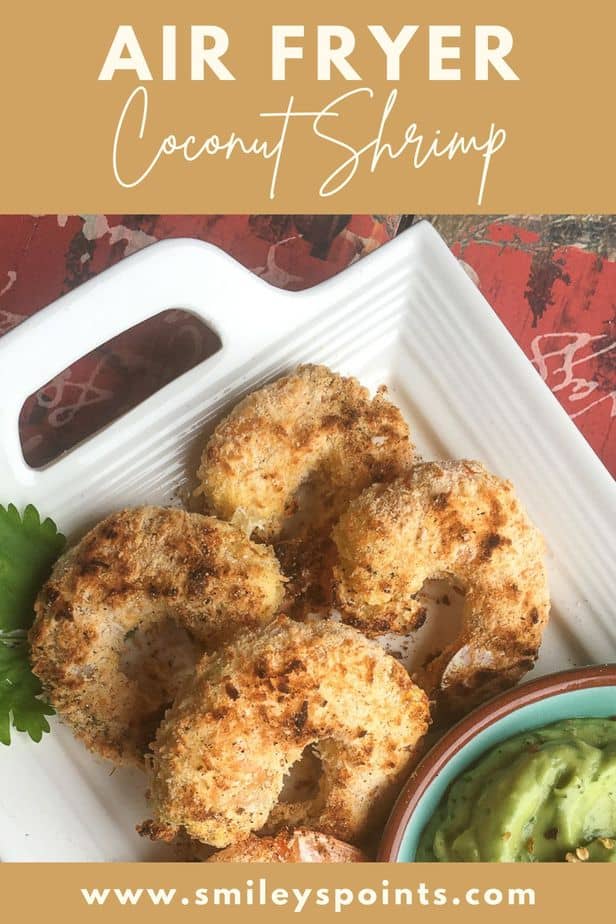 Health benefits of shrimp
Shrimp is a wonderful source of protein because it's low in calories and high in nutrients. Even better, 90% of the calories in shrimp are protein and 10% are good fats. Shrimp is also full of iodine, which many people are deficient in. Iodine is necessary for proper thyroid function and brain health. It's also a great source of omega-6 and omega-3 fatty acids, which offer a variety of health benefits. Check out this article for more information on the health benefits of eating shrimp.
To dip or not to dip your air fryer coconut shrimp
This recipe is a bit on the high side for points. It's much healthier than the fried version, but the coconut is the heavy-hitter in this recipe. If you want to lighten your points, or you aren't a huge fan of avocado, eliminating the dip will save you 3 points. You can always throw some garlic, lime and a dash of salt into some greek yogurt for a free point dipping sauce.
Finding help with eating healthy
There are so many ways to eat healthy out there these days. And there are many plans to help you do so. I LOVE Healthi formerly iTrackbites to help keep me motivated and on track.
Have you tried Healthi formerly iTrackbites?
Sign up for FREE through my referral link (mobile) and
leave a comment letting me know what you think!
Use code COACH_SMILEY as a PROMO CODE at checkout to get Healthi formerly iTrackbites for just $24.99 a year!
BLUE PLAN: 10 Points – 7 Points without Avocado Dipping Sauce
GREEN PLAN: 12 Points – 9 Points without Avocado Dipping Sauce
PURPLE PLAN: 10 Points – 7 Points without Avocado Dipping Sauce
Print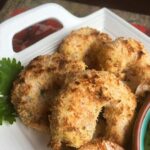 Air Fryer Coconut Shrimp
---
Author:

Total Time:

30 minutes

Yield:

4

servings

1

x
½ c. almond (or coconut) flour
1 t. smoked paprika
1 t. ground cumin
1 t. garlic powder
1 t. onion powder
Sea salt and black pepper, to taste
2 eggs
2 T. water
¾ c. shredded coconut, unsweetened
1 lb. 10/15 count gulf shrimp, peeled and deveined, tails on
Avocado Lime Dip:
1 large ripe avocado, pitted and peeled
3 T. fresh cilantro, stems removed
2 T. fresh lime juice
¼ t. ground cumin
½ t. red pepper flakes
Sea salt and black pepper, to taste
---
Instructions
If you have an air fryer that has trays, line them with parchment paper. Otherwise, just spray the basket with non-stick cooking spray. 
Combine almond flour, smoked paprika, ground cumin, garlic powder, and onion powder in a pie pan or shallow bowl. Season with salt and black pepper, to taste, and set aside.
In a second pie pan or shallow bowl, gently whisk the eggs and water until frothy. Season with salt and black pepper, as desired, and set aside.
Add shredded coconut to a third bowl and set aside.
Working one at a time, dredge each shrimp in the seasoned almond flour, then dip in the egg mixture. Allow excess egg to drip off before transferring shrimp to the bowl of shredded coconut. Turn to coat shrimp thoroughly before transferring to the prepared baking sheet. Repeat with remaining shrimp and season with additional salt and black pepper, if desired.
Place shrimp in the air fryer at 400° until golden-brown and crispy, around 12-15 minutes, turning once halfway through.
Meanwhile, add avocado, cilantro, lime juice, and cumin to a food processor or blender and blend until smooth. Add a tablespoon or two of water, if necessary, to reach the desired consistency. Season with salt and black pepper, to taste. Transfer to a small serving bowl and sprinkle with red pepper flakes. Set aside.
Remove shrimp from the air fryer and serve immediately with avocado-lime dip on the side. Enjoy!
Prep Time:

15

Cook Time:

15