Loaded Mashed Cauliflower
I have been in a mood lately and have really wanted to try something different. My family and I really enjoyed my Loaded Mashed Potatoes recipe. They go great alongside the Buffalo Cauliflower Bites and the Cheddar Bay Biscuit Copycat Recipe.
I'm so happy you're here. 🙂 Note: Smiley's Points participates in affiliate programs. That's how the bills get paid! There is no additional charge to you and I only recommend products I know and love.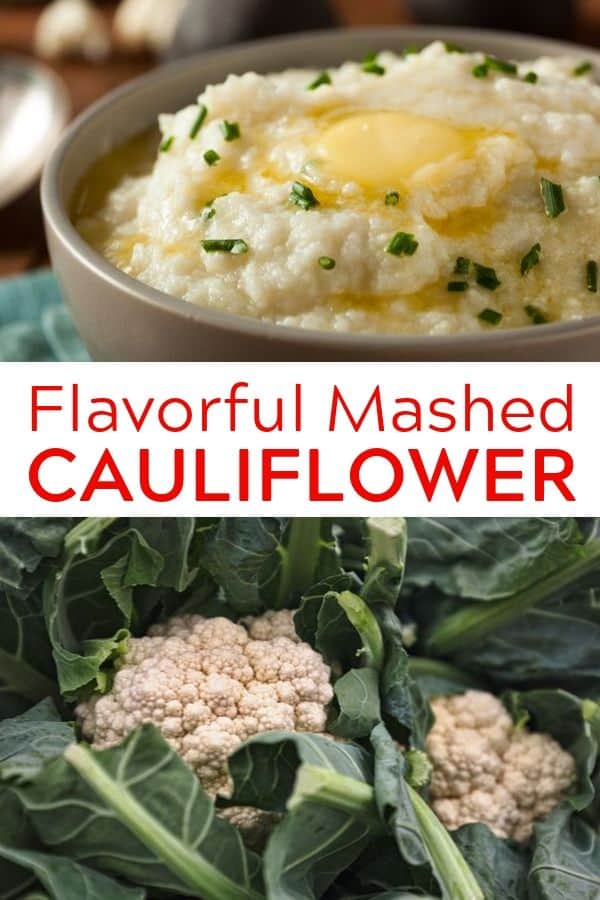 BLUE PLAN: 2 Points

GREEN PLAN: 3 Points

PURPLE PLAN: 2 Points
Loaded Mashed Cauliflower
One day my wife wanted mashed potatoes, and since we started a walking challenge to help get us moving again I didn't want to add more carbs to our diet. Carbs make you feel sluggish after the sugar high is gone, and we are in this challenge to win it. I needed a potato substitute and fast, you know happy wife happy life and all. Cauliflower was the way to go, with minimal prep time and a blender we had loaded mash potatoes in half the time it takes to make them with actual potatoes. Imagine that great tasting loaded potato taste cooked in half the time and, oh yeah no peeling them 🙂
Weight Watchers Meal Prep
I usually leave a little blurb about making extra and freezing some because I don't stay on track unless I Meal Prep, but these are not that great out of the freezer, in my opinion. Luckily this recipe is so quick and easy to make that you can whip it together in no time flat and still have time to make Jalapeno Poppers as an appetizer. Cauliflower Mashed Potatoes pairs well with my Herb Roasted Chicken
Cauliflower Mashed Potatoes
Cauliflower mashed potatoes are one of the many ways that cauliflower is becoming a healthy alternative to carb-rich foods. If you have the points to spare go ahead and have the potatoes but if you want a lower-carb alternative, cauliflower is the way to go. Cauliflower takes on the flavors of the spices you add very well. It does take getting used to the stronger flavor of cauliflower, but it is not a hard transition at all. Cauliflower has a different consistency also but you can mimic potatoes very well once you blend them. I always make sure to drain them well and let them sit for a few minutes before I start adding in the ingredients and blending them. I find this helps them to not be so watery.
Zero-Point Add-Ins
While this recipe is great as-is, You can feel free to add in a few extras. Here is a shortlist of a few items I thought would make my loaded mashed cauliflower even more loaded🙂
Diced green peppers
Diced Jalapenos (add a little kick 🙂
See a short list 🙂
Ninja Foodi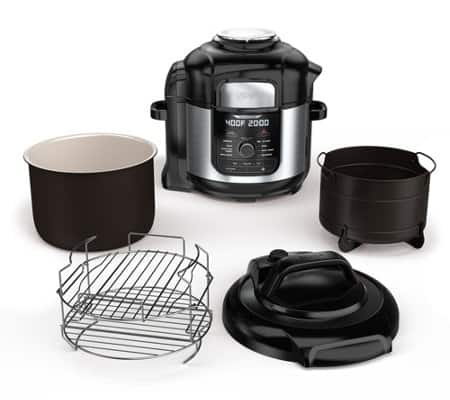 The Ninja Foodi has changed the game when it comes to cooking. You can do everything all in one pot. I love the Ninja Foodi and how easy it has made my life. I am a huge fan of the Instant Pot and have been using both. I even wrote the Ultimate Instant Pot Guide. Since getting the Ninja Foodi my Instant Pot isn't getting as much of a workout. I do use it to cook more than one meal at a time on Sundays but it is not getting as much use as it did. The Ninja Foodi pot is non-stick and that is a big deal when it comes to clean up. There are a few other major differences I will get into when I write the Ultimate Ninja Foodi Guide. Stay tuned for that guide.
The Instant Pot has been a big help in my wife and me losing weight. Meal planning has been an essential factor in our success with Weight Watchers. We are short on time, so we joined Instant Pot for Weight Loss and it jump started our weight loss in a BIG WAY! If you're intimidated by your electric pressure cooker, this is a way to get over it… fast. 🙂

Also check out my Ultimate Instant Pot Weight Watchers Guide and my 30 day weight loss results with Noom.
Print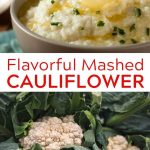 Loaded Mashed Potatoes
---
4 cups cauliflower riced
4 oz Kraft Natural Cheese fat-free Shredded Cheddar Cheese 2 points
6 slices Butterball Everyday thin and crispy turkey bacon, cut in pieces 3 points
1/2 bunch Green Onions, chopped green and white parts
1 cup Fagé yogurt
1/4 cup fat-free Mayonnaise 2 points
Salt and Pepper to taste
---
Instructions
Cook bacon and cut into pieces
Press pressure cook on your Ninja Foodi set to hi and 2 minutes.
Add 1/2 cup of water and riced cauliflower.
I use the Kindsay divided steamer basket, use one if you have it, this will make your mashed cauliflower less watery. (I prefer to use riced cauliflower to get a smoother texture in the end)
Drain well, let the cauliflower rest after you strain it while you saute your garlic and onions.
Sauté garlic and onions until the onions begin to carmelize. I use the Ninja Foodi for this step but you can use a skillet on the stove also.
Spray skillet with pan spray and add white parts onions and garlic.
Or spray your Foodi pot with pan spray, press sauté on your Foodi add the garlic and onions and saute for 2-4 minutes until the onions begin to carmelize.
In a medium bowl mix together yogurt, mayo, cheese, and bacon
Put cauliflower into a blender or food processor
Add ingredients from the bowl and blend until the desired consistency is reached. I like mine very smooth
Taste test and add salt and pepper as needed.
Garnish with the green part of the onion Cover and refrigerate until chilled. Yields about 4 cups. 1 cup servings
Notes
1 tablespoon of I Can't Believe It's Not Butter Lite is 1 point.
While you are here try some of my other favorites.
Chicken Chili
Turkey and Sweet Potatoes
Beef and Broccoli Skillet
Air Fryer Egg Souffle