Why Does Weight Watchers Keep Changing Their Program? WW 2020
"Why does Weight Watchers keep changing their program? We just got Freestyle a few years ago, and here come more changes with WW 2020."
This is a question I've seen at least a dozen times daily since WW hinted at new changes. There are a few reasons for the changes, but you don't have to change anything if you don't want to. Freestyle is STILL an option – just choose the Blue Plan. If Freestyle hasn't been working, you'll be relieved to learn about the Green and Purple plans.
---
"Healthi formerly iTrackbites is an alternative to Weight Watchers. "

---
Why Does Weight Watchers Keep Changing Their Program?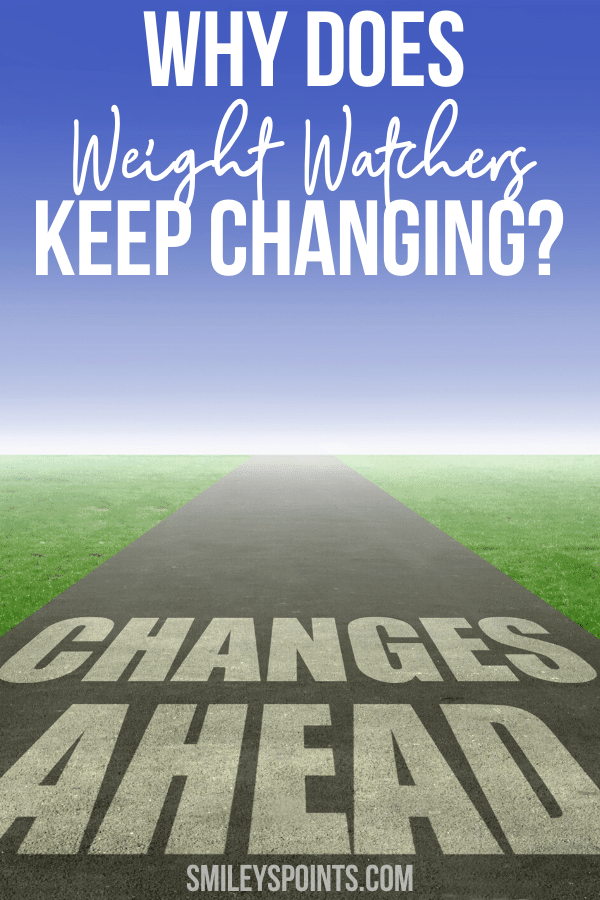 You may think the owners of Weight Watchers are confused – or drunk. In 2015, we got Beyond the Scale. They released Freestyle in 2017, then they "rebranded" to WW, or Wellness That Works, in 2018 and partnered with Headspace. Nobody calls them WW, we all still say Weight Watchers because it's been that way for 50 years. They tried to release a WW for teens program (Kurbo) and it failed miserably with nothing but bad press all over the place. It's like they're throwing darts at the wall, praying at least one of them sticks.
I think they finally listened to all of the complaints saying "the old program worked better!" and decided to bring the old programs back while keeping Freestyle for those that were doing well. So they are making big changes, but in reality, they're just re-releasing their older plans and doing so in a way that creates TONS of buzz. Buzz leads to new members and more money, which every business wants.
Weight Watchers says:
The SmartPoints® system has been incredibly successful in helping members to eat better while losing weight, but we are always looking to make the program even simpler and more livable for you.

Weight Watchers
Weight Watchers Science
Science is always evolving and we learn new things about food science all the time. If the Weight Watchers program never changed, we'd still be eating liver once a week (circa 1972). Blech.
WW has to change to keep up with the times. As we learn more about weight loss and wellness, the way we tackle weight loss must change. If you're successful with the program you're on, stick with it! If you're not, Weight Watchers gives you the option to mix it up.
Need more support? Join my Facebook Groups!

WW Recipes and Support With Smiley's Points (All Plans)
Low Point Recipes Only (All Plans)
PURPLE PLAN Group
BLUE PLAN Group
GREEN PLAN Group
How do SmartPoints Work?
If you're new to WW, you may be wondering how the Points system works. WW calls their system SmartPoints® and each food's point value is calculated by calories, saturated fat, sugar, and protein.
The goal is to choose foods that are high in protein and lower in sugar. High sugar/carb foods cause me to gain weight so fast, I have to be careful – whether I'm following WW or another way of eating.
The program will NOT be changing their SmartPoints formula. Each plan is still based on this science.
What are Rollover Points?
Weight Watchers introduced "Rollover Points" when they put out Freestyle in December of 2017. Rollovers give you up to 4 extra points for any day you choose because we all know Mondays are much different than Saturdays for most of us! Go ahead, have that low point drink.
What are Weeklies?
Weeklies are extra points that are there for you to utilize d to help keep you on track without feeling deprived. Weeklies can help keep you motivated and in the habit of counting the points, even when you are "splurging".
Weeklies also give you a cushion so you can have a little extra here and there and still lose inches. Weight Watchers is a lifestyle, not a crash diet, so you've gotta keep the long-term game in mind. This may mean utilizing your weeklies so you don't feel like you're starving.
When you dip into your weeklies 1 or 2 times a week, you will probably still lose weight without having to exercise; but if you're over 40 or have other issues that may slow your metabolism, you may find it difficult to lose. If you use all of your weeklies, you need to increase your exercise and water intake to compensate for the extra caloric intake. Remember, it is all about balance. Your Weeklies do not rollover. Use them, or lose them.
Related: Should I Eat My Weeklies?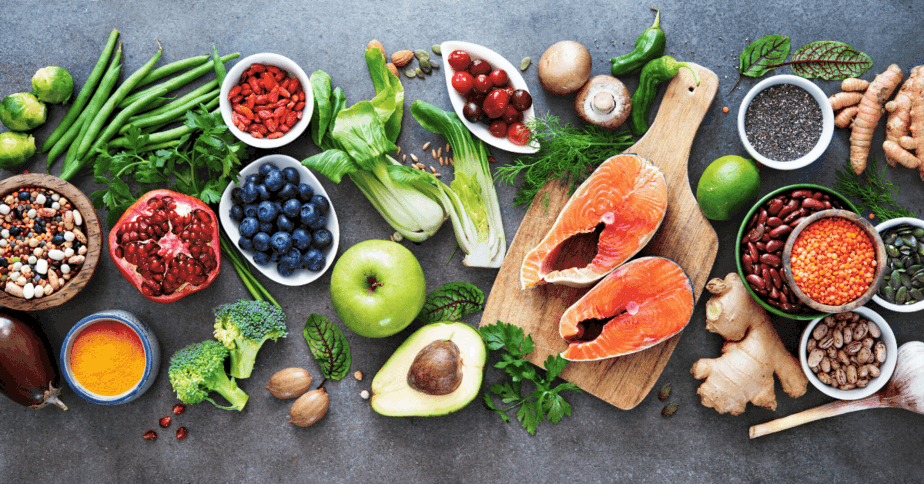 Zero Point Foods
Zero Point foods were introduced to allow Weight Watchers members the freedom of not having to track every little thing. For some, Freestyle was a game changer in the best way! It mixed things up and kicked our weight loss into high gear. For others, it allowed too much freedom and reports of members not losing weight (or even gaining!) came rolling in quickly.
Remember: Zero Points does NOT equal zero calories or zero carbs. The Green Plan is best for those of us who need more boundaries, as it has the fewest zero point foods. The Blue Plan (Freestyle) has 200, while the Purple Plan (Freestyle Plus) has 300 – including foods like brown rice and whole grain pasta, which could definitely throw lots of folks off their weight loss path if not used carefully.
I created a list of Zero Point foods and their calorie, carb, and fiber count. I also made a portions printable. These two tools help me tremendously. I'm carb sensitive and if I don't watch my carbs, I will gain weight instantly.
Weight Watchers Online VS Meetings
With Weight Watchers, you have the freedom to join online only or to attend meetings. Some members say meetings help keep them accountable, but I have had great luck with Weight Watchers' online only program.
Ask yourself: do I need the accountability of in-person meetings?
If so, the program costs more, but it's worth it if you have the budget for it. Be sure to check local Weight Watchers locations to make sure there's a meeting time and place that is convenient for your schedule.
WW 2020: Which Plan is Best?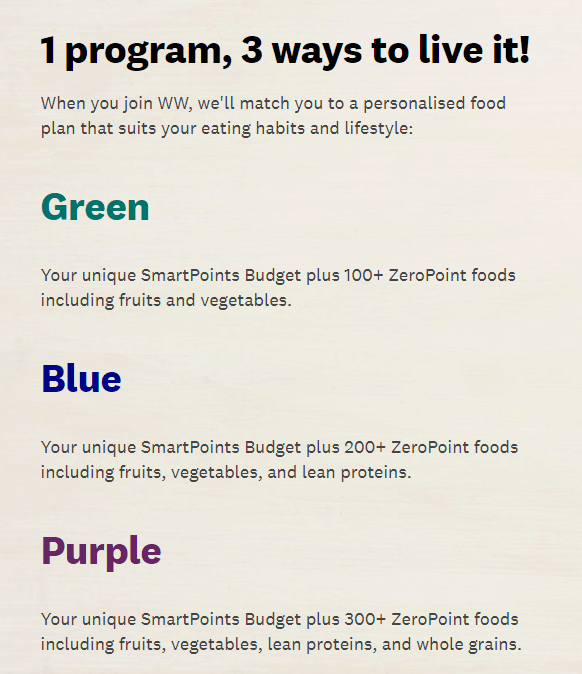 Weight Watchers offers an assessment (starting 11/11) for members who want help choosing a plan, but here is a basic rundown of each:
The Green Plan is best for those of us who are carb sensitive and/or have a difficult time controlling portions of "free" foods. It is the most "restrictive", but really it's not restrictive at all. You start out with a minimum of 30 Daily SmartPoints, and fruits and veggies are still zero points.
The Blue Plan is best for those who are on Freestyle and loving it. If you're new to Weight Watchers, Freestyle is the plan with 200 Zero Point Foods. I use these foods (chicken, eggs, nonfat Greek yogurt) as the base of most of my meals. This leaves more points for delicious add-ins like coconut oil, sunflower seeds, or even cheese!
The Purple Plan is best for those who are close to – or at – goal weight and have no issues with portion control or carbs. If you know what your body can handle, you know how much you should eat and you eat just the right amount, the Purple Plan gives you freedom. Knowing your body is key here.
Can You Change WW Plans?
WW asks that you give each plan at least a solid 2 weeks before switching to another one. Our bodies take a bit to adjust to new ways of eating, so it's important to stick with the plan for a bit before jumping ship. If you want to change plans, you can do so in the app.
The bottom line is, whichever program you feel most comfortable with is the program that will work best for you. If you're on a budget, consider using Healthi formerly iTrackBites to get the WW points system at a fraction of the price. If you're sick of counting points, try noom.
My wife and I have both lost weight with the noom program, and it's cheaper than Weight Watchers but more hands-on with a digital coach that messages you and motivates you on a regular basis. Weight Watchers online only option lacks the motivational coach feature, but there are plenty of Facebook groups (like mine) to help keep you on track.
How to Be Successful With Weight Watchers
Regardless of the program, YOU can be successful. Every person is different, but for me, WW success comes down to these things:
We all have the same goal: health! Let's work together to make it happen.