This delicious cranberry marshmallow fluff is only 2 points on the Freestyle program. When the Green and Purple plans are updated, we will add those points as well. Looking for info about the new plans? Weight Watchers 2020 Plan Info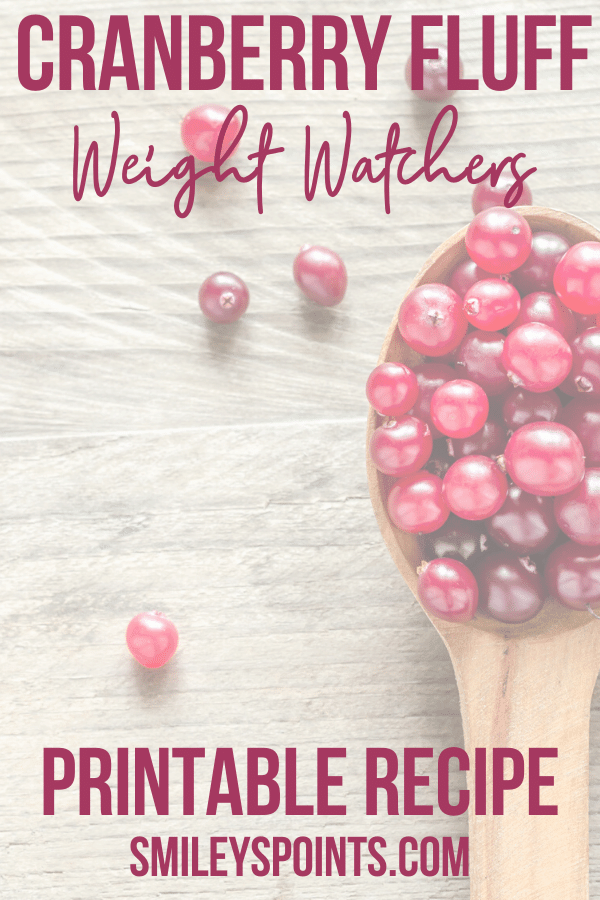 Cranberry Marshmallow Fluff
Craving a low point dessert packed with lots of flavor and just the right amount of sweetness? We've got you covered!
BLUE PLAN: 2 Points

GREEN PLAN: 2 Points

PURPLE PLAN: 2 Points
I'm so happy you're here. 🙂 Note: Smiley's Points participates in affiliate programs. That's how the bills get paid! There is no additional charge to you and I only recommend products I know and love.
Benefits of Cranberries
From urinary tract health to oral hygiene, these delicious dark red berries are the perfect addition to any dish: add them to stuffing, casseroles, or even dessert!
Many people consider cranberries to be a superfood due to their high nutrient and antioxidant content. In fact, research has linked the nutrients in cranberries to a lower risk of urinary tract infection (UTI), the prevention of certain types of cancer, improved immune function, and decreased blood pressure. *Source*
Are Cranberries Sweet?
By themselves, cranberries are tart. Instead of adding sugar to this recipe, we are adding pineapple, mini marshmallows, and dark chocolate chips to sweeten this one up a bit.
Pssst… Use cranberries to flavor your Nice Cream!
Cranberry Nutrition Facts
The main nutrients in 1 cup (100 grams) of raw, unsweetened cranberries are:
Calories: 46
Water: 87%
Protein: 0.4 grams
Carbs: 12.2 grams
Sugar: 4 grams
Fiber: 4.6 grams
Fat: 0.1 grams
Remember: Zero Points does NOT mean zero calories or carbs. If you're carb sensitive, or over 40, you'll want to keep an eye on this Zero Point list that includes calories, carbs, and fiber.
Cranberry Fluff Recipe Video
Cranberry Fluff is featured in Barrett's video about the PURPLE PLAN and what she ate this week! 🙂 Check it out, then scroll down to print the recipe below.
Print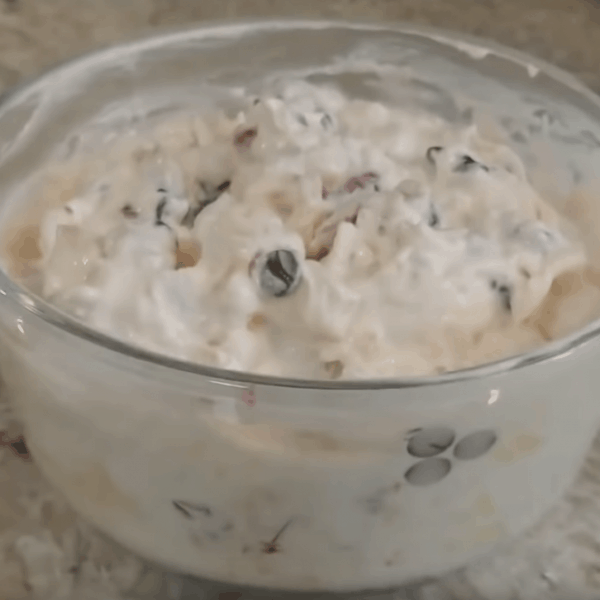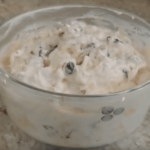 Cranberry Marshmallow Fluff
---
Description
This delicious low point WW dessert is perfect for the holidays… or any time of year!
---
10 tablespoons of lite cool whip
½ bag Whole cranberries 1 bag is approx. 12 ounces or 3 cups
1 tbs sugar-free vanilla pudding mix
1 serving Lilly's dark chocolate chips
1 tsp vanilla extract
½ can crushed pineapple strained about 10 ounces
1 cup nonfat plain Greek yogurt
20 miniature marshmallow (1 ounce)
---
Instructions
Cook cranberries in water until they pop (about 10 minutes)
Strain the cranberries
Mix all ingredients together Add more pineapple if desired.
Stir until well combined Enjoy
Notes
Makes 6 servings 
2 Points per servings
Are you on Pinterest? Follow me here, and pin the recipe by clicking on the image below! 🙂