A college favorite and a hit at every party. When you are having guests over and you want to have fun and keep the mood light, make jello shots and your party will always be the talk of the town. Jello shots are always mixed just right and never overpowering creating the perfect shot for your guests.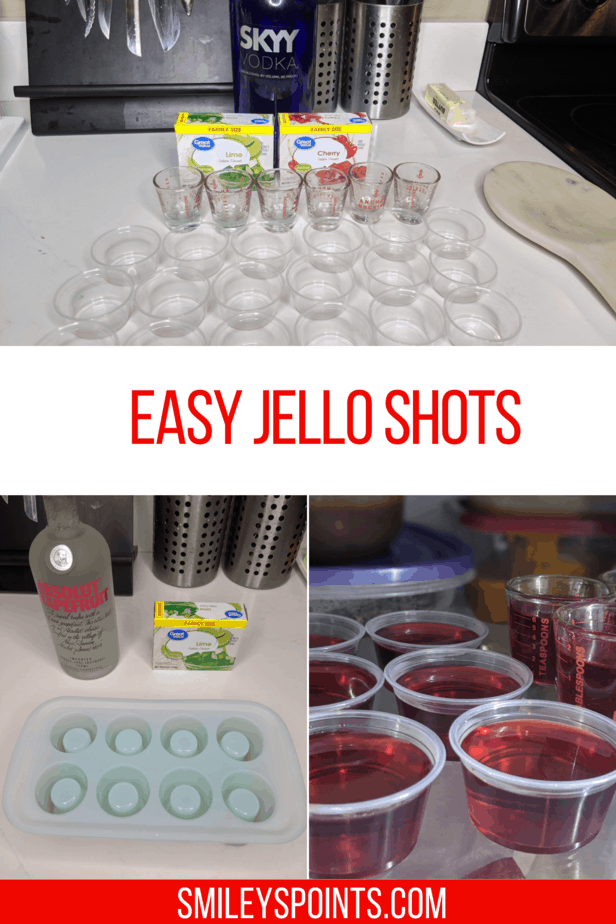 The Easiest Jello Shots
Jello shots are super easy to make and taste great. They are easy to store in the fridge and are always the right mixture of alcohol and fruit flavor. We will show you how to mix things up a bit and make your jello shots unique. Hint: it's all in the mold 😉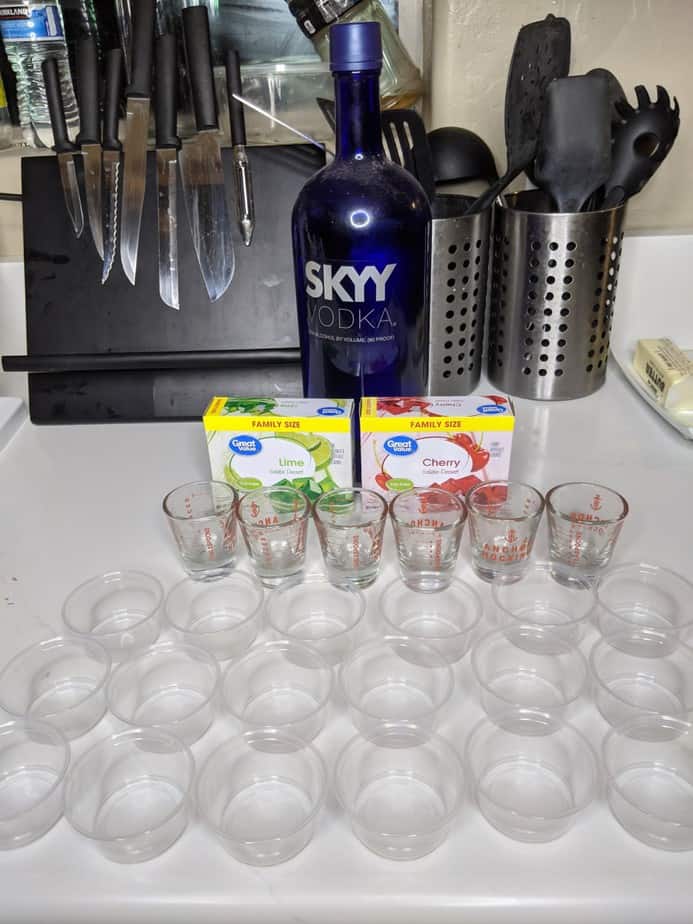 A New Mold for Jello Shots
A recent trip to the Walmart landed us an interesting mold for our Jello Shots. We can make shot glasses out of the jello and fill them with whatever we like 🙂 You will see that with the green shots later on.
How to make Jello Shots
Jello shots are so easy to make all you have to do is substitute ½ cup of water for your favorite alcohol. Follow the directions on the package and you will have great tasting jello shots in no time.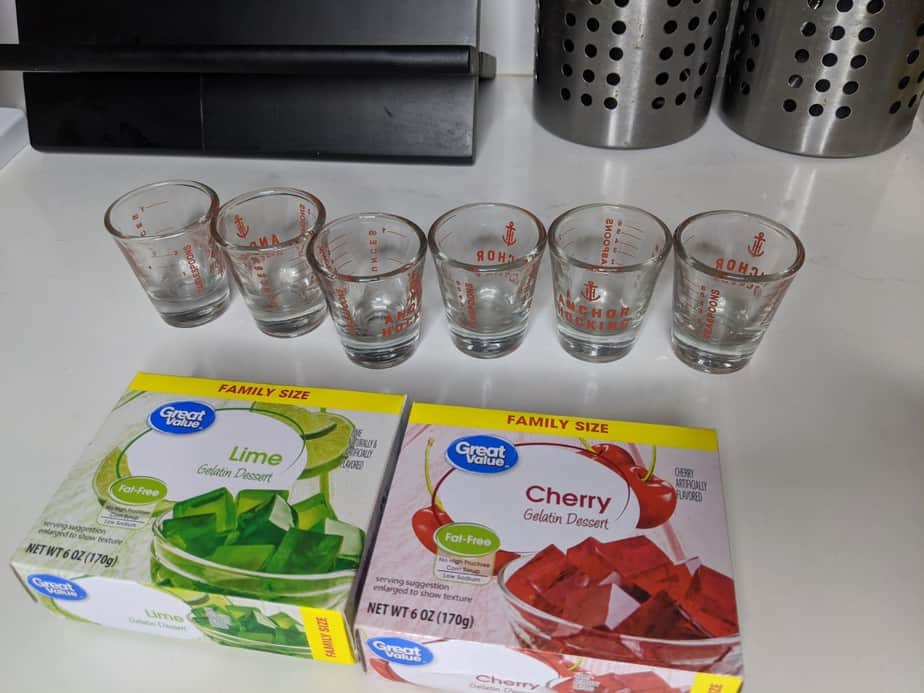 Jello Shots Tips and Tricks
Add hot water to the bowl first then add jello mix. I have tried adding the hot water to the mix first and of course it turns out ok but I get the jello mixed up better and faster when I add the mix to the hot water, not the other way around. Everytime I have added the mix to the bowl first I always end up with some of the mix settled at the bottom and not mixing completely without tilting the bowl and stirring vigorously. Just a little tip to make your evening easier.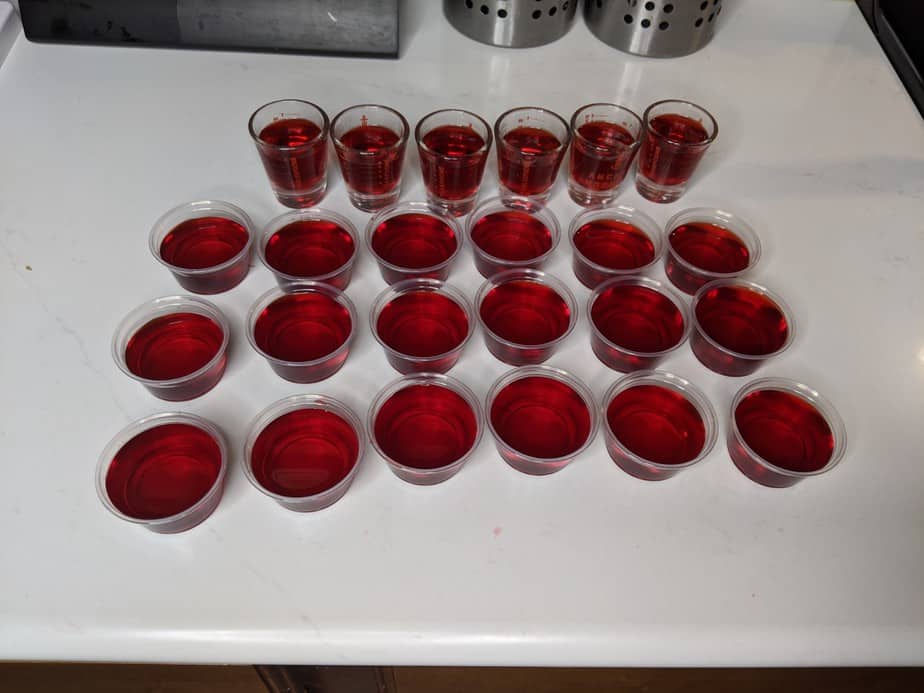 Add fruit to your mix before cooling and you can create masterpieces. Kidding well kind of. I love adding pineapple pieces or orange pieces to my jello. I like the citrusy side of life I guess 🙂 cherries and watermelon are also great add-ins to spruce up your jello shots.
Remember those green jello shots? They did not turn out as expected the first time through. With some trial and lots of comedic errors, we finally got them to work and once we added some strawberry pieces to them and they were delicious. A delicious mess but delicious nonetheless. I had to try a few times to get the mold right.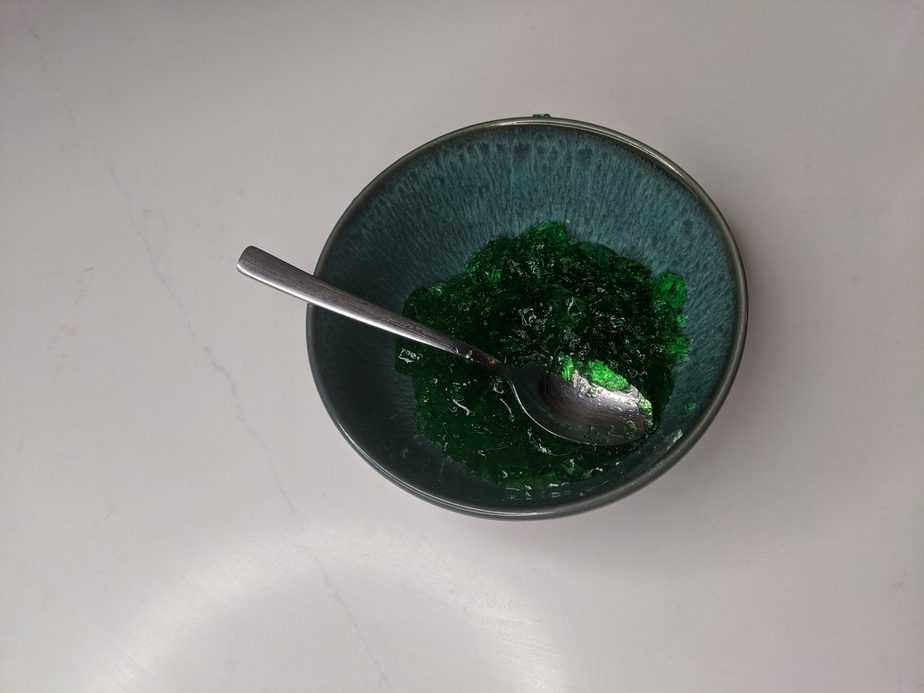 The first tip I can give when using a jello mold is to use cooking spray to coat the surface of your mold. This helps the jello not stick as securely to the sides of your mold and this makes it easier to remove the jello from the mold. Lesson learned. I made a huge mess the first time but it was fun and my wife loved eating her bowl of jello shots? 😉
For 1 Jello Shot
BLUE PLAN: 0 Points

GREEN PLAN: 0 Points

PURPLE PLAN: 0 Points
1 Point for 2 Jello Shots 🙂 Enjoy
More Dessert Ideas

Banana Bread
Easy Cinnamon Rolls
Apple Pie Cookie Crisps
WW Fudge
Print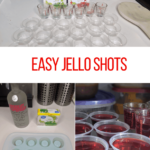 Easy Jello Shots
---
Description
The easiest tasty jello shots
---
1 6oz package of sugar-free jello any flavor
2 cup boiling water
1 cup of cold water
1/2 cup vodka
2 oz cups with lids or a Jello mold
---
Instructions
Spray jello mold with pan spray**
In a small pan bring water to a boil
Pour boiling water into a metal bowl
Mix in jello mix and stir until the mix is dissolved about 2 minutes
stir in cold water and vodka
Pour mixture into jello shot cups or into your pre-sprayed jello mold
Fill cups or mold about 3/4 of the way
Place in the fridge for 4 hours
Enjoy the party 🙂