Classic Oatmeal Raisin Cookie Recipe + Tips on Making Low Point Desserts
Who doesn't love an oatmeal cookie? This lightened up version of classic oatmeal raisin cookies will satisfy your cookie craving without a ton of calories or points.
---
"Healthi formerly iTrackbites is an alternative to Weight Watchers. "

---
A new twist on a classic oatmeal raisin cookie recipe
This delicious cookie recipe is a fabulous example of lightening up an old favorite. While oatmeal raisin cookies seem healthy because both oatmeal and raisins are healthy, their neighbors in this recipe…not-so-much.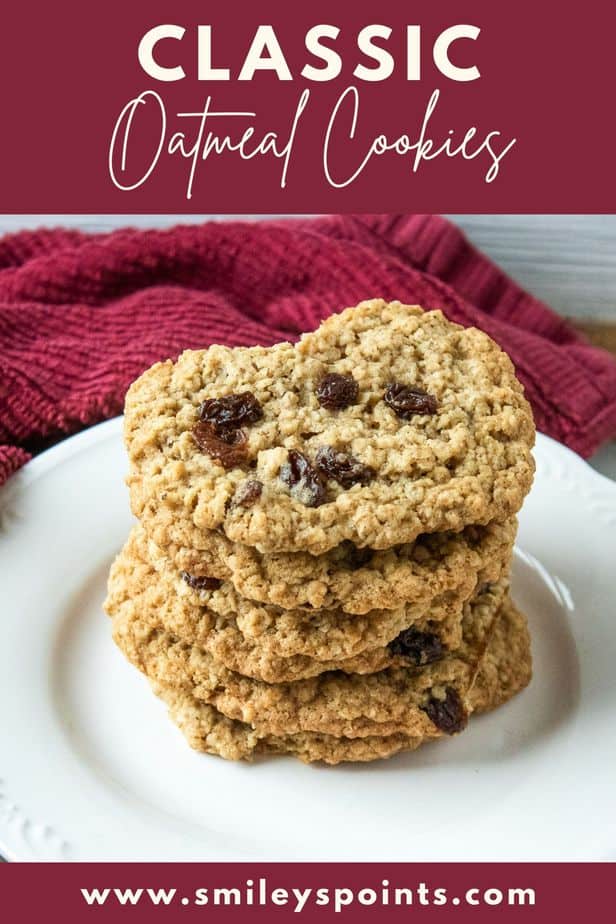 Butter substitutes for classic oatmeal raisin cookies
When I first did the points for these classic oatmeal raisin cookies, I followed the recipe and used a cup of butter. The points were cookie were a whopping 8 points! For. One. Cookie….ONE. I'm all for a treat and butter is awesome, but I'm not willing to spend that kind of points on a single cookie. So, I had to look for an alternative. Enter applesauce! Applesauce has long been used as a butter substitute. The only disadvantage is it does add a bit more water into the recipe. You might need to add a bit more flour or oats, depending on your tastes.
Some other options you can use as a substitute for butter are avocados, mashed bananas, greek yogurt, nut butters, or pumpkin purée. The choice can be influenced by the flavor profile of the recipe, nutritional value, or personal preference.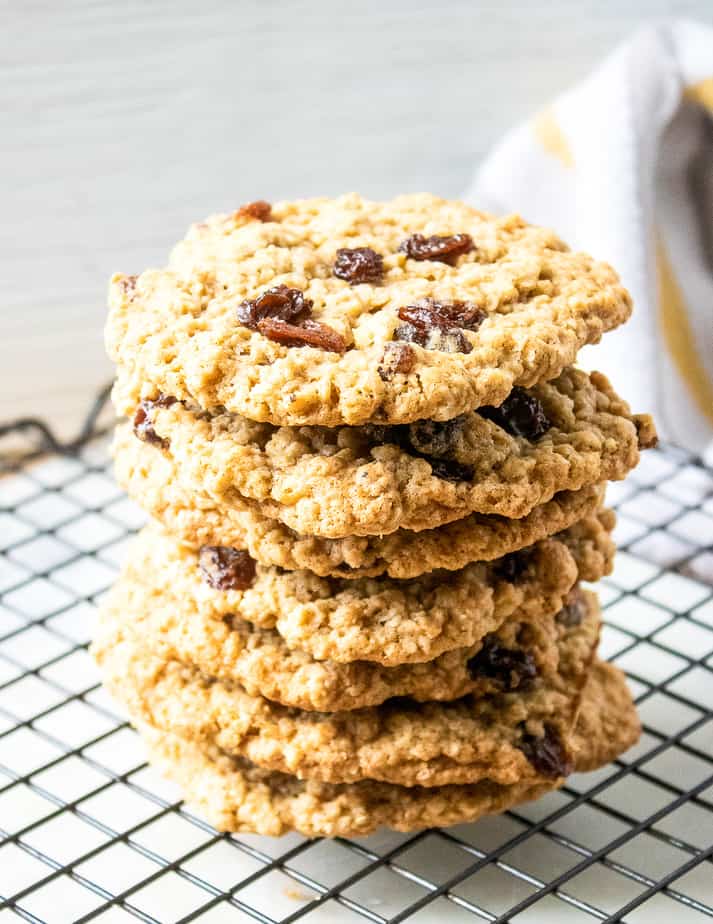 Can I bake classic oatmeal raisin cookies in an air fryer?
There are lots of recipes out there where you can bake cookies in an air fryer. Air fryers are amazing and you can bake and cook almost anything in them. If you are baking a few cookies or baking from frozen, an air fryer is likely the way to go. They are so great if you don't want to heat up your house too much. But if you are making dozens of cookies, it will be tedious, as you can make them in smaller batches. It will work better if you have an air fryer with trays, such as this one. You will want to use air fryer parchment paper as well to prevent your cookies from sticking to the trays. If you want to use regular parchment paper, make sure you punch holes in it. The point of an air fryer is that the air circulates, which it can't do with regular parchment paper.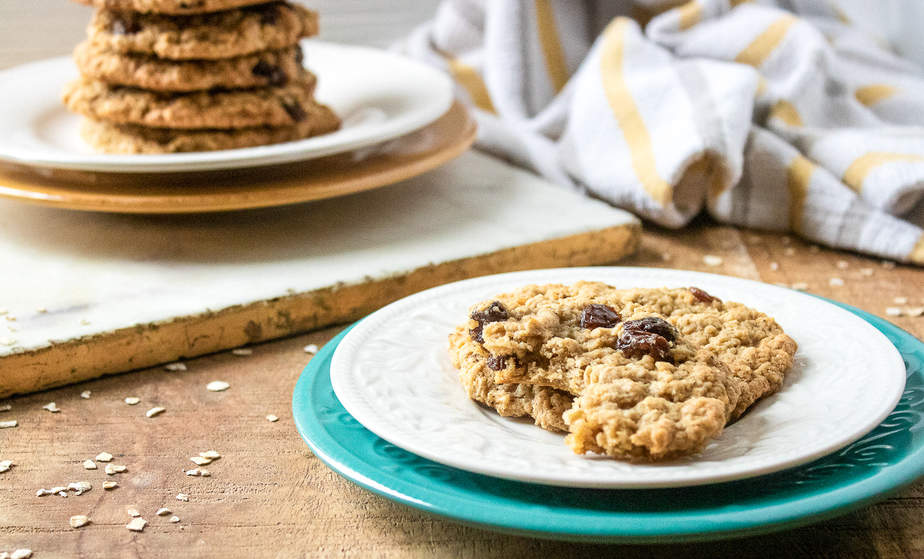 I love oatmeal cookies, but not raisins…
If this fits you, no worries! There are plenty of ingredients you can add to classic oatmeal raisin cookies that aren't raisins. If you like dried fruit, you can use dried dates, dried currants, or dried cranberries. Another option would be to use dark chocolate chips. Dark chocolate has fewer calories than semi-sweet or milk chocolate chips. You could also omit them altogether and just have a classic oatmeal cookie. No matter what you decide, these cookies will be a family favorite.
I really enjoy desserts. Cookies are a favorite, but I also enjoy recipes such as banana bread and fudge. To help make sure I stay on track with my eating and my love of desserts, I've been using Healthi formerly iTrackBites. It's so easy and I still get to enjoy dessert! Win-win!
cost: Healthi formerly iTrackBites costs $36 for the year (using this link for 40% off makes it $36 – use COACH_SMILEY to save!!), WW is $20+ for the month, and it's the same formula and less options
choices: I can choose PointsPlus, Freestyle, or any other plan I want with Healthi formerly iTrackBites. Even with the new WW changes, they only offer 3 plan options (not PointsPlus).
logs: You can export your tracker data by the week, month, or quarter with Healthi formerly iTrackBites. WW does not give you access to quarterly data.
accuracy: I've found inaccurate info in the WW app due to members submitting and not paying attention to the right numbers. With Healthi formerly iTrackBites, I know if I see the green check, it's been verified as accurate. This puts my mind at ease!
BLUE PLAN: 3 Points Per Cookie
GREEN PLAN: 3 Points Per Cookie
PURPLE PLAN: 2 Points per Cookie
Print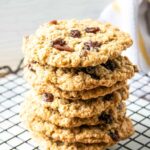 Classic Oatmeal Raisin Cookie Recipe + Tips on Making Low Point Desserts
---
1 c. unsweetened applesauce
1 c. brown sugar
½ c. granulated sugar
2 eggs
1 t. real vanilla extract
3½ c. quick oats
1 c. all-purpose flour
1 t. pumpkin pie spice
½ t. baking powder
½ t. baking soda
¼ t. salt
1 c. raisins
---
Instructions
Preheat oven to 375°F and line a large, rimmed baking sheet with parchment paper or a Silpat® baking mat. Set aside.
Mix the applesauce with the brown and granulated sugar in a large mixing bowl.
Add in eggs and vanilla, and mix on low speed to combine.
In a separate bowl, combine the dry ingredients, and then add the dry ingredients to wet ingredients and mix. Stir in raisins until combined.
Cover and chill dough in the refrigerator for 30 minutes before baking.
Divide the dough into 24 equal-sized balls. Arrange on the prepared baking sheet with 1-2 inches between balls of dough. Press balls down with the bottom of a glass.
Tip: To keep the dough from sticking to the glass, wet the bottom of the glass before pressing down on the dough.
Place in the preheated oven and bake for 8-10 minutes, or until golden brown and cooked through. Remove from oven and transfer to a wire rack to cool for 10-15 minutes before serving. Enjoy!