Instant Pot® Cinnamon Pear Applesauce
Cinnamon pear applesauce is an easy way to make a healthy treat for your family. You can eat it on its own or with other recipes for a healthy, tasty treat!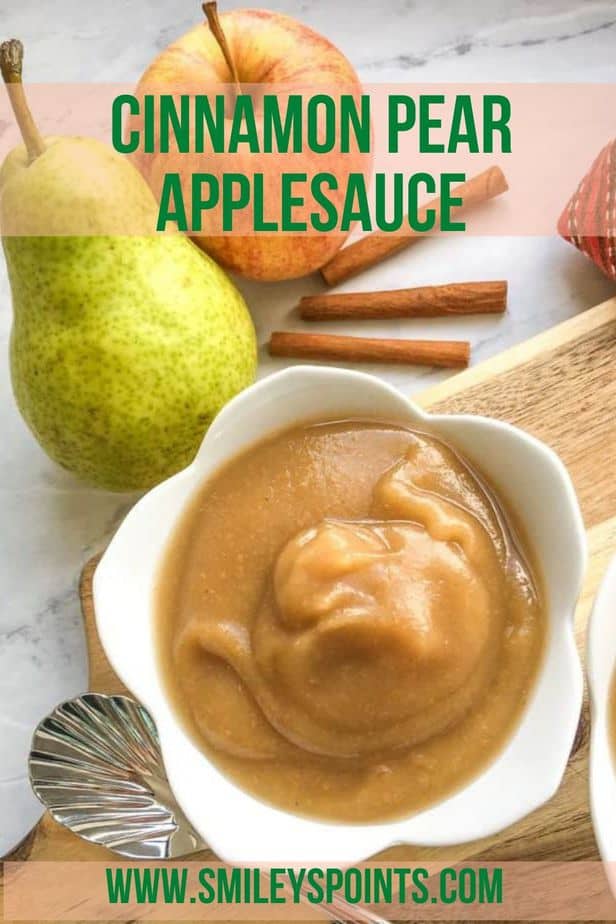 ---
"Healthi formerly iTrackbites is an alternative to Weight Watchers. "

---
Easy, delicious, and nutritious Instant Pot® Cinnamon Pear Applesauce
Applesauce is a wonderful snack on its own. It's also an amazing addition to other recipes, such as greek yogurt. It's perfect for breakfast, lunch, dinner, or dessert!
Health benefits of apples in cinnamon pear applesauce
We all know an apple a day helps keep the doctor away, or. so we have been told. That's because apples may be good for your heart. Apples have been known to lower the risk of heart disease. They contain soluble fiber, the kind that can help lower your blood cholesterol levels. Apple peels have concentrations of polyphenols, which have an antioxidant effect. These polyphenols may also help lower blood pressure. In fact, a study comparing the effects of eating an apple a day to taking statins, the drugs that lower cholesterol, showed that apples would be almost as effective at reducing death from heart disease as taking the drugs! Certainly a cheaper and tastier alternative.
There are also studies linking apples to a lower risk of type 2 diabetes. These studies showed if you eat an apple a day, you're at a 28% lower risk of type 2 diabetes, compared to not eating any apples. Even a few apples a week can have a protective effect.
Another benefit to eating apples is they contain pectin, a type of fiber that acts as a prebiotic. Prebiotics feed the good bacteria in your gut. Apples are full of fiber and your small intestine doesn't absorb fiber during digestion. So instead it goes to your colon, where it can promote the growth of good bacteria, and turns into other helpful compounds that circulate back through your body.
Apples are an amazing and delicious fruit. You can learn more about all their wonderful health benefits here.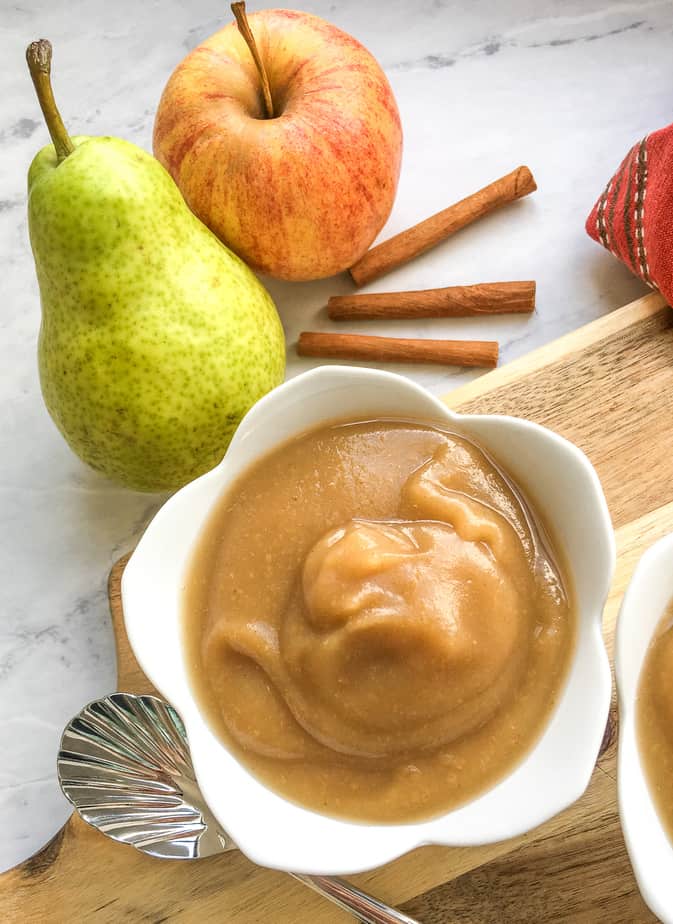 Health benefits of pears in cinnamon pear applesauce
Pears are another very healthy fruit full of fiber and taste but low on calories. Like apples, pears also help to promote good gut health and have compounds that can help improve heart health and strengthen blood vessels. These benefits are more concentrated in the skin of the pears, so it's best not to peel them to get all the health benefits.
Another benefit of pears is they are a rich source of flavonoid antioxidants, which help fight inflammation and may decrease your risk of disease. They are also packed with vitamins and minerals such as copper, vitamin C, and vitamin K, which also help to combat inflammation.
Want to learn more about why pears are a wonderful part of your diet? Then check out this article.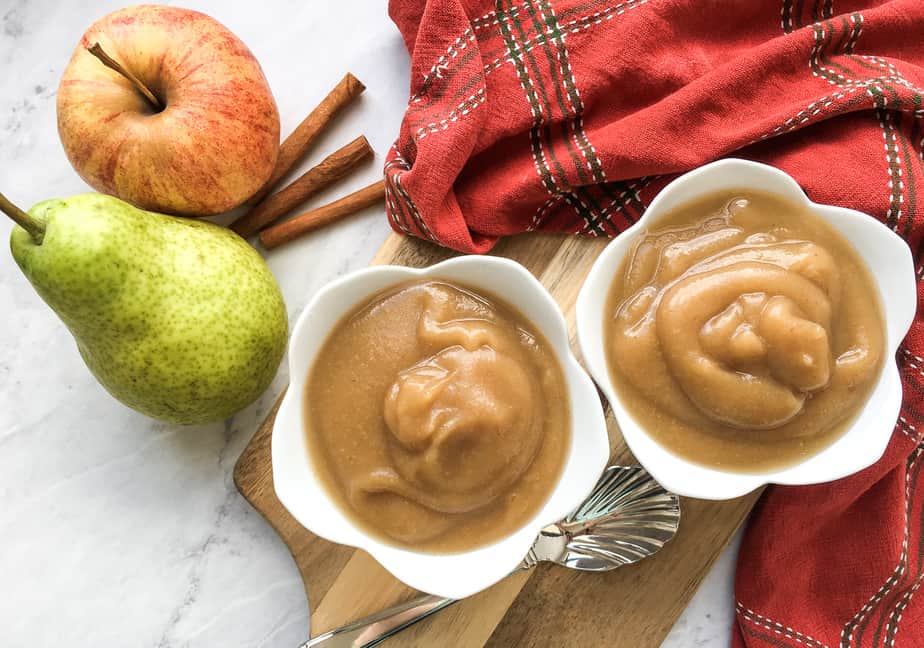 Tip: For added fiber, do not peel the apples or pear prior to cooking. The final result will still be incredibly smooth and creamy after blending.
If you're looking for the perfect pairing for this delicious applesauce, look no further than our slow cooker apple cinnamon oats. You can make this wonderful applesauce, then prep your slow cooker for the oats to have an amazing breakfast ready and waiting when you wake up.
This recipe is one I have incorporated into a healthy eating plan. When I plan ahead, I find that I'm much more successful in maintaining my weight. To do so, I have been using Healthi formerly iTrackBites with great success.
cost: Healthi formerly iTrackBites costs $36 for the year (using this link for 40% off makes it $36 – use COACH_SMILEY to save!!), WW is $20+ for the month, and it's the same formula and less options
choices: I can choose PointsPlus, Freestyle, or any other plan I want with Healthi formerly iTrackBites. Even with the new WW changes, they only offer 3 plan options (not PointsPlus).
logs: You can export your tracker data by the week, month, or quarter with Healthi formerly iTrackBites. WW does not give you access to quarterly data.
accuracy: I've found inaccurate info in the WW app due to members submitting and not paying attention to the right numbers. With Healthi formerly iTrackBites, I know if I see the green check, it's been verified as accurate. This puts my mind at ease!
BLUE PLAN: 1 Points
GREEN PLAN: 1 Points
PURPLE PLAN: 1 Points
Print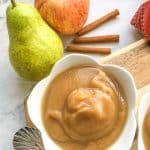 Instant Pot® Cinnamon Pear Applesauce
---
Author:

Total Time:

14 minutes

Yield:

4

servings

1

x
Description
Prep time: 10 minutes
Active cook time: 4 minutes (+ time to come to pressure)
Natural release: 10 minutes
Serves: 4
---
4 large apples, cored and chopped
2 large pears, cored and chopped
¼ c. water or apple juice
2 t. ground cinnamon
1 T. fresh lemon juice
Optional: 1-2 T. maple syrup
---
Instructions
Combine apples, pears, water, ground cinnamon, and fresh lemon juice in Instant Pot® and stir to combine. Add lid and lock into place. Switch the vent to "Sealing" and set the "Manual" setting to 4 minutes.
When cook time is complete, allow pressure to release naturally for 10 minutes, then manually release any remaining pressure.
Taste and add maple syrup to sweeten, if desired. Carefully transfer mixture to a food processor or high-powered blender and blend until smooth. (For chunkier results, use an immersion blender instead).
Serve immediately, or transfer to airtight containers and place in the refrigerator until ready to serve. Can be stored in the refrigerator for up to one week. Enjoy!
Prep Time:

10 minutes

Cook Time:

4 minutes