Even if you can't travel, you can have a taste of New Orleans in your kitchen with this delicious version of chicken lanzone! And it's an instant pot meal, so quick and easy to boot!
---
"Healthi formerly iTrackbites is an alternative to Weight Watchers. "
---
A taste of New Orleans with Instant Pot Chicken Lanzone
One of the most amazing restaurants in New Orleans, Brennan's, is where this amazing dish is said to have originated. Anything that comes out of Brennan's needs to be in my tummy immediately!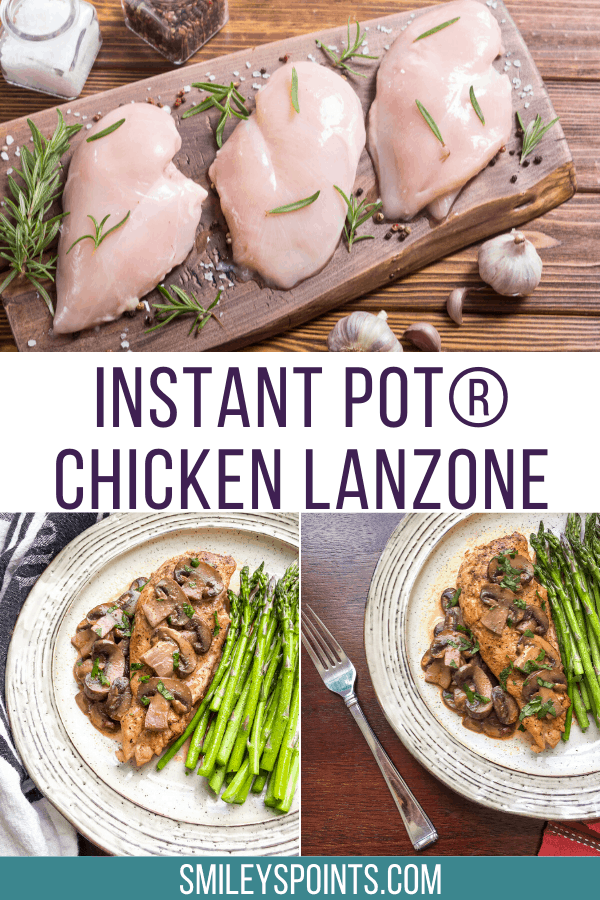 Instant Pot chicken lanzone is perfect for any way you are eating
One of the things I adore about this recipe is that if fits so many different ways of eating. It's both low carb and low in points and calories. Even with the heavy cream, it's still a recipe that you could make any time and fit it into your plan. It's so flavorful without being spicy, which is another plus. And the addition of the sliced baby Portobello mushrooms is a welcome addition to the flavor profile.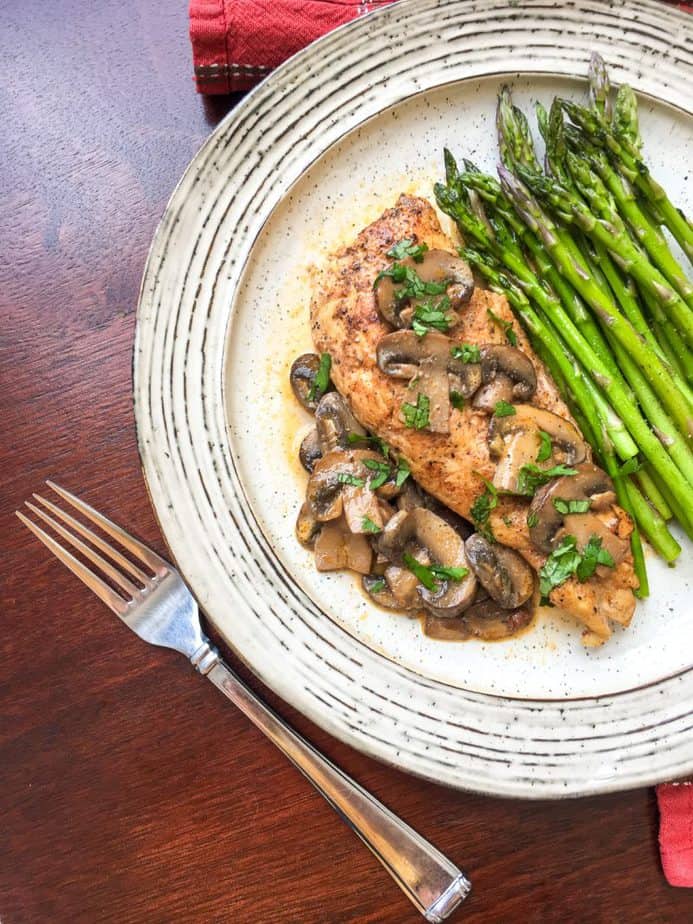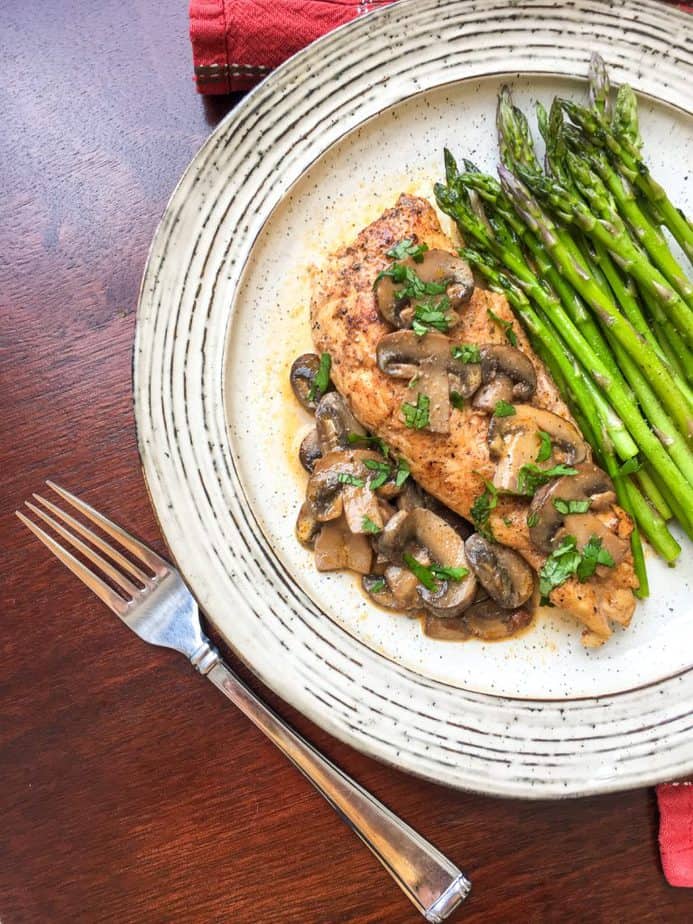 What to serve with your Instant Pot chicken lanzone
Chicken Lanzone is traditionally served over pasta to absorb the delicious, creamy pan sauce. The points on this recipe don't take any pasta sides into account. And while pasta is an obvious choice, there are many other options to choose from.
If you are trying. to stick to a low carb plan, zoodles would pair beautifully with this dish. If you don't have a spiralizer, this one is a gem. Simply spiralize your zucchini, let it sit on some paper towels for about ten minutes. to get some of the moisture out, saute it in some cooking spray for a few minutes to heat it up and enjoy! You can season it with a sprinkle of garlic and onion powder to have it complement the dish as well.
Another low carb option is mashed cauliflower. This mashed cauliflower with crispy Brussel sprouts would make for a complete dinner that's low carb and completely delicious! If Brussel sprouts are not your thing, you can always omit them and just make the mashed cauliflower. This recipe would also pair well with steamed broccoli or asparagus.
Why use the Instant Pot to make this recipe
I love and adore my Instant Pot. It's used several times a week in our house. One advantage is there is so much less to clean up. Everything you need to do to make chicken lanzone is done in one pot. The sauté feature makes life so easy when you are cooking. You are able to get that nice browned accent to your meats and start cooking other ingredients such as onions and mushrooms, so they are less watery. And once you are done with the sautéing, which is minimal work, you set it and forget it. No worries about watching the stovetop to make sure you aren't burning your diner. If you aren't an experienced cook, an Instant Pot would be a fantastic addition to your kitchen.
I really enjoy cooking and making new and interesting recipes for my family. I also want to make sure that I'm eating healthy and not overdoing it. To help me plan my meals, I've been using  Healthi formerly iTrackBites.
cost: Healthi formerly iTrackBites costs $36 for the year (using this link for 40% off makes it $36 – use COACH_SMILEY to save!!), WW is $20+ for the month, and it's the same formula and less options
choices: I can choose PointsPlus, Freestyle, or any other plan I want with Healthi formerly iTrackBites. Even with the new WW changes, they only offer 3 plan options (not PointsPlus).
logs: You can export your tracker data by the week, month, or quarter with Healthi formerly iTrackBites. WW does not give you access to quarterly data.
accuracy: I've found inaccurate info in the WW app due to members submitting and not paying attention to the right numbers. With Healthi formerly iTrackBites, I know if I see the green check, it's been verified as accurate. This puts my mind at ease!
BLUE PLAN: 5 Points
GREEN PLAN: 7 Points
PURPLE PLAN: 5 Points
Print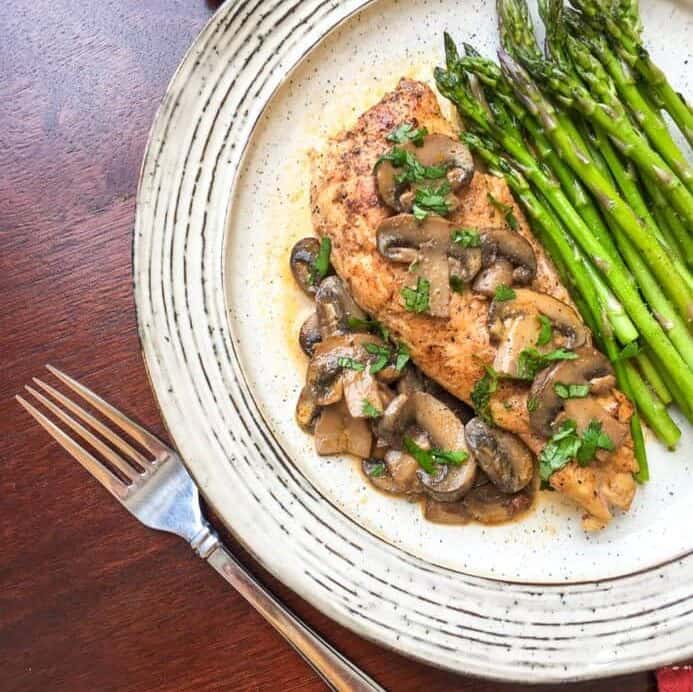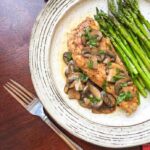 Chicken Lanoze
---
Description
Prep time: 10 minutes
Active cook time: 20 minutes (+ time to come to pressure)
Natural release: 5 minutes
Serves: 8
---
2 t. garlic powder
1 t. onion powder
1 t. chili powder
1 t. paprika
2 lbs. chicken breasts, butterflied
Sea salt and black pepper, to taste
3 T. extra virgin olive oil, divided
10 oz. baby Portobello mushrooms, sliced
½ c. chicken broth, preferably organic
¾ c. heavy cream
2 T. fresh parsley, finely chopped
---
Instructions
Directions:
Combine garlic powder, onion powder, and chili powder in a small bowl and stir to combine. Rub spice mixture into each butterflied chicken breast and season with salt and black pepper, to taste. Set aside.
Select the "Sauté" function on the Instant Pot® and add one tablespoon olive oil once hot. Add seasoned chicken breasts and brown on each side, approximately 2-3 minutes per side. (Work in batches, if necessary, adding more olive oil as necessary). Transfer chicken to a plate and set aside.
Add remaining olive oil to Instant Pot®, along with sliced Portobello mushrooms. Season with salt and black pepper, to taste. Cook, stirring occasionally, until mushrooms develop a nice golden brown color, approximately 4-5 minutes.
Pour in chicken broth and gently deglaze the bottom of the pot, scraping up any brown bits from the bottom with a wooden spoon in the process.
Turn unit off and return chicken to the pot. Add lid and lock into place. Position the vent to "Sealing" and set the "Manual" setting to 3 minutes.
When cook time is complete, allow pressure to release naturally for 5 minutes, then manually release any remaining pressure.
To prevent curdling, temper the heavy cream by adding a small amount of the hot cooking liquid to it before stirring it directly into the pot. Stir to combine.
Serve immediately with some of the creamy sauce spooned over the chicken and mushrooms. Enjoy!