Mashed cauliflower has become a favorite in my household. They are a healthy and delicious alternative to mashed potatoes. Combined with crispy brussel sprouts this dish is sure to wow even the most pickiest of eaters.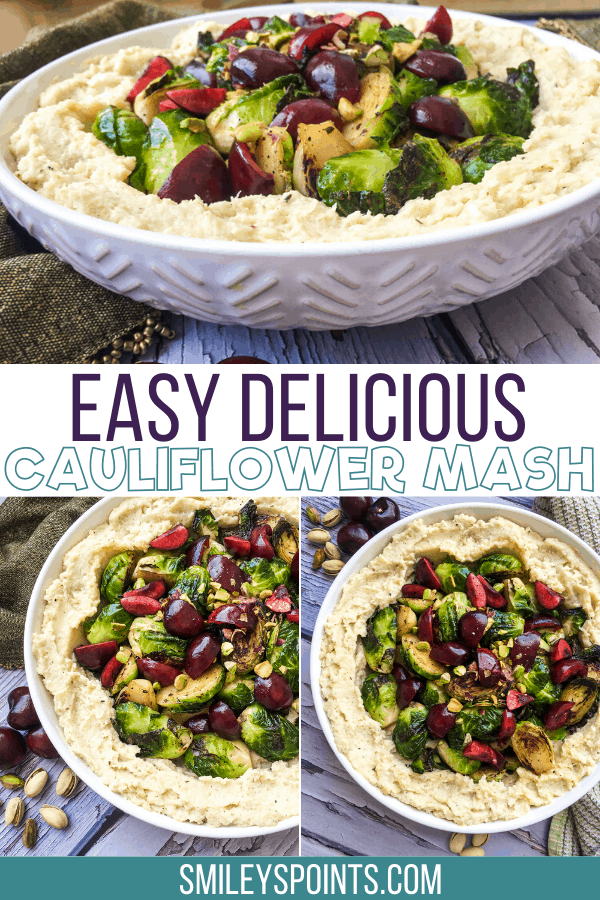 How to make roasted Cauliflower Mash with crispy Brussel sprouts
A few tips and tricks for this recipe. Don't leave out the apples. I have tried this but they add a little sweetness that really sets this dish apart. If you absolutely do not like apples then of course leave them out. I love the different textures and subtle flavors this dish offers.
How to make roasted Brussel sprouts in the oven
How about a two for one recipe? I knew you would like that. There is another way to make delicious roasted Brussel sprouts. In the oven, you have to crank up the heat though. You want a higher temperature to ensure you get that roasted flavor and the crispy texture you usually only find in restaurants.
How do you do it? Well, start off by trimming the sprouts of any yellowed leaves. Next cut each one in half longways (through the stem 🙂
I use a ziplock bag with the oil in it to coat the Brussels sprouts thoroughly. I add the oil and sprouts to the bag and toss them for a few seconds to make sure they are well coated. Next, add a little salt and pepper to taste. I add Flat Iron Pepper Co. sweet heat to mine. I like them a little spicy 🙂 I add all of the spices to the bag after I make sure they are coated with oil.
Grab a cookie sheet or baking pan that has a rim on it. Place the Brussels sprouts flat side down on the baking sheet. Oh, wait! Go back to the beginning and crank that oven up to 425° oh yeah we are going to roast these babies until they are crispy delicious. Roast them for at least 25-30 minutes or until they reach the desired crispness. Wait at least 25 minutes before checking them. Sometimes I leave them in for a whopping 40 minutes because I like them to get some char on them.
Take them out of the oven and drizzle some balsamic vinegar on them and a tablespoon of molasses or honey for a sweet treat that will rival your main dish. Make sure to drizzle while they are still piping hot so they absorb all the flavors you are adding to them. Yum
The recipe you came for can be found below let me know how you liked it and if it had everyone asking for more 🙂 Enjoy.
BLUE PLAN: 7 Points

GREEN PLAN: 7 Points

PURPLE PLAN: 7 Points
Vegan inspired recipes
Print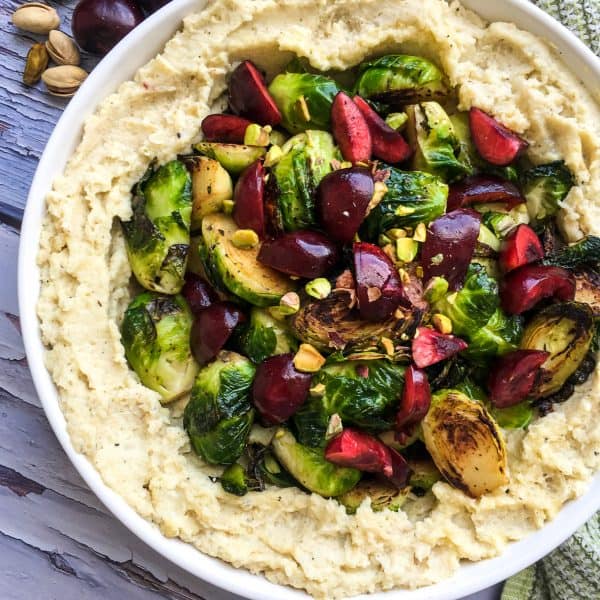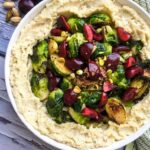 Cauliflower Mash with Crispy Brussels Sprouts
---
Author:

Total Time:

54 minute

Yield:

4

servings

1

x
1 medium cauliflower head, roughly chopped
2 Gala apples, roughly chopped
2 large shallots, roughly chopped
1 T. fresh rosemary leaves, minced
¼ c. extra virgin olive oil, divided
Sea salt and black pepper, to taste
1 lbs. Brussels sprouts, washed, trimmed, and halved
2 garlic cloves, finely minced
1 c. fresh cherries, pitted and roughly chopped
3 T. almond milk
½ c. pistachios, shelled and roughly chopped
---
Instructions
Directions:
Preheat oven to 375°F and line a rimmed baking sheet with a piece of parchment paper or a Silpat® baking mat. Set aside.
Add the cauliflower, apple, shallots, rosemary leaves, and one tablespoon olive oil to a large bowl. Season with salt and black pepper, to taste, and toss to combine.
Spread the cauliflower mixture into a uniform single layer onto the prepared baking sheet and place in the pre-heated oven to roast until the cauliflower is fork tender, approximately 25-30 minutes.
Meanwhile, heat a tablespoon of olive oil in a large, high-sided skillet over medium heat. Add the garlic and cook, stirring frequently, until it becomes fragrant, approximately 30 seconds.
Add the Brussels sprouts and cook, stirring only occasionally, until they become golden brown and crispy, approximately 15-20 minutes. Add the fresh cherries and cook, stirring frequently, until just heated through, approximately 2 minutes. Remove from heat and set aside.
Once the cauliflower is done, transfer the roasted veggies on the baking sheet to a large mixing bowl. Add almond milk and remaining olive oil. season with salt and black pepper, to taste, and mash with a potato masher or blend with an immersion blender until mostly smooth. Set aside.
Spread the warm cauliflower and apple mash on the bottom of a large serving dish or bowl. Top with the crispy Brussels sprouts, warm cherries, and chopped pistachios before serving. Enjoy!
Prep Time:

10 minutes

Cook Time:

25-35 minutes