Asian Cabbage Salad with Warm Spicy Peanut Dressing
We have outdone ourselves with this one. Our Asian cabbage salad is the perfect refreshing end to a long day. It is super easy and quick to make. In less than 30 minutes you can have a wonderful side salad to serve next to your main course.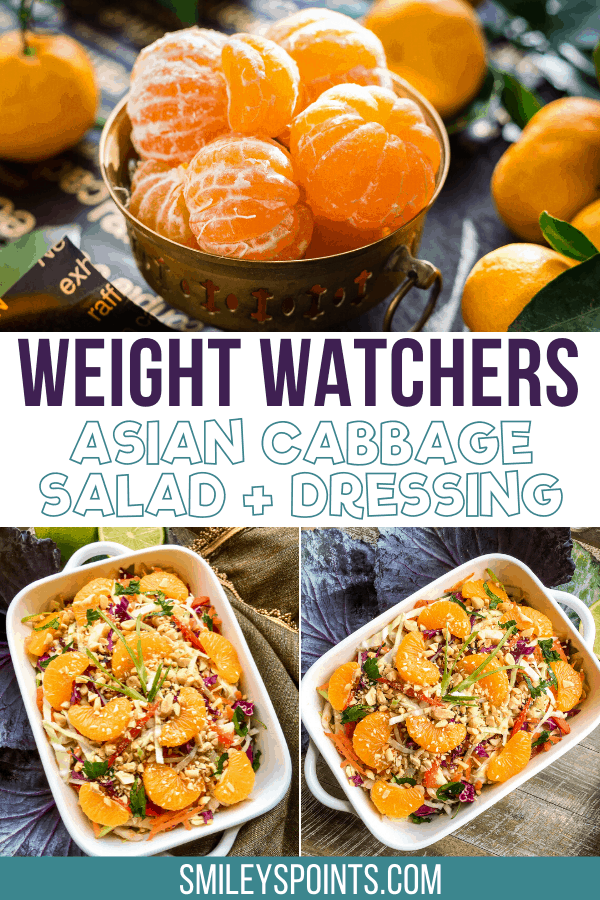 ---
"Healthi formerly iTrackbites is an alternative to Weight Watchers. "

---
Cabbage salad with peanut butter dressing
This salad is so versatile I have even made it my main course. I added some pan-seared chicken breast strips to it and created a wonderfully light late evening meal. As winter gives way to spring as summer gives in to the fall this salad is perfect for lightening up your meal plans.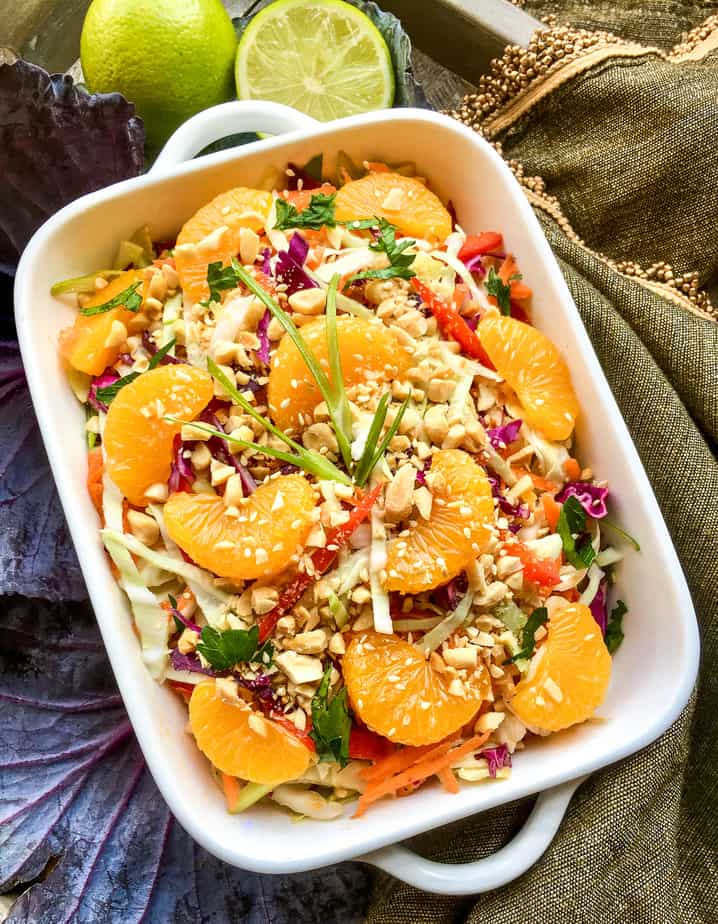 The benefits of using fresh fruits
I love salads that include fresh fruits and veggies. The canned mandarins in this recipe can easily be switched out for fresh-squeezed ones. (I didn't have any on hand so I used the canned ones.) Using the canned oranges made this recipe easier to make but if you have the time, squeeze some fresh juice and peel a few for topping the salad, I highly recommend it. The oranges add tons of vitamin c and other essential nutrients like magnesium and potassium. A great way to end the day.
Is Asain cabbage salad a vegan dish?
Yes, Asian cabbage salad is a vegan dish. I am not a vegan but I do enjoy making and eating a vegan or vegan inspired dish. I have added pan seared chicken or a few strips of steak to this salad to boost the protein count and add a different texture. Both turned out delicious.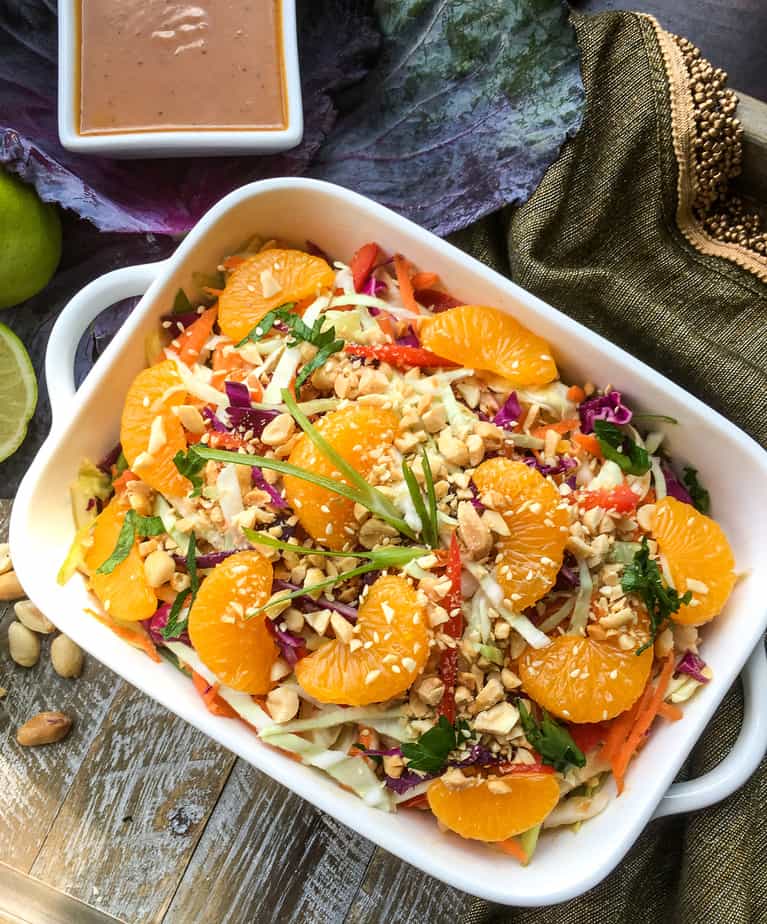 How can I make this recipe healthier?
To make this recipe a little healthier for those that are watching what they eat, or on the new myWW plans or following Healthi formerly iTrackbites. these substitutes will lower the bites or points and still produce a delicious side salad or light meal.
Use PB2 in place of peanut butter (6 points instead of 10 for regular peanut butter)
Tamari sauce is 1 point and coconut aminos is 4 points. But the winner is soy sauce at zero points.
Use less maple syrup 1T is 3 points and 1 1/2T is 5 points.
Use almonds in place of the which are 6 points for 1/4 cup and almonds are 4
Try it out with different salad dressing choices that are lower in points.
Points as the recipe is written
BLUE PLAN: 10 Points

GREEN PLAN: 10 Points

PURPLE PLAN: 10 Points
How to be successful on your journey
Asian Cabbage Salad with Warm Spicy Peanut Dressing
Print
Asian Cabbage Salad with Warm Spicy Peanut Dressing
---
Author:

Total Time:

25 minutes

Yield:

4 servings
Spicy Peanut Dressing Ingredients:
½ c. all-natural peanut butter
3 T. rice vinegar
1 T. sesame oil
2 t. sriracha sauce
Sea salt and black pepper, to taste
3 T. tamari or coconut aminos or soy sauce
1½ T. maple syrup
2 T. fresh lime juice
1 T. fresh ginger, finely minced
1-2 cloves garlic, finely minced
¼ c. liquid from Mandarin oranges
Salad Ingredients:
4 c. green cabbage, shredded
2 c. red cabbage, shredded
2 large carrots, shredded
1 medium red bell pepper, sliced thin
2 green onions (green parts only), sliced
¼ c. fresh cilantro leaves, chopped
Sea salt and black pepper, to taste
¼ c. toasted peanuts, chopped
1 10-oz. can sugar-free Mandarin oranges (packed in juice)
1 T. white sesame seeds
---
Instructions
To make the dressing, combine the peanut butter, vinegar, sesame oil, and sriracha sauce in a medium skillet over medium heat. Season with salt and black pepper, to taste. Heat, stirring continually, until the peanut butter melts and the ingredients are thoroughly combined, approximately 2-3 minutes.
Reduce heat to low and whisk in remaining dressing ingredients until combined. Simmer, stirring occasionally, until heated through, approximately 2 minutes. Remove from heat and set aside. Keep warm.
Combine shredded green cabbage, red cabbage, carrots, bell pepper, green onion, and fresh cilantro in a large bowl. Season with salt and black pepper, to taste, and drizzle with a small amount of the warm peanut dressing. Toss to combine.
Transfer salad to a decorative serving platter and top with chopped peanuts, Mandarin oranges, and sesame seeds. Serve immediately with remaining peanut dressing on the side. Enjoy!
Prep Time:

20

Cook Time:

5