I Love These Tri-Color Potatoes! Easy Air Fryer Recipe
Are you in love with your Air Fryer (or Ninja Foodie) as much as I am?! One of my favorite foods to cook is potatoes, but I have to keep portions in mind. Portion control is HUGE, especially when following a program like Healthi formerly iTrackBites (here's why we ditched WW).
---
"Healthi formerly iTrackbites is an alternative to Weight Watchers. "

---
A new twist on an old favorite, tri-color potatoes
They say you eat with your eyes, as much as with your mouth. I have to agree with that sentiment. Food that looks appetizing and is presented beautifully always tends to taste so much better.
To this end, tri-color potatoes are a fun and delicious way to add some color to any meal!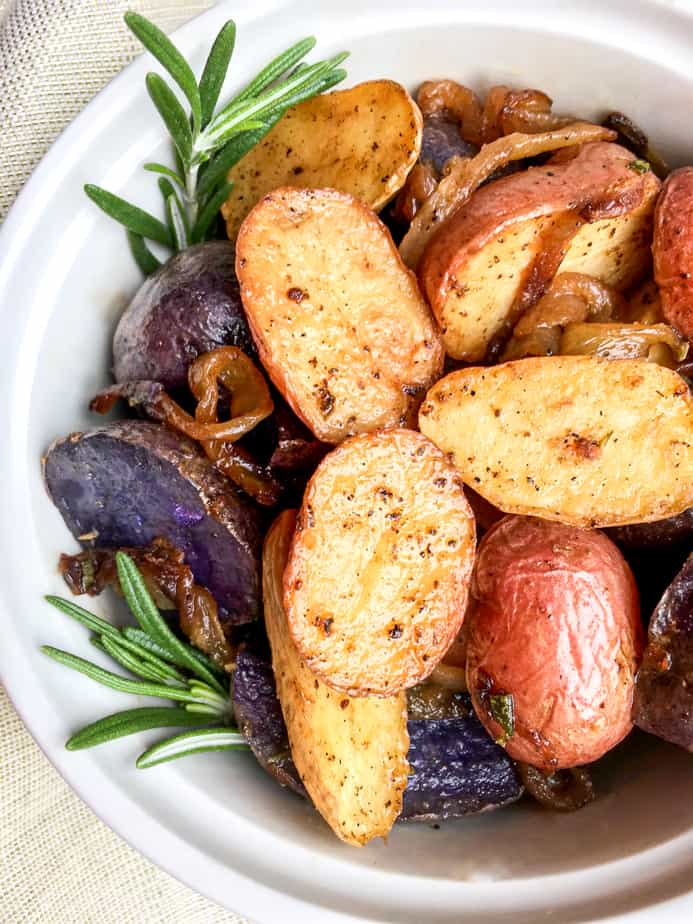 You can prepare this dish in the oven, Air Fryer, or Ninja Foodie. You can even use an InstantPot if you have a crisping lid!
Tri-colored potatoes are nutritious and delicious
Purple potatoes have a denser texture than white potatoes. They also have a slightly earthier and nutty flavor. Potatoes often get a bad wrap, due to their high starch content. But there are many benefits that outweigh the starch content. For instance, potatoes have a higher potassium content than bananas! No more pesky charley horses with this wonderful food as a regular part of your diet. And interestingly, the mineral content in potatoes varies depending on the soil that they're grown in.
Purple potatoes have a lower glycemic index than white potatoes, making them a better choice if you are watching your blood sugar.
Brightly colored foods tend to be higher in antioxidants and purple potatoes are no exception. They have higher anthocyanin, which is linked to quite a few health benefits. Healthier cholesterol levels, improved vision and eye health, and a reduced risk of heart disease, some cancers, and diabetes, to name a few.
Tri-colored potatoes can help you fill the fiber gap in your diet
Dietary fiber is a necessity in any healthy diet. It helps to keep you feeling full, thus preventing overeating. It helps to prevent constipation, which can make you feel bloated and can be very uncomfortable. It helps to stabilize your blood sugar and can help to maintain healthy cholesterol levels.
Your cooking method will slightly affect the fiber content, but whether or not you eat the skin has much more bearing. Removing the skin can remove almost 2 grams of fiber per serving.
That starch we mentioned earlier, part of it is called resistant starch. Resistant starch will resist digestion in your gastrointestinal tract, but it will become fermented by the bacteria in your large intestine. During this process, compounds known as short-chain fatty acids are produced. These compounds contribute to improved gut health. A healthy gut makes for a happy person!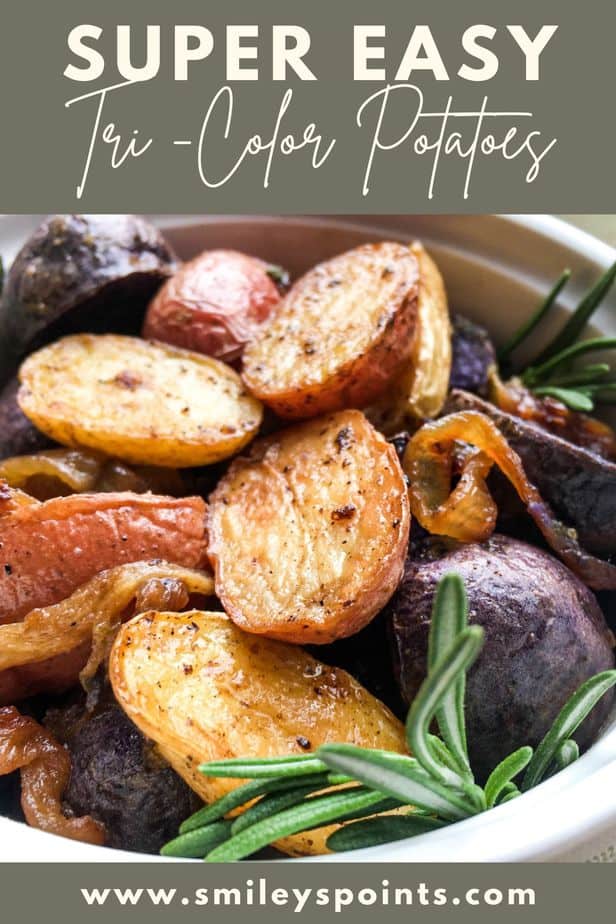 What to serve with tri-colored potatoes
In our house, eggs are never just for breakfast. This egg and bacon wrap is perfect for breakfast, lunch, or dinner. These potatoes will pair beautifully with them and the overall points for the meal will be under 10 points.
If you're a "meat and potatoes" family, this easy spoon roast is the perfect foil for tri-colored potatoes.
You can whip up these potatoes while your herb-roasted chicken is cooking in your air fryer. These are both fairly quick recipes and if you steam some broccoli, you'll have a perfectly well-balanced meal in a snap.
One way that I make sure that my meals are healthy and well-balanced is with the Healthi formerly iTrackBites program. It's simple, I don't ever feel deprived and it helps me make healthy choices.
cost: Healthi formerly iTrackBites costs $36 for the year (using this link for 40% off makes it $36 – use COACH_SMILEY to save!!), WW is $20+ for the month, and it's the same formula and less options
choices: I can choose PointsPlus, Freestyle, or any other plan I want with Healthi formerly iTrackBites. Even with the new WW changes, they only offer 3 plan options (not PointsPlus).
logs: You can export your tracker data by the week, month, or quarter with Healthi formerly iTrackBites. WW does not give you access to quarterly data.
accuracy: I've found inaccurate info in the WW app due to members submitting and not paying attention to the right numbers. With Healthi formerly iTrackBites, I know if I see the green check, it's been verified as accurate. This puts my mind at ease!
BLUE PLAN: 6 Points
GREEN PLAN: 6 Points
PURPLE PLAN: 4 Points
Print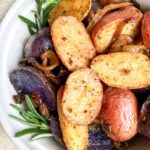 Tri-Color Potatoes
---
Author:

Total Time:

40 minutes

Yield:

4

1

x
Description
These colorful roasted potatoes pack a ton of flavor into every bite thanks to the winning combination of fresh rosemary paired with garlic and sautéed onions. What's more, they really dress up your dinner plate – and they're super easy to make!
---
1 lb. tri-color Fingerling potatoes, washed and cut in half
2 T. extra virgin olive oil
3 T. fresh rosemary leaves, minced
3 cloves fresh garlic, minced
Salt and black pepper, to taste
1 T. coconut oil
2 large white onion, cut into thin strips
---
Instructions
Preheat oven to 425°F (or your Air Fryer at 400*F)and line a large, rimmed baking sheet with parchment paper or a Silpat® baking mat. Set aside.
Add potatoes to a large bowl, along with olive oil, rosemary leaves, and garlic. Toss to combine and season with salt and black pepper, to taste.
Spread potatoes onto prepared baking sheet and arrange in a single layer without overcrowding. Place in preheated oven and roast for 15 minutes. Remove pan from oven and turn potatoes so they brown evenly. Return to oven and roast for another 10-15 minutes, or until potatoes are fork tender.
While the potatoes are roasting, melt coconut oil in a large skillet over medium heat. Add sliced onion and sauté, stirring occasionally, until they turn deep brown, approximately 10-15 minutes. Remove from heat and season with salt and black pepper, to taste.
Remove from potatoes from oven and transfer to a large serving bowl. Add onions and toss to combine. Serve immediately.
Prep Time:

10

Cook Time:

30