For a super fun and easy holiday appetizer, make a Reindeer Cheeseball
If you are looking for an easy and adorable appetizer to grace your holiday table, look no further! This reindeer cheeseball checks all the boxes!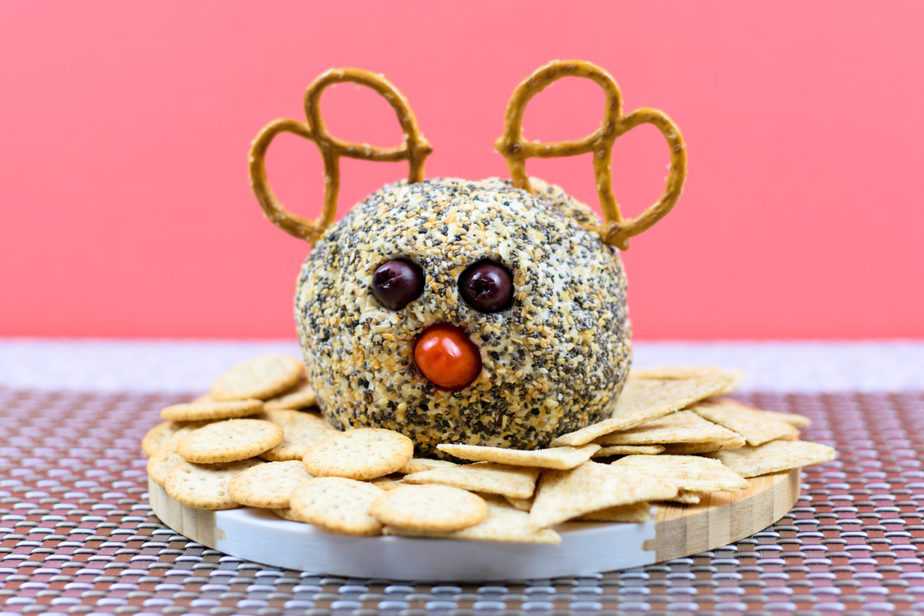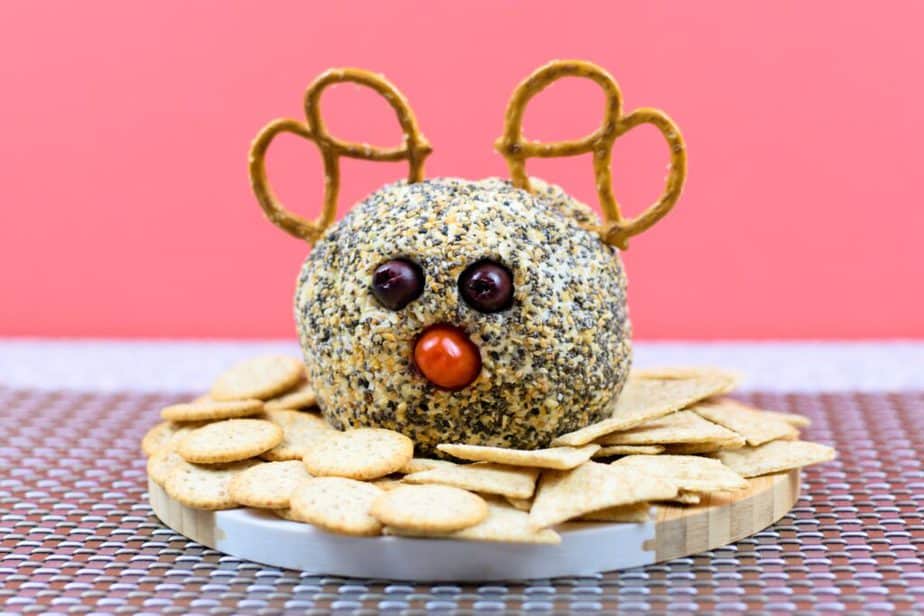 The reindeer cheeseball is a bit more indulgent than low point.
This recipe, prepared as it's stated with full-fat cheese and cream cheese is high in points. One cheeseball serves 16, so you're getting a small serving for higher points. But if you plan ahead for that, it's a wonderful treat to enjoy.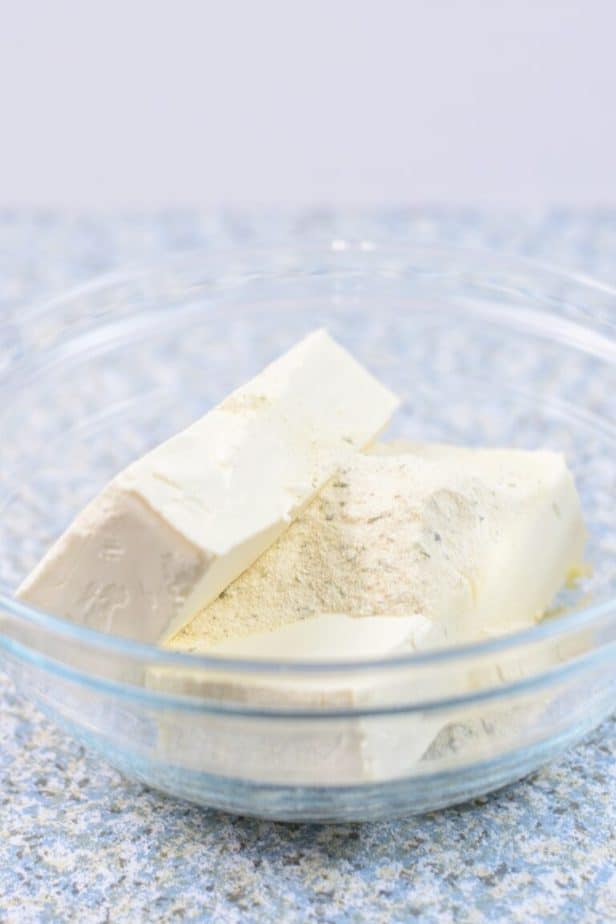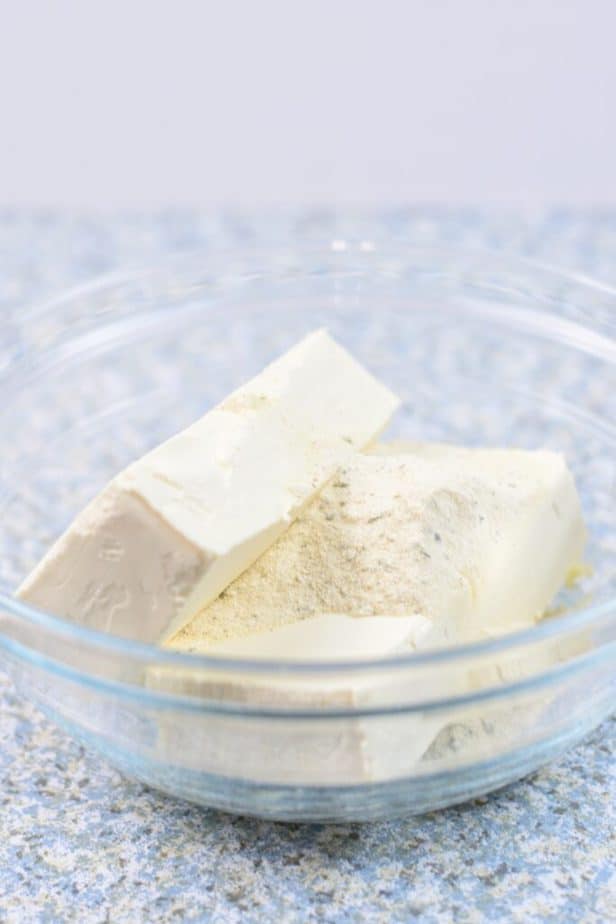 Lower point reindeer cheeseball
However, if you substitute fat-free cream cheese and fat-free cheddar cheese, the points drop dramatically. The points on all plans drop from 7 to 1. That's a huge jump and does allow you to eat so much more of this delicious treat. But you are sacrificing some of the taste. Cooking with fat-free cheeses, when they are baked into other things, is usually not that noticeable. But when it's the main attraction, it can be much more noticeable and less tasty. This becomes one of those times where you need to decide if you want to eat less of something that tastes really wonderful, or more of something that tastes good. It's a personal choice and one that only you can make. Or, make both and see which one you like better.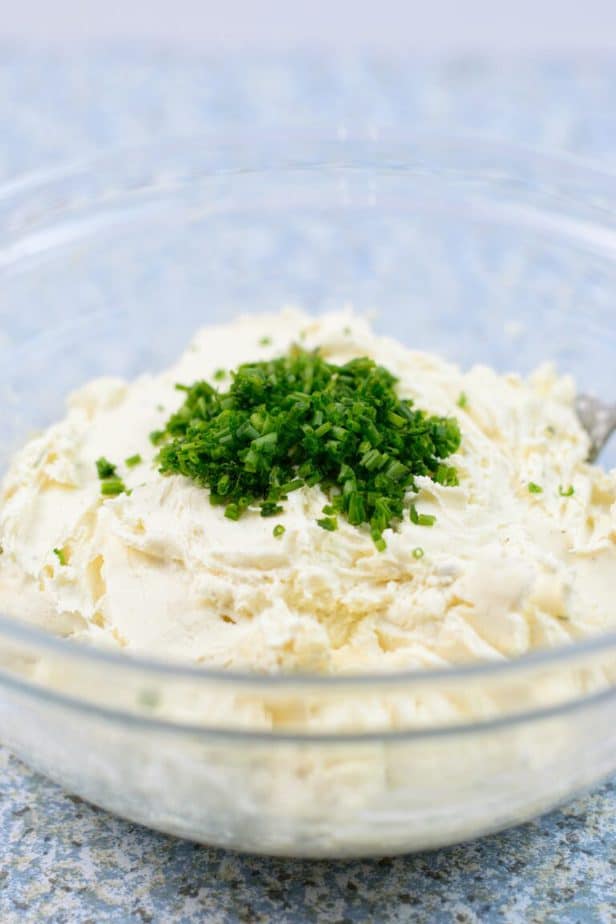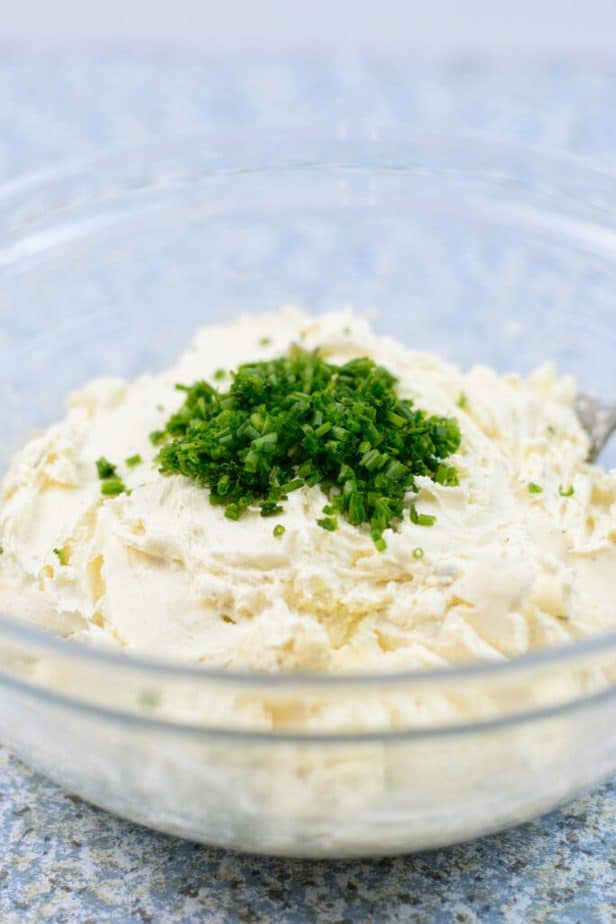 How long will your reindeer cheeseball last?
If you don't devour this delicious treat right away, take heart. You have fourteen days to enjoy this recipe if it's stored covered in the refrigerator. If you need more time than that, you can freeze it for up to four weeks. That's a fantastic option if you have cheese you need to use up but don't need this appetizer right away. Or if you are food prepping and want to have something in your freezer for unexpected company.
If you are planning on freezing it, wrap it in foil to preserve its freshness. To defrost, remove the foil, place it on a plate in the refrigerator and let it sit for 24-48 hours, depending on the size of the cheeseball. This recipe as is will likely be 24 hours, more likely 48 hours if you double it.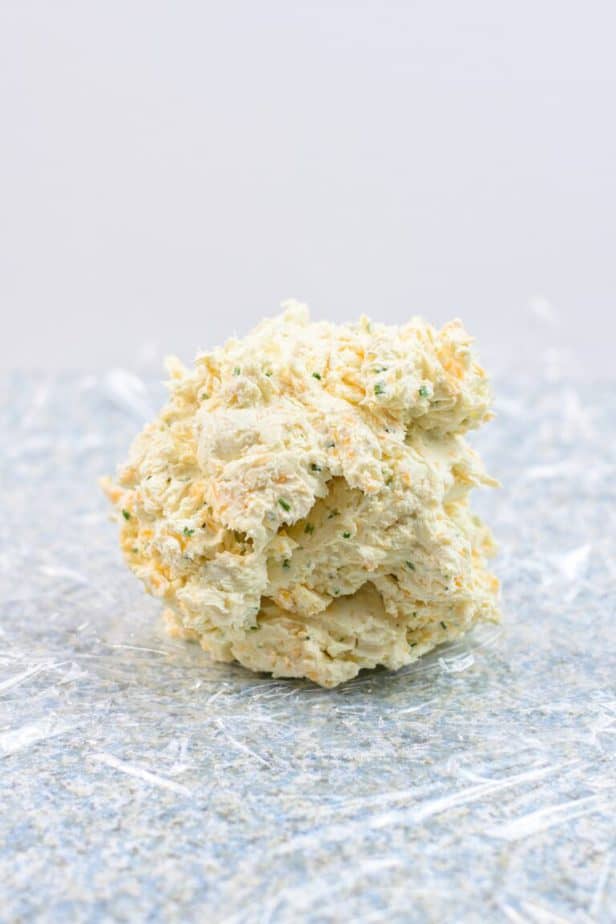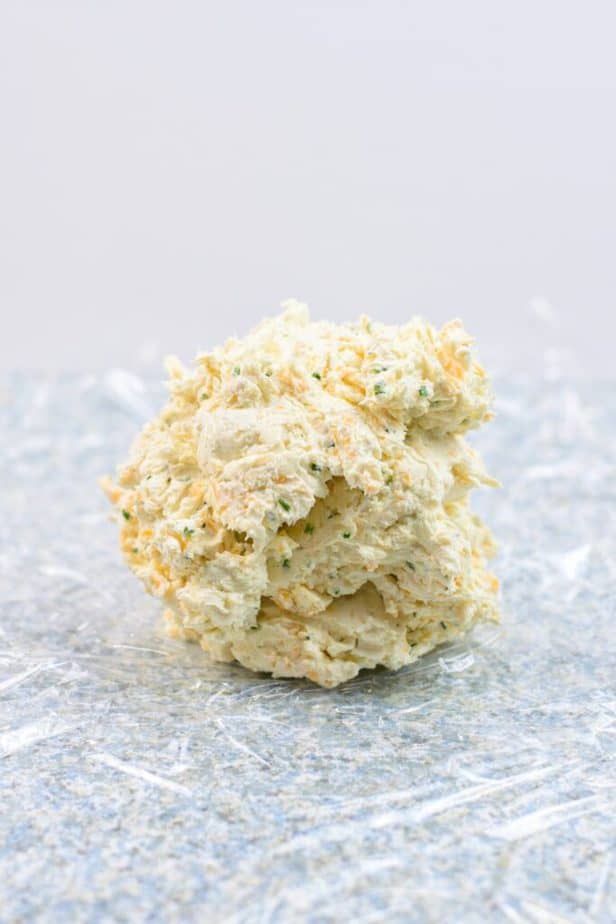 What to serve with your reindeer cheeseball
As delicious as this recipe is, you need a something equally delicious to serve it with. Baby carrots, celery, raw broccoli, raw cauliflower, cucumbers, and mushrooms would all pair beautifully with this delicious cheeseball.
Some lower point crackers are Ritz crisps, Good Things, Nut Thins, Trader Joe's Fig and Olive crisps are all fabulous options.
Some other appetizers to serve with your reindeer cheeseball
If you looking for some other low/lower point recipes to serve during the holidays, we have some delicious options. These buffalo cauliflower bites are quite tasty. And you can make them as spicy or mild as you like. Same with these buffalo chicken wontons. All the above sides will also compliment this queso dip.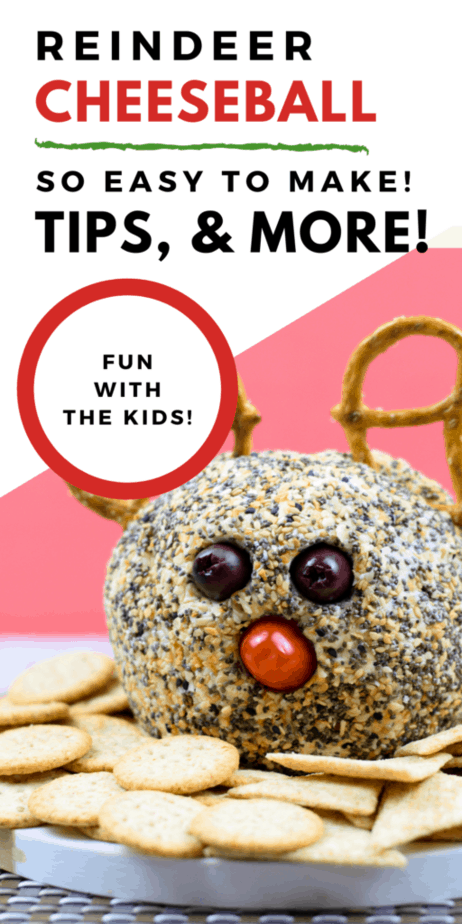 If you're looking for a way to help track all the deliciousness you are eating this holiday season, I've been using Healthi formerly iTrackBites with great success. I can enjoy all the fabulous treats the holidays have to offer while not going totally off the rails on my eating plan.
cost: Healthi formerly iTrackBites costs $36 for the year (using this link for 40% off makes it $36 – use COACH_SMILEY to save!!), WW is $20+ for the month, and it's the same formula and less options
choices: I can choose PointsPlus, Freestyle, or any other plan I want with Healthi formerly iTrackBites. Even with the new WW changes, they only offer 3 plan options (not PointsPlus).
logs: You can export your tracker data by the week, month, or quarter with Healthi formerly iTrackBites. WW does not give you access to quarterly data.
accuracy: I've found inaccurate info in the WW app due to members submitting and not paying attention to the right numbers. With Healthi formerly iTrackBites, I know if I see the green check, it's been verified as accurate. This puts my mind at ease!
BLUE PLAN: 7 Points
GREEN PLAN: 7 Points
PURPLE PLAN: 7 Points
Print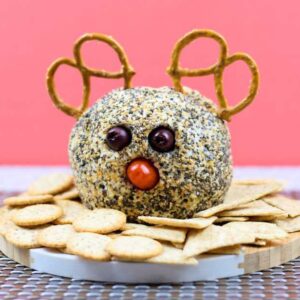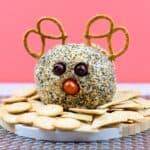 How to Make a Reindeer Cheeseball
---
-2 blocks of cream cheese at room temperature
-2 cups shredded cheddar cheese
-1 package (28g) Club House Ranch seasoning 
-7g chives
-Everything Bagel Seasoning (We used Trader Joe's)
-2 black olives (for the eyes)
-1 cherry tomato (for the nose)
-2 original sized pretzels (for antlers)
---
Instructions
1- Let cream cheese come to room temperature. 
2-In a bowl, combine cream cheese and ranch seasoning. Mix until well blended.
3- Once properly mixed, chop and add the chives. Mix thoroughly.
4- Finally, add shredded cheese to the cream cheese mixture and combine.
5-Transfer cheese mixture to a sheet of plastic wrap and use the wrap to form cheese mixture into a ball. (Refrigerate for at least 4 hours, or overnight. Can be made several days ahead.)
6-Right before serving, roll the cheese ball into everything bagel seasoning and place on a serving plate/tray.
7-Insert two black olives for eyes and one cherry tomato as a nose.
8-Add pretzels for antlers and serve with crackers or veggies.