Buffalo Cauliflower Bites
Are you looking for a low point alternative to buffalo wings? Are you looking for a healthy snack that is low in points? We have what you are looking for.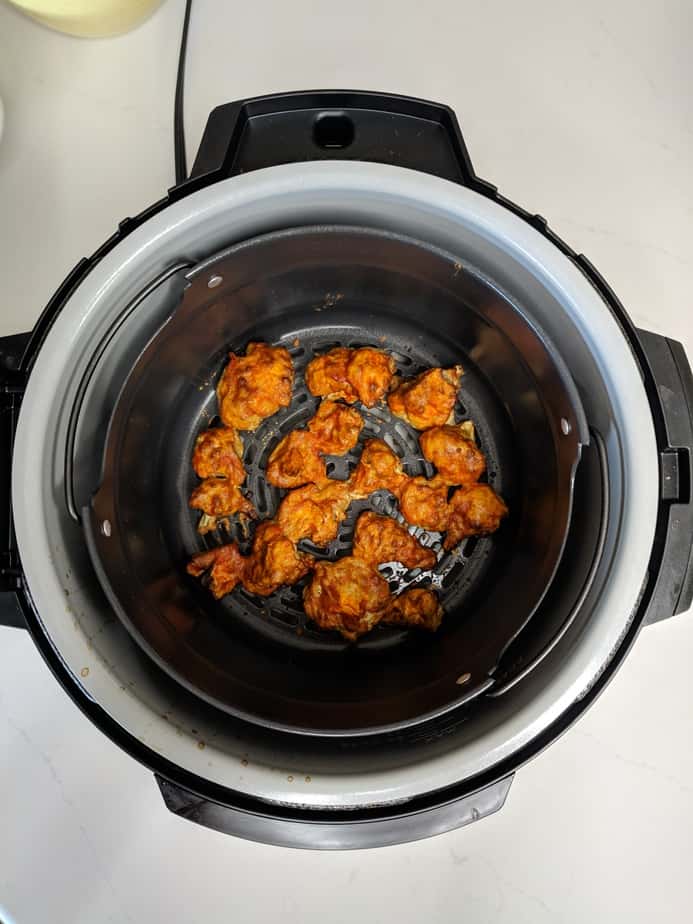 Buffalo Cauliflower Bites
BLUE PLAN: 5 points

GREEN PLAN: 5 points

PURPLE PLAN: 5 points
You have seen cauliflower rice and mashed cauliflower as a potato alternative. Now try them as a stand-in for hot wings. You are going to be amazed, I promise. Now let me explain why the Blue, Purple, and Green Plans are the same amount of points. The entire batch on the Blue and Purple Plans is 28 points. For the Green Plan, the entire batch is 32 points (because the eggs are 4 points). When you divide either number by 6 servings, you get 5 points per serving for all of the plans 🙂
Buffalo Cauliflower
Make these delicious, healthy Buffalo Cauliflower Bites in the oven, Air Fryer, Or Ninja Foodi. They are perfect for Football season, Baseball season, or your next backyard BBQ. Pair them with Smileys Famous BBQ Sauce for a seriously spicy treat. You can use buffalo bites as a side dish for ribs, burgers, chops or just about any other main course. I love using them as a low fat snack, and they are only 2.9 net carbs per cup. Are you doing Keto and Weight Watchers? These bites are the snack you have been hunting for all this time. Watching your WW points? Our Buffalo Cauliflower Bites are for you only 5 points per healthy 1 cup serving. Do you want a great tasting snack? Try these out, and you may not go back to traditional wings. (gasp)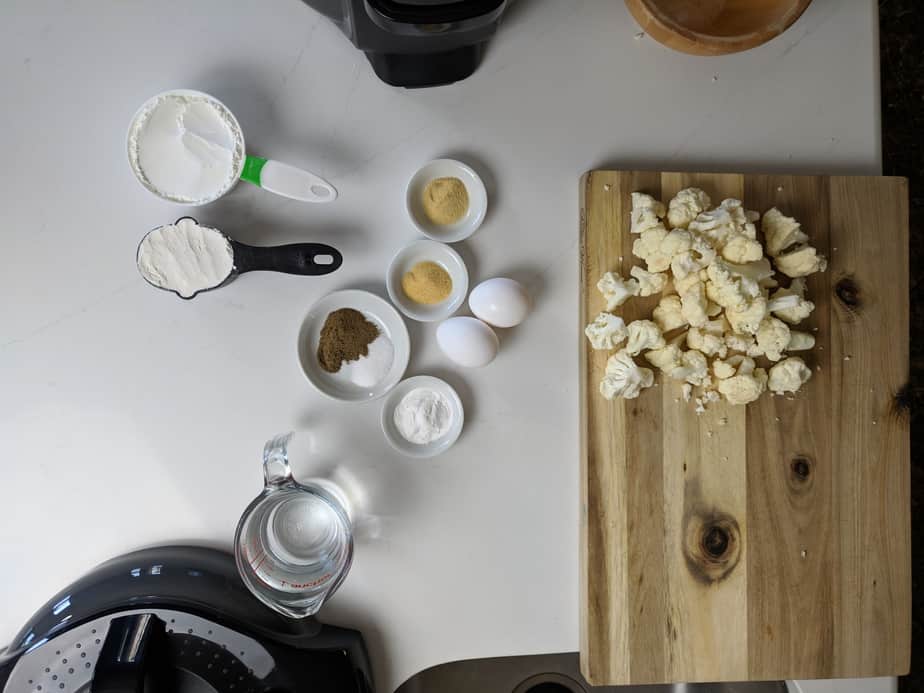 Hot and Spicy Cauliflower Bites
How hot do you want them? I like to use Smileys Famous BBQ Sauce but you can use a less "hot" hot sauce such as Franks Red Hot or Louisianna Hot Sauce. My go-to when not making my own is Sriracha, but of course, you can choose your favorite sauce and follow the recipe below then dig in. Don't be surprised when you get to the bottom of the bowl, and everyone is asking for more. Make sure you have more than one head of cauliflower on hand. If you are like me, the first batch "disappeared" before anyone knew I was making them 🙂 Our Buffalo Cauliflower Bites go with just about any picnic or get together. Try them instead of popcorn next time you have a movie night. Life hack!!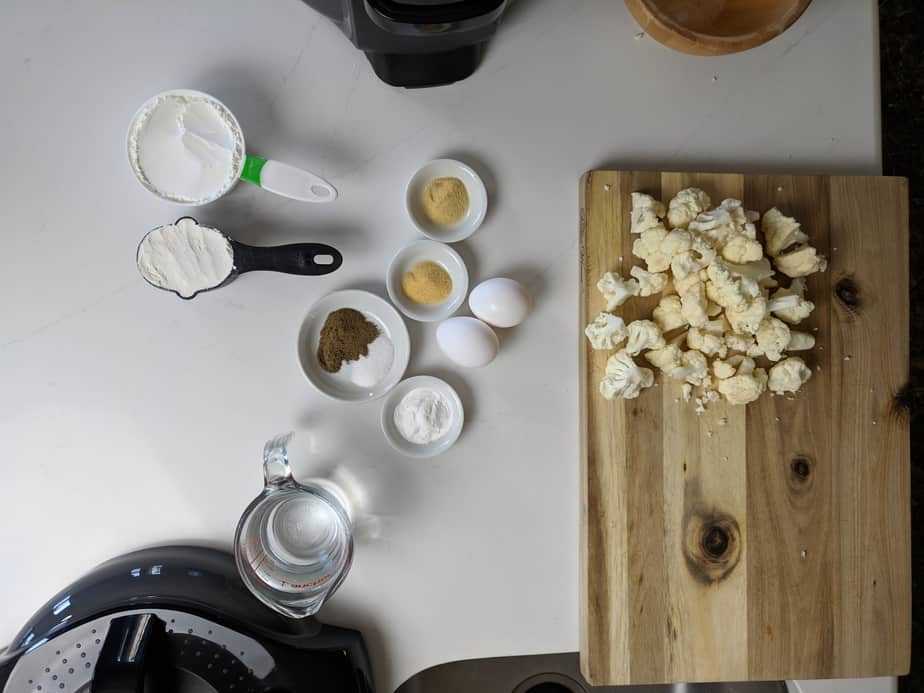 Easy Buffalo Cauliflower
The best way to make buffalo cauliflower is to make sure that you use bigger chunks of cauliflower. When you use bigger chunks, you are less likely to get mushy pieces of cauliflower. When I made the video, some of my pieces were a tad on the smaller side, and some of it was mush. In practice, the bigger chunks (about an inch or so long and 1/4-1/2 inch wide) make the best buffalo cauliflower bites. The pictures show the size your florets should be. Allowing the cauliflower to cool before battering them, and freezing them for 20 minutes before putting them in the oven, air fryer, or Ninja Foodi is one of the best tips I can give you for making sure your bites come out perfect every time. No shortcuts here, just a great tasting, low-fat snack that is only 5 points and sure to please even the heartiest of football fans.
In the video, I forgot to mention the cornstarch. Don't forget to add it in when you are making the recipe! I will get better at the videos 🙂 I have never made instructional cooking videos before, so I am new to this. I will make sure the recipe cards are exact, so you will always have the correct recipe. (even if I forget to say something in the video)
Pair these bites with ranch or bleu cheese dressing or make you own ranch with FAGE (fa yay) yogurt, I said it wrong in the video 🙂 I am getting hungry, so I am going to eat some more! 🙂 Want a different dressing? check out my list of Low Point Dressings These are great for not so spicy, but still tasty options. I am off to eat some more of them before the kids smell them cooking 🙂
As always, I aim to help you with your weight loss journey, let me know how I'm doing in the comments below.
5 Freestyle SmartPoints per serving 🙂
Print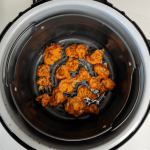 Buffalo Cauliflower Bites
---
Description
Buffalo sauce, Cauliflower florets, the Ninja Foodi, an air fryer, or your oven is all you need to make these perfect.
---
2

heads cauliflower (cut into florets)

1/2 cup

water

1 1/2 cup

cornstarch

2 tsp

baking powder

1 tsp

garlic powder

1 tsp

onion powder

1 tsp

salt

1 tsp

black pepper

2

large eggs

1/2 cup

all purpose flour
---
Instructions
place cauliflower and 1/2 cup of water into the Nina Foodi or pressure cooker
put the pressure lid on and make sure the valve is pointed to seal
Set pressure to low and the time to 2 minutes
Once the cauliflower is done, quick release and carefully remove the lid
Drain Cauliflower and place in the fridge to chill (about 10 minutes)
whisk together flour,baking powder, salt, corn starch, garlic and onion powder, and the pepper
Add the eggs and 1 cup of water, continue to whisk until well blended (the batter should be smooth)
Add cauliflower to the egg mixture and toss gently.
place cauliflower on a baking sheet and chill in the freezer for 20 minutes
Preheat air crisper at 360 degrees for 5 minutes
Arrange the cauliflower in a single even layer on the bottom of the cook and crisp basket
After 5 minutes place the basket into the pot
Close the lid and air crisp for 20 minutes at 360 degrees
Once the desired crispness is achieved remove cauliflower from the basket and repeat with the remaining cauliflower. Freeze uncooked cauliflower for a quick and easy snack later in the week
Microwave hot sauce for 30 seconds and toss in a bowl with the hot sauce. Optional use a brush and lightly coat the cauliflower.
Dig in and enjoy
Category:

Appetizer, Side Dish, Snack