If it's Tuesday, it's time for tacos! Tacos are an easy and yummy meal that the whole family will enjoy.
---
"Healthi formerly iTrackbites is an alternative to Weight Watchers. "
---
Everyone loves a taco and these steak carne asada tacos will be a family favorite!
Our family really enjoys Mexican food, and we tend to lean towards taco Tuesdays. But the same old tacos get boring after a while, so this steak carne asada taco recipe is a great way to mix it up.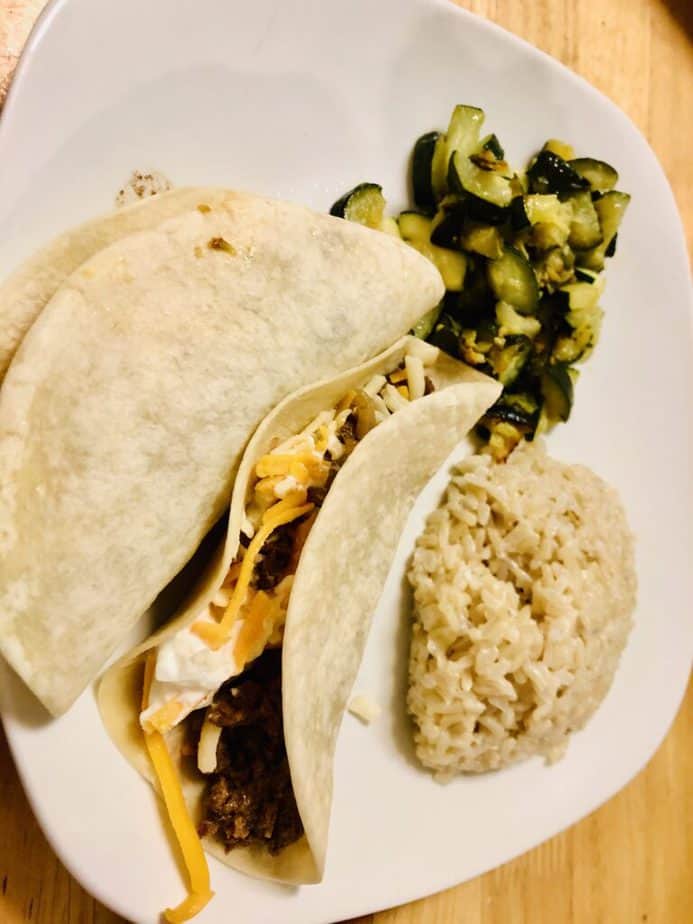 Mix up your Taco Tuesday with steak carne asada tacos
Traditionally, when you think tacos, you think of ground beef in a hard corn tortilla shell. And those tacos are certainly delicious. But there are so many ways to make tacos, the possibilities are endless!
Steak, chicken, veggies, tofu carne asada tacos
While this recipe calls for steak, and it's a fabulous choice, it's not the only choice. You can certainly sub out the steak for any other protein you can think of. Simply follow the recipe and change the steak for your protein of choice.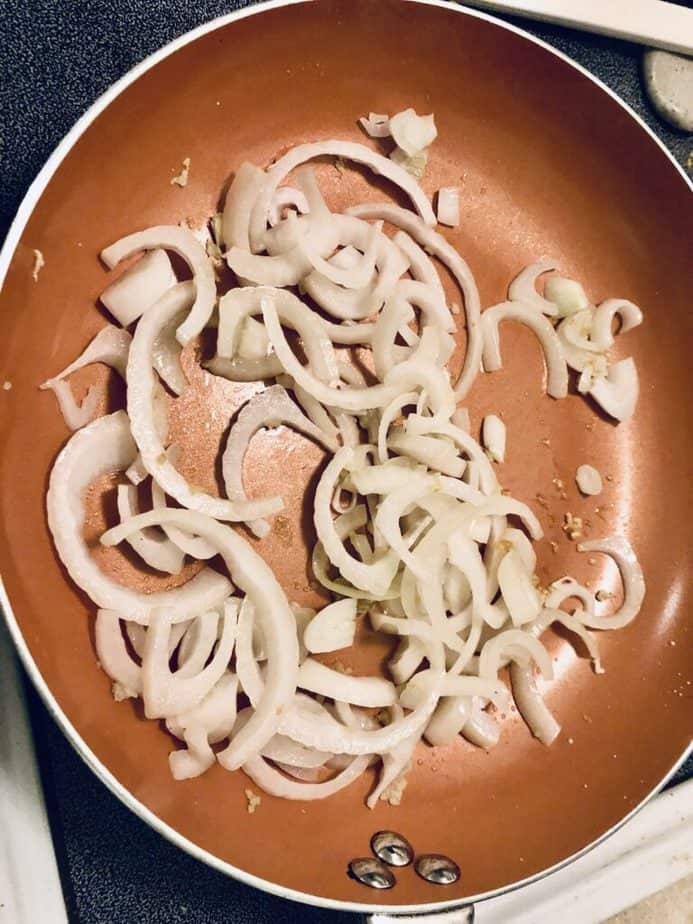 What to mix in with your protein
For this recipe, I used sliced onions as my veggie add in. The recipe actually called for peppers, but one of the kiddos will boycott any food that a pepper has touched. However, bell peppers in any color, onions, jalapeños would all work as well. Black beans would add some more fiber and protein too.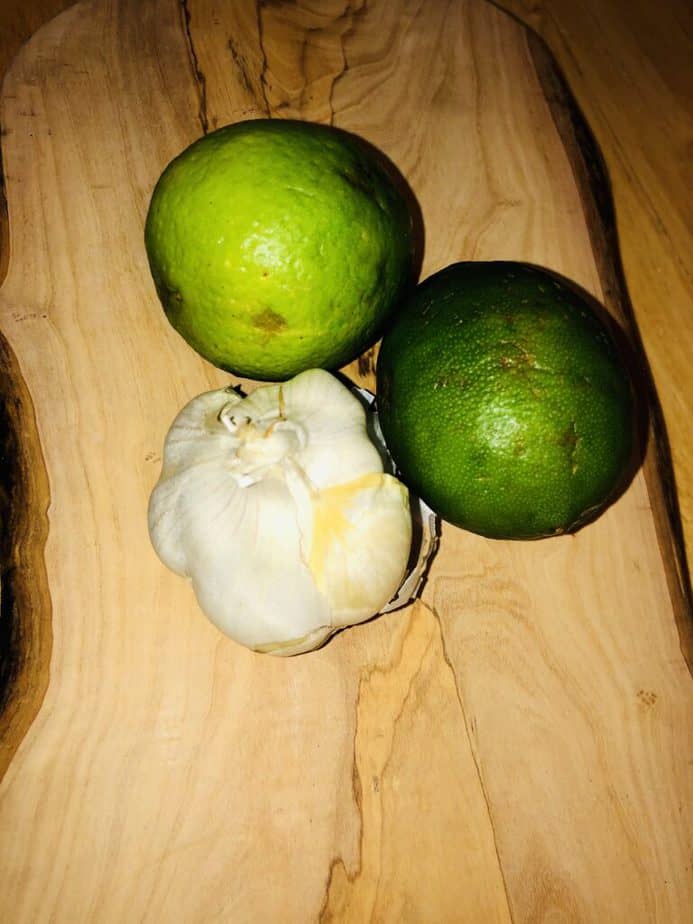 Toppings make the meal
For this steak carne asada taco recipe, I used, but didn't include in the point total, shredded cheddar cheese and sour cream. That was what I happened to have on hand. But the choices of toppings are limitless! If you want more veggies, tacos are the perfect choice for a meal.
Shredded lettuce, tomatoes, avocados are just a few veggies that would pair beautifully with this meal. Sour cream, mozzarella cheese, cheddar cheese, pepper jack cheese would all go nicely as well. Like things a bit spicier? Throw in some jalapeños or some ghost peppers if you are really brave.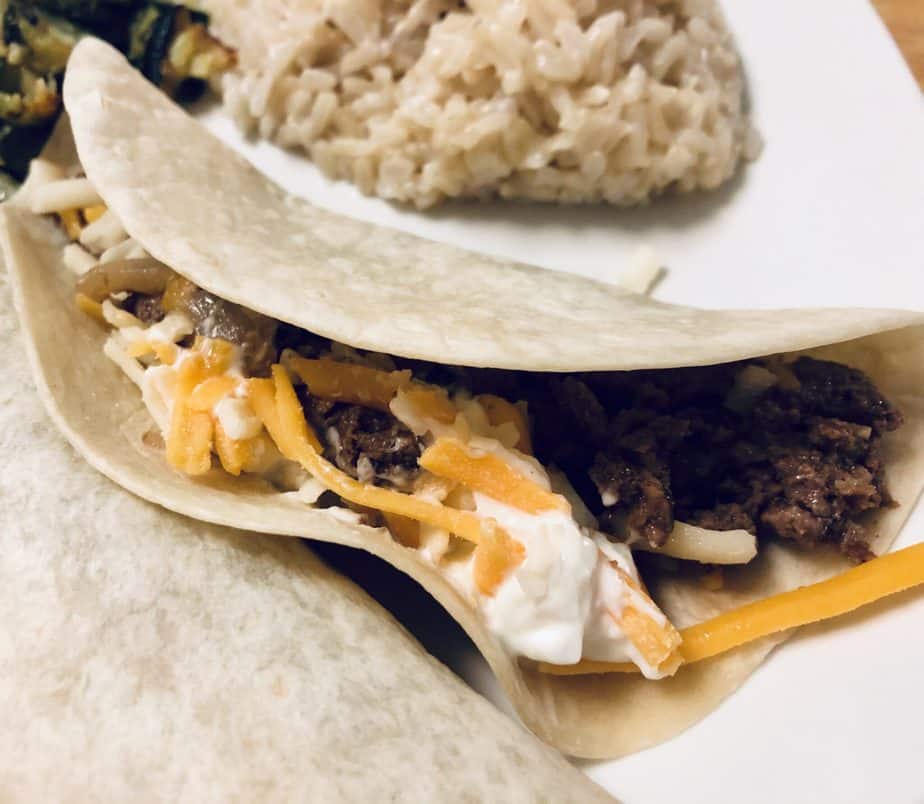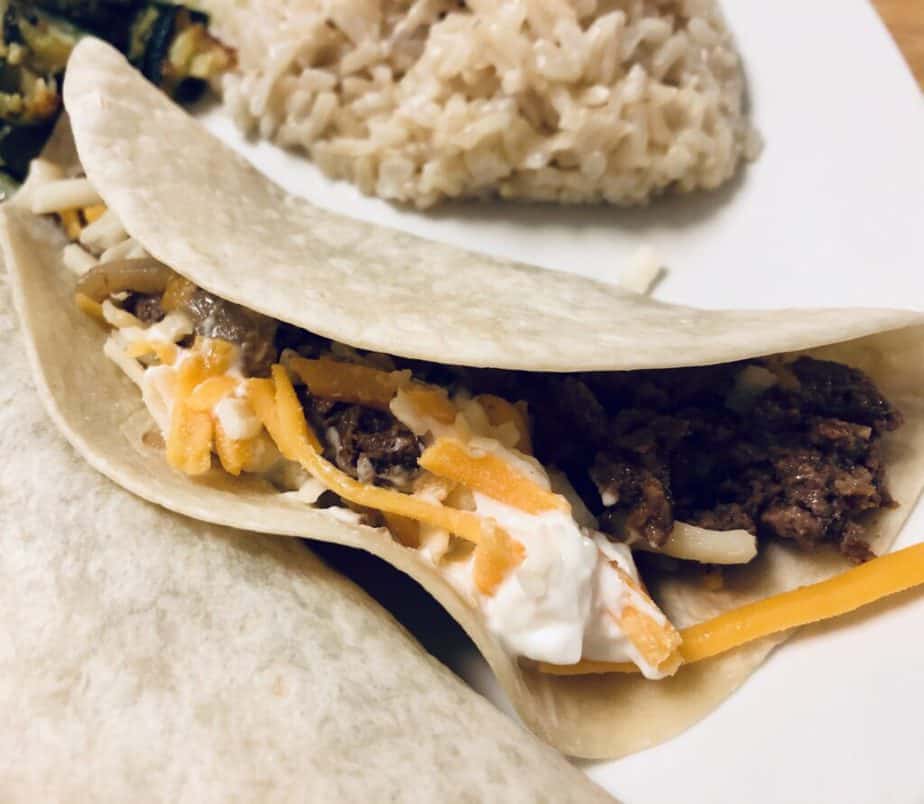 Shells for your steak carne asada tacos
Our family isn't very particular about our taco shells. I often heat up the flour tortillas on a taco rack so they make a baked taco shell. You can do this with corn tortillas as well. There are the tried and true hard corn shells.
If you are going low carb, romaine lettuce makes an excellent taco holder. It also gives you that satisfying crunch.
Love tacos and hate the mess? Turn that taco into a bowl! Just throw some brown, yellow, or white rice in a bowl and top it with all the things you would put into a taco. For recipes on how to cook rice in your instant pot, click here.
One of the ways that I'm able to enjoy tacos is by planning ahead. No food is "off limits" as long as you plan for it during your day. I use Healthi formerly iTrackbites to plan ahead and make sure I'm eating a balanced diet.
cost: Healthi formerly iTrackBites costs $36 for the year (using this link for 40% off makes it $36 – use COACH_SMILEY to save!!), WW is $20+ for the month, and it's the same formula and less options
choices: I can choose PointsPlus, Freestyle, or any other plan I want with Healthi formerly iTrackBites. Even with the new WW changes, they only offer 3 plan options (not PointsPlus).
logs: You can export your tracker data by the week, month, or quarter with Healthi formerly iTrackBites. WW does not give you access to quarterly data.
accuracy: I've found inaccurate info in the WW app due to members submitting and not paying attention to the right numbers. With Healthi formerly iTrackBites, I know if I see the green check, it's been verified as accurate. This puts my mind at ease!
BLUE PLAN: 3 Points Without Taco Shells or Toppings
GREEN PLAN: 3 Points Without Taco Shells or Toppings
PURPLE PLAN: 3 Points Without Taco Shells or Toppings
Print
garlic
2 limes
1½ Tbsp taco seasoning
12 (6-inch) flour tortillas
2 (½ lb) pkgs shaved steak/sirloin steak slices
1 onion
1 Tbsp apple cider vinegar
pinch of sugar
pinch of salt
pinch of pepper
---
Instructions
In a medium bowl, squeeze 1 lime, add 2 tsp finely chopped garlic, 1½ Tbsp taco seasoning, 1 Tbsp oil, and a pinch each of salt and pepper. Stir to combine.

Add the shaved steak to the marinade and set aside

Cut the onion in half and then thinly slice.

In a small bowl, whisk 1 Tbsp oil, 1 Tbsp vinegar, a pinch of sugar, salt and pepper. Add ½ cup of the sliced onions and toss to coat. Set pickled onions aside, stirring occasionally.

Heat a large nonstick skillet over medium high. Add 1 tortilla at a time until warmed and lightly golden, about 30 seconds per side. Transfer to a plate; cover or wrap in foil as you go to keep warm. (You can also toast tortillas individually over a gas flame until lightly charred in spots, 5–10 seconds per side.)

Heat 1 Tbsp oil in same skillet over high. Add reserved sliced onions and cook until softened and lightly browned, 2–3 minutes. Using a slotted spoon, add shaved steak and cook, breaking up into large 2-inch pieces, until browned on one side, 2–3 minutes.

Add the marinade from bowl and cook, stirring once or twice, until steak is cooked through, 1-2 minutes. Fill tortillas with shaved steak, then top with pickled onions and whatever other toppings you like.