If you love Mexican food but want to be able to manage your calories and fat intake, these chicken fajitas are the perfect recipe!
Get your Mexican food fix with these sizzlin' chicken fajitas
These chicken fajitas have all the taste of traditional fajitas with so much less fat. It's a wonderful way to get your Mexican craving fix while eating healthy and staying in your points.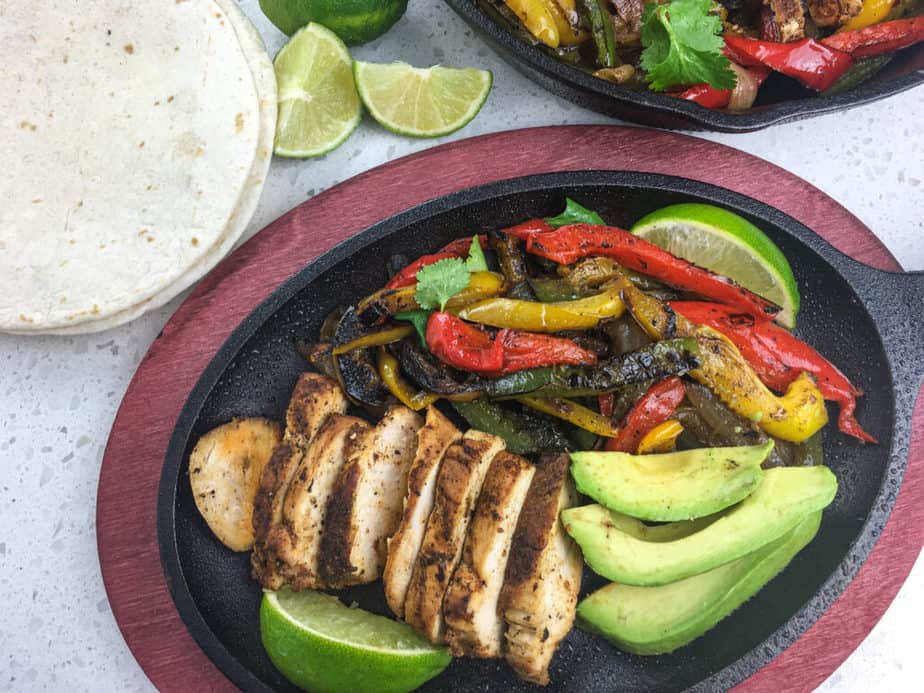 A low carb treat, even if you aren't concentrating on eating low carb
This dish is naturally low carb. It's full of protein and fresh vegetables, perfect for a low carb meal plan. But it's a wonderful choice, even if you aren't eating low carb.
If carbs aren't a concern and you have some extra points to spend, you can wrap this dish in a flour or corn tortilla. But a better choice, not matter what your meal plan choice, is a piece of romaine lettuce. You will get that delightful crunch without any calories and some extra fiber to boot!
Why should you use a cast iron skillet for this recipe?
Chicken fajitas are absolutely perfect to cook in your cast iron skillet. Cast iron skillets have many benefits. For instance, you can go from the stovetop to the oven, which many recipes call for. Cast iron holds it's heat for a considerable length of time, so it's great for keeping your food warm. During the cooking process, a small amount of iron is absorbed into your food. Iron deficiency is not fun and every little bit that you can get will help to fight it off.
Cast iron is naturally non-stick, so you can reduce the oil a bit and shave off some points. And unlike other non-stick pans, cast iron doesn't have any chemicals in it that could leach into your foods.
Topping off your sizzlin' chicken fajitas
Chicken fajitas call for peppers, onions and avocado slices. The avocado slices are about 4 points of this recipe. If you aren't a fan, you can omit them altogether. You could also mash them up with a small tomato, 2 cloves of garlic, the juice of a small lime, a quarter of a small red onion and a dash of both salt and pepper. Throw it in the fridge while you are making the rest of your meal and you will have some killer guacamole to enjoy.
If you have some extra tortillas on-hand, but don't want to eat too many of them, you can brush both sides with a bit of olive oil and bake for 5 minutes in the over at about 350º. Just keep an eye on them, as they can burn quickly. Break them into 4-6 pieces and you have some low point chips to go with your chicken fajitas.
Another option is making some brown rice as a side. You can make some extra fajita seasoning, minus the oil and sprinkle that on the rice.
Fat-free sour cream and fat-free cheese add little to no points and are also a delicious add on. You could also make some greek yogurt ahead of time and use that as a topper. That gives you the creaminess and also another protein boost.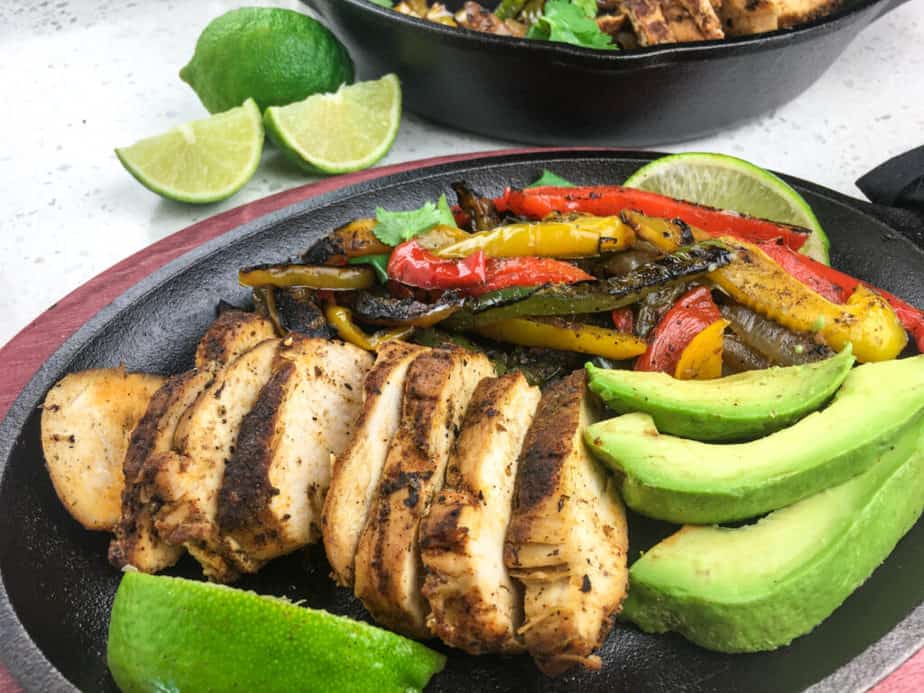 Pro tip: An instant-read thermometer should read 160 degrees when inserted into the thickest part of the chicken. The heat will continue to rise another 5 degrees while the meat rests. Using a meat thermometer takes the guesswork out of preparing your meals. No one ever wants to deal with food poisoning from undercooked meat.
This recipe will fit into any plan that you may be following. For me, I'm working with Healthi formerly iTrackBites and have had great success on the program.
cost: Healthi formerly iTrackBites costs $36 for the year (using this link for 40% off makes it $36 – use COACH_SMILEY to save!!), WW is $20+ for the month, and it's the same formula and less options
choices: I can choose PointsPlus, Freestyle, or any other plan I want with Healthi formerly iTrackBites. Even with the new WW changes, they only offer 3 plan options (not PointsPlus).
logs: You can export your tracker data by the week, month, or quarter with Healthi formerly iTrackBites. WW does not give you access to quarterly data.
accuracy: I've found inaccurate info in the WW app due to members submitting and not paying attention to the right numbers. With Healthi formerly iTrackBites, I know if I see the green check, it's been verified as accurate. This puts my mind at ease!
BLUE PLAN: 9 Points
GREEN PLAN: 10 Points
PURPLE PLAN: 9 Points
Print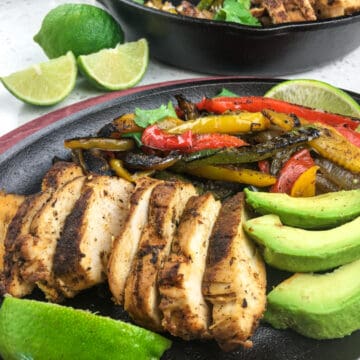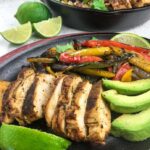 Sizzlin' Chicken Fajitas
---
Fajita Ingredients:
1½ lbs. boneless, skinless chicken breasts
¼ c. extra virgin olive oil, divided
1 medium green bell pepper, sliced
1 medium red bell pepper, sliced
1 medium yellow bell pepper, sliced
1 medium white onion, sliced
2 large avocados, sliced
2 large limes, cut into wedges
½ c. fresh cilantro, chopped
Marinade Ingredients:
2 t. chili powder
1 t. ground cumin
1 t. smoked paprika
½ t. onion powder
½ t. garlic powder
¼ t. cayenne pepper
½ t. dried Mexican oregano
½ t. salt
¼ t. black pepper
3 T. extra virgin olive oil
---
Instructions
Combine the marinade ingredients in a small bowl and stir to combine.
Add the chicken breasts to a large, non-reactive bowl and pour the marinade on top. Turn the breasts to ensure all pieces are equally coated. Allow to marinate at room temperature up to one hour or cover and place in the refrigerator overnight.
To prepare the fajitas, heat 2 tablespoons olive oil in a large cast iron skillet over medium heat. Remove chicken breasts from marinade and discard remaining liquid. Place chicken breasts in skillet and cook for 7-8 minutes before turning. Continue cooking another 6-8 minutes, or until chicken is cooked through. Remove from heat and keep warm.
Increase heat to medium-high and add remaining olive oil to skillet. Add the sliced peppers and onion and cook, stirring frequently, until crisp tender and nicely browned, approximately 6-7 minutes.
To serve, cut the chicken breasts into thin slices and divide among cast iron fajita platters, if using, (see tip above) or individual serving plates. Serve immediately with peppers, onions, sliced avocado, lime wedges, and fresh cilantro, if desired, on the side.