Rosemary lemon boneless chicken thighs a quick, easy and delicious! We love a 5 ingredient dinner that tastes fancy and think you will too!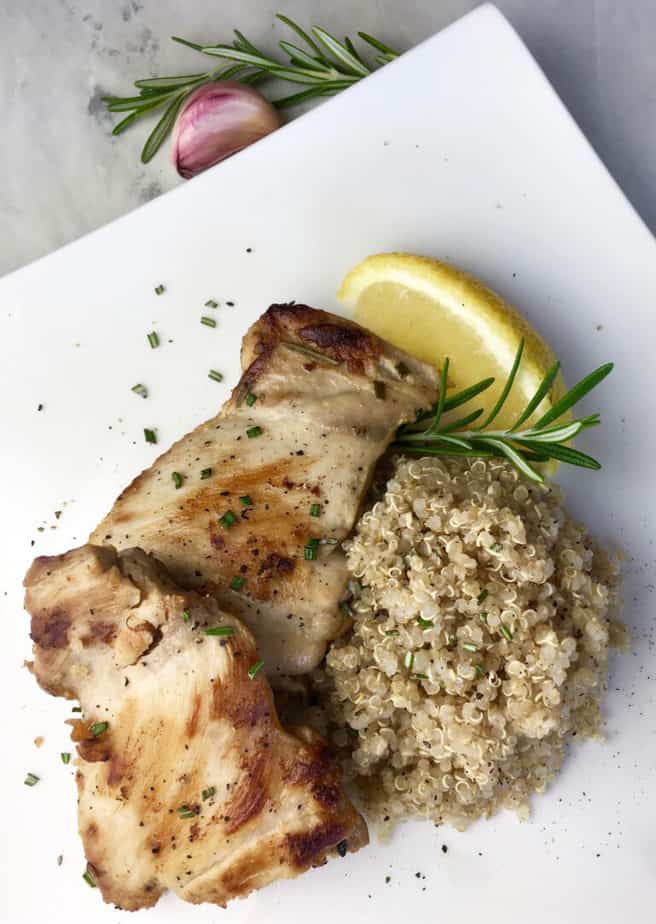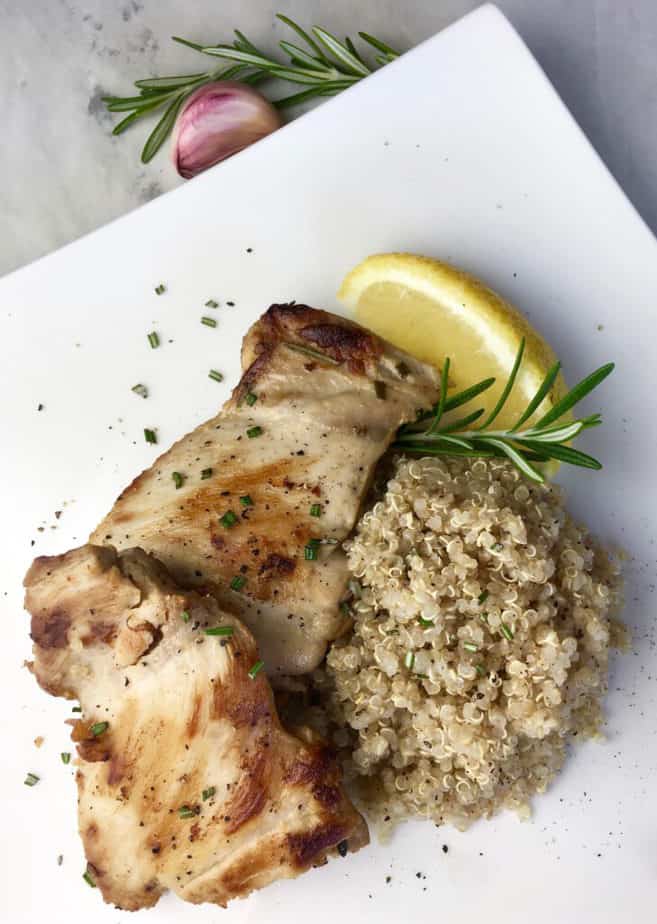 5 ingredient dinner for the win
During the week, we want to eat food that's delicious, healthy and easy to prepare. Finding 5 ingredient dinners to put into the recipe box help on this quest. And this recipe is amazing! Super easy but looks and tastes super fancy. Score!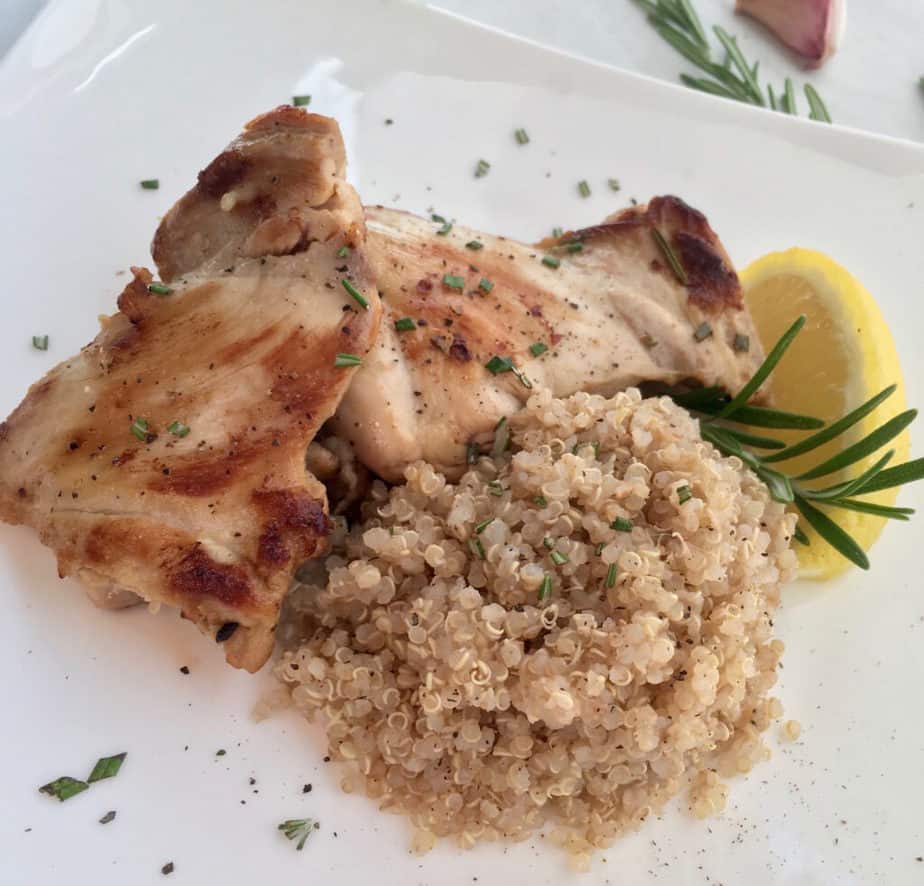 Chicken thighs vs chicken breasts
There's often a great debate on white meat vs dark meat when it comes to chicken. I've found most people have a strong preference one way or the other. But is there a huge difference between the two? Let's discuss….

Both chicken thighs and chicken breasts are great sources of lean protein. The difference is in the amount of calories and fat each has in it. For instance, a 3-ounce serving of chicken breast is about 140 calories, 3 grams of total fat, and 1 gram of saturated fat. The same amount of dark meat chicken, such as a thigh, would be about 170 calories, 9 grams of fat, and 3 grams of saturated fat. Not a huge difference, but those calories and fat grams can add up.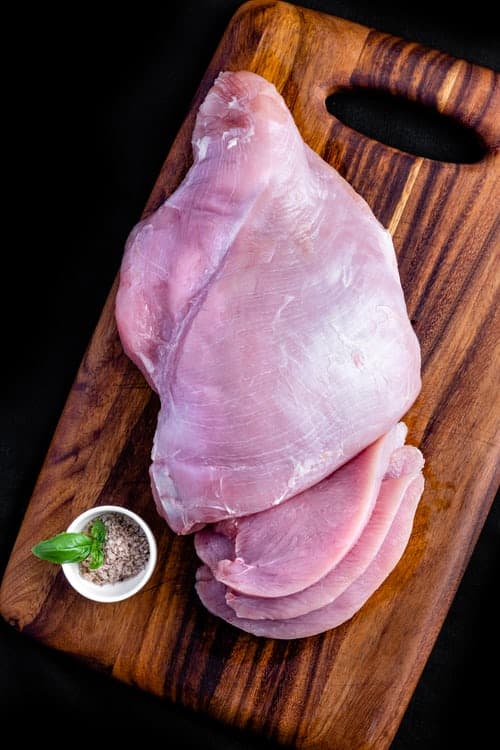 If you are doing a keto or low-carb diet, the extra fat and calories won't make much of a difference. But if you are on a plan where every calorie matters, you might lean more towards leaner meat. I found some great information on the nutrition of chicken breasts vs chicken thighs on this site.

Sometimes, it's not about the calories, but about the taste. In our family, some of us don't have a preference, some will not touch any dark meat. Dark meat is often thought to be more tender and flavorful. The higher fat content makes it juicier. But it has a different flavor than chicken breasts.

While the nutrition is very similar, the price is often not. Chicken breasts tend to be more expensive than chicken thighs. So if you are on a budget, chicken thighs might be a better option as well.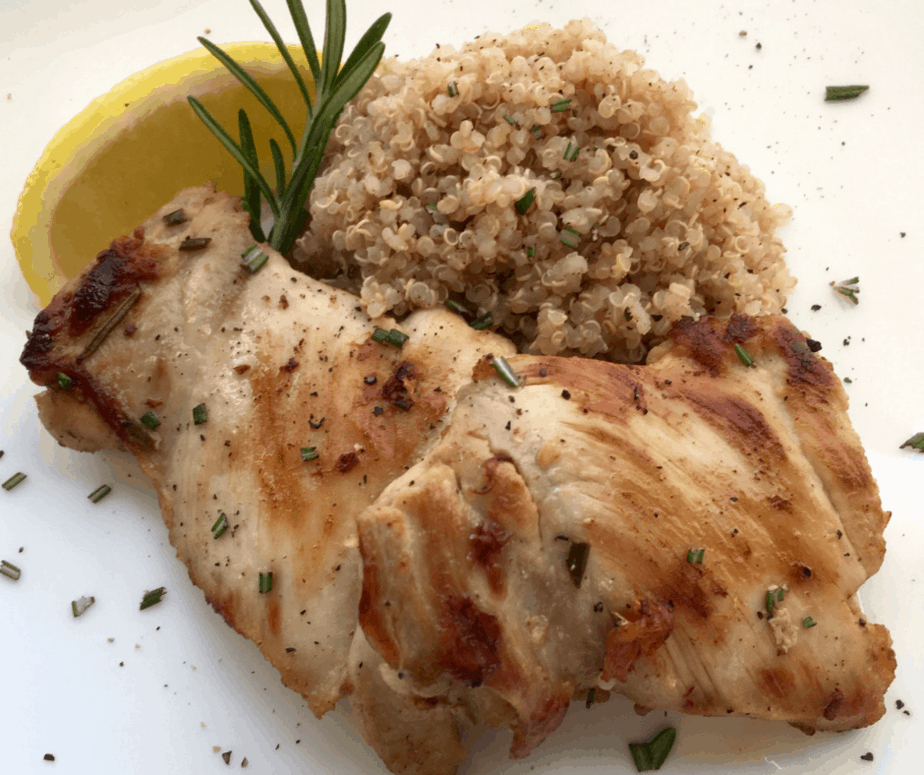 What should I serve with rosemary lemon boneless chicken thighs?
Dinner is not made with protein alone. I have always felt asparagus is a "fancy food". Most likely because you usually find it served in more upscale restaurants. This asparagus recipe makes a fancy vegetable easy to cook.

A super easy vegetable is this roasted broccoli Parmesan. It's quick to make and my family always devours it.

If you are trying to stay low-carb, or you want a meal that's heavy on veggies, you're going to love cauliflower mash with crispy Brussels sprouts.

These instant pot rosemary and garlic mashed potatoes are easy and perfectly match the flavor profile of the rosemary lemon boneless chicken thighs.

We love brown rice in our house and making it in the instant pot will give you perfect rice every time. To complement this dish, you can put some lemon juice and rosemary into the pressure cooker to cook along with your rice. Then season with salt and pepper to taste when it's done.
No matter what you serve it with, this dish will be a family favorite!
BLUE PLAN: 6 POINTS
GREEN PLAN: 6 POINTS
PURPLE PLAN: 6 POINTS
Print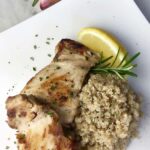 Rosemary Lemon Boneless Chicken Thighs
---
Author:

Total Time:

30 minutes

Yield:

4
2 large lemons, zest and juice, divided
1 T. garlic, finely minced
2 T. fresh rosemary leaves, chopped
8 boneless, skinless chicken thighs
2 T. extra virgin olive oil
Optional: Salt and black pepper, to taste
---
Instructions
To make the marinade, in a small bowl, combine ½ the lemon zest and lemon juice, garlic, rosemary and stir to combine. You can put the rest of the lemon zest in an airtight container and freeze it for future use.
Reserve the rest of the lemon juice and set aside.
Unroll the chicken thighs to expose the entire surface. Season them with salt and pepper.
Place the chicken thighs in a large, sealable plastic bag and pour the marinade over them. Seal the bag and turn several times to ensure the chicken is evenly coated with the marinade. Place the bag in the refrigerator for at least 30 minutes, up to overnight.
Over medium-high heat, heat olive oil in a large skillet. Remove the chicken thighs from the bag, allowing the excess to drip off before transferring them to another dish. Discard the remaining marinade.
Working in batches if necessary (you don't want to overcrowd the pan), add the chicken thighs to the skillet and cook until browned, about 3-4 minutes on each side. Transfer the thighs to a clean plate and set aside.
Add the remaining lemon juice and ¼ cup of water to the hot skillet to deglaze. Gently scrape the bottom of the pan to remove any browned bits. Bring the liquid to a boil and then reduce to medium-low heat.
Return the chicken thighs to the skillet and simmer for 3-4 minutes, or until the chicken is cooked through. Season to taste with additional salt and pepper. Remove from the heat and serve.
Prep Time:

15

Cook Time:

15