Roasted sweet potato, kale, and quinoa salad is delicious and nutritious! The ingredients have so many health benefits! Let's take a look!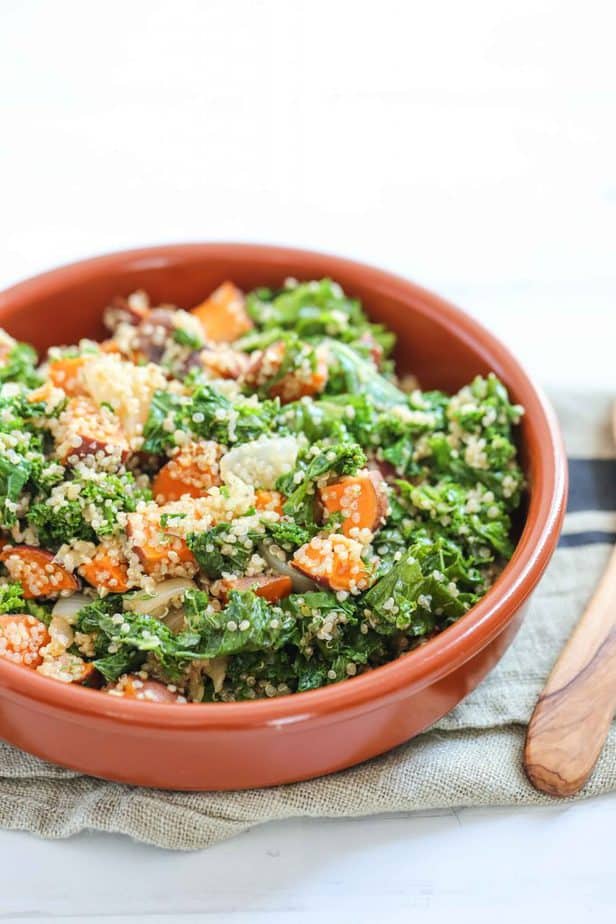 Healthy, light, and delicious
If i'm trying to save up some points or Bites for dinner, a healthy, light and delicious lunch helps tremendously. Having a dish that filling and full of fiber makes it even better!
What are the health benefits of eating sweet potatoes?
Sweet potatoes are HIGHLY nutritious. Just one cup of sweet potatoes gives
you plenty of carbs, protein, fiber vitamins A, B6, and C, manganese, potassium,
pantothenic acid, copper, and niacin. That doesn't even include the antioxidants
that help protect your body from free radicals. That's a lot of nutrients in
one cup of tasty food!
The dense fiber and antioxidants in sweet potatoes help your gut health.
Sweet potatoes contain soluble and insoluble fiber, neither of which your body
can absorb. So, all that wonderful fiber stays in your digestive tract,
providing a variety of gut-related health benefits.
Certain types of soluble fiber, known as viscous fibers, absorb water and
soften your stool. And the non-viscous, insoluble fibers don't absorb water and
add bulk. All of this will aid in helping with regular bowel movements. Not a
topic we typically like to talk about, but it is essential to gut health and
weight loss.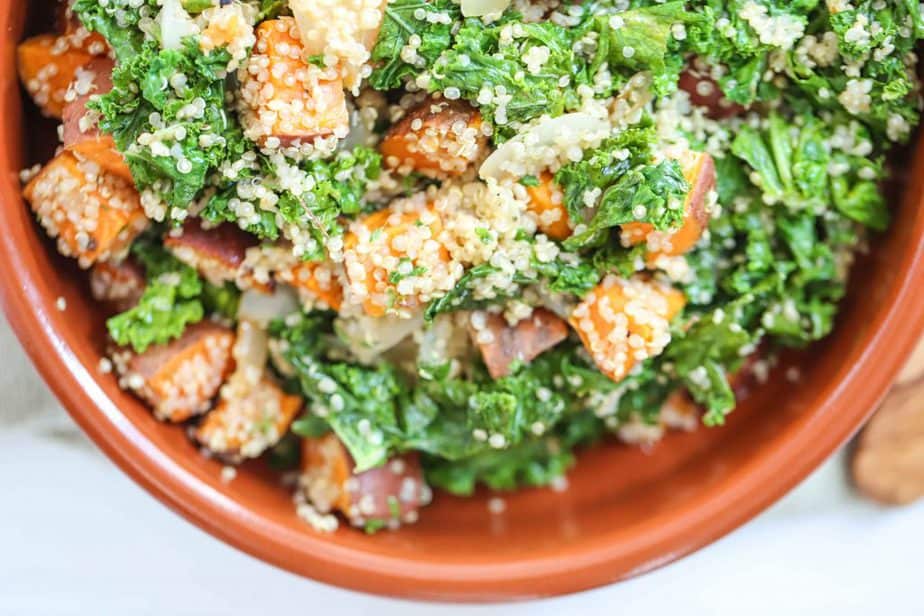 Why should I eat quinoa?
Quinoa is a superfood that is super good for you. While it is considered a grain, it's a grain that has some protein in it. This will help fill you up more than a traditional grain. Protein is also great for helping with muscle recovery.
Quinoa is also lower in carbs, so it's a great choice if you want something that looks and feels like a grain but doesn't act like it when you eat it. In addition, if you combine it with brown rice, it makes an amino acid and has an almost porridge-like consistency. Personally, my favorite way to eat rice is one part brown, one part quinoa. Delish!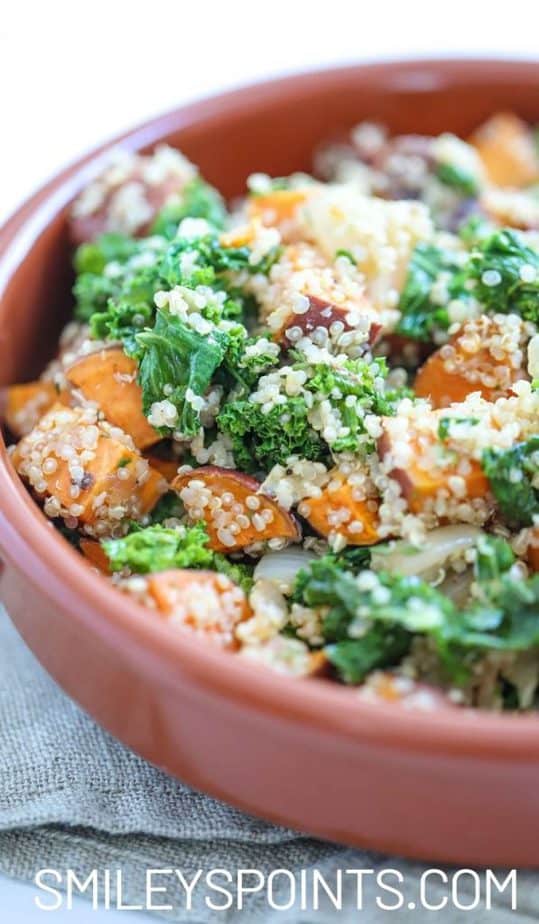 What are the health benefits of kale?
Most people will not admit that they like kale. It seems to be some kind of running joke in Facebook posts and on pages about losing weight. But while it might not be the most delicious of vegetables, it is the most nutrient-dense vegetable out there. Kale is packed with Vitamins A, B1, B2, B3, B6, C, K; Manganese; Calcium; Copper' Potassium and Magnesium. The calories are low per serving, but it gives a nice protein bump with 3 grams per serving. Not too bad for a vegetable!
Kale has very little fat in it, but it does have an omega-3 fatty acid called alpha-linolenic acid. This little beauty will help keep your heart healthy! It is popular in preventing and treating diseases of the heart and blood vessels. As a supplement, it is used to prevent heart attacks, lower blood pressure, lower cholesterol, and reverse hardening of the blood vessels. So you get all those benefits in small doses when you munch on some kale.
If you are like me, the print on things you typically read has started to get smaller and blurrier for no good reason! Kale can help with that! Kale is high in lutein and zeaxanthin, which are nutrients that protect the eyes. These nutrients will help lower your risk of macular degeneration and cataracts.
One of the best benefits of kale is it can help you lose weight! It's low in calories but high in bulk, so it helps you feel full. It has a high water content as well and had low energy density. Eating foods that have a low energy density has been shown to help weight loss.
Check out his post for more information on the health benefits of kale.
Ingredients
½ cup cooked quinoa
1 bunch of kale, torn from the stem into bite-sized pieces
2 Tbsp olive oil divided
2 sweet potatoes, peeled and cubed
1 sweet onion, chopped
2 garlic cloves, minced
1 tsp ground cumin
¼ tsp sea salt
¼ tsp pepper
1 Tbsp Dijon mustard
2 Tbsp red wine vinegar
1 Tbsp maple syrup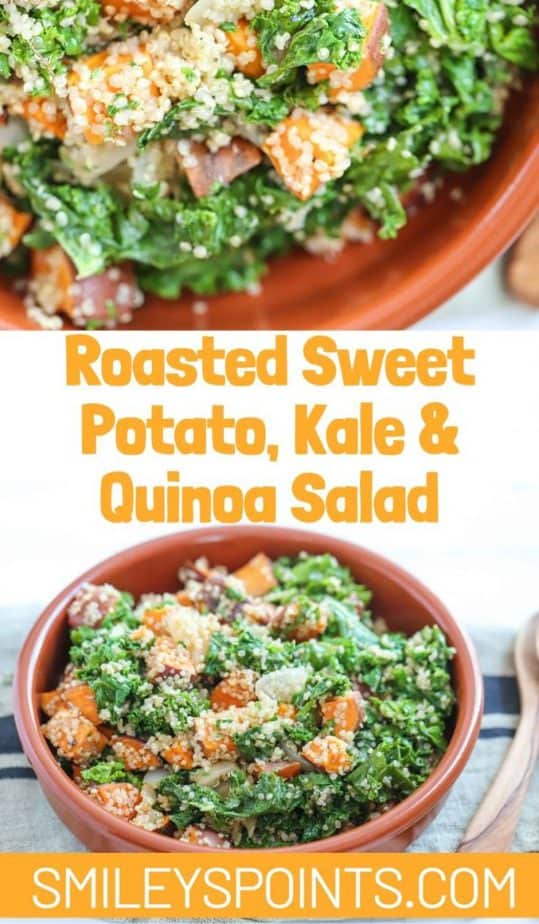 Growing your own vegetables
Depending on where you live, you might be able to grow some of these fantastic vegetables. Here are some tips on how to make the most out of your vegetable garden.
Bottom line…
This recipe is chock full of nutrients, fiber, protein vitamins, and minerals. It will fill you up and more importantly, it's so delicious you will feel satisfied after you eat it!
BLUE PLAN: 6 POINTS
GREEN PLAN: 6 POINTS
PURPLE PLAN: 2 POINTS
Depending on where you live, you might be able to grow some of these fantastic vegetables. Here are some tips on how to make the most out of your vegetable garden.