Made with roasted sweet potatoes, kale, and quinoa for a healthy lunch or dinner recipe that's delicious! Quench your body craving in just one bite. The ingredients have so many health benefits from regulating blood sugar to providing energy- this is sure worth trying out at home today.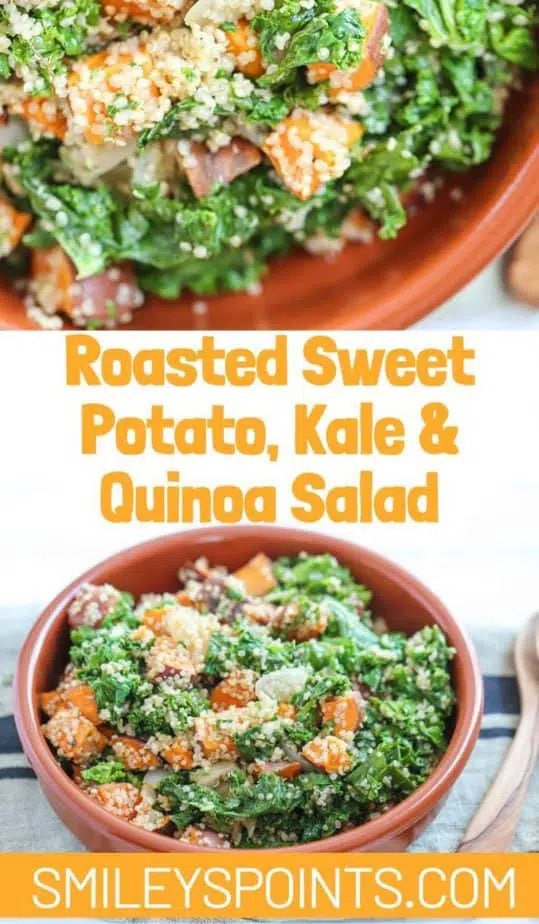 Healthy, Light, and Delicious
I'm trying to save up some points or Bites for dinner, and a healthy lunch helps tremendously. Having something that is filling but also full of fiber makes it even better.
WHAT ARE THE HEALTH BENEFITS OF EATING SWEET POTATOES?
The incredible nutrient wealth of sweet potatoes is rivaled only by their taste. One cup provides you with plenty of carbs, protein and fiber as well vitamins A & B6 while also providing manganese potassium pantothenic acid copper niacin plus an assortment of antioxidants to protect against free radicals. This tasty salad has it all.
The Amazing Sweet Potato
Sweet potatoes are a great source of fiber, which helps to keep your digestive tract healthy. The antioxidants in sweet potato help fight inflammation and reduce the risk of developing heart disease or cancer by fighting free radicals inside you.
We often don't like to talk about the importance of gut health, but it is essential for both your mental and physical wellbeing. Soluble fibers will aid in helping you have regular bowel movements, while the non-viscous kind adds bulk which can reduce constipation pains in some cases.
WHY SHOULD I EAT QUINOA?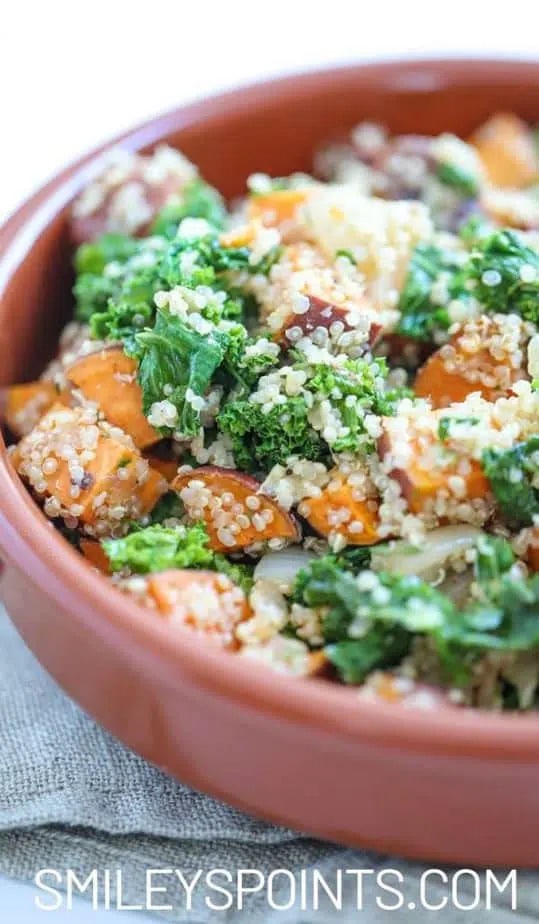 Quinoa may be a grain, but it's one with protein and nutrients! It will fill you up more than traditional grains. And when we do need muscle recovery time after working out or playing sports? This is where quinoas come into play- their high level of protein aids in repairing muscle tissue. Mix quinoa with some fruit, nuts, and cinnamon to make a delicious breakfast or snack.
Quinoa has been called the most interesting grain since its appearance on our shelves a few years ago. This slow-growing, nutrient-packed stalwart is lower in carbohydrates and includes more protein than many other grains while still being rich in fiber. One way I enjoy eating quinoas? Mix them with brown rice for a delicious mix of textures not found anywhere else (and plenty of nutritional benefits).
WHAT ARE THE HEALTH BENEFITS OF KALE?
Kale is not the most popular vegetable around, but it's got more benefits than just being nutritious. Kale is rich in vitamins and minerals like A, B1, B2/riboflavin along with other important nutrients such as calcium & magnesium! The calorie count isn't bad either and with 3 grams of protein per serving means, you can eat your fill.
Kale might be one of the most heart-healthy foods you can eat, as it has very little fat and an omega 3 fatty acid. It helps prevent diseases that affect your cardiovascular systems such as hardening or narrowed arteries! If eaten raw, this leafy green will also give benefits like lower blood pressure and cholesterol levels for those who suffer from these conditions.
When cooked kale contains fewer calories than many other vegetables so won't add unnecessary calories to your meal.
Kale is fantastic For You Eyes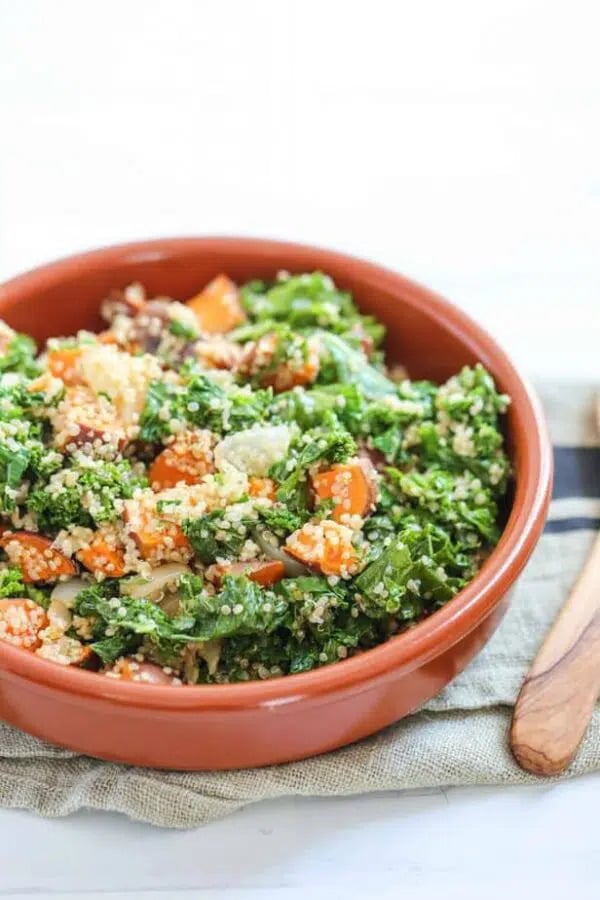 If you are like me, the print on things you typically read has started to get smaller and blurrier. Kale can help with that! Kale is high in lutein and zeaxanthin, which are nutrients that protect the eyes. These nutrients will help lower your risk of macular degeneration and cataracts.
It's low in calories but high in bulk, so it helps you feel full. It has a high water content as well and has low energy density. Eating foods that have a low energy density has been shown to help weight loss.
Print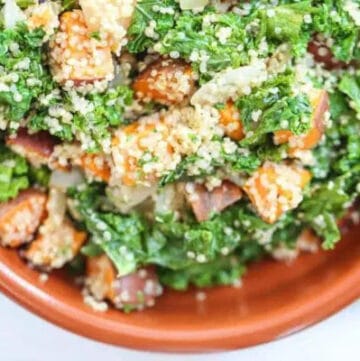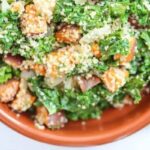 Roasted Sweet Potato, Kale & Quinoa Salad
---
Author:

Total Time:

5 minutes

Yield:

1-2 servings
Description
An amazing salad that is sure to fill you up and tantalize your taste buds. 
---
½ cup cooked quinoa
1 bunch of kale, torn from the stem into bite-sized pieces
2 Tbsp olive oil divided
2 sweet potatoes, peeled and cubed
1 sweet onion, chopped
2 garlic cloves, minced
1 tsp ground cumin
¼ tsp sea salt
¼ tsp pepper
1 Tbsp Dijon mustard
2 Tbsp red wine vinegar
1 Tbsp maple syrup (substitute a low-calorie or even a no-calorie syrup like the ones from skinny food company)
---
Instructions
Mix the red wine vinegar and the olive oil with the syrup and mustard to drizzle on top.
Mix all other ingredients in a bowl.
You might not need all of the dressing I didn't need it all on  mine. 
Drizzle with homemade dressing and enjoy. Feel free to change up the dressing ingredients to fit your tastes.
Prep Time:

5 minutes

Cook Time:

0 minutes