Adding shrimp to these Vietnamese Fresh Spring Egg Rolls is a tasty addition. Fresh ingredients and a light rice wrapper make for a healthy, yet flavorful appetizer. Let's get started!
Vietnamese Fresh Spring Egg Rolls with Shrimp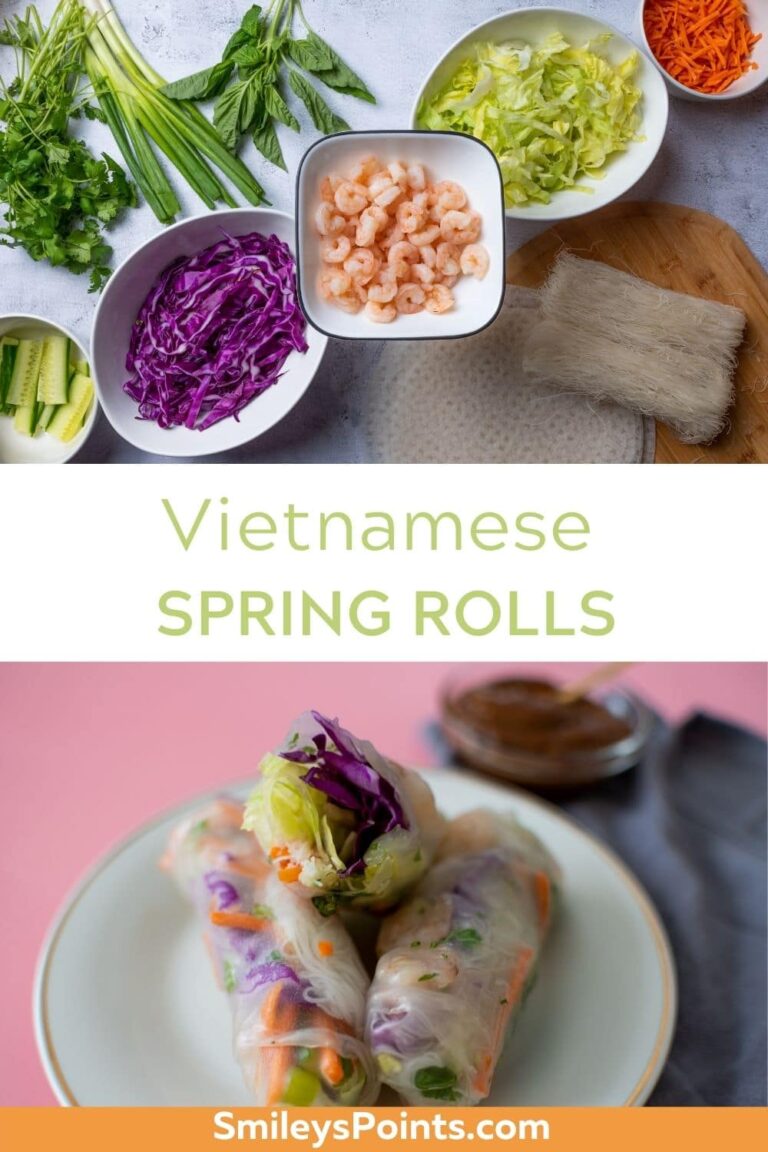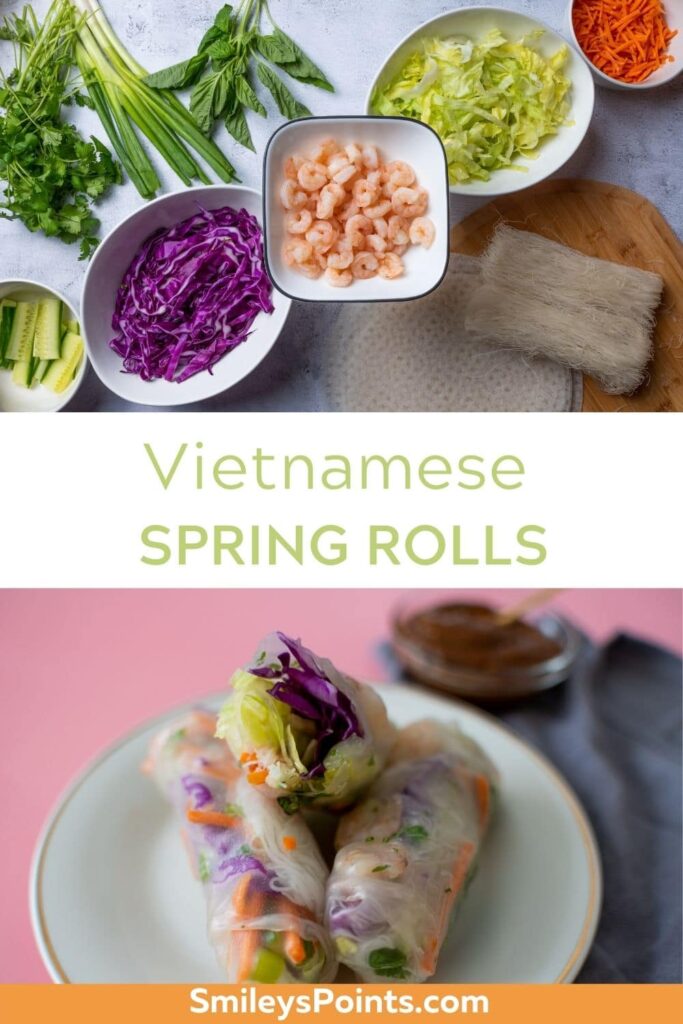 The Vietnamese Fresh Spring Egg Rolls with Shrimp is a healthy, yet flavorful appetizer. The ingredients are fresh and the light rice wrapper makes for a healthy snack or appetizer.
Want to make your own rice wrappers?
I did not calculate the points for making your own wrappers. I am including this here in case you want to try your hand at making your own rather than getting store-bought ones. This is not my personal recipe. My recipe can be found a little lower. You get 2 recipes in one. try them both and let me know what you think.
1. Making the wrapper: Mix rice flour and water in a large bowl until you have a thick batter. Cover and let it sit for 30 minutes to an hour. Stir before using as needed to loosen up the mixture if necessary.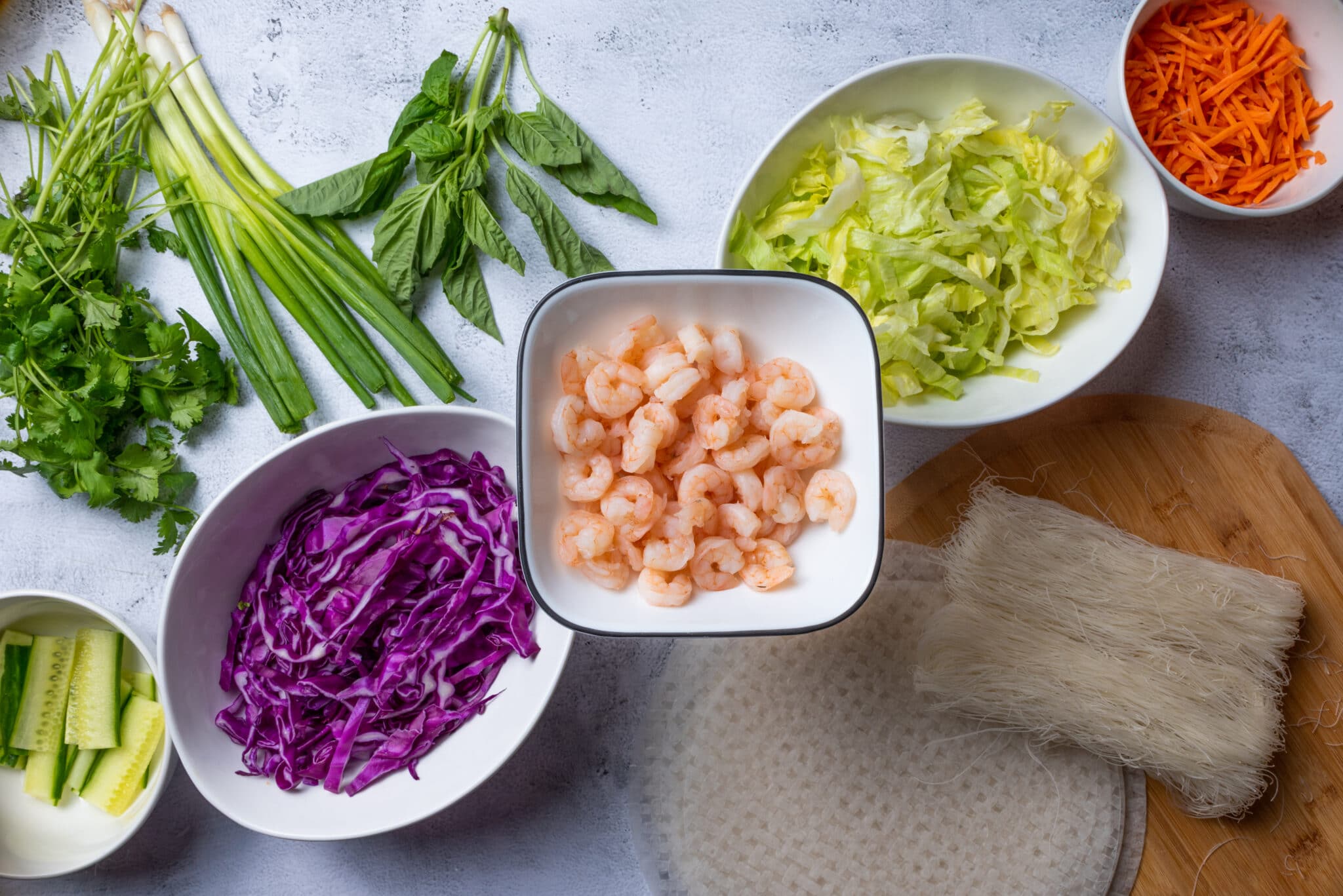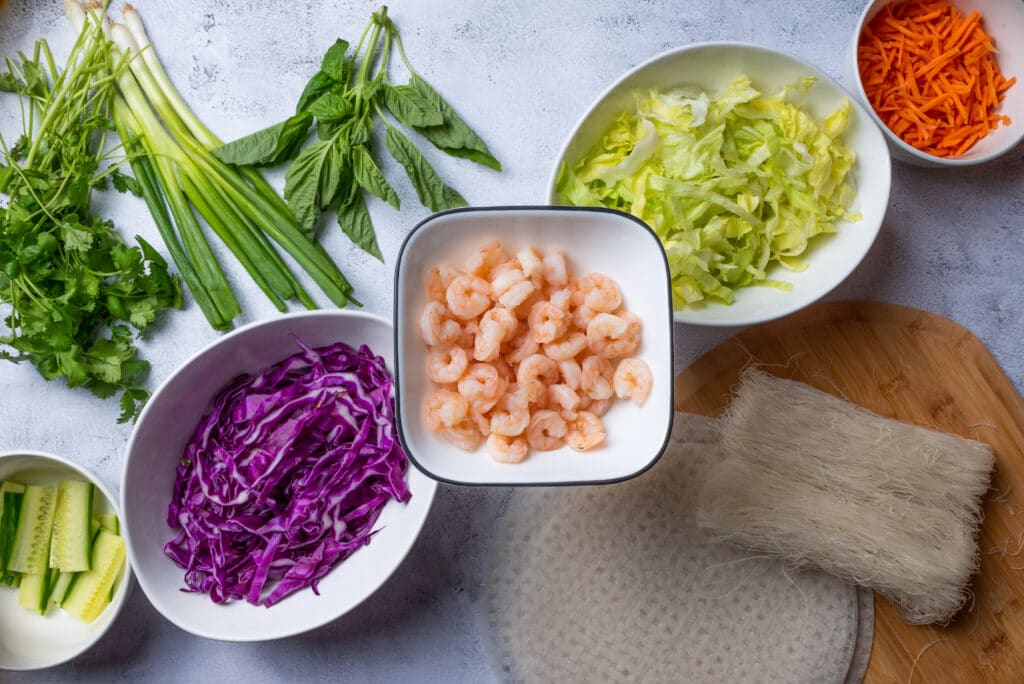 2 2. Filling: Cook some shrimp either by boiling or frying them first then set aside to cool completely before chopping into small pieces (you may also want to peel and devein them first). Saute some scallions, garlic, and ginger in oil until fragrant then combine with chopped cooked shrimp, cilantro leaves, soy sauce/chili paste/roasted chili paste, and salt/pepper.
3 3. Wrapping: Spread a thin layer of rice batter about 1mm thick out onto a clean surface then use a spoon to spread it into a circle large enough to wrap around your filling. Lay your wrapper on its side then gently scoop up some filling in the middle with a spoon and place it on the flat edge of your wrapper. Fold that side over then fold in both ends and roll up to close. Use a 1-2cm piece of tapioca starch paste to seal the wrapper together.
Optional: make sure you add points for the oil 🙂
4 4. Deep frying: Heat enough cooking oil for deep frying in a wok/pot until it reaches about 350 degrees Fahrenheit. You can check the temperature by dipping a chopstick into the oil, if it bubbles then you're good to go. Fry spring rolls in small batches until golden brown then set on paper towels to drain excess oil before serving with Vietnamese Fish Sauce Dip
Tips for Successful Cooking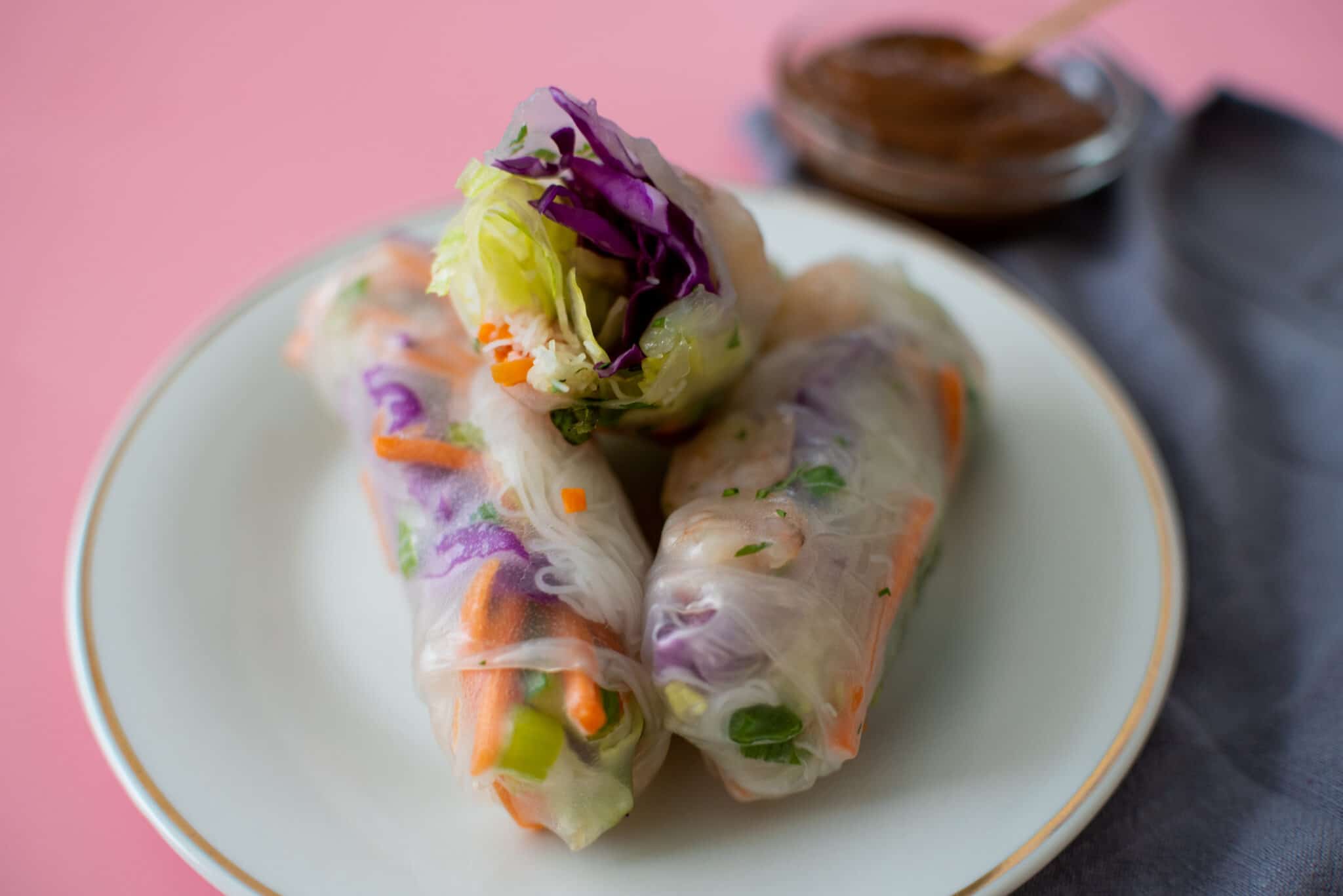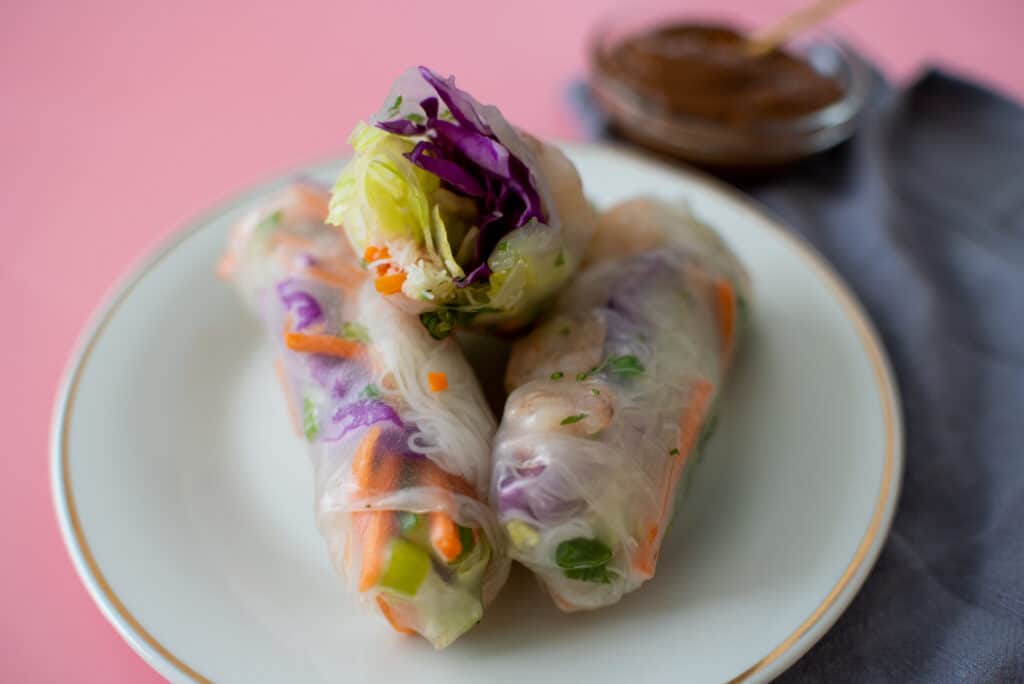 It is important to prepare the filling and the wrappers before cooking.
1. Rice paper: soak in warm water for 20 seconds, pat dry with a kitchen towel, and place on a plate
2. Filling: mix together chopped vegetables (shiitake mushrooms, onion, garlic, rice noodles) and shrimp (deveined, peeled, and detailed), add salt, pepper, and soy sauce.
Take one rice paper square, add approximately 3 tablespoons of filling in the middle, then wrap it.
Nutrition Facts and the Benefits of Vietnamese Spring Rolls
How to serve Vietnamese Spring Rolls at a Party or Gathering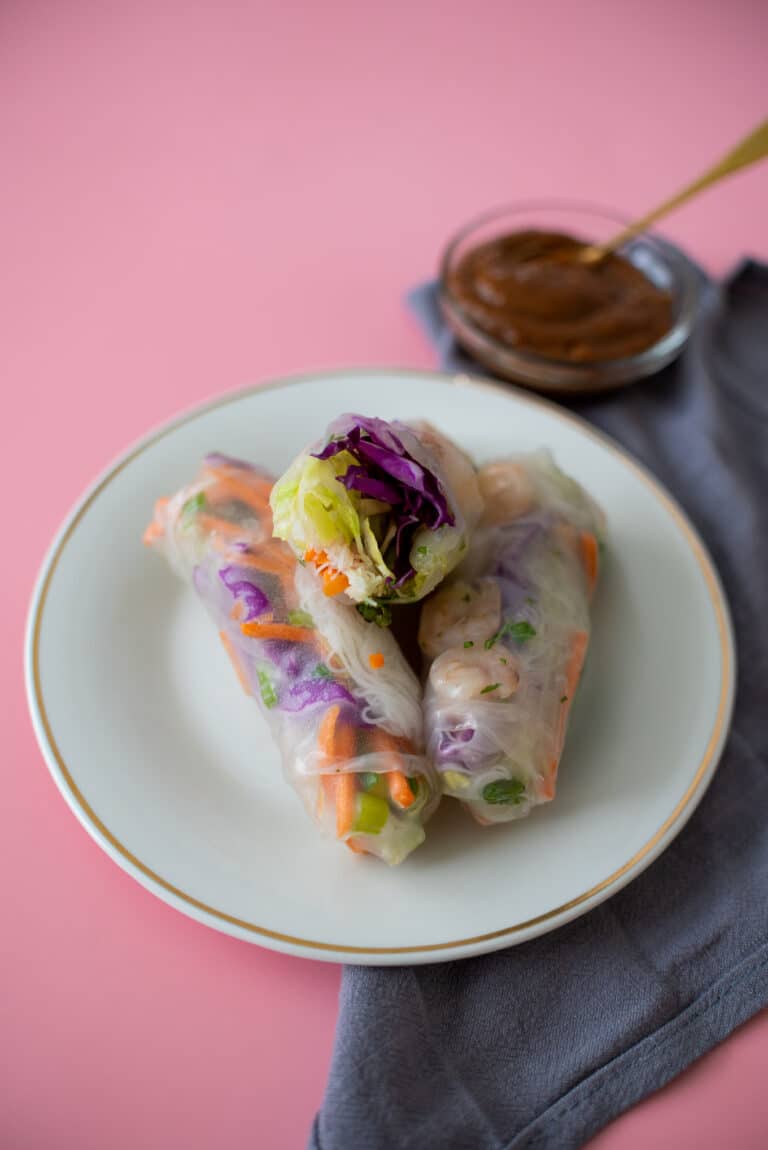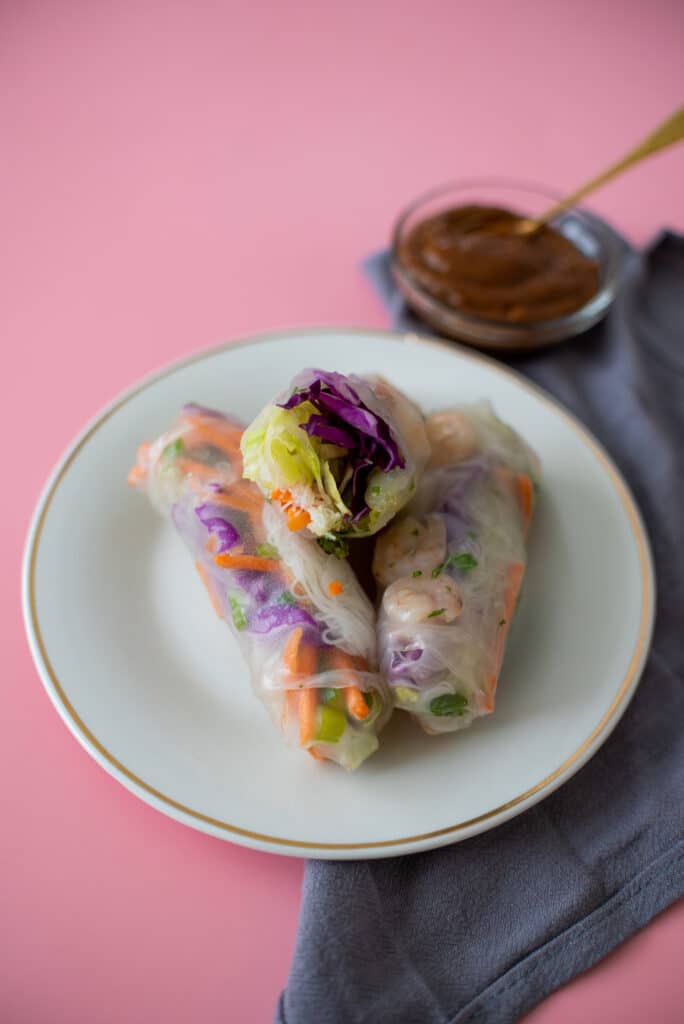 When serving these egg rolls, it's important to keep them in the refrigerator until they are ready to be served
These Vietnamese fresh spring egg rolls with shrimp can be served as an appetizer, side dish, or light meal!
If you're not sure how many people you will be serving, make more than you think you will need and freeze any extras for later use!
Serve these Vietnamese fresh spring egg rolls with shrimp on a plate lined with lettuce leaves and accompanied by soy sauce mixed with chili paste (optional) and a side of fresh basil leaves.
If you're planning to freeze these egg rolls, place them in an airtight container and leave room for the rice paper wrappers to expand.
When serving at a party or gathering, it is common to have wine and other adult refreshments.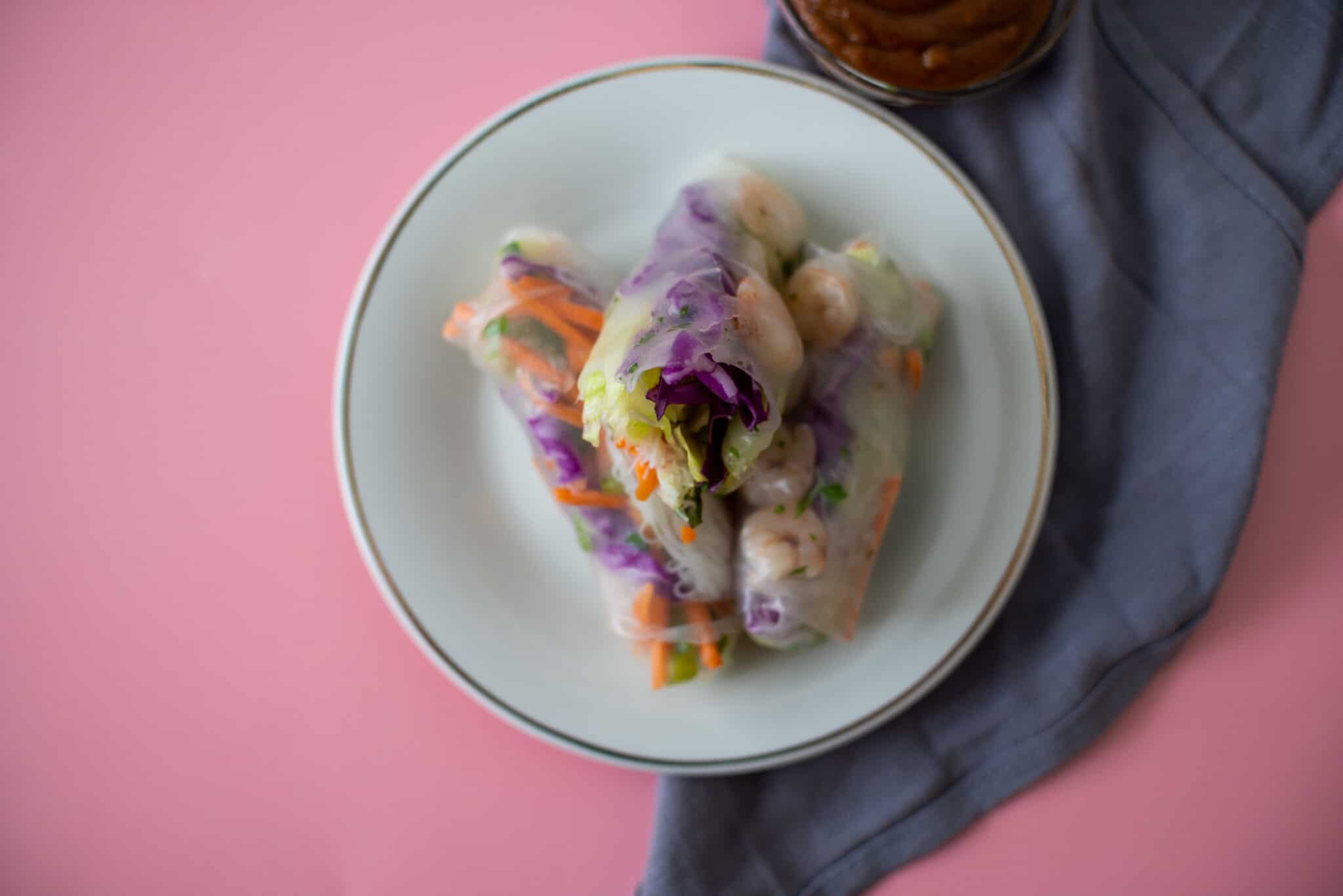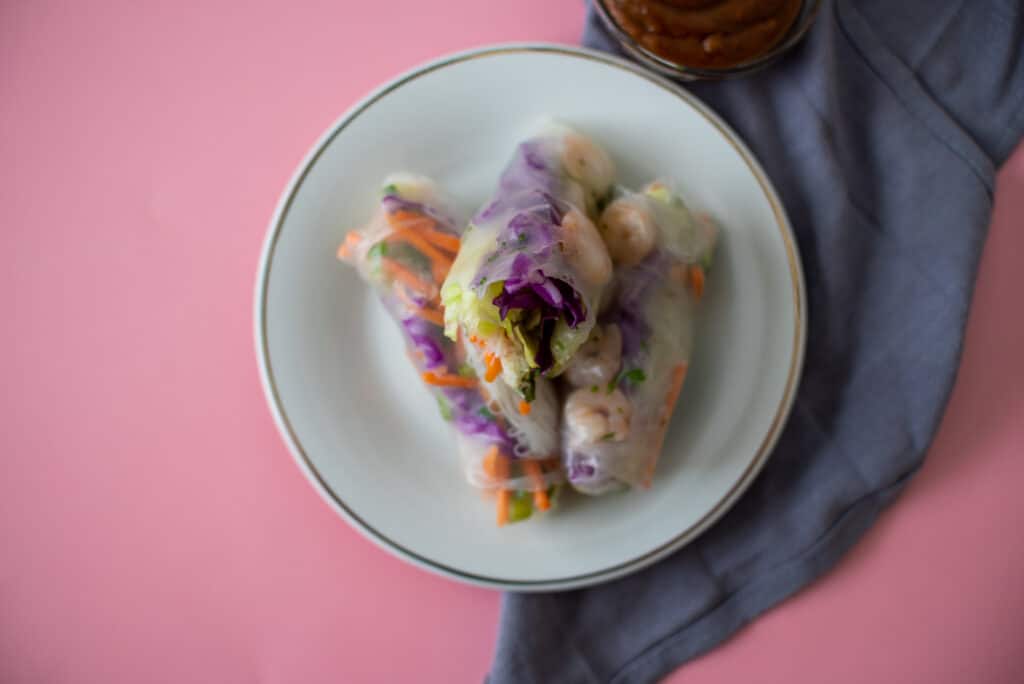 Place these Vietnamese fresh spring egg rolls on a serving platter and carefully insert toothpicks into them.
For a festive presentation, alternate the direction of the rolls on the platter and garnish with fresh basil leaves.
We hope you enjoy these delicious spring rolls and we know you are going to be the hit of the party. You do not have to make your own rice wrappers you can save a little time and purchase some at your local grocery store.
We included a recipe for making your own from scratch for those who want to try their hand at that. Let us know how yours came out and if we can help you in any way please reach out to us at [email protected]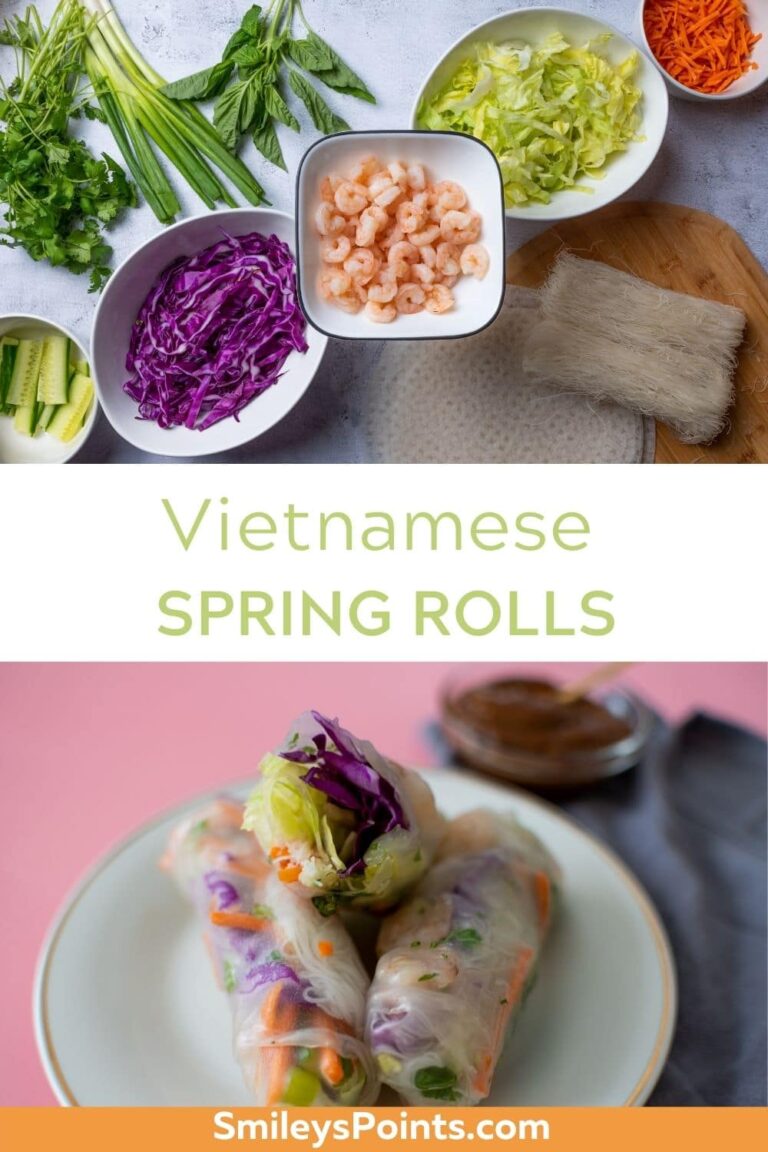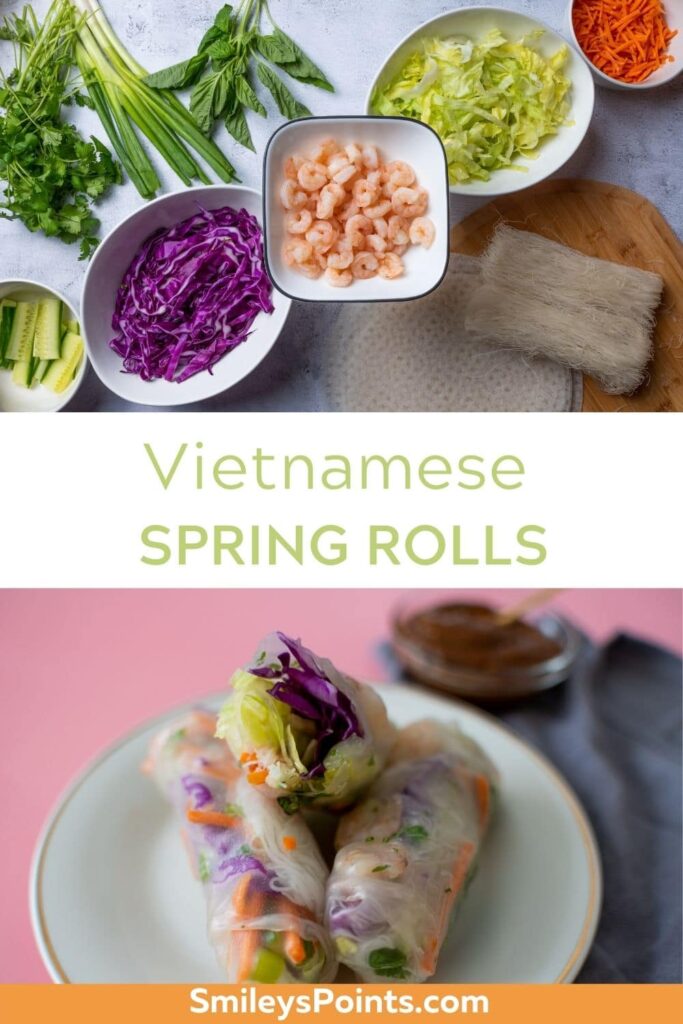 For just the rolls
BLUE PLAN: 1 Point

GREEN PLAN: 1 Point

PURPLE PLAN: 1 Point
For the rolls and peanut sauce
BLUE PLAN: 4 Point

GREEN PLAN: 4 Point

PURPLE PLAN: 4 Point
For the rolls and peanut sauce
Low Point Soups
Easy instant Pot Soups
Sicilian Halibut Fish Stew
Instant Pot Chicken Marsala
Print
Vietnamese Fresh Spring Egg Rolls with Shrimp
---
1 lbs. shrimp

¼ head of red cabbage

¼ head of iceberg lettuce

2 ounces rice vermicelli

1 cup of matchsticks carrots

½ English cucumber

3 scallions

½ bunch cilantro

8-10 mint leaves

10 sheets of rice spring roll wrappers
Peanut sauce ingredients:
6 tablespoons hoisin sauce

3 tablespoons peanut butter

1 tablespoon of soy sauce

4 cloves of garlic

2-3 tablespoons water (as needed)
---
Instructions
Start by boiling water and cook your shrimp in boiling water for about 5 minutes, or until pink. Make sure not to overcook them. Drain the water and put them in a bowl.

Then cook your rice vermicelli according to the package instructions. Once cooked set aside in a bowl. 

Then cut up all your vegetables. Thinly slice the red cabbage and iceberg lettuce. Cut your cucumber in matchsticks like the matchstick carrots. Thinly slice your scallions and chop the cilantro and mint together as fine as possible.

Set out a large bowl with warm water. Should be large enough so the rice paper fits in it. 

Dip one sheet of rice wrapper in the warm water, for about 20 seconds, or until softened. Then put it on a flat surface and start putting all your toppings on the sheet, about a quarter away from the edge. Bundle it all ingredients together, then fold the sheet over your ingredients, and fold each sides in. They should be snug, but not too tight, because the rice wrapper rips easily. Then you fold the sides inwards and keep rolling until it's completely rolled, like a burrito. Set aside on a plate and make sure they don't touch each other.

Make the peanut sauce by combining all the ingredients in a small pot over low heat. The sauce shouldn't be too runny. Add water as needed. Keep stirring over low heat until smooth. Serve warm.

Serve the spring rolls cold with a side of peanut sauce. Enjoy!