Strawberry Caprese Skewers
Strawberries are the perfect vehicle for both sweet and savory dishes. These strawberry Caprese skewers make a perfect app or dessert.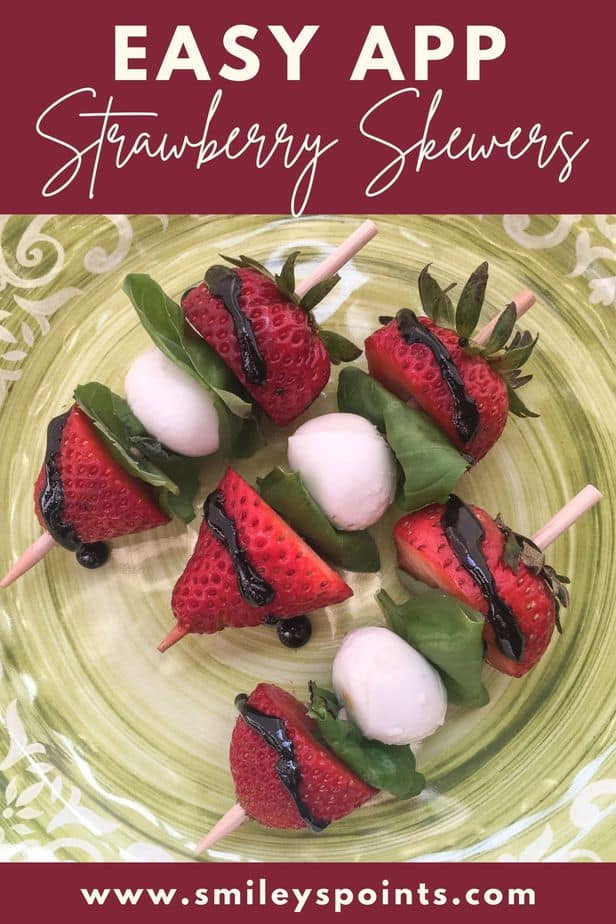 ---
"Healthi formerly iTrackbites is an alternative to Weight Watchers. "

---
Sweet and savory and delicious!
Strawberry season is almost upon us! If you are like me and lucky enough to live somewhere that you can pick them fresh off the plant, you will want to have a variety of ways to enjoy this delicious fruit. This strawberry Caprese skewer recipe is a wonderful way to enjoy this delicious fruit.
Exercise to get your fruit
Strawberry season hits its peak in February and March. This is the perfect time to get some fresh air, some exercise and some wonderful snacks.
Strawberries grow on plants that are either in the ground or hydroponic. If you opt for a field that has them in the ground, you will get some great legwork in while you collect your bounty.
If you have little ones, they will simply adore strawberry picking. We have taken ours for years and it's always a fun day out. As a bonus, many of the fields where you can go strawberry picking have other activities on the weekends such as hayrides, petting zoos, craft fairs and more.
You can find all kinds of local u-pick places is your hometown. You might be surprised at what you can pick right off the vine!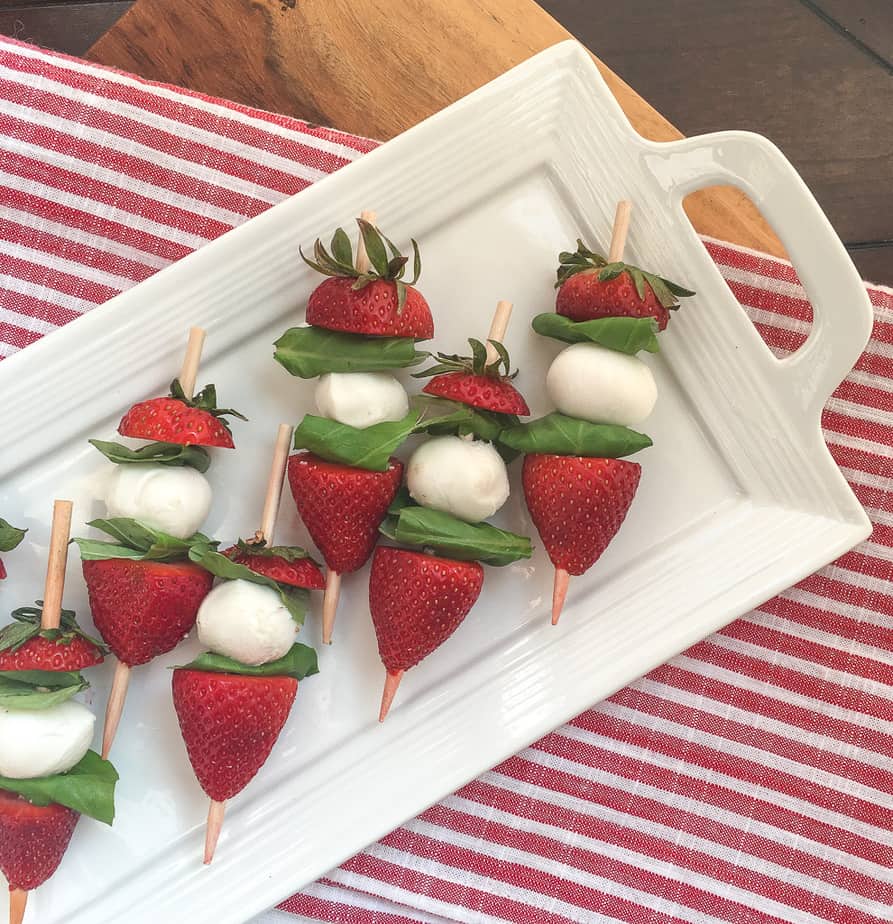 A variation on an old favorite
This quick and easy appetizer is sure to be a hit at your next party. This fun variation of the traditional caprese salad replaces the classic tomato with sweet strawberries, which pair beautifully with the rich balsamic glaze and fresh basil. This switch-up makes the strawberry caprese skewers an option as an appetizer or a dessert.
Variety is the spice of life, other berries to choose from
While strawberries are an amazing choice for this recipe, they aren't the only berry option to choose. Blackberries and their sweet/tart flavor profile are a wonderful choice for this recipe.
Another choice would be raspberries. Their natural sweetness would be the perfect foil for the cheese and balsamic glaze. You could also mix it up with blackberries and raspberries on the same skewer.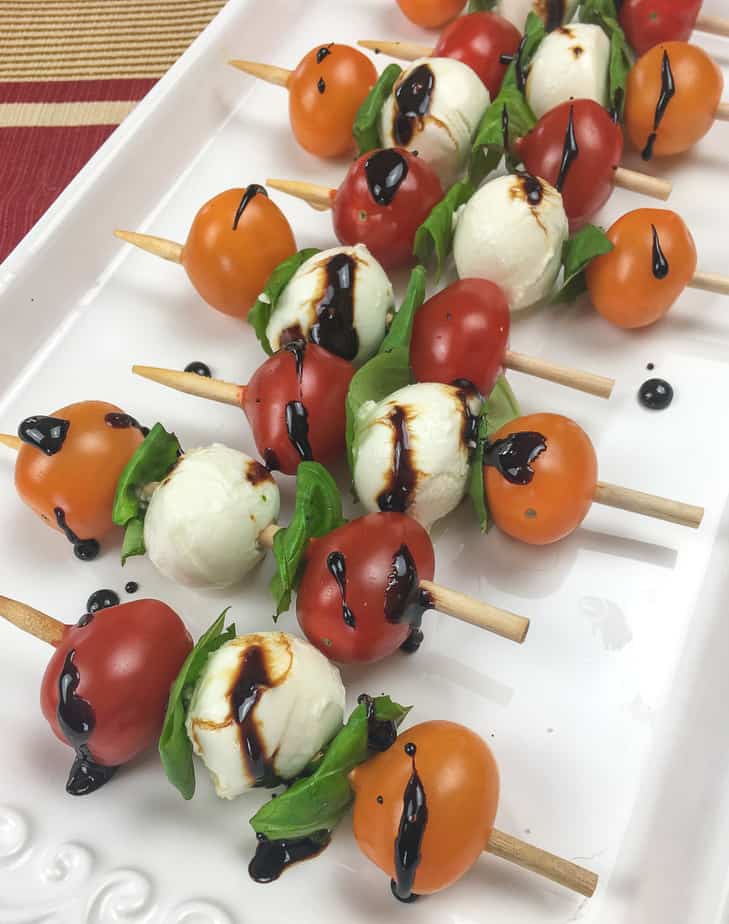 Savory or sweet, tomatoes or berries
This recipe was originated from the classic tomato caprese recipe. If you are entertaining, you can make this recipe with tomatoes for an appetizer and strawberries for dessert. And if you want to learn how to grow your own tomatoes for this or other recipes, head over to our post on container gardening for tomatoes.
Balsamic glaze varieties
While the traditional balsamic vinegar is always a solid choice, there are many, many varieties of balsamic vinegar. There are stores devoted solely to olive oil and vinegar and they are fantastic! You haven't lived until you have tasted chocolate balsamic vinegar! The glaze for this recipe could be made with any flavor of balsamic vinegar, or even a mix of two, if you are feeling adventurous. You could easily pair, say, peaches as your fruit with a peach balsamic glaze.
The recipe calls for making your own balsamic glaze by heating the balsamic vinegar to reduce it. While the recipe says to cool it slightly before using, if it's too warm, it will start to melt the cheese. Now melted mozzarella balls are still delicious, but they certainly won't look as pretty. For a cleaner presentation, avoid adding the glaze to the cheese while drizzling it onto the skewers or wait until it has cooled completely.
No matter how you chose to make this recipe, it's sure to be a hit with your family and friends and it will easily fit in to many dietary plans. If you are looking for one, Healthi formerly iTrackbites is fabulous!
Have you tried Healthi formerly iTrackbites?
Sign up for FREE through my referral link (mobile) and
leave a comment letting me know what you think!
Use code COACH_SMILEY as a PROMO CODE at checkout to get Healthi formerly iTrackbites for just $24.99 a year!
BLUE PLAN: 6 Points
GREEN PLAN: 6 Points
PURPLE PLAN: 6 Points
Print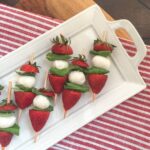 Strawberry Caprese Skewers
---
Author:

Yield:

4

servings

1

x
16 fresh, small strawberries, washed and cut in half across the width, hull intact
32 medium fresh basil leaves, washed and patted dry
16 Ciliegine (mini-Mozzarella balls)
1 c. balsamic vinegar
Optional:
2 T. high-quality extra-virgin olive oil to drizzle
---
Instructions
Thread the top half of one strawberry onto a wooden skewer with the hull facing up. Next, fold one basil leaf in half, dark side facing out, and add it to the skewer. Add one mini-Mozzarella ball, followed by another folded basil leaf, and the bottom half of the strawberry.
Repeat Step #1 with the remaining strawberries, basil, and Mozzarella until you have 16 completed skewers. Arrange on a serving platter and set aside.
To prepare the glaze, add balsamic vinegar to a small sauté pan over medium-high heat. Cook, stirring frequently, until the vinegar is reduced to about 1/3 of its original volume.
Remove glaze from heat and let cool slightly.  Drizzle over the skewers, along with some extra virgin olive oil, if desired. Serve immediately. Enjoy!
To make traditional Caprese skewers, simply replace the 16 strawberries used in this version with 8 red and 8 yellow or orange grape tomatoes.