How to Make Perfectly Crispy Hash Browns Every Time
These perfectly crispy hash browns are perfect for breakfast, lunch or dinner! They will compliment many a meal your family will certainly enjoy.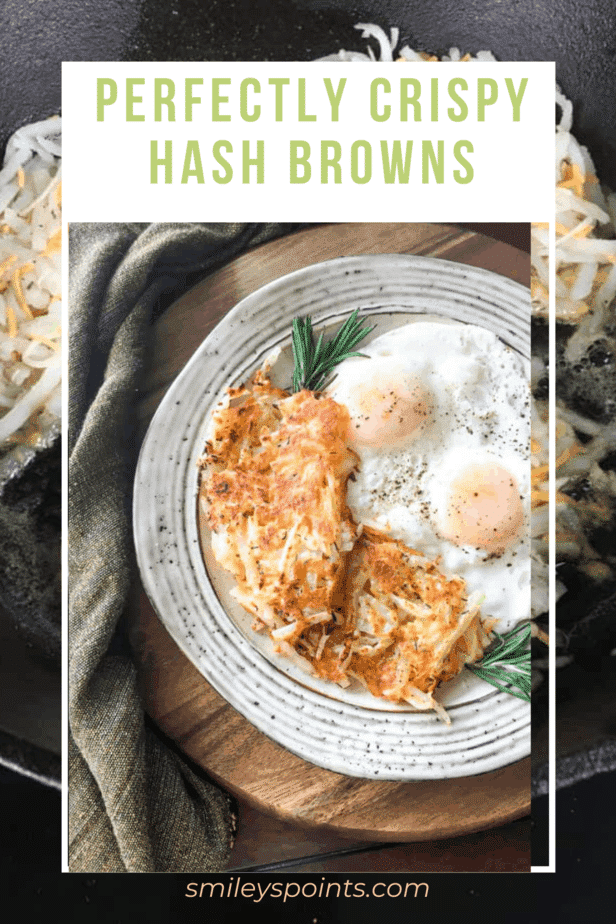 ---
"Healthi formerly iTrackbites is an alternative to Weight Watchers. "

---
Perfectly crispy hash browns, not just for breakfast anymore
Typically when you think of hashbrown, you think of breakfast; but that doesn't have to be the case. We are a breakfast anytime of day kind of family and this dish pairs well with many of our favorite meals.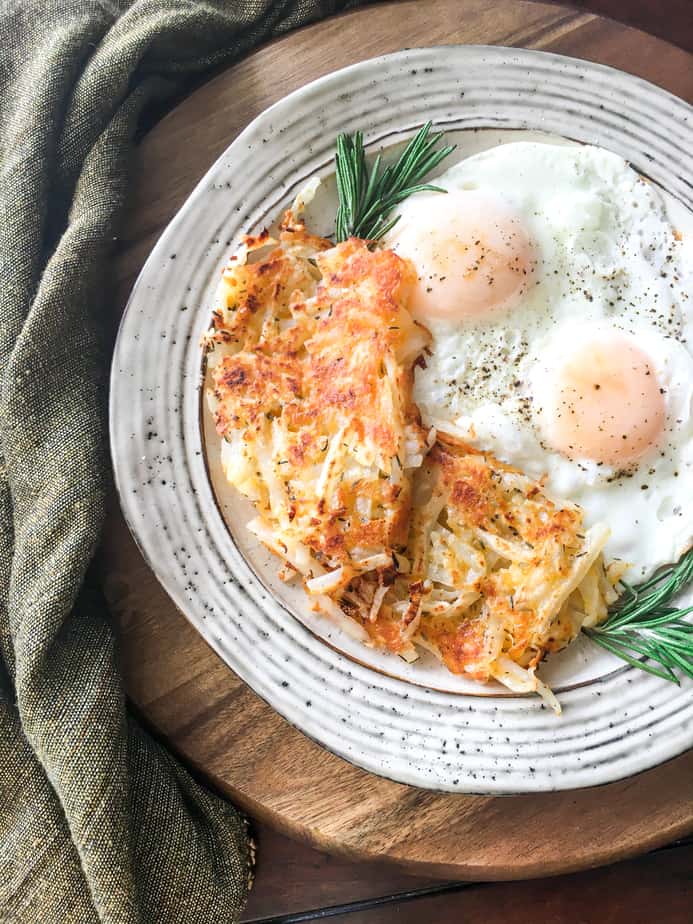 Perfectly crispy hash browns usually pair with eggs…
If you love eggs, this side is a perfect complement for them. Personally, I'm happy with just about any kind of egg, sunny-side up, hard-boiled, scrambled, poached are all good in my book.
Eggs have gotten a bit of a bad wrap health-wise, but that has turned around. Eggs are one of the most nutritious foods on the planet. They are full of Vitamins A, B5, B12, B2; folate; phosphorus, and selenium. All that nutrition for 77 calories, 6 grams of protein, and 5 grams of healthy fats.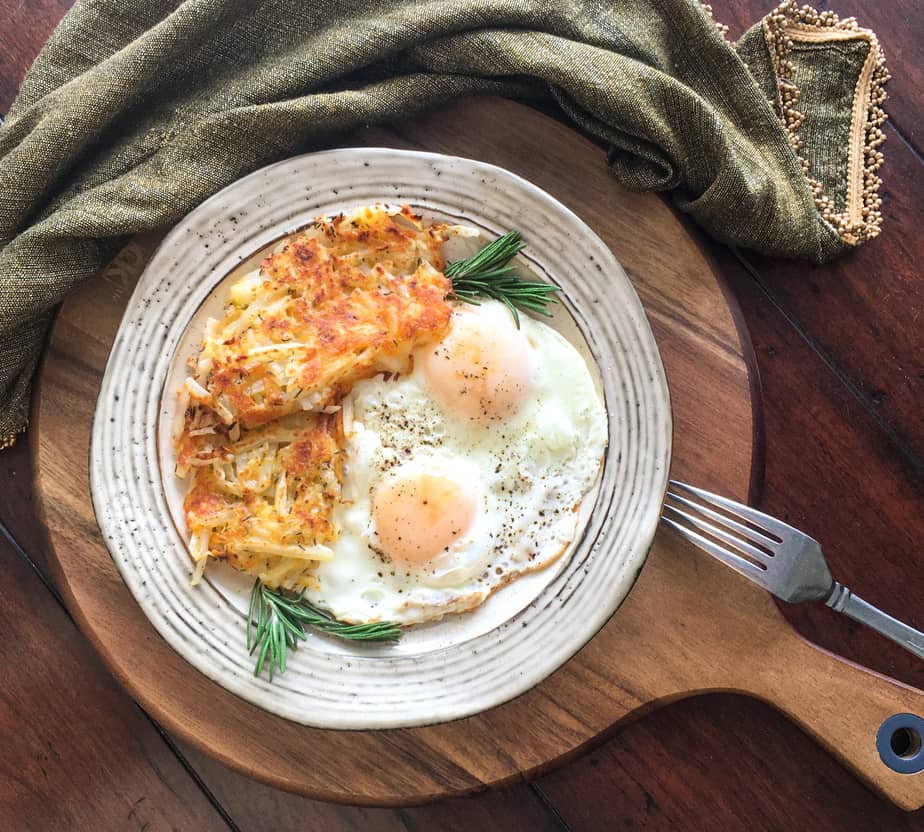 Eggs are high in cholesterol. One egg contains 212 mg, which is well over half the recommended daily intake of 300 mg. However, cholesterol in your diet doesn't necessarily raise the cholesterol that's in your blood. Your liver actually produces large amounts of cholesterol daily. When you eat more, your liver will produce less. For many people, eating eggs won't raise your cholesterol at all and for the rest, it's a minimal jump. Genetics seem to play a greater part in high cholesterol numbers than diet.
Eggs are high in protein and have essential amino acids in the right ratios. This helps your body to make full use of the protein in these little beauties.
Check out these egg recipes!
Perfectly crispy hash browns complement other dishes
If eggs aren't your thing, or you just want something different, you can use these hash browns to top a hamburger, turkey burger, or veggie burger. You could make the copycat cheddar bay biscuits and make a sandwich with these hash browns and some Canadian bacon. For some real comfort food, these slow cooker sloppy joes hit the mark. You can serve that on top of the hash browns.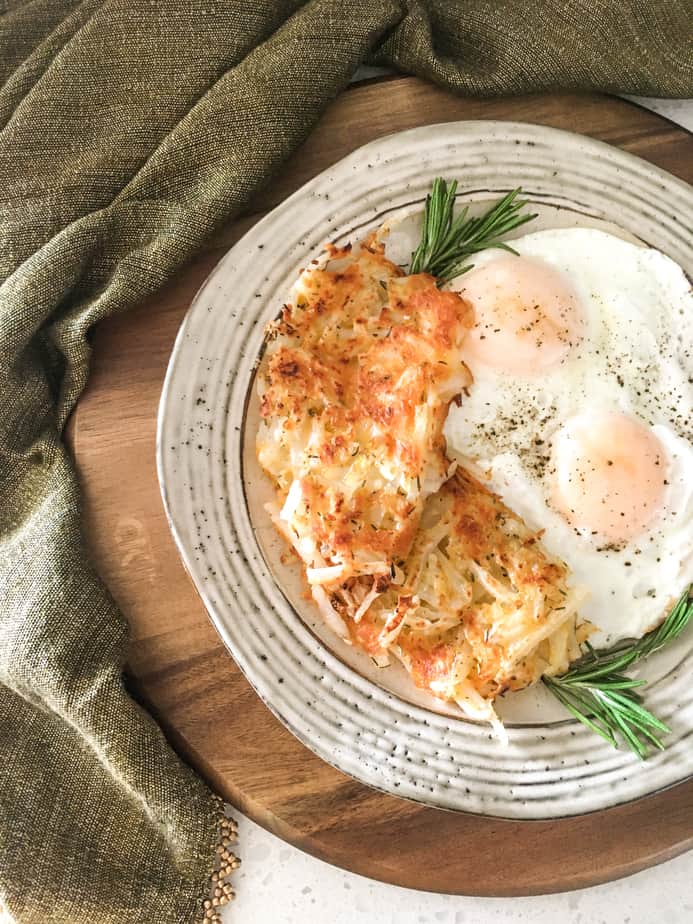 Perfectly crispy hash browns are perfect in your cast iron pan
Because of the cheese, this recipe works best with a very well-seasoned cast-iron skillet. Even though new cast iron pieces are often marketed as "pre-seasoned," the cheese may still stick if the skillet hasn't had time to develop additional layers of seasoning. The olive oil and butter should prevent the cheese from sticking as well.
To help prevent sticking, add about a teaspoon of oil to your skillet and heat it gradually on the stove before you cook. When you are finished cooking, allow the pan to cool, and then use a pan scraper to remove any additional stuck-on food, scrub with a nylon brush or non-scratch bad, hand dry, and then oil it up. Rub the oil in until it's evenly distributed and you should be good to go the next time you cook.
This is the cast iron cookware used to develop these hashbrowns, but any large well-seasoned cast-iron skillet will work.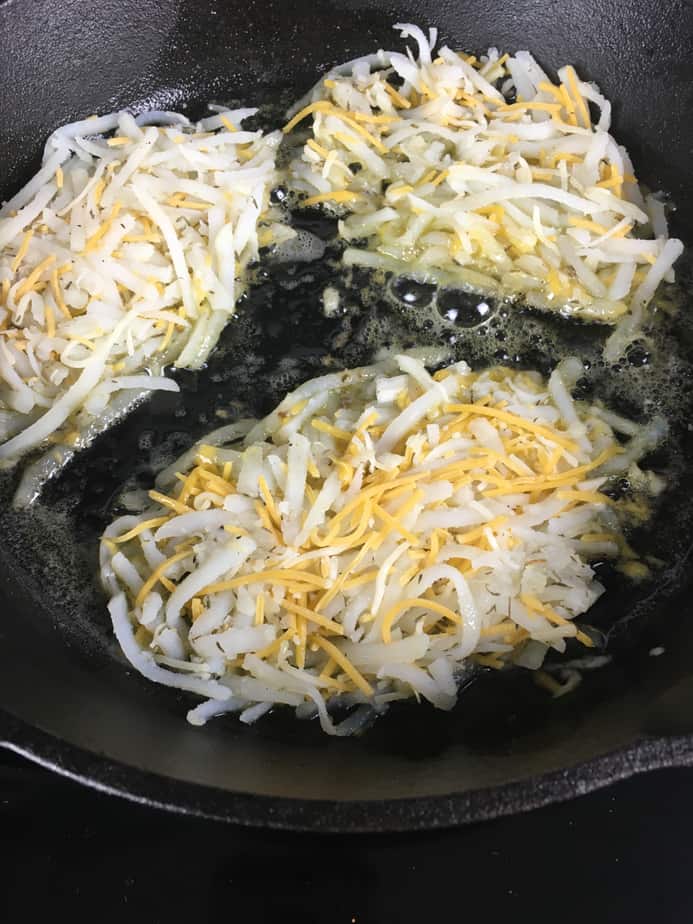 This recipe is a bit on the high side for points. When I want to enjoy a recipe such as this, I am so glad that I'm able to plan ahead with Healthi formerly iTrackBites! It helps me to plan my meals, keep track of what I'm eating and never feel deprived.
cost: Healthi formerly iTrackBites costs $36 for the year (using this link for 40% off makes it $36 – use COACH_SMILEY to save!!), WW is $20+ for the month, and it's the same formula and less options
choices: I can choose PointsPlus, Freestyle, or any other plan I want with Healthi formerly iTrackBites. Even with the new WW changes, they only offer 3 plan options (not PointsPlus).
logs: You can export your tracker data by the week, month, or quarter with Healthi formerly iTrackBites. WW does not give you access to quarterly data.
accuracy: I've found inaccurate info in the WW app due to members submitting and not paying attention to the right numbers. With Healthi formerly iTrackBites, I know if I see the green check, it's been verified as accurate. This puts my mind at ease!
BLUE PLAN: 9 Points
GREEN PLAN: 9 Points
PURPLE PLAN: 6 Points
Print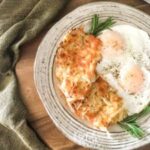 Crispy Hash Browns
---
3 c. shredded potatoes, patted dry
½ c. shredded white onion, patted dry
1 c. cheddar jack cheese, finely shredded
½ t. garlic powder
½ t. dried rosemary (or 1½ t. fresh, finely chopped)
Sea salt and black pepper, to taste
2 T. extra virgin olive oil (+ more if needed)
2 T. unsalted butter
---
Instructions
Add the potatoes, onion, cheese, garlic powder, rosemary, salt, and black pepper to a large bowl and mix until thoroughly combined.
Heat olive oil and butter in a large cast iron skillet over medium heat until the butter is melted. Carefully swirl the skillet to ensure the bottom is evenly covered.
Working in batches, add the potatoes to the skillet and shape into patties. Cook until golden brown, approximately 4-5 minutes before flipping. Cook for another 4-5 minutes, or until golden brown and crispy.
Remove hash browns from skillet and keep warm. Repeat Step #3 with remaining potato mixture. Add more olive oil to the skillet, as needed.
Remove from heat and transfer hash browns to individual serving plates. Serve immediately with your choice of sides. Enjoy!