This soy-glazed chicken dish was one the whole family ate without complaints! For those of you with picky eaters, you know that's a huge win!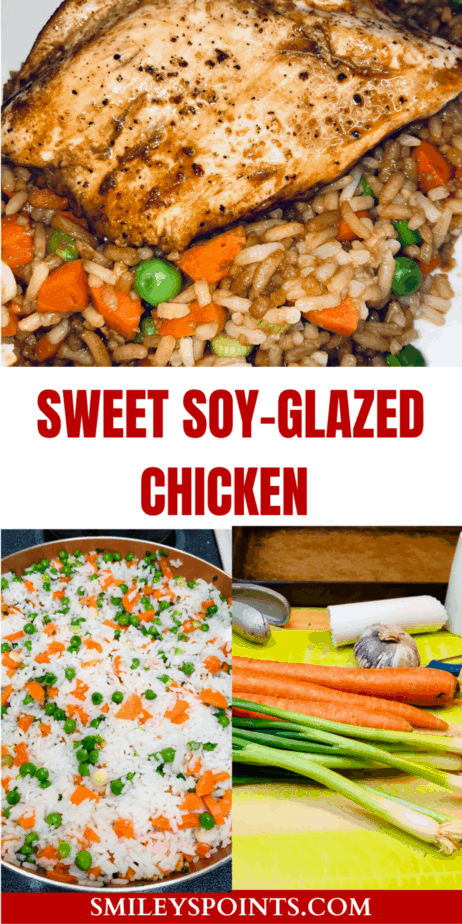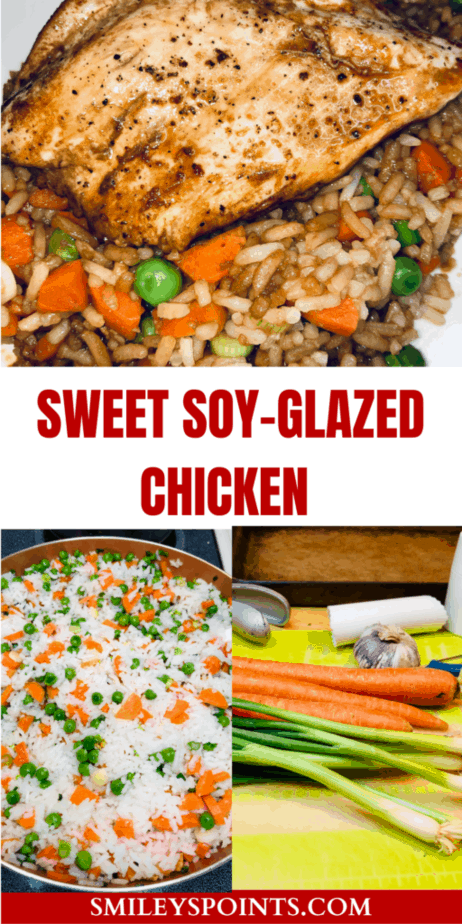 ---
"Healthi formerly iTrackbites is an alternative to Weight Watchers. "
---
Delicious, nutritious, fast, and easy
Our family enjoys all kinds of Asian food, but we don't really enjoy the sodium in it. Recipes such as this allows for control of the sodium intake without sacrificing flavor.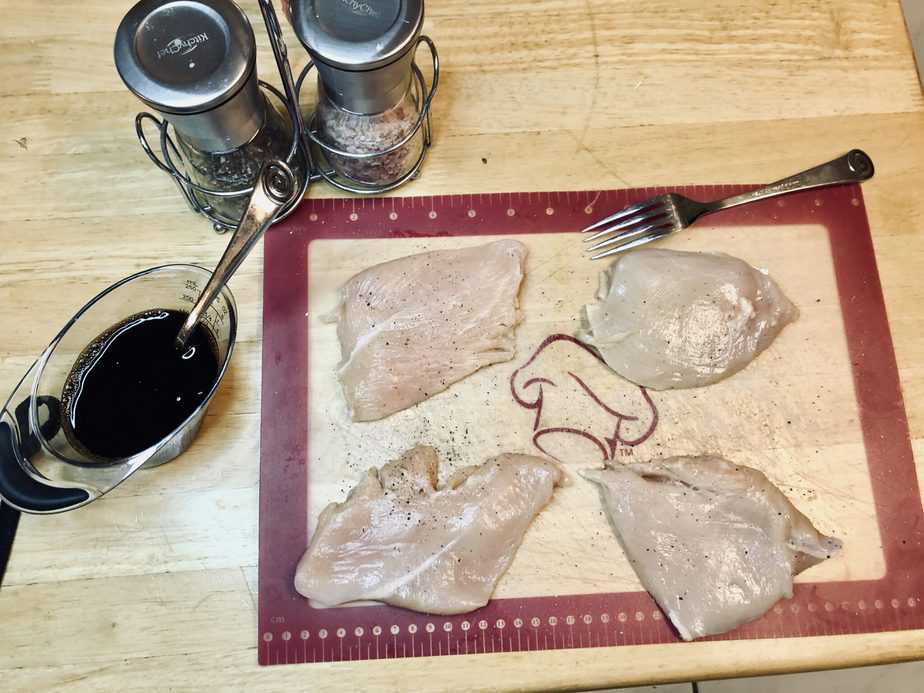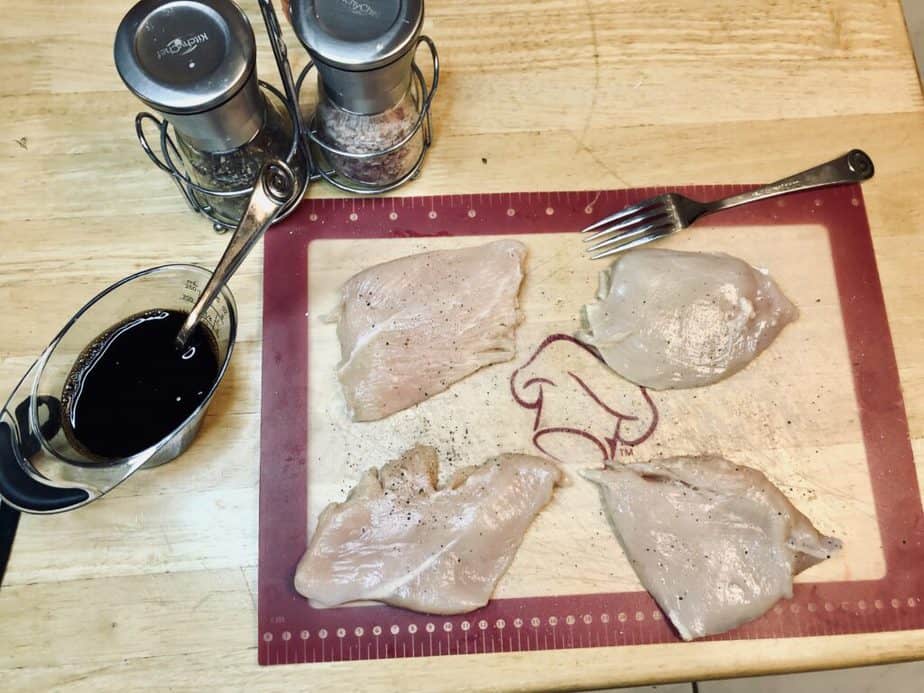 Chicken, steak, shrimp or veggies, you can mix it up
This soy-glazed chicken recipe is well, chicken. But there's no reason it has to be if chicken isn't your thing. You could easily substitute steak, shrimp, tofu or vegetables instead. A portobello mushroom would work as well. Those changes easily make this dish vegetarian or vegan.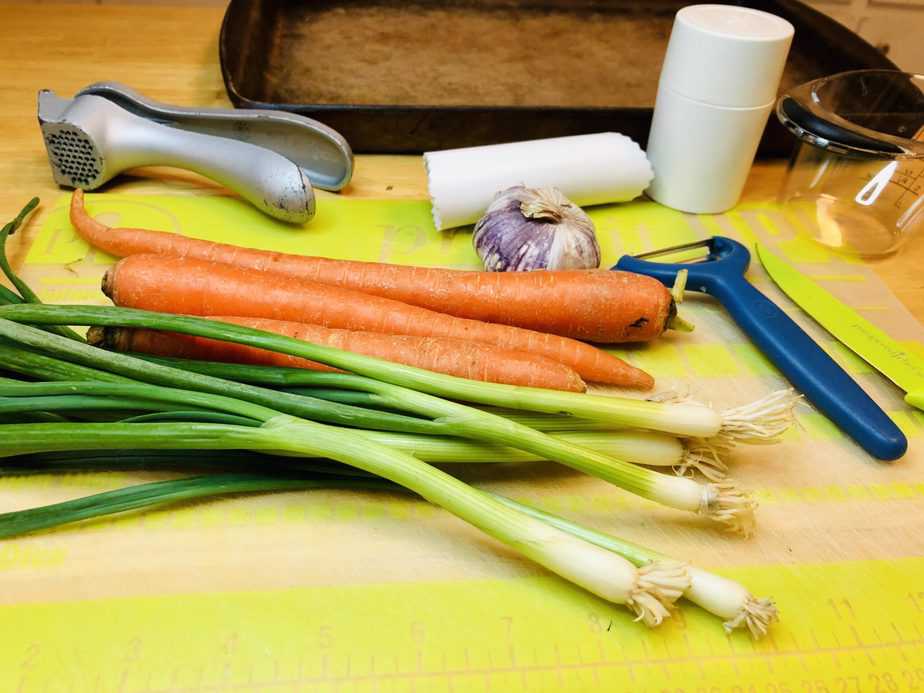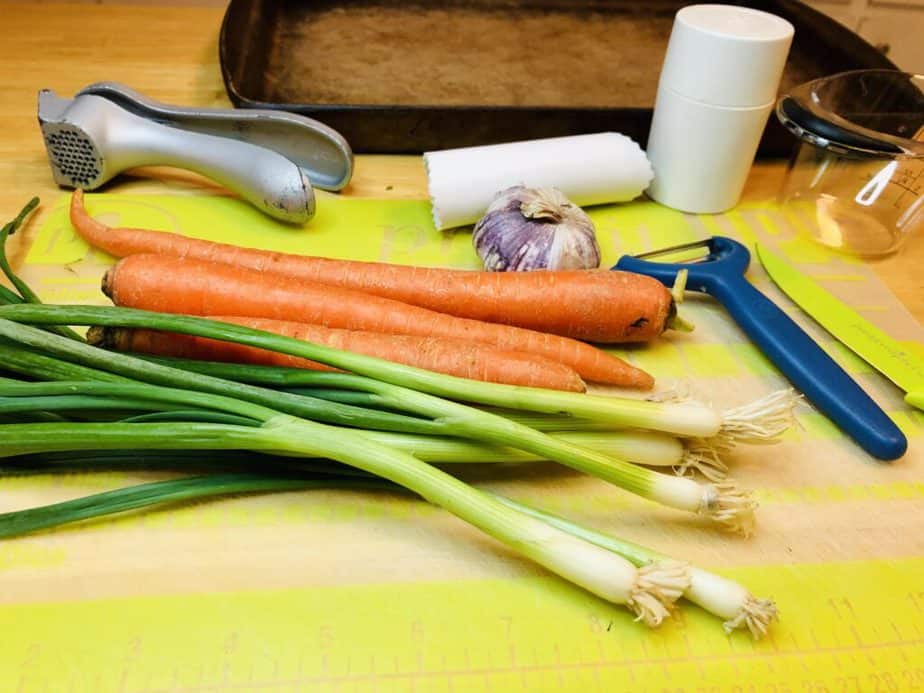 Prepping ahead of time makes soy-glazed chicken a breeze
When I am cooking, I tend to do all my peeling, chopping, slicing and dicing ahead of time. Kind of like when you watch those fancy cooking shows and they just dump things into the recipe from prep bowls. I'm not quite that fancy though and usually just leave it on the cutting board.
But by prepping things ahead of time, it makes the timing of cooking things like soy-glazed chicken much better. Timing is something that I have struggled with in the past. I've gotten a handle on it (mostly), other than breakfast for dinner. Everything breakfasty cooks so dang fast! But having everything ready makes a huge difference.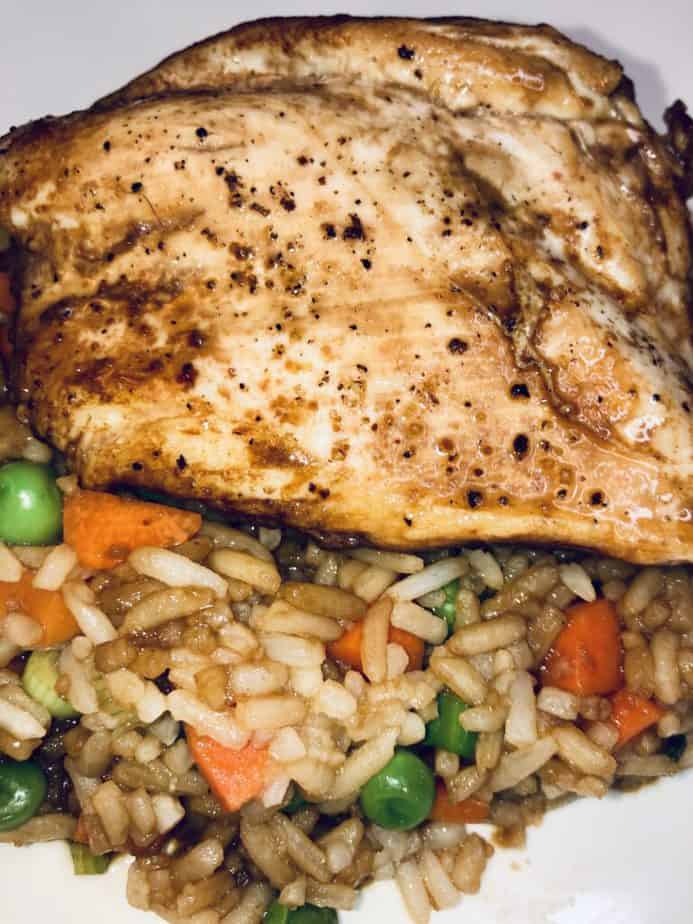 The other thing I do is I read the recipe all the way through BEFORE I start. Sometimes the instructions aren't clear or things need to be divided. For instance, for this soy-glazed chicken, the carrots need to be divided in half but I didn't make that clear at first. Reading the recipe through will allow you to correct any mistakes in the write-up and help you make a flawless dish.
Soy-glazed chicken: things to use instead of soy
There are people who are sensitive to soy sauce for a variety of reasons. Some have an allergy to soy itself. For some it's a sensitivity to gluten. For others, it's the high sodium content. Fear not! You can still enjoy this recipe by using a substitute for soy sauce.
A soy-free, gluten-free, vegan option is coconut aminos sauce. This sauce is derived from the sap of coconut trees and is made with Gran Molucas sea salt. It comes in at 90 mg of sodium per serving, much less than a traditional soy sauce. Coconut aminos does tend to be more expensive, but not much more. Personally, I don't notice a huge difference in taste, just in the sodium.
For some other interesting substitutions for soy sauce, check out this article.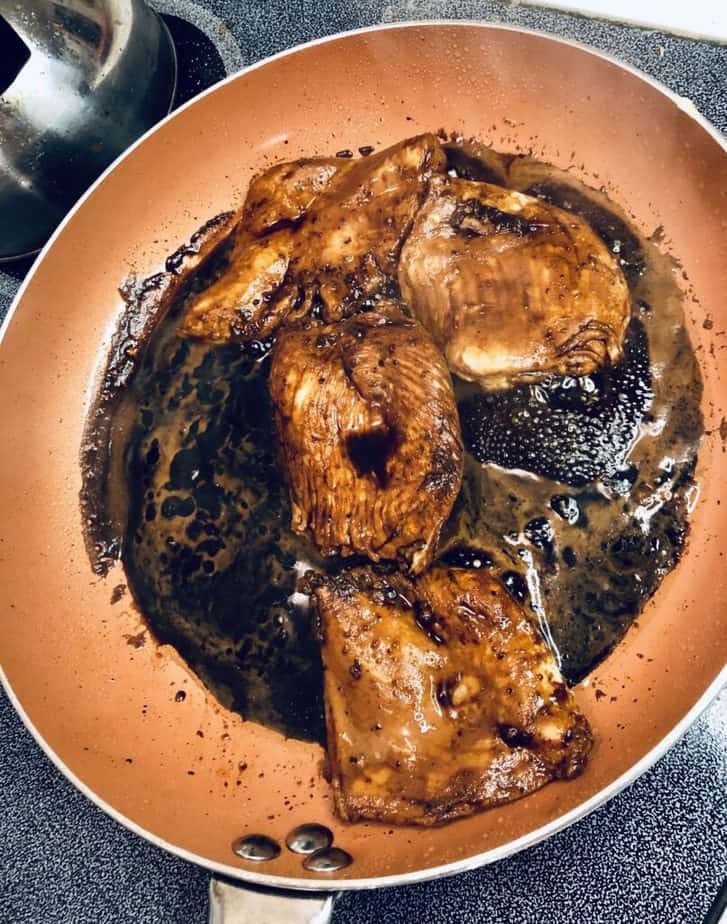 Can I use brown rice instead. of white rice?
Yes, but your cook time will be longer. I would bump the cook time up to 20 minutes and then see if it's tender enough.
Leftovers for lunch
You won't have leftovers of the soy-glazed chicken, but you will have plenty of rice for lunch the next day. You can double your protein when you make the recipe for an easy lunch. We made the recipe as listed and the next day, cooked up some shrimp to go with the rice. Delish! The points are based on using half the fried rice.
You could also pair the fried rice with a veggie stirfry. This would be a meal that's low in points and very filling.
How I stay on track with my weight loss
Spending lots of time at home isn't always great for the waistline. Planning ahead is a huge help in keeping the weight off. To make sure I'm on track and planning ahead, I use Healthi formerly iTrackbites.
cost: Healthi formerly iTrackBites costs $36 for the year (using this link for 40% off makes it $36 – use COACH_SMILEY to save!!), WW is $20+ for the month, and it's the same formula and less options
choices: I can choose PointsPlus, Freestyle, or any other plan I want with Healthi formerly iTrackBites. Even with the new WW changes, they only offer 3 plan options (not PointsPlus).
logs: You can export your tracker data by the week, month, or quarter with Healthi formerly iTrackBites. WW does not give you access to quarterly data.
accuracy: I've found inaccurate info in the WW app due to members submitting and not paying attention to the right numbers. With Healthi formerly iTrackBites, I know if I see the green check, it's been verified as accurate. This puts my mind at ease!
BLUE PLAN: 5 Points
GREEN PLAN: 9 Points
PURPLE PLAN: 5 Points
Print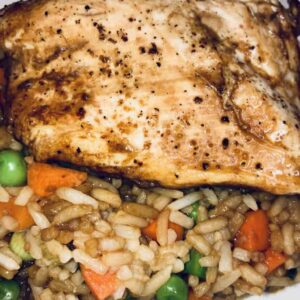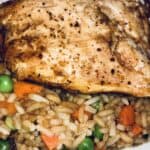 Soy-Glazed Chicken, Fast and Delicious Dinner!
---
1 lb carrots, divided
1 bunch of scallions
2 cloves of garlic
3 oz tamari soy sauce
10 oz Jasmine rice
1 lb boneless, skinless chicken breast
10 oz peas
1/4 cup white wine vinegar
4 tsp sugar
---
Instructions
Fill a large saucepan with water and bring to a boil. 
Peel the carrots, quarter lengthwise, then cut crosswise into ¼-inch pieces. Trim the ends off the scallions, then thinly slice. Finely chop 2 teaspoons garlic. 
In a small bowl, combine tamari soy sauce, ¼ cup vinegar, 2 tablespoons water, and 4 teaspoons sugar. Stir until the sugar is dissolved. 
Add rice to boiling water; cook (like pasta), stirring occasionally, until almost tender, 6–7 minutes. 
Add half the carrots and cook, stirring occasionally, until tender, 3–4 minutes. Use a fine-mesh sieve to drain rice and carrots; rinse under cold water and drain again. Set aside.
Pat chicken dry; season with salt and pepper. Heat 1 tablespoon oil in a large nonstick skillet over medium-high. Add chicken and cook until it's golden brown on the bottom, about 4 minutes. 
Flip the chicken, then add the soy sauce mixture to the skillet. Cook until chicken is cooked through and sauce is reduced to about ⅓ cup, about 2 minutes.
Remove skillet from heat. Turn chicken to coat in the soy glaze, then transfer to a plate; cover to keep warm.
Transfer glaze to a bowl. 
Rinse out the skillet and wipe dry. Heat 2 tablespoons oil in the same skillet over medium-high heat. Add the chopped garlic and half of the scallions. Cook, stirring, until fragrant, about 30 seconds. 
Add peas, rice, and carrots to the skillet. Cook over medium-high heat, stirring, until rice is heated through, about 2 minutes.
Return glaze to skillet, stirring to coat rice. Serve soy glazed chicken and any resting juices over vegetable fried rice. Sprinkle remaining scallions over top.