Slow Cooker Vegetable Soup
Slow cooker Vegetable soup is one of my ultimate comfort foods. Slow-cooked seasonings that you can taste in the first and last bite. The seasonings go all the way through this dish. You will not have a bite that is not down-home delicious.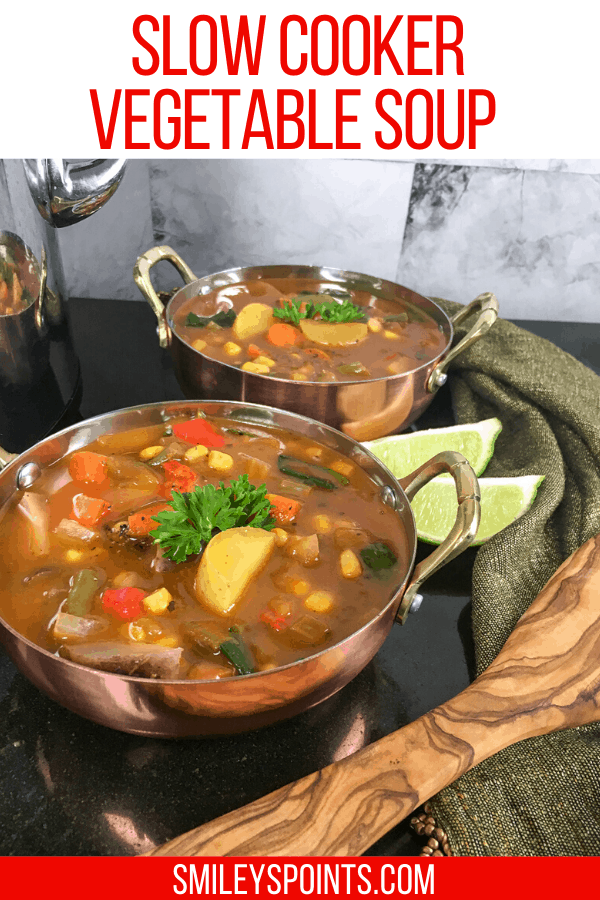 How do you make slow cooker vegetable soup?
To make slow cooker vegetable soup start with the freshest ingredients and your favorite vegetable broth. I always add the vegetables to my pot first and then I add the broth and tomato puree.
I don't know if this really makes a difference but it is how I make sure all of the spices get mixed well and that all of the veggies get infused with flavor. I add the spices before I add the liquids so the spices are on the vegetables before they get mixed into the liquid. I want to make sure the vegetables get a chance to absorb all the flavors. It works for me 🙂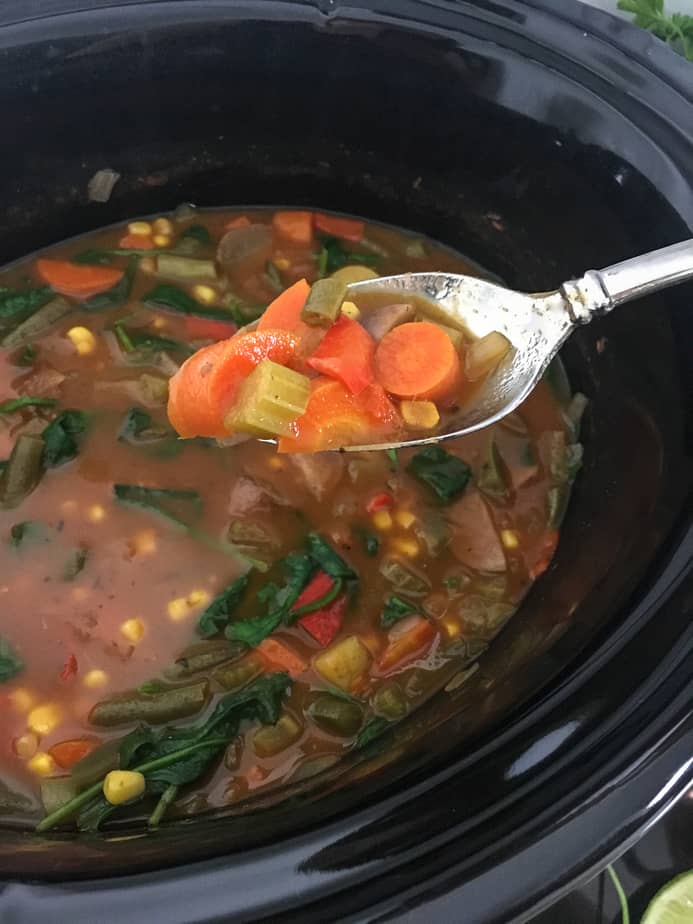 How do you add flavor to vegetable soup?
I love to mix up the flavors for a new and exciting change to the norm. In this recipe, I add crushed red pepper and smoked paprika to spice it up a bit. I like to add dried or fresh basil and marjoram for a more crisp taste. I like to freshen my soup up a bit at times. If you really want to spice things up crushed red pepper, paprika, and a little curry powder will do the trick. There are so many spices out there to try you can have a different tasting vegetable soup every time you make it.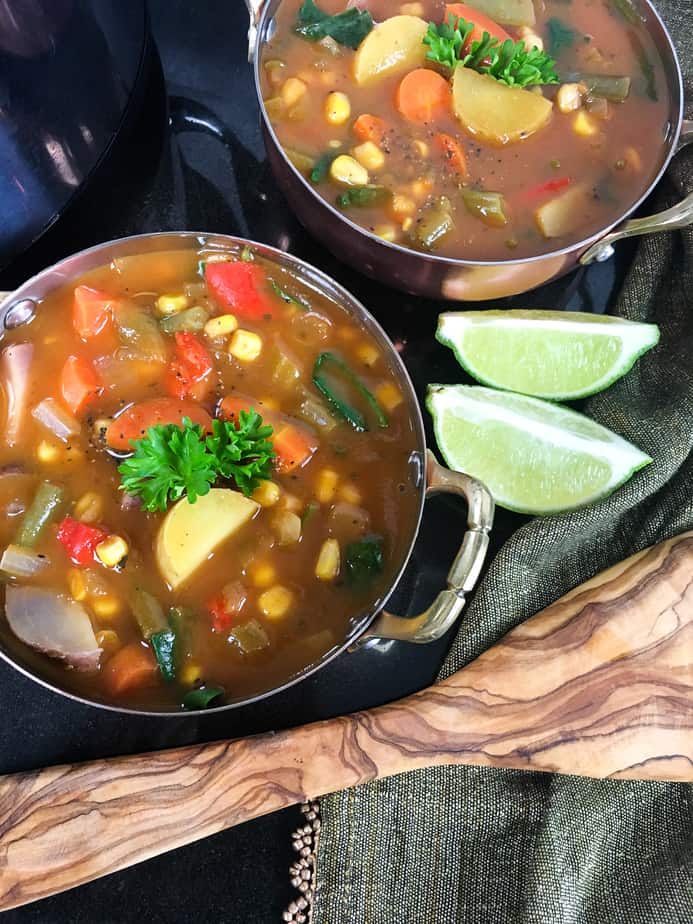 How do you thicken vegetable soup?
I like my vegetable soup, well, soupy lol but if you like yours a bit thicker try taking some broth from the pot, put it in a bowl and add 2 tablespoons cornstarch or flour to it. Mix well and then add the mixture back to the pot. This method helps prevent the cornstarch or flour from clumping and ensures that it mixes evenly in your soup. If you are counting points make sure to add points for the cornstarch used. 2 tablespoons are 2 points.
How long does vegetable soup last in the fridge?
I have kept my vegetable soup in the fridge for 2 days without any problems. I usually will freeze some if it is going to be in the fridge longer than that. Vegetable soup holds up very well in the fridge or the freezer and is great for meal prepping for the week. I like to freeze my soup in zip lock bags but you can use any airtight container.
How do you freeze vegetable soup?
Like I mentioned above you can freeze vegetable soup in any airtight container. I have found that measuring out your portion size and freezing it in zip lock bags works best for me for portion control. I make freezer meals at the beginning of the week and this has saved me so much time and has helped me to lose weight. I don't focus on the serving size or the points as they are already calculated. All I have to do it reheat and eat 🙂
How to make a 0 point vegetable soup
To make a 0 point vegetable soup for all of the plans you just have to omit the potatoes. If you are following the purple plan this recipe is zero points as is. On the green and blue plans, the potatoes add points. I have included the potatoes and the points for them below. 🙂
BLUE PLAN: 7 points

GREEN PLAN: 7 Points

PURPLE PLAN: 0 Points
Print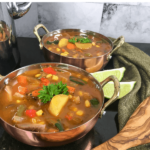 ---
Author:

Total Time:

49 minute

Yield:

6

servings

1

x
1 medium white onion, chopped
3 large carrots, chopped
3 large celery stalks, chopped
1 c. green beans, cut into bite-sized pieces
1 c. fresh or frozen whole kernel corn
¾ lbs. tri-color potatoes, chopped
1 medium red pepper, chopped
1 T. Italian seasoning
1 t. crushed red pepper (optional)
1t. smoked paprika
1 t. garlic powder
1 c. tomato puree
3 c. vegetable broth
Sea salt and black pepper, to taste
2 c. fresh baby spinach, roughly chopped
3 T. fresh lime juice
---
Instructions
Combine the chopped onion, carrots, celery, green beans, corn, potatoes, red pepper, Italian seasoning, red pepper, smoked paprika, and garlic powder in a 6-quart or larger slow cooker crock.
Add the tomato purée and vegetable broth. Season with salt and black pepper, to taste, and stir to combine.
Cover and cook on high for 4 hours or on low for 6 hours.
Remove lid and stir in baby spinach and fresh lime juice.
Taste and season with additional salt and black pepper, if desired.
Cover and let simmer for 5 minutes or just until the spinach is wilted.
Serve immediately garnished with lime slices and fresh parsley, if desired. Enjoy!
Prep Time:

20 minutes

Cook Time:

4-6 hours
Thank you for PINNING our recipes! It helps us out tremendously. 🙂