We aren't personally vegan, but this vegan tempeh bolognese is a hit in our house! It's so delicious that you won't miss the meat.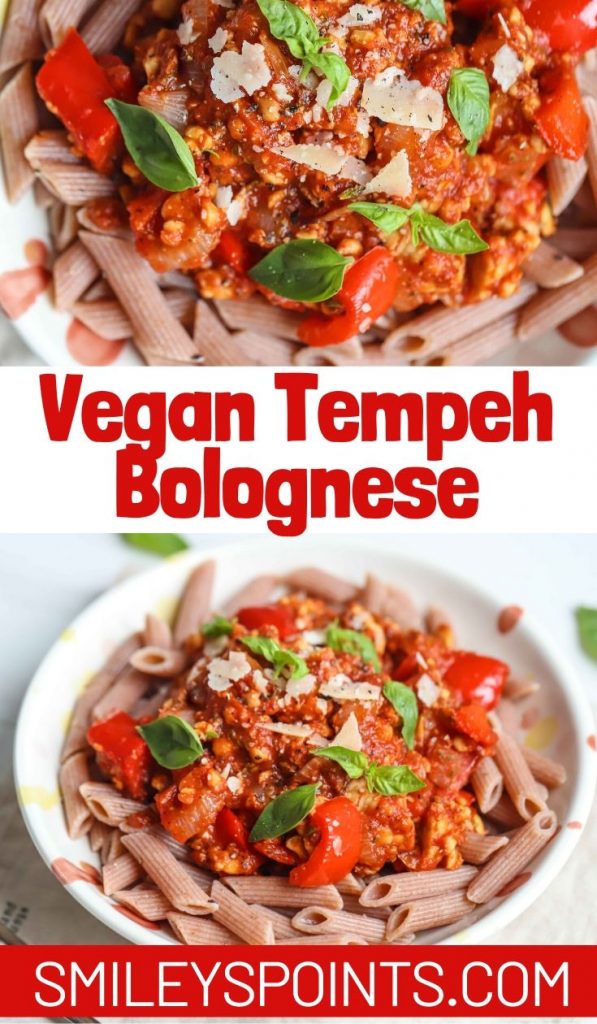 ---
"Healthi formerly iTrackbites is an alternative to Weight Watchers. "
---
Try something new for Meatless Monday, this delicious tempeh bolognese
We enjoy meat dishes in our house. But in an effort to be more health and environmentally conscious, we do try to do Meatless Mondays when we can. This dish is a great addition to your vegan/vegetarian/Meatless Monday recipe cache.
What is tempeh
When I started researching vegan recipes, I had no clue what tempeh was. Everyone has heard of tofu, but tempeh was a new one for me. Tempeh is a traditional Indonesian food that is made from fermented soybeans. Once the soybeans are fermented, they are pressed into a compact cake or block. Tempeh can be made from other bean varieties, wheat, or by mixing soybeans and wheat.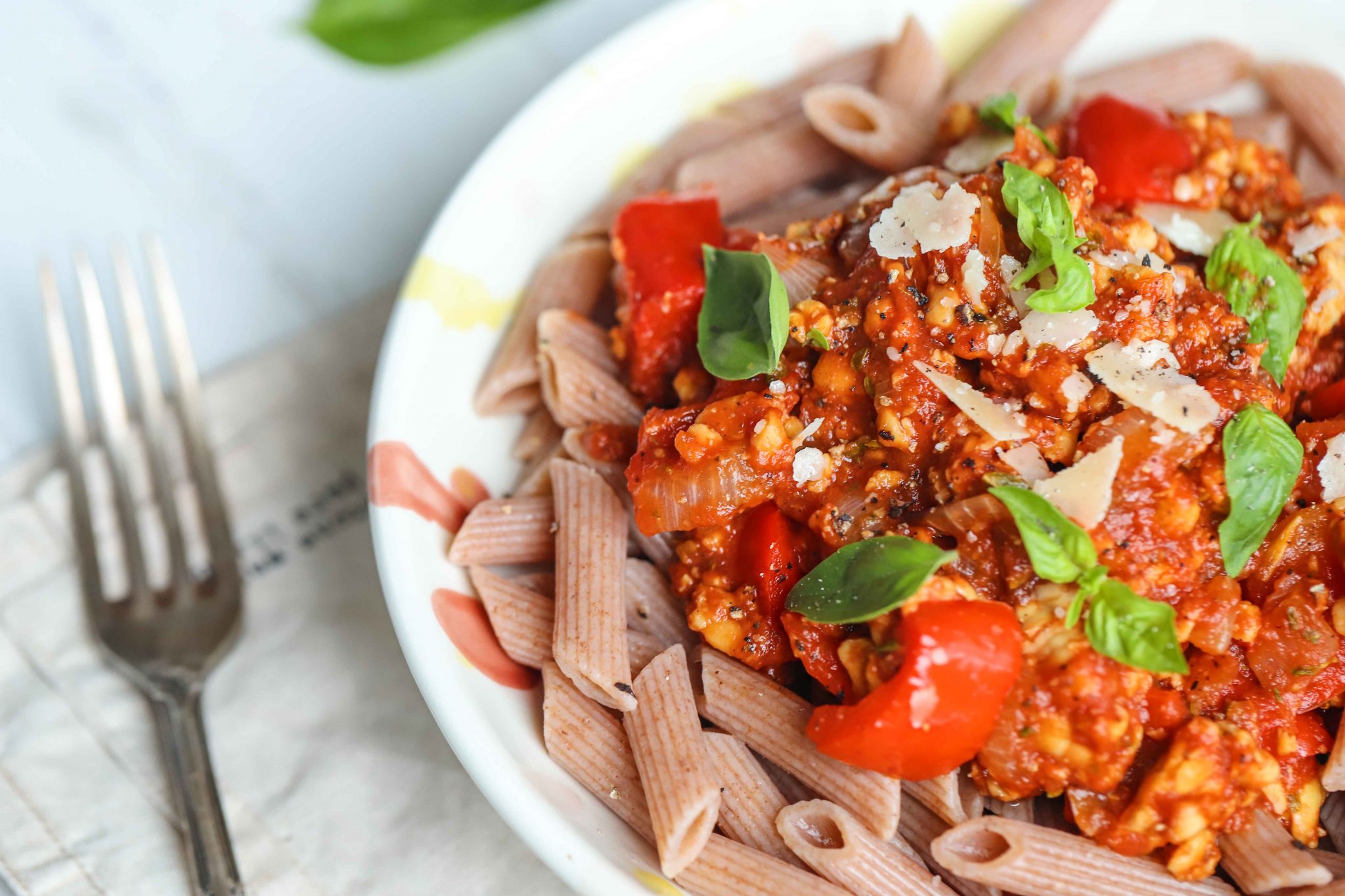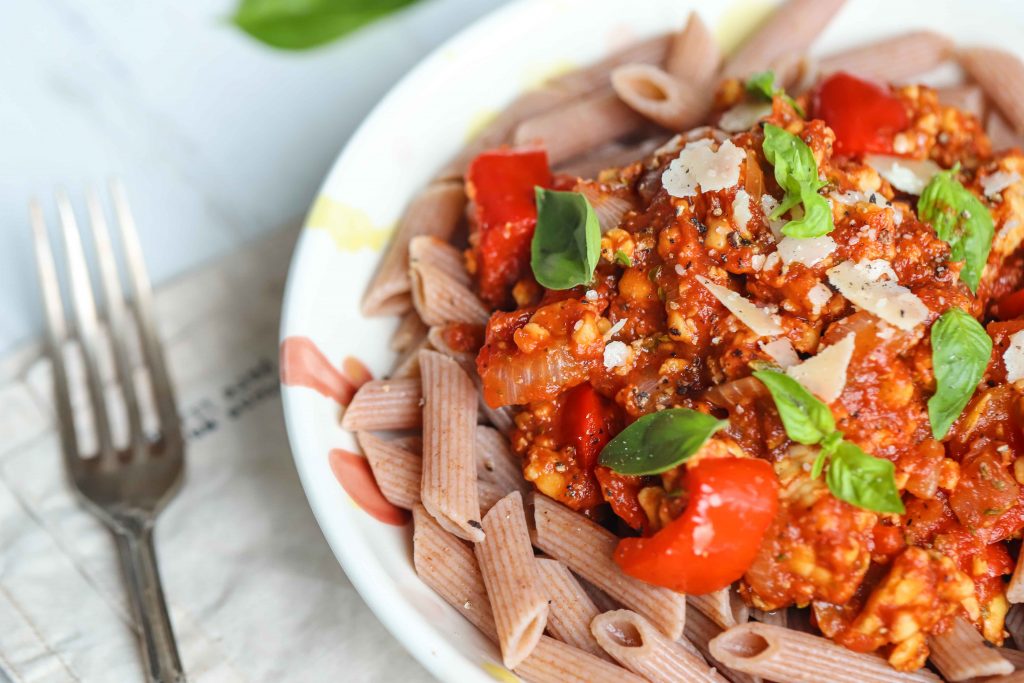 Why should you eat tempeh
Tempeh is similar to tofu in its versatility and its superb use as a protein. A three-ounce serving of tempeh packs in 15 grams of protein! It's also a wonderful source of calcium. In addition, tempeh seems to be rich in prebiotics. Prebiotics are a type of fiber that helps with gut health. They promote the growth of beneficial bacteria in your digestive system. Check out this article to learn about the other benefits of eating tempeh.
What's the difference between tempeh and tofu
Tofu, more widespread and more well known, is made from coagulated soy milk that's pressed into solid blocks. You can purchase it in a variety of textures from firm to silken, depending on what your recipe calls for.
While tempeh and tofu are both processed soy products and full of protein, there are some differences between them.
Tempeh is also made from soybeans, but the soybeans have been fermented and compacted into a firm and dense cake. You can purchase it plain or with add-ins such as quinoa, brown rice, flax seeds and spices.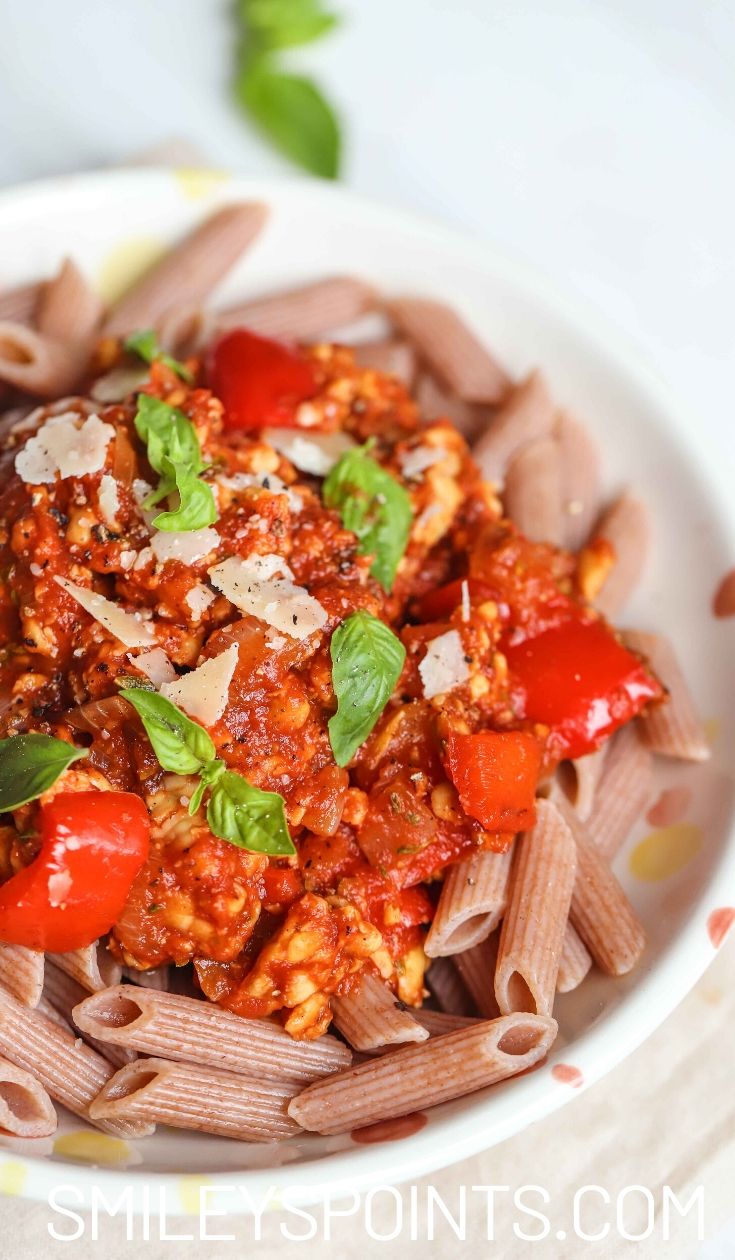 Another difference is that tempeh is chewy and has a nutty and earthy taste. Tofu, on the other hand, is more neutral and tends to absorb the flavors of the foods it's cooked with. So for this tempeh bolognese recipe, the denser, nuttier flavor, will compliment the dish perfectly.
Tempeh has double the protein of tofu, but also double the carbs and fiber. You can't really go wrong with either of these ingredients, the choice just depends on your recipe and possibly your nutritional goals for the day.
Check out this post for more information on the differences between these great proteins.
Fresh ingredients for your tempeh bolognese
This recipe calls for a can of chopped tomatoes. There is absolutely nothing wrong with using canned or frozen vegetables for your meals. But if you want to grow your own, tomatoes lend themselves very well to container gardens. They grow in many different regions of the United States and do well in the ground or in containers. Here's some more information on how you can learn more about starting your own container garden. Basil is also a super hearty plant to grow. It grows well, and when you get a bunch of it, you can dry it out to have dried basil for your recipes. One plant and you likely won't have to ever buy basil again. Bring on the pesto!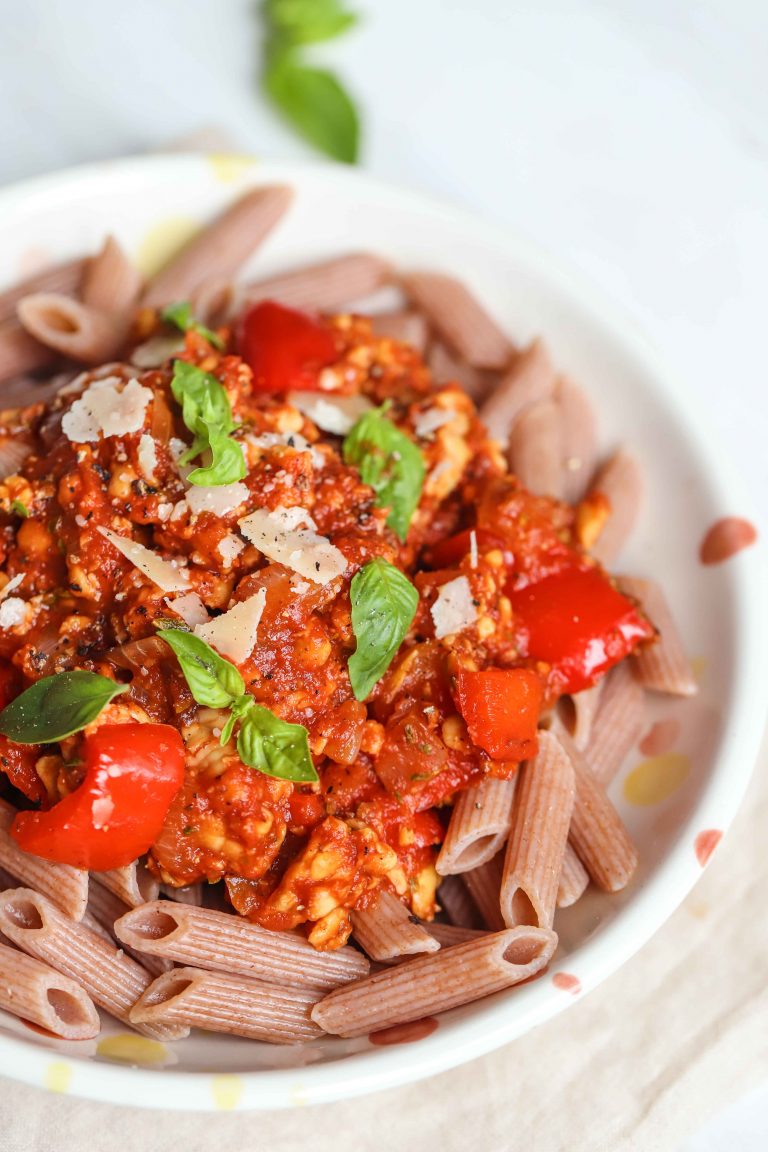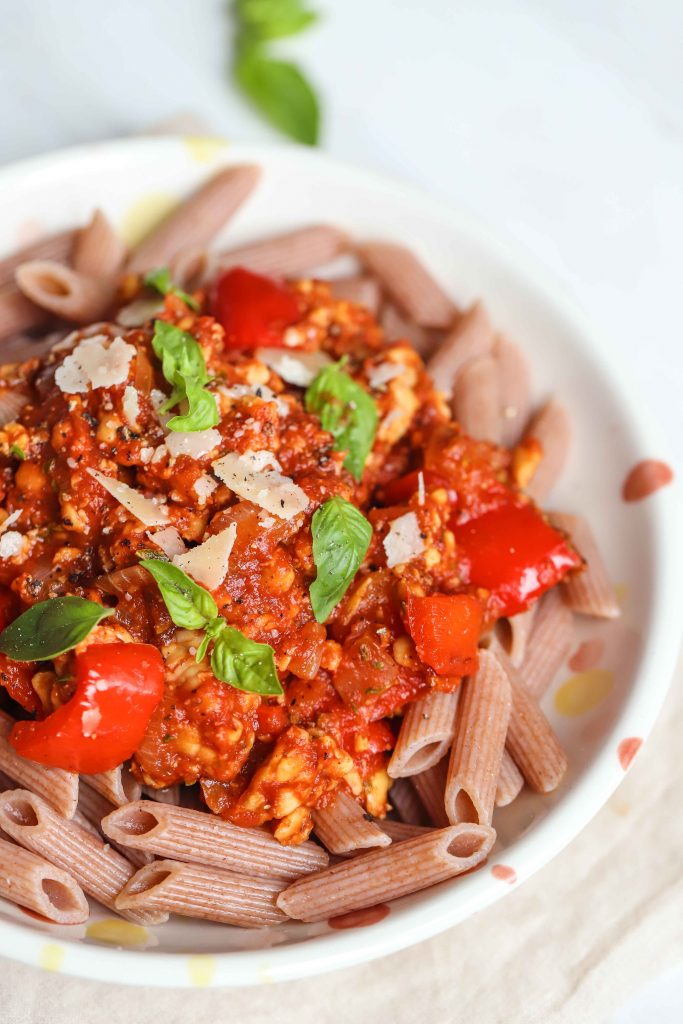 Low carb pasta alternatives
If you are looking to lower the carbs, and also some of the points, in this recipe, you can switch out the pasta. Zucchini zoodles would be a great substitute for this dish. Doing so would save you about six points on this dish. Spaghetti squash is another wonderful alternative. You. can boil it for 20 minutes or slice it in half and throw it in the microwave for 6-8 minutes. Once it's done, simply use a fork to separate the flesh into spaghetti-like strings and top it with the tempeh bolognese.
If you are like me and are looking for a way to not only eat healthier but to track and manage your eating, I highly recommend Healthi formerly iTrackbites.
cost: Healthi formerly iTrackBites costs $36 for the year (using this link for 40% off makes it $36 – use COACH_SMILEY to save!!), WW is $20+ for the month, and it's the same formula and less options
choices: I can choose PointsPlus, Freestyle, or any other plan I want with Healthi formerly iTrackBites. Even with the new WW changes, they only offer 3 plan options (not PointsPlus).
logs: You can export your tracker data by the week, month, or quarter with Healthi formerly iTrackBites. WW does not give you access to quarterly data.
accuracy: I've found inaccurate info in the WW app due to members submitting and not paying attention to the right numbers. With Healthi formerly iTrackBites, I know if I see the green check, it's been verified as accurate. This puts my mind at ease!
BLUE PLAN: 7 Points
GREEN PLAN: 9 Points
PURPLE PLAN: 7 Points
Print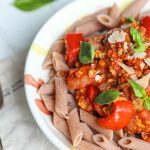 Tempeh Bolognese
---
8 oz. (225g) penne, uncooked
1 tbsp. olive oil
3 cloves garlic, minced
1 medium onion, chopped
1 red bell pepper,
chopped
7 oz. (200g) tempeh, crumbled
14 oz. (400g) can chopped tomatoes
2 tbsp. tomato puree
1 tbsp. apple vinegar
1 tsp. mixed herbs
fresh basil, for serving
---
Instructions
Cook pasta according to instructions on the packaging.
Heat olive oil over medium-high heat in a large pan. Add garlic and onion and sauté until fragrant, for about 3-4 minutes. Add in bell pepper and crumbled tempeh and sauté for another 5 minutes.
Reduce heat to medium-low and add chopped tomatoes, tomato puree, vinegar and mixed herbs – season with salt and pepper. Bring to boil and let it simmer for 5-6 minutes or until heated through.
To serve, divide pasta and Bolognese between plates and garnish with basil.