These zucchini fries are a fantastic substitute when you are trying to eat healthily and avoid fried foods. You won't miss a thing with this recipe!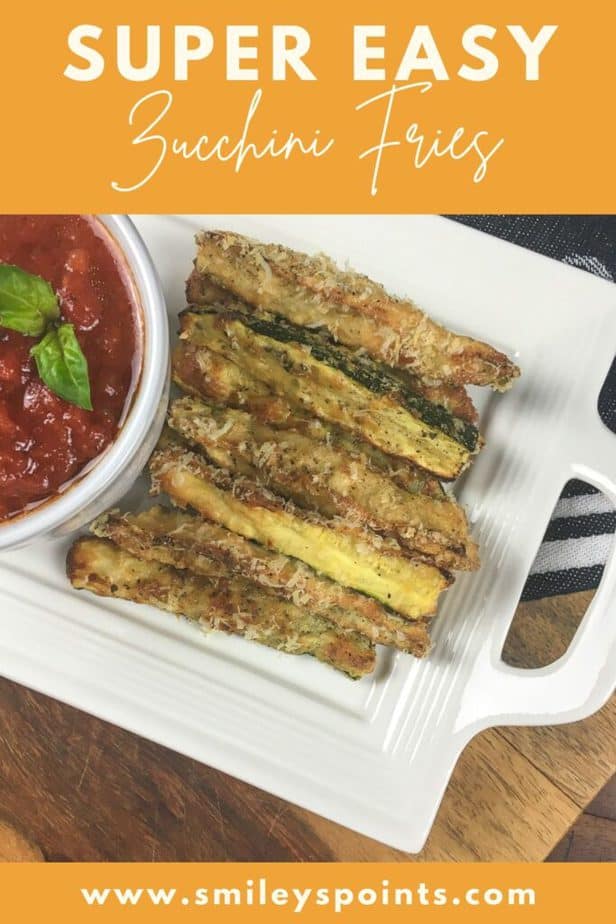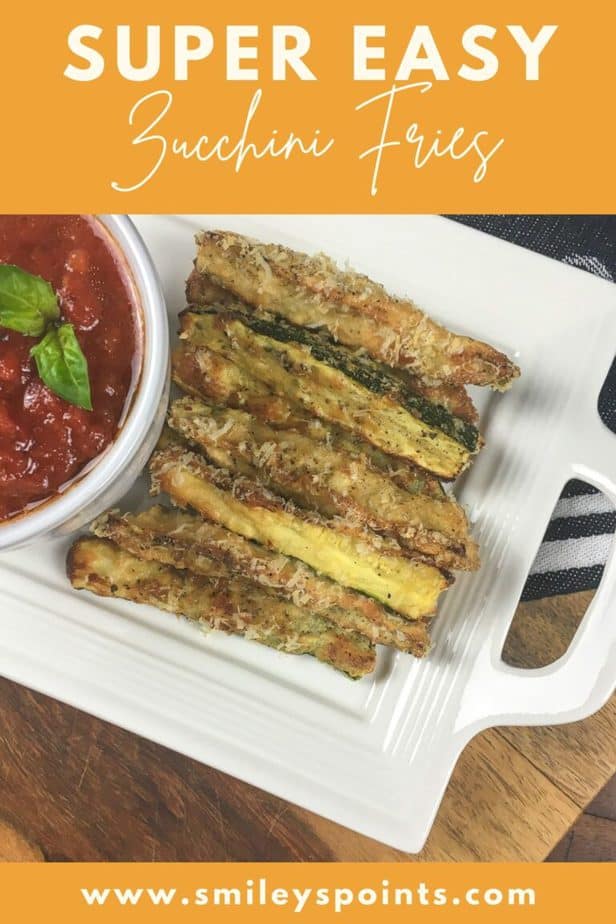 All the taste with fewer calories
Most of us love fries, but don't love the calories that some with them. This crispy zucchini fries recipe will give you the crunch and the flavor without all the fat and calories. Win-win!
Preparing your zucchini
Zucchini has a lot of natural moisture in it, so it can be challenging to get crispy results when oven roasting or air frying it. For this reason, small, firm zucchini work best for this recipe. As a precaution, you may also want to remove excess seeds prior to dredging each piece in the seasoned almond or coconut flour.
Whenever I am making a recipe with zucchini as a part of it, rather than a side, I prepare it first to reduce the moisture. Some recipes call for you to salt the zucchini, let it sit to draw out the moisture, and then rinse off the salt. While this method does work, I personally don't want all that extra sodium in my food. Even with rinsing it off, some of that salt will stick around.
So as an alternative, I cut. up my zucchini and put it on paper towels. I layer it in a sealable container and put it in the refrigerator overnight. You can leave it for an hour or so, but I try to prep it the night before. This method draws out most of the moisture, making your recipe much less mushy and much more enjoyable.
How to make in the oven and how to make in the air fryer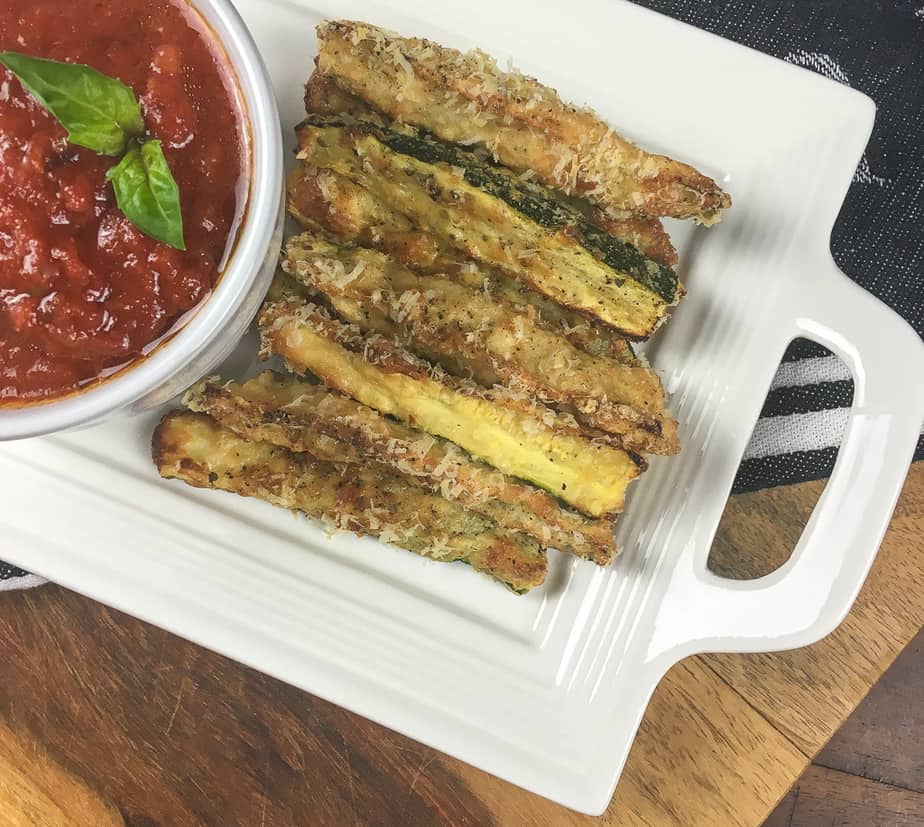 Make these crispy zucchini fries vegetarian or vegan
This delicious side, made as it is, is almost vegetarian. If you use an egg substitute, you're on your way to a fantastic vegetarian dish. However, to make it vegan, you will also need to substitute the Parmesan cheese for a vegan variety. I love finding recipes that are so adaptable to different eating styles.
Oven or air fryer, either is the perfect choice for crispy zucchini fries
While the instructions on this recipe are for the oven, you could easily make this in the air fryer. Cook the zucchini fries in batches at 400° for 10 minutes.
The main dish for your crispy zucchini fries
If you're looking for a main dish to pair with these fabulous fries, look no further than our delicious chicken parmesan. These dishes will pair beautifully. If you are worried about your points, make a salad to go with it and half the recipe. Then you will have leftovers for lunch the next day. You get a delicious flavor profile, lots of fiber, and two meals for the effort of one. That's a perfect set up to keep eating healthy and reaching your goals.
Another way I maintain my healthy eating lifestyle and work towards my goals is with iTrackBits. It's a wonderful and super easy program to help me reach my goals while eating all kinds of delicious foods.
cost: iTrackBites costs $36 for the year (using this link for 40% off makes it $36 – use COACH_SMILEY to save!!), WW is $20+ for the month, and it's the same formula and less options
choices: I can choose PointsPlus, Freestyle, or any other plan I want with iTrackBites. Even with the new WW changes, they only offer 3 plan options (not PointsPlus).
logs: You can export your tracker data by the week, month, or quarter with iTrackBites. WW does not give you access to quarterly data.
accuracy: I've found inaccurate info in the WW app due to members submitting and not paying attention to the right numbers. With iTrackBites, I know if I see the green check, it's been verified as accurate. This puts my mind at ease!
BLUE PLAN: 6 Points
GREEN PLAN: 7 Points
PURPLE PLAN: 6 Points
Print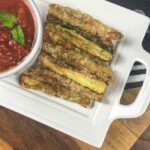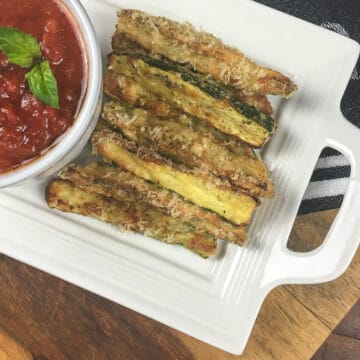 Crispy Zucchini Fries
---
Author:

Prep Time:

15

Cook Time:

25

Total Time:

40 minutes

Yield:

4

servings

1

x
½ c. almond (or coconut) flour
½ t. garlic powder
½ t. onion powder
1 t. smoked paprika
1 t. Italian seasoning
Sea salt and black pepper, to taste
2 large eggs
2 T. water
1 c. Parmesan cheese, freshly grated
2 small, firm zucchini, halved and cut into ¼-inch thick slices
Marinara Sauce:
2 T. extra virgin olive oil
2-3 garlic cloves, minced
1 t. dried oregano
½ t. red pepper flakes
2 T. tomato paste
1 8-oz can crushed tomatoes
¼ c. fresh basil, thinly sliced
¼ c. fresh parsley, chopped
Sea salt and black pepper, to taste
---
Instructions
Preheat the oven to 400°F and place a metal rack inside a large, rimmed baking sheet. Set aside.
In a pie pan or shallow bowl, combine the almond flour, garlic powder, onion powder, smoked paprika, and Italian seasoning. Season with salt and black pepper, to taste. Set aside.
In a second pie pan or shallow bowl, gently whisk together the eggs and water until frothy and set aside.
Add the freshly grated Parmesan cheese to a third bowl and set aside.
Dredge zucchini pieces in the seasoned almond flour before dipping into the egg mixture. Allow excess egg to drain off each piece before transferring to the bowl with the Parmesan cheese. Turn to evenly coat each piece of zucchini before transferring to the prepared rack. Season with additional salt and black pepper, if desired.
Place baking sheet into preheated oven and roast until golden and crisp, around 20-25 minutes. Flip the fries once halfway through the cooking time.
While the zucchini is roasting, combine olive oil, garlic, oregano, red pepper flakes, and tomato paste in a medium saucepan over medium-high heat. Cook, stirring frequently, until the garlic is fragrant, around 1-2 minutes. Season with salt and black pepper, to taste, and stir to combine.
Reduce heat and add the crushed tomatoes and cook until bubbly and slightly reduced, around 8-10 minutes. Remove from heat and stir in the fresh basil and parsley. Transfer to a serving dish and keep warm.
When ready, remove zucchini fries from oven and serve immediately with herbed marinara sauce. Enjoy!