One skillet meals are quick meals with minimal clean-up. This keto bacon cheeseburger soup is the perfect one-skillet dish. Wishing you could eat all the bacon cheeseburgers in the world? Here's your solution! This keto soup is so easy to make and doesn't take long at all, which means you can now enjoy a warm and hearty meal without breaking your healthy eating streak. And if that wasn't enough, it tastes just like the real thing… yum!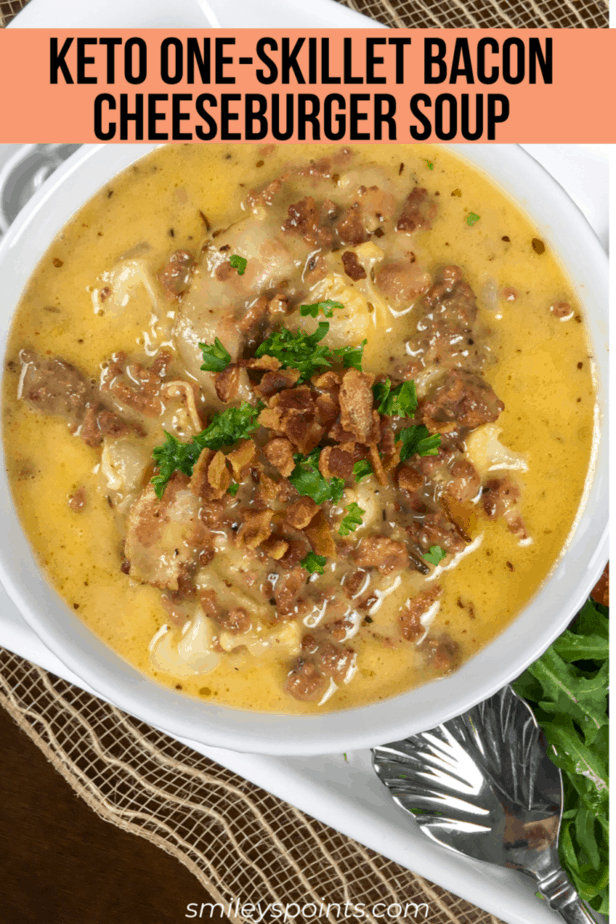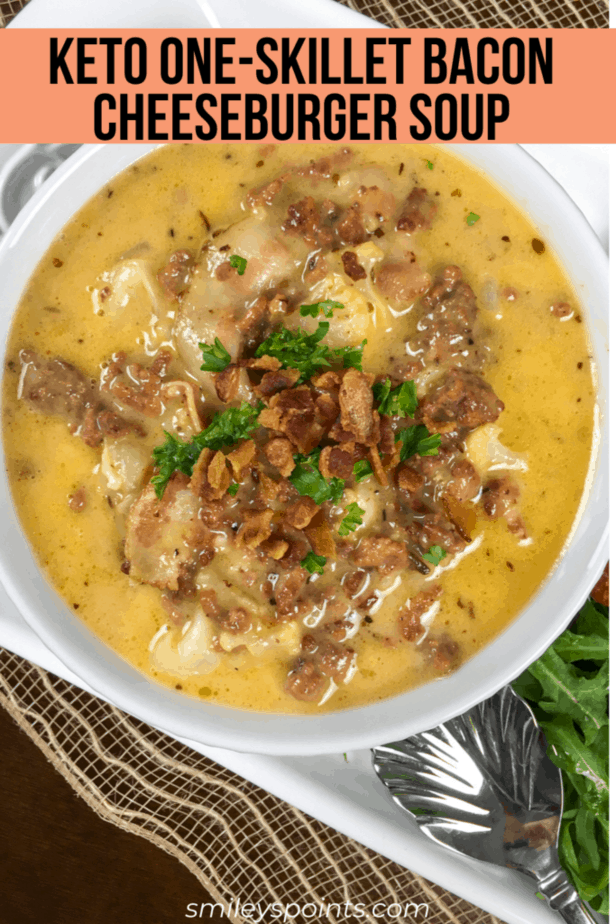 ---
"Healthi formerly iTrackbites is an alternative to Weight Watchers. "
---
Cheeseburgers are always a hit!
We do cheeseburgers once a week in our house. They are easy, filling, and delicious! This meal is a great twist on a classic that everyone loves.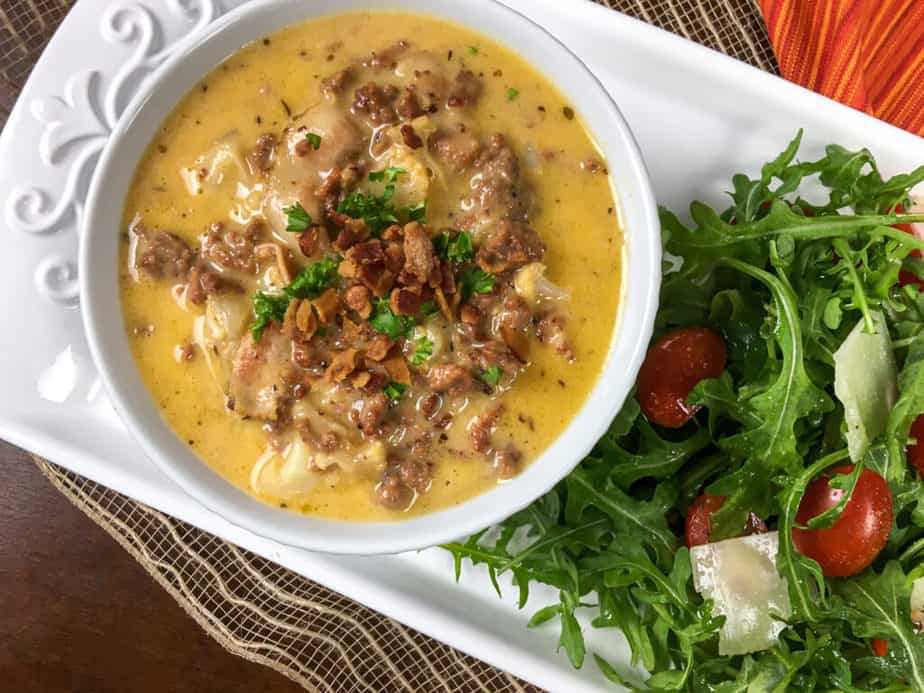 Ways to reduce the calories/bites/points
This keto bacon cheeseburger soup is a bit high in calories and bites/points, depending on the plan. If you are following a full keto diet, that won't matter much. But if you aren't following keto or you simply want less calories, there are some changes you can make to help.
How to make hamburgers lower in points
You can substitute the ground beef with ground chicken. On it's on, ground chicken tends to be dry, but in a meal such as this, it is perfect! You will save a handful of calories with this substitute, depending on what kind of protein you substitute with.
Turkey bacon has half the calories of regular bacon. Again, on its own, I'm not personally going to pick turkey bacon for my breakfast. But in a meal like bacon cheeseburger soup, it will work perfectly.
If you are looking for a vegetarian version of this dish, substitute the ground beef with extra firm tofu or soy crumbles. Either omit the bacon or substitute it for a vegan version.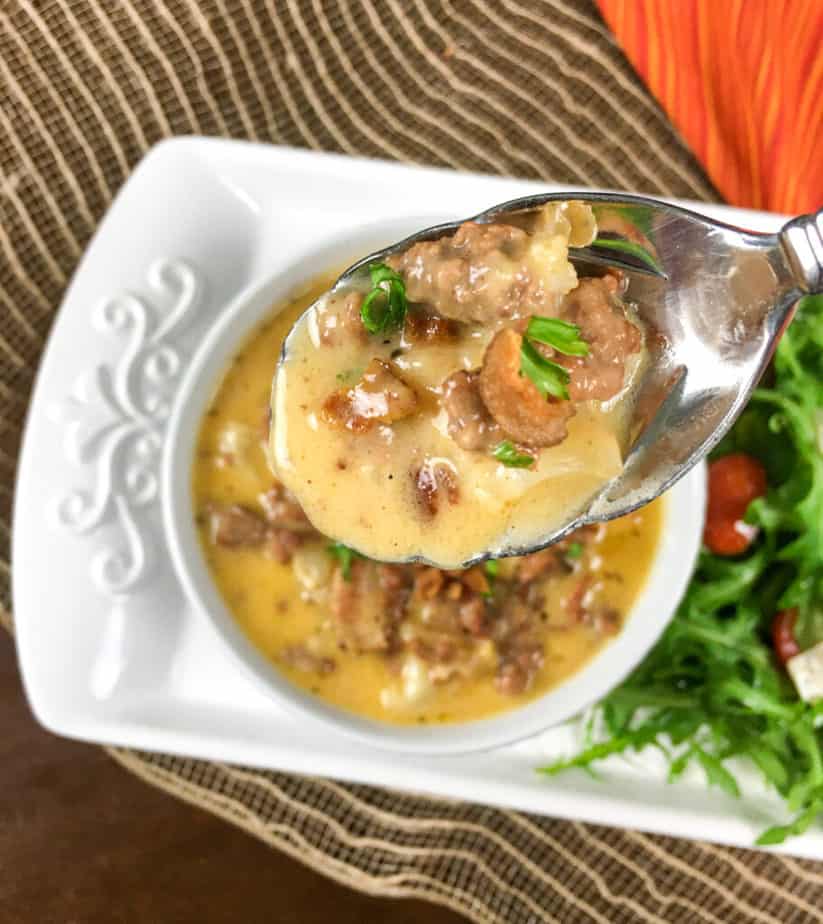 How to save some time preparing keto bacon cheeseburger soup
One skillet meals are built for speed. Those nights that you are in a rush, these kinds of meals are simply perfect. There are some ways to make this even faster!
This will take some preparation ahead of time, but the next time you make this dish, it will be super fast! The next time you are making a dish with ground beef, cook an extra pound of it. Put that pound in the freezer. The night before you are planning on making this bacon cheeseburger soup, defrost the meat.
For the bacon, you can also cook it ahead and freezer it, use precooked bacon or use bacon bits. Another option is to cook your bacon in the microwave while you are heating up the ground beef. Simply put some paper towels down on a plate and microwave the bacon for 5 minutes for 4 pieces.
The rule of thumb for extra crispy bacon is 1 minute for every slice plus one minute. So 4 pieces if 5 minutes, 8 pieces would be 9 min and so on. Cook it less time if you don't want it standing up straight on its own. You can also use a microwave bacon tray. We line ours with a paper towel and the bacon comes out SUPER crispy!
Instead of using fresh cauliflower, use frozen florets. Frozen fruits and veggies are picked and immediately flash frozen, so they hold their nutrients. They might even be more nutritious than fresh!
These simple steps will save you about 15 minutes in your cooking time.
Keeping Keto on Healthi formerly iTrackbites is the plan you'll want to use if you're following a low carb diet!
cost: Healthi formerly iTrackBites costs $36 for the year (using this link for 40% off makes it $36 – use COACH_SMILEY to save!!), WW is $20+ for the month, and it's the same formula and less options
choices: I can choose PointsPlus, Freestyle, or any other plan I want with Healthi formerly iTrackBites. Even with the new WW changes, they only offer 3 plan options (not PointsPlus).
logs: You can export your tracker data by the week, month, or quarter with Healthi formerly iTrackBites. WW does not give you access to quarterly data.
accuracy: I've found inaccurate info in the WW app due to members submitting and not paying attention to the right numbers. With Healthi formerly iTrackBites, I know if I see the green check, it's been verified as accurate. This puts my mind at ease!
An easy side for this dish is some roasted broccoli with Parmesan. That will give you a green side dish with minimal work. A nice salad is another option.
BLUE PLAN: 16 POINTS

GREEN PLAN: 16 POINTS

PURPLE PLAN: 16 POINTS
Print
One-Skillet Keto Bacon Cheeseburger Soup
---
Author:

Total Time:

35 minutes

Yield:

6
4 slices thick-cut bacon, chopped
1 lbs. 80% lean ground beef
½ t. onion powder
½ t. garlic powder
2 t. Italian seasoning
½ t. smoked paprika
Sea salt & black pepper, to taste
½ large head cauliflower, chopped small
3 c. beef broth, preferably organic, divided
1/3 c. heavy cream, tempered
3 c. sharp cheddar cheese, finely shredded
2 T. fresh parsley, chopped
---
Instructions
Over medium heat, in a large, high-sided skillet, cook bacon until crispy, about 5-7 minutes. Transfer the cooked bacon to a paper towel-lined plate.
Drain most of the bacon grease from the skillet and then add the ground beef. Sprinkle the beef with garlic powder, onion powder, smoked paprika, and Italian seasoning. Add salt and pepper to taste. Cook the meat, stirring occasionally, until the meat is browned, about 5 minutes.
Add the chopped cauliflower and the beef broth to the skillet. Stir to combine, cover, and reduce heat to medium-low. Simmer until heated through and the cauliflower is fork-tender, but not mushy, about 7-8 minutes.
Once the cauliflower is fork-tender, remove the skillet from the heat.
Temper the heavy cream by adding two tablespoons of the hot liquid from the skillet into it. This will prevent the cream from curdling. Stir in the tempered cream and sharp cheddar cheese into the skillet until the cheese is thoroughly melted. Taste test it and add additional seasonings if you like.
Ladle the soup into 6 bowls and top with crumbled bacon and chopped parsley if you're feeling fancy.
Prep Time:

15

Cook Time:

20