Cast Iron Blueberry Crisp
Blueberry crisp, hot out of the oven, is always a hit! Served with ice cream, whipped cream, or even some heavy whipping cream, it's delish!
---
"Healthi formerly iTrackbites is an alternative to Weight Watchers. "

---
Cast Iron Blueberry Crisp is a wonderful dessert choice
While I would never turn down anything chocolaty for dessert, there is something to be said for a delicious, warm, fruity dessert fresh out of the oven. This cast iron blueberry crisp hits the spot!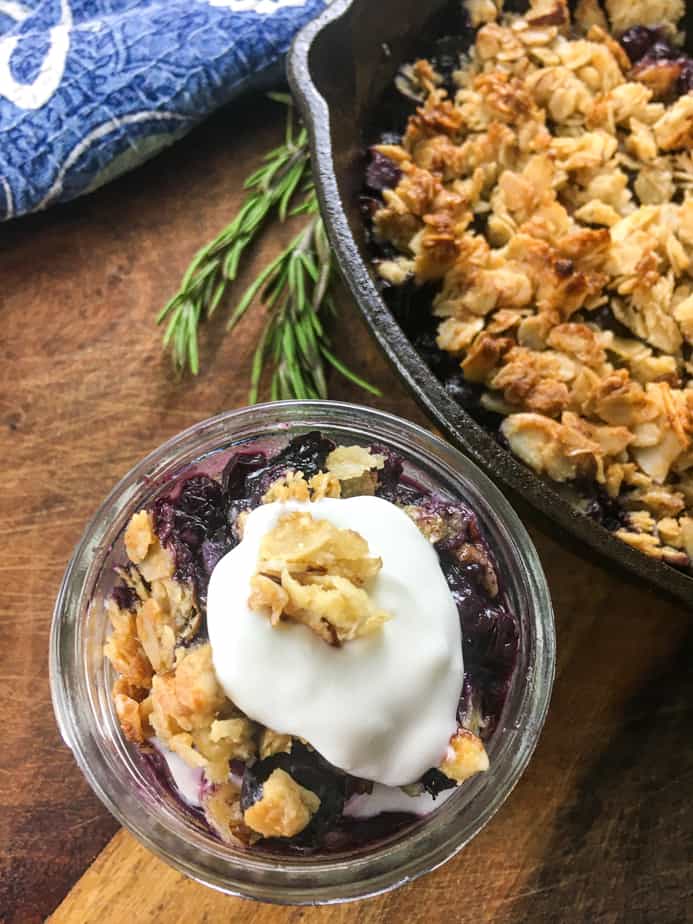 Cast iron makes an excellent cooking vehicle for this blueberry crisp
It was many years before I had a cast iron pan and now it's a staple in my kitchen. Cast iron is something that can be passed down, generation to generation. With minimal care, it will pretty much last forever. Even if it does get rusty, you can simply scrub the rust off and you're good to go!
Cast iron pans need to be seasoned or bought pre-seasoned. However, even the pre-seasoned ones need to be re-seasoned now and again. If you do need to season your pan, it's super easy! Just scrub the skillet in hot soapy water. Dry thoroughly. Spread a thin layer of melted shortening or vegetable oil over the skillet. Place it upside down on a middle oven rack at 375° (Pro tip – place foil on the lower rack to collect any drips. Bake for 1 hour and let it cool in the oven.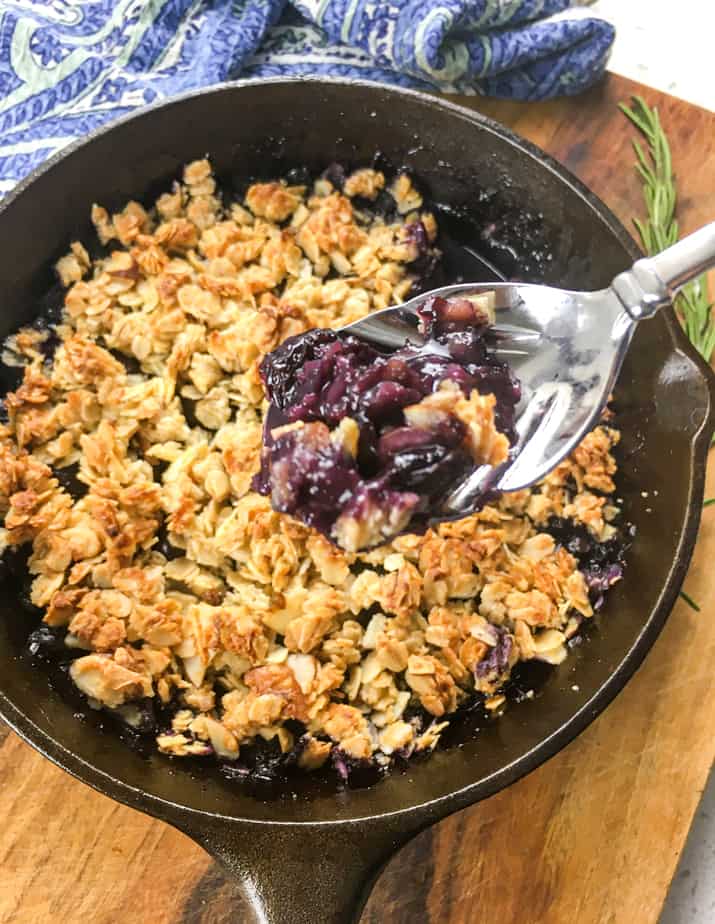 Health benefits of cooking with cast iron
Cast iron has a tremendous ability to retain heat, which lends itself to healthy cooking. It is wonderful for braising, poaching, quick broiling and grilling. All these methods need little to no oil, which certainly makes for healthier cooking.
A well-seasoned cast iron pan creates a natural nonstick coating. This is also means you will need less oil. It also makes for easy clean up.
Many nonstick pans are made nonstick with harsh and toxic chemicals. If there are scratches in these pans, that nasty stuff can seep into your food. That's not an issue with cast iron.
Iron is a necessity in your diet. You don't realize how much until it's low. If you can't remember things, are tired a lot, snack on ice A LOT, these are all signs for low iron. I actually high-fived the doctor the second time I needed an iron transfusion! Very easy fix for my symptoms. Cooking with cast iron can help you get some extra iron in your diet. It's not a huge amount, but every little bit can help.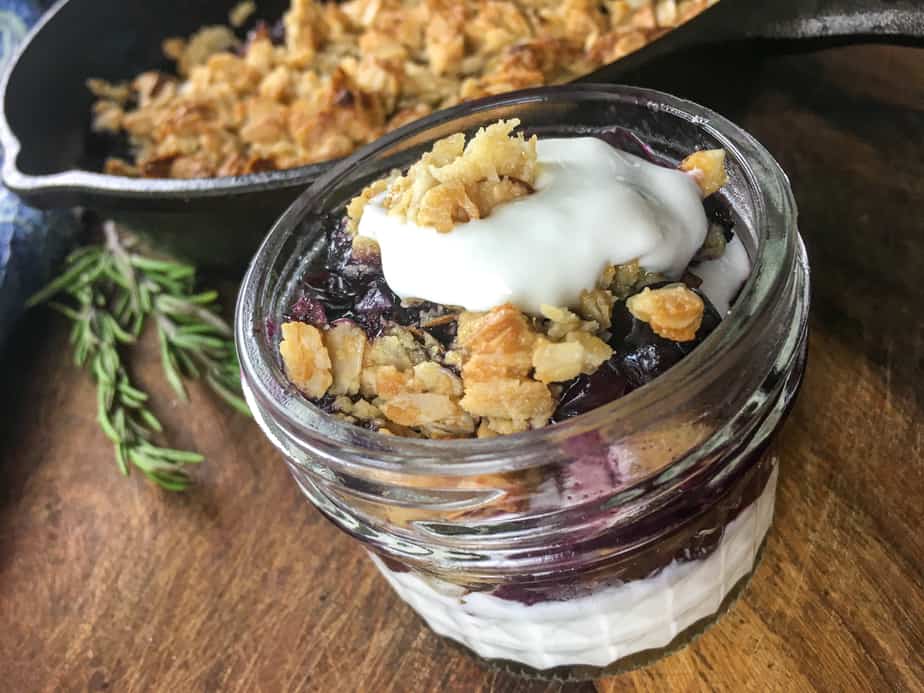 What can't I cook in cast iron
While you can cook almost anything in cast iron, there are few things you want to avoid. If you are cooking "smelly" foods, such as garlic, peppers, fish, stinky cheeses, they may leave aromatic memories in your pan. And since you aren't supposed to use soap, just rinse and dry your pan, that could be problematic. You can throw the pan in the oven at 400°F for ten minutes and that should get rid of the smells, but better not to get them their in the first place.
Eggs and other sticky things are better when your pan is very well seasoned.
Acidic things such as vinegar aren't a great match for your cast iron skillet.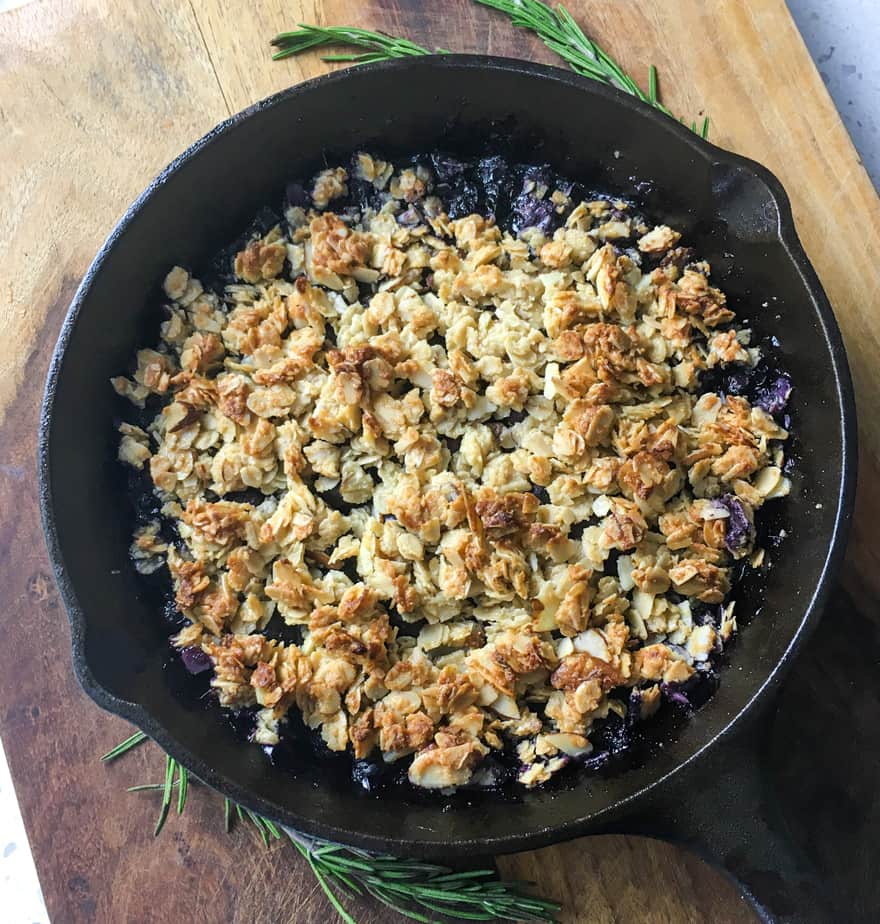 Lower the points of the cast iron blueberry crisp
While this recipe is a bit high in points, if you substitute sugar-free maple syrup, you will save 3 points. This recipe, while heavy on points, it not totally unhealthy. It's made with non-processed foods and real butter.
Cast iron blueberry crisp…or raspberry…or cherry…
If you aren't a fan of blueberries, you can swap them for any other berry or even cherries.
If you have read the recipe though and find it's too high in points for your menu this week, try our delicious banana bread as another dessert option.
I love my desserts but am aware I need to plan to eat them. I have very successfully been using Healthi formerly iTrackbites to do this.
cost: Healthi formerly iTrackBites costs $36 for the year (using this link for 40% off makes it $36 – use COACH_SMILEY to save!!), WW is $20+ for the month, and it's the same formula and less options
choices: I can choose PointsPlus, Freestyle, or any other plan I want with Healthi formerly iTrackBites. Even with the new WW changes, they only offer 3 plan options (not PointsPlus).
logs: You can export your tracker data by the week, month, or quarter with Healthi formerly iTrackBites. WW does not give you access to quarterly data.
accuracy: I've found inaccurate info in the WW app due to members submitting and not paying attention to the right numbers. With Healthi formerly iTrackBites, I know if I see the green check, it's been verified as accurate. This puts my mind at ease!
BLUE PLAN: 13 Points
GREEN PLAN: 13 Points
PURPLE PLAN: 12 Points
Print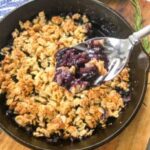 Cast Iron Blueberry Crisp
---
4 c. fresh blueberries, rinsed
¼ c. real maple syrup
¾ t. ground cinnamon
½ t. ground allspice
½ t. dried rosemary (or 1½ t. fresh, finely chopped)
Topping Ingredients:
¾ c. old-fashioned rolled oats
¼ c. almond flour
¼ c. almonds, sliced
¼ c. honey, preferably local
2 T. unsalted butter, melted
1/8 t. table salt
Optional, to Serve:
1 c. Greek yogurt
---
Instructions
Place top oven rack in the center position and pre-heat oven to 350°F.
Place blueberries in a large bowl. Add maple syrup, cinnamon, allspice, rosemary, and salt. Toss to combine and set aside.
Combine the topping ingredients in a separate bowl and stir until oats are thoroughly coated and all ingredients are well combined. Set aside.
Pour blueberry mixture into a 10" cast iron skillet and spread into an even layer. Spread the topping evenly across the top in a uniform layer, as well.
Place into pre-heated oven and bake for 30 minutes. If the top layer is nicely browned at this point, cover dish loosely with aluminum foil to prevent over-browning. Bake for another 15-20 minutes or until the blueberry crisp is nice and bubbling. Remove from oven and set aside to cool for 5-10 minutes.
Serve warm with some Greek yogurt, if desired. Enjoy!