Healthy Cheddar Bay Biscuit Copycat Recipe
If you've been to Red Lobster, you know why everyone goes. No, it's not the lobster. This Healthy Cheddar Bay biscuit copycat recipe will remind you of the true reason everyone loves Red Lobster!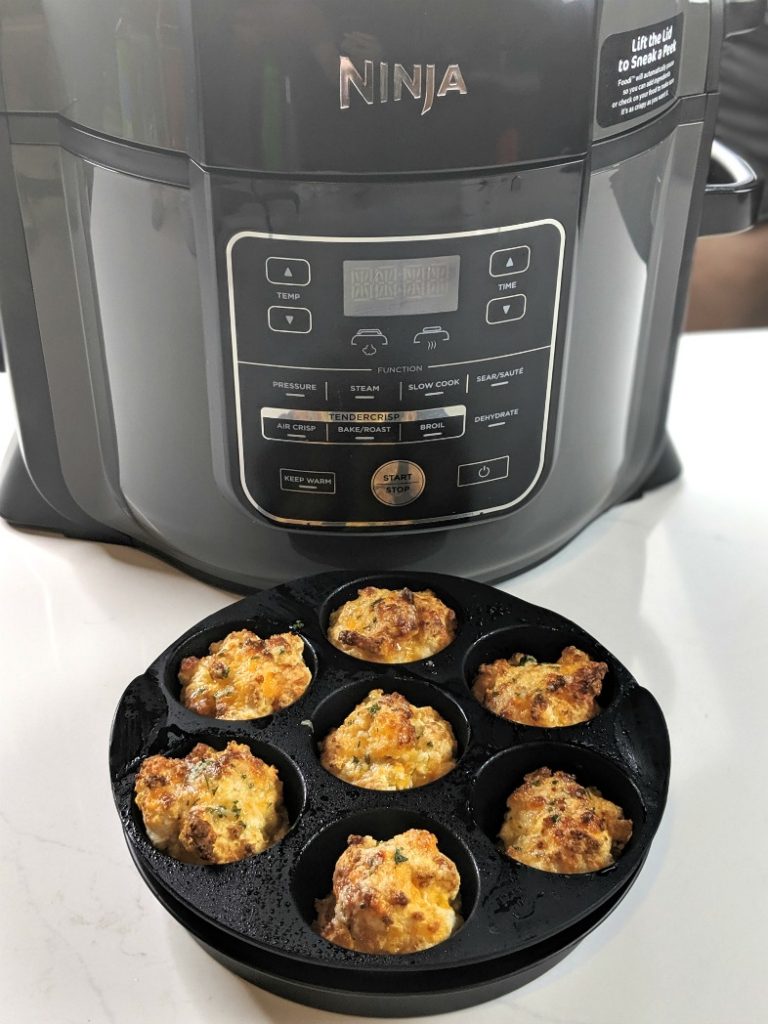 Healthy Cheddar Bay Biscuit Copycat Recipe
BLUE PLAN: 1 point

GREEN PLAN: 1 point

PURPLE PLAN: 1 point
Why does Weight Watchers work so well? Because nothing is off-limits. If you want to eat cheesy, butter covered biscuits, you can. Now I'm a bit stingy with my points so I like making my biscuits at home, but as long as you have the points for it… you can eat anything!
Even if you only get 23 points a day, this copycat Cheddar Bay biscuit recipe will fit right in.
I'm so happy you're here. 🙂 Note: Smiley's Points participates in affiliate programs. That's how the bills get paid! There is no additional charge to you and I only recommend products I know and love.
Weight Watchers Cheddar Bay Biscuits
I was on the hunt for the perfect Cheddar Bay biscuit. The ones from Red Lobster are 6 points each (EEK!), and all of the copycat recipes I found were either made with 2-ingredient dough (which I love making but I wanted to try something different), or were 3-4 points each. And who eats just one cheesy garlic biscuit? I knew I could make them fewer points, but how? Using skim milk and low-fat pancake mix is key.
POINTS: 1 Freestyle SmartPoint per serving, 20 Freestyle SmartPoints for the entire batch of 16 biscuits.
How to Make Copycat Cheddar Bay Biscuits
You can make these biscuits in the oven or in the Air Fryer. I used my Ninja Foodi because the oven takes way too long. I'd at least double the time for the oven.
I tried three different ways to cook these in the Foodi: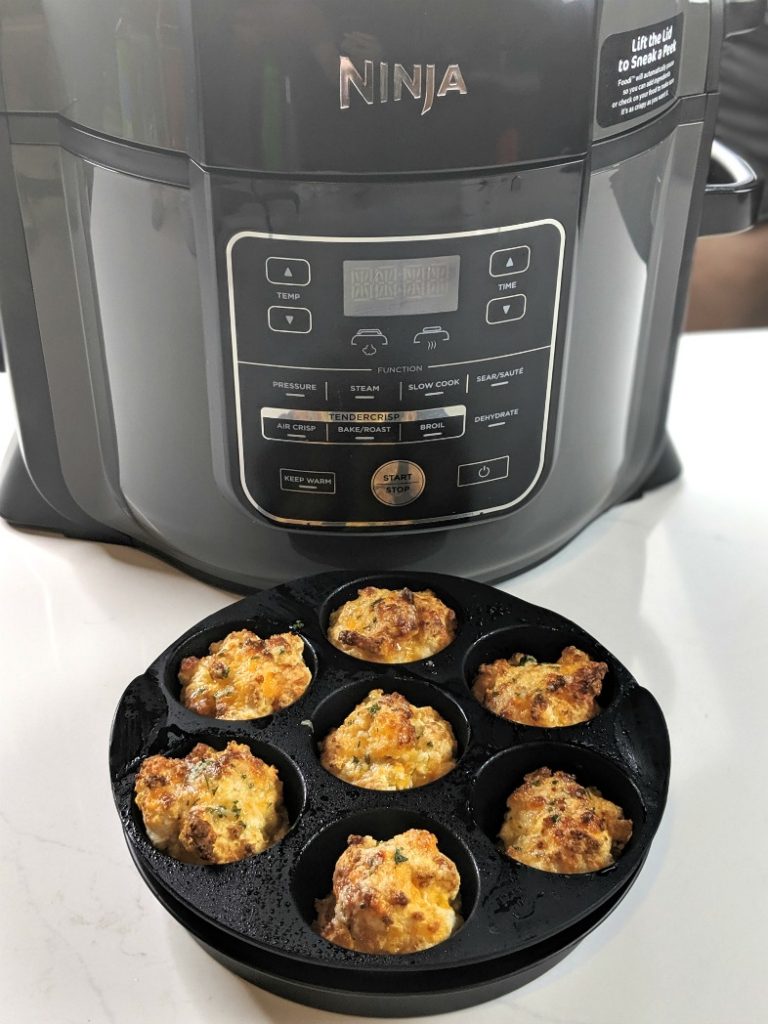 The first batch, I used a wire rack. Sprayed it with pan spray so it didn't stick, but some of the biscuit mix fell through the holes so they didn't come out perfectly. If you use a wire rack, cover it in foil first. This is the way I recommend baking your biscuits. If you don't have a wire rack, use this mini pan. It works well.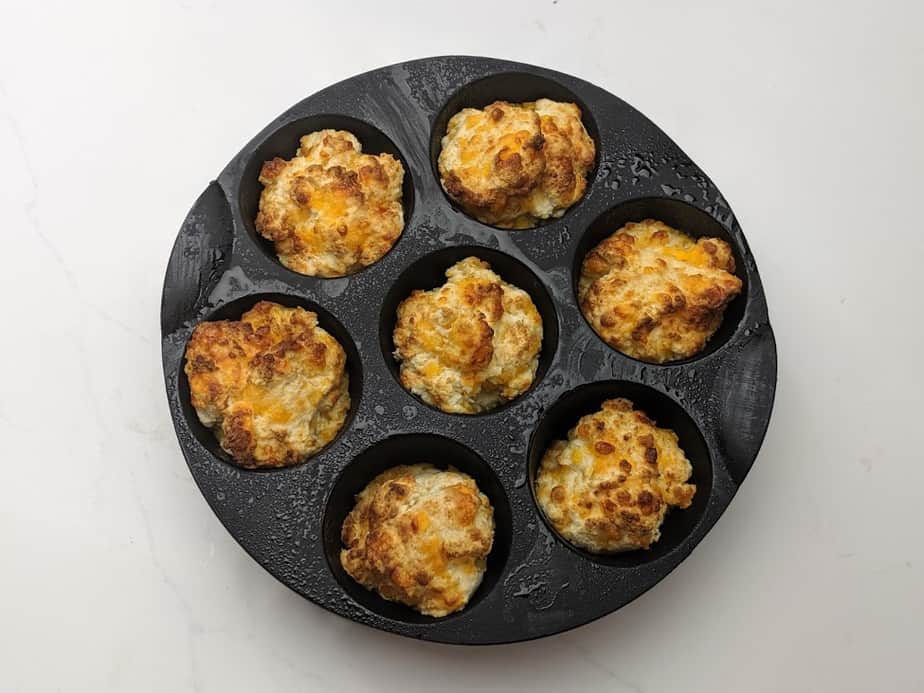 The second batch, I cooked in these silicone baking cups. They turned out doughy on the bottom, so I pulled them out, flipped each biscuit over, and cooked for 5 more minutes. I tried the silicone baking cups again, this time on top of the wire rack. I had to add 2 minutes to the cooking time but they worked out well. This is a great method to use if you have the baking cups.
The last batch, I actually turned into a pizza. I'll have that recipe up soon!
Points breakdown:
Bisquick: 13 Freestyle SmartPoints for 1 cup
Skim Milk: 3 Freestyle SmartPoints for 1 cup
Baking powder: 0 Freestyle SmartPoints
Fat-Free Cheese: 2 Freestyle SmartPoints for 1 cup (17 points for regular!!)
Fat-free margarine: 1 Freestyle SmartPoint for 4 Tablespoons
What to Serve Biscuits With
There are so many unbelievably delicious meals you can serve biscuits with. Here are some low point, Weight Watchers friendly options I've come up with:
Chicken Broccoli Cheddar Soup – 4 Freestyle SmartPoints
Beef Stew – 6 Freestyle SmartPoints
Caramelized Onion Soup – 1 Freestyle SmartPoint
Baked Potato Soup – 6 Freestyle SmartPoints
Turkey Meatball Soup – 0 Freestyle SmartPoints
Chicken Wild Rice Soup – 2 Freestyle SmartPoints
Black Bean Sweet Potato Chili – 3 Freestyle SmartPoints
Weight Watchers Chili – 0 Freestyle SmartPoints
Print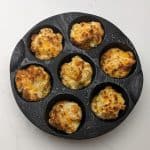 Healthy Cheddar Bay Biscuit Copycat Recipe
---
Description
This healthy Cheddar Bay Biscuit copycat recipe is sure to satisfy your tastebuds without breaking your point bank! They're SO FAST to make, too!
---
1 cup Bisquick Heart Smart Pancake and Baking Mix
1/2 cup skim milk
1 teaspoon baking powder
1 cup fat-free shredded cheddar cheese
4 Tablespoons fat-free margarine
1/4 teaspoon garlic powder
1/4 teaspoon parsley flakes
---
Instructions
Preheat Ninja Foodi to 375*F. Oven = 400*F
Combine pancake mix, milk, and cheese in a medium bowl until dough forms.
Divide dough into 16 equal portions. Do not form them into perfectly round balls.
Bake in Ninja Foodi on a wire rack or in a mini metal dish for 5-7 minutes or until cooked through.
While biscuits are baking, combine melted margarine with garlic powder and parsley flakes. Brush butter mixture over the top of biscuits as soon as they finish cooking.
Notes
1 Freestyle SmartPoint per serving, 21 Freestyle SmartPoints for the entire batch of 16 biscuits.