There is nothing like the smell of a chicken roasting. Makes me think of summertime, swimming pools and having friends over. The house fills with warmth, and the kids all want some. I have cooked a lot of chicken in my 46+ years. I have tried many different recipes from the beer can chicken to basting it every 20 minutes, and I have found this is the one I love the most. This recipe is a combination of a few recipes and makes the best overall Herb Roasted Chicken. Using this recipe, your chicken will always be moist and delicious on the inside and crispy on the out. Pure perfection served up in no time thanks to the Ninja Foodi.
I'm so happy you're here. 🙂 Note: Smiley's Points participates in affiliate programs. That's how the bills get paid! There is no additional charge to you and I only recommend products I know and love.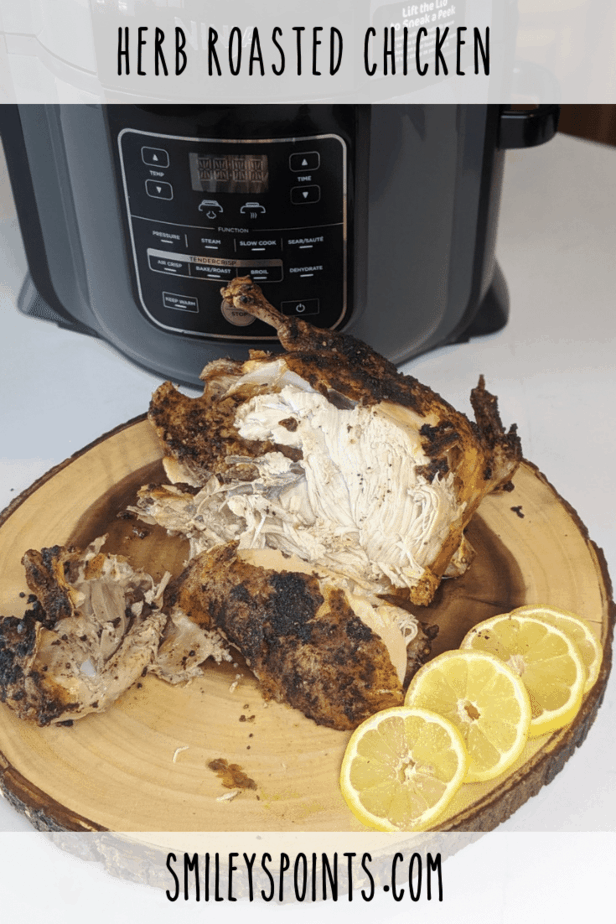 Herb Roasted Chicken
Ladies and Gents you are in for a treat! We are sharing one of, if not THE BEST, chicken recipes ever. I am talking about a golden brown color, savory flavor that usually only comes from hours of slow cooking. We were so impressed with the ease of making our Herb Roasted Chicken, along with the incredible taste, we just had to share it right away.
Now I know what you are thinking, "I already have the perfect chicken recipe. I use it all the time to make my own best chicken". Let me tell you why you should give ours a try. We have been in the kitchen working hard to tweak our already great recipes, combining them and experimenting so that we could make the absolute juiciest, most flavorful chicken on the planet.
Don't take my word for it, try our recipe, and if you don't love it, you can always go back to your old one. Believe me; it is worth giving it a go. You will not be disappointed. There are little changes we have made with measuring out some of the spices so you won't add a little too much pepper or your pinch of salt should have had just a bit more salt in it. We are taking the guesswork out of making amazing Roasted Chicken every time. With the addition of the Ninja Foodi get prepared for indeed, the best tasting roasted chicken in less than an hour 🙂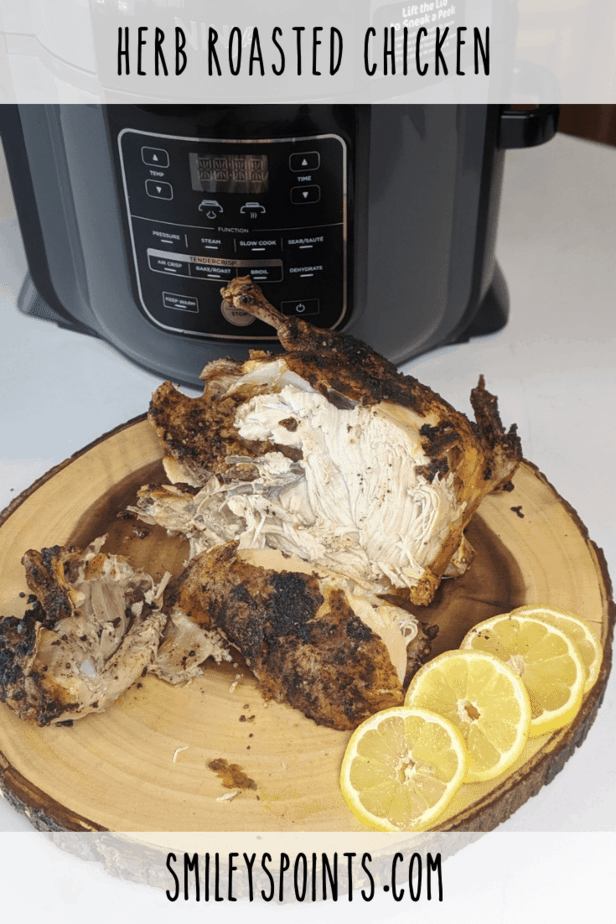 Herb Roasted Chicken Breast
You can use this recipe for cooking different parts of the chicken as well as the whole thing as we show here. The healthiest option is to cook only the breast. Use the same seasonings and cooking time, using 4-6 chicken breasts and you will have the juiciest, tastiest meal in no time at all. Chicken breast is the lowest in fat content and has a higher amount of protein than any other part of the chicken. Roasted chicken breasts absorb the spices and flavors very quickly; and when made correctly, they are not dried out. Follow our recipe, and you will have the perfect herb-roasted chicken breast or whole chicken in no time at all.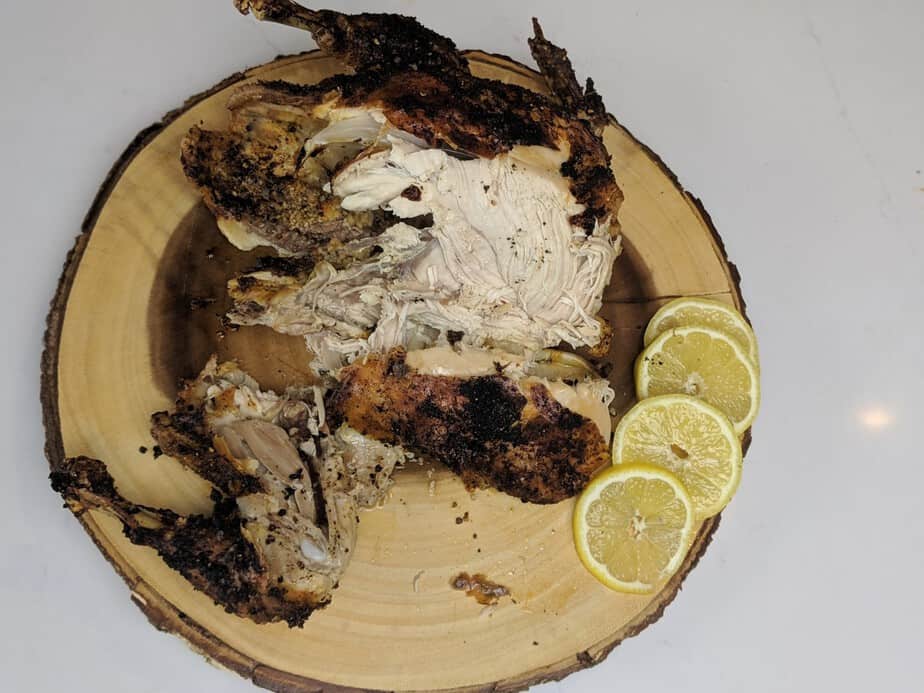 Chicken freezes and keeps very well. It also reheats quickly. Now that chicken breast is 0 points on WW Freestyle program, we are using it a lot more in main dishes and as snacks. To complete this meal, add corn on the cob, or use the leftover chicken for chicken salad or one of the other dishes mentioned. We have created a recipe that makes all other recipes using our Herb Roasted Chicken taste fantastic.
The Instant Pot has been a big help in my wife and me losing weight. Meal planning has been an essential factor in our success with Weight Watchers. We are short on time, so we joined Instant Pot for Weight Loss and it jump started our weight loss in a BIG WAY! If you're intimidated by your electric pressure cooker, this is a way to get over it… fast. 🙂

Also check out my Ultimate Instant Pot Weight Watchers Guide and my 30 day weight loss results with Noom.
Leftovers
Use herb-roasted chicken in place of my zero-point spicy chicken breast recipe in chicken salad and give your salad a different taste altogether. If you like the kick of the spicy chicken and the flavor of the herb-roasted chicken, try combining the two recipes. (I may do that and share it here in the future)
How Many Points in a Whole Chicken?
Blue Plan
1 Chicken Breast (skinless) 0 points
1/2 Chicken Breast (with skin and bones) 4 points
Chicken Leg Quarter with skin(leg and thigh) 6 points
Chicken Leg Quarter without skin 5 points
Chicken Wing Cooked with skin and bone 6 points
Chicken wing rotisserie without skin 2 points
Green Plan
1 Chicken Breast (boneless skinless) 4 points
1/2 Breast (with skin and bones) 4 points
Chicken Leg Quarter with skin (leg and thigh) 6 points
Chicken Leg Quarter without skin 5 points
Chicken Wing Cooked with skin and bone 6 points
Chicken wing rotisserie without skin 2 points
Purple Plan
1 Chicken Breast (skinless) 0 points
1/2 Chicken Breast (with skin and bones) 4 points
Chicken Leg Quarter with skin(leg and thigh) 6 points
Chicken Leg Quarter without skin 5 points
Chicken Wing Cooked with skin and bone 6 points
Chicken wing rotisserie without skin 2 points
There is a big difference between eating the skin and not. Plan your meals accordingly.
I don't take the skin off of wings when I eat them so there are 2 more points added
Whole chicken with skin 56 points
Whole chicken skinless 16 points
Other Great Recipes
Best Low Point Dressings
Weight Watchers Friendly Ranch Dressing
Chili Cornbread Casserole
23 Point Meal Plan
Print
Herb Roasted Chicken in the Ninja Foodi
---
Description
Herb roasted chicken cooked in the Ninja Foodi with tender crisp
---
1

5-7lbs whole chicken

1/4 cup

lemon juice

1/4 cup

hot water

1/4

cup Splenda (your favorite sugar substitute. Or use honey don't forget to count your points :))

2 tbsp

salt

1 tbsp

black pepper

1/2

tbsp garlic powder (you can use fresh garlic cloves crushed)

1 tbsp

olive oil (use your favorite oil 🙂 or cooking spray)

1 tbsp

whole peppercorns

1 tbsp

smoked paprika

1 tbsp

chili seasonings
---
Instructions
Clean your chicken, removing the giblets and neck. rinse well, tie legs together using cooking string.
Place peppercorns and garlic into the pot (if you used fresh garlic)
In a small bowl mix together lemon juice, how water,sweetener, and salt pour mixture into the pot (if using garlic powder add it here)
Place chicken into the air crisp basket and put it into the pot
Place pressure cook lid on and make sure the valve is in the seal position.
Pressure cook on high for 20 minutes
Quick release and remove the lid
Brush chicken with oil or spray with cooking spray
season with salt, pepper, smoked paprika and chile seasonings
close the crisping lidset temp. to 400 degrees and set time to 30 minutes
at 25 minutes check to see if it is crisp enough for you if not close the lid and let it cook the additional 5 minutes.
Remove chicken and let it rest for 10-15 minutes, Enoy
Category:

Main Course

Cuisine:

American