I love meal planning! It sets my week up for success every time. This zero point spicy chicken is perfect for meal planning, because it's so versatile. You can use spicy chicken in your omelets for breakfast, or mixed with some sriracha mayo for spicy chicken salad for lunch. It is a delicious full-flavor salad topper, too!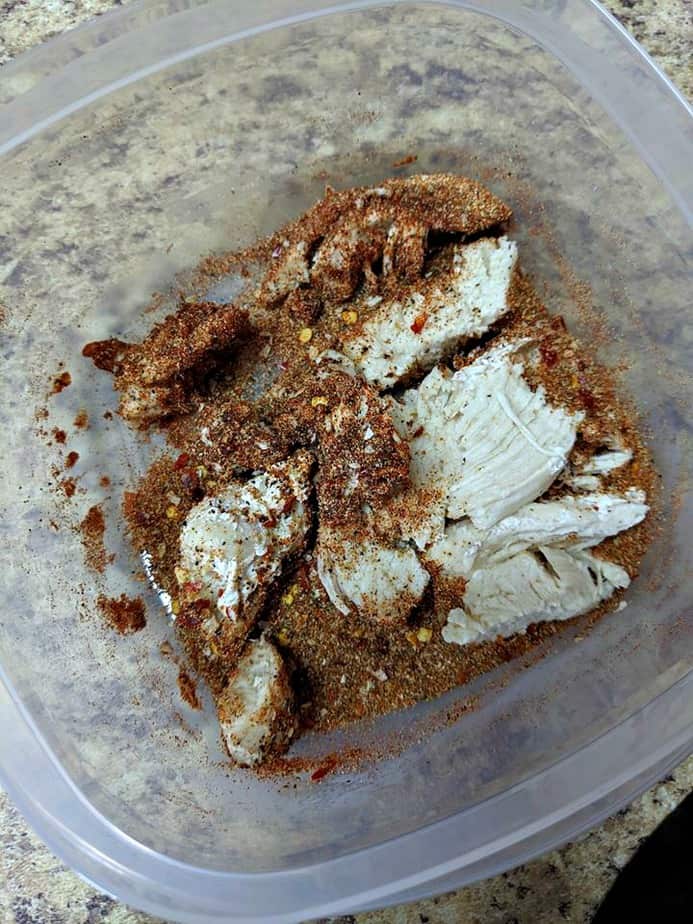 Zero Point Spicy Chicken
Scroll to the very bottom of this post for the spicy chicken recipe by itself. This is a great recipe if you're doing a zero point day or even if you're just wanting to use your points on something else (like this low point margarita).
BLUE PLAN: Zero Points

GREEN PLAN: 5 Points

PURPLE PLAN: Zero Points
3 Ways to Use Zero Point Spicy Chicken
You can use this chicken in many ways but these are three we tried this week and LOVE.
Salad With Spicy Chicken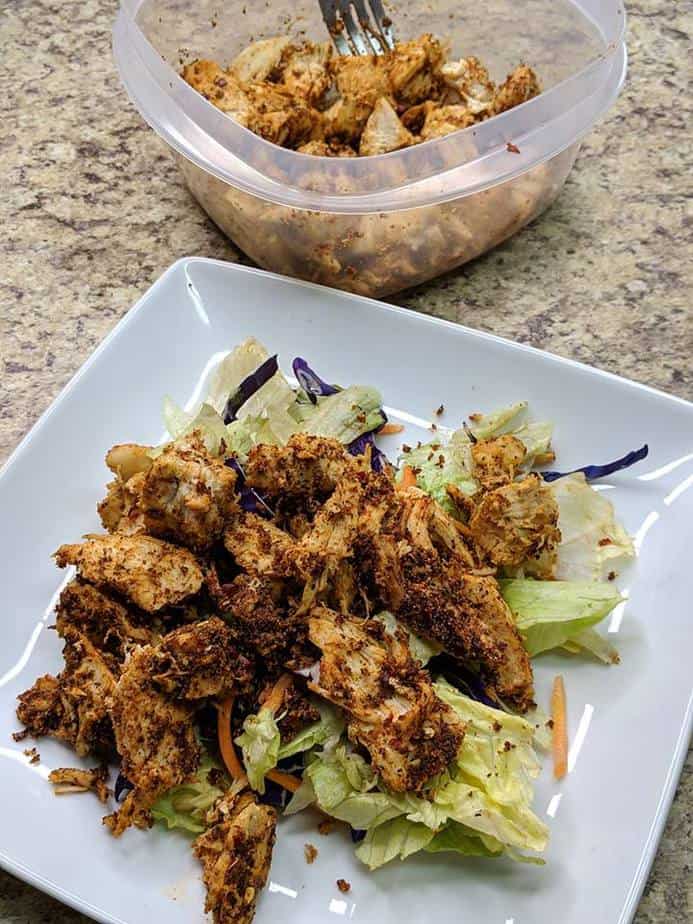 Prepare salad as usual, top with spicy chicken.
Spicy Chicken Tacos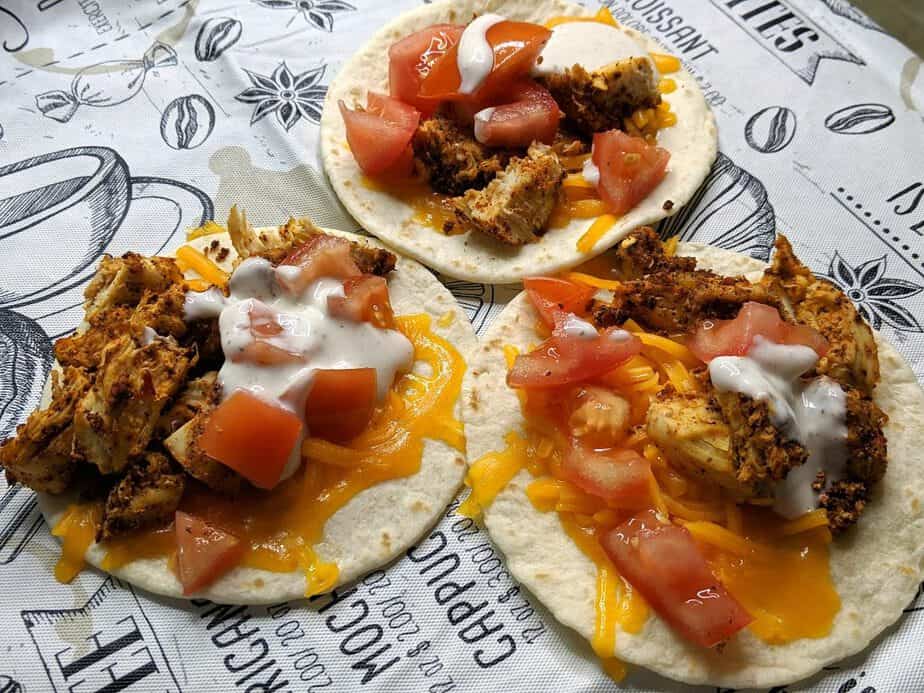 Additional Ingredients for Spicy Chicken Tacos
1 tomato diced
½ cup fat free cheese
3 low point tortillas
1 tablespoon of zero point yogurt with 1/2 teaspoon garlic salt mixed in
Spicy Chicken Taco Instructions
After you chop the chicken or cut into strips, add chicken to the bowl and toss to coat the chicken pieces.
Warm the tortilla for 30 seconds in the microwave or 10 seconds each side in a warm skillet.
Put chicken and tomatoes on the tortilla add a dollop of garlic yogurt and enjoy!
Spicy Chicken Salad
What do you do with your leftover chicken? Weight Watchers friendly chicken salad is our go to for all leftover chicken. This quick and easy recipe makes it a cinch to use up those leftovers. Our Weight Watchers friendly chicken salad also makes a low point, tasty lunch. 🙂
Leftovers make great low point lunches and dinners. My Instant Pot boiled eggs are the base for this dish. Combine them with my Spicy Chicken and 4 teaspoons of reduced fat mayo, some celery and onions, and you have a quick and easy snack. For a little extra kick, add some Sriracha or a jalapeno pepper diced. MMM now you are speaking my language.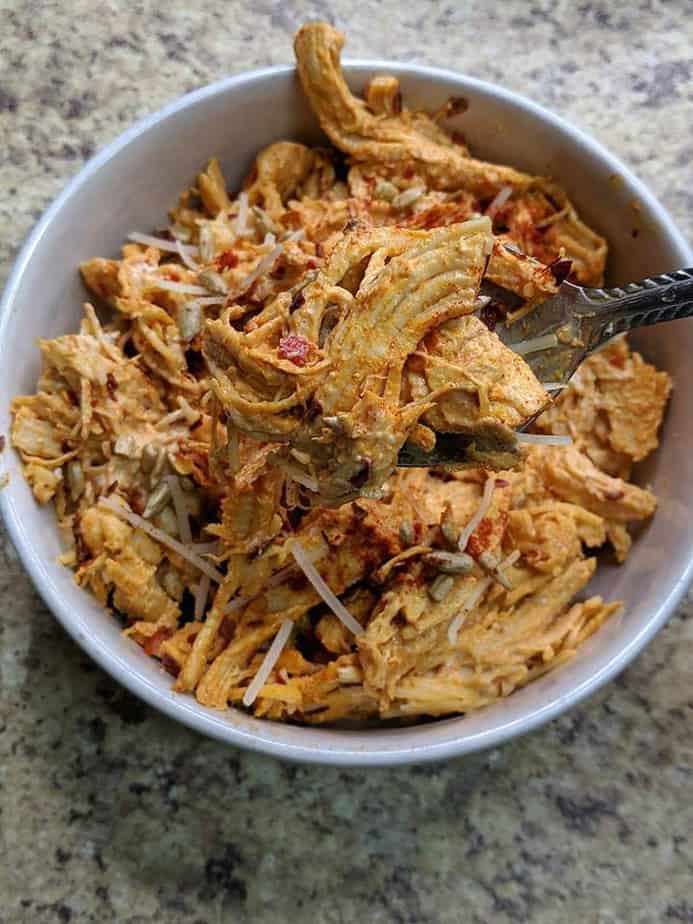 Additional Ingredients for Spicy Chicken Salad
1/2 cup spicy chicken
3 tablespoons fat free mayo (3 BLUE POINTS)
1 teaspoon sriracha
4 boiled eggs diced or smashed with a fork
1 tablespoon dry roasted sunflower kernels (1 BLUE POINT)
fat free shredded cheese to taste
1/4 cup of celery chopped
2 oz onions diced
1/2 teaspoon of pepper
Additional Instructions for Spicy Chicken Salad
Prepare chicken per instructions below. Add low point mayo and sriracha and mix.
Print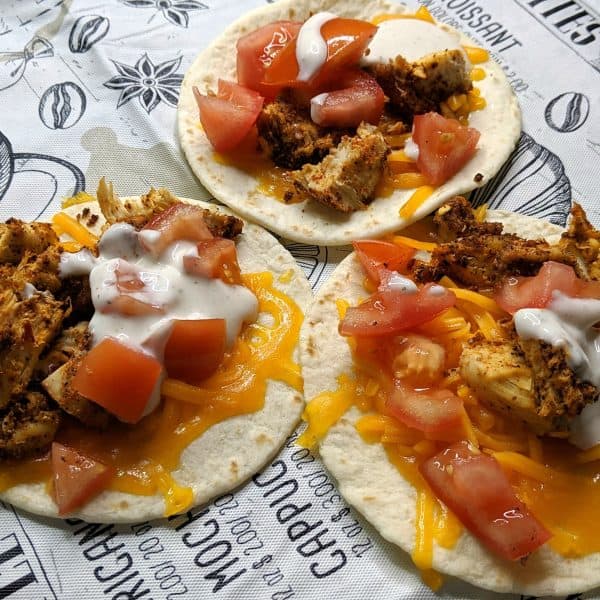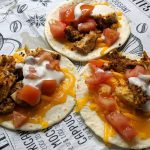 Zero Point Spicy Chicken + 3 Ways to Use It
---
1 cup

of water

3

chicken breasts

2 tablespoons

of smoked paprika

2 tablespoons

garlic powder

2 tablespoons

onion powder

2 teaspoons

crushed red pepper

1 teaspoon

parsley flakes
---
Instructions
Place chicken breast in the Instant Pot with 1 cup of water. For 10 minutes if frozen, 8 minutes if thawed.
While that cooks in a small bowl mix paprika, garlic powder, onion powder, crushed red pepper flakes and parsley flakes.
After the chicken is done do a quick release
Chop chicken or cut into strips add chicken to the bowl and toss to coat the chicken pieces