We have been on a cauliflower kick lately and wanted to share our new Loaded Cauliflower Casserole recipe. Cauliflower is a great substitute for potatoes or pasta. Cauliflower almost replaces potatoes in every way, almost. We are big fans of potatoes but we know that there are healthier options. Healthier doesn't always have to mean you lose flavor.
18 points for the entire dish 6 servings 3 points per serving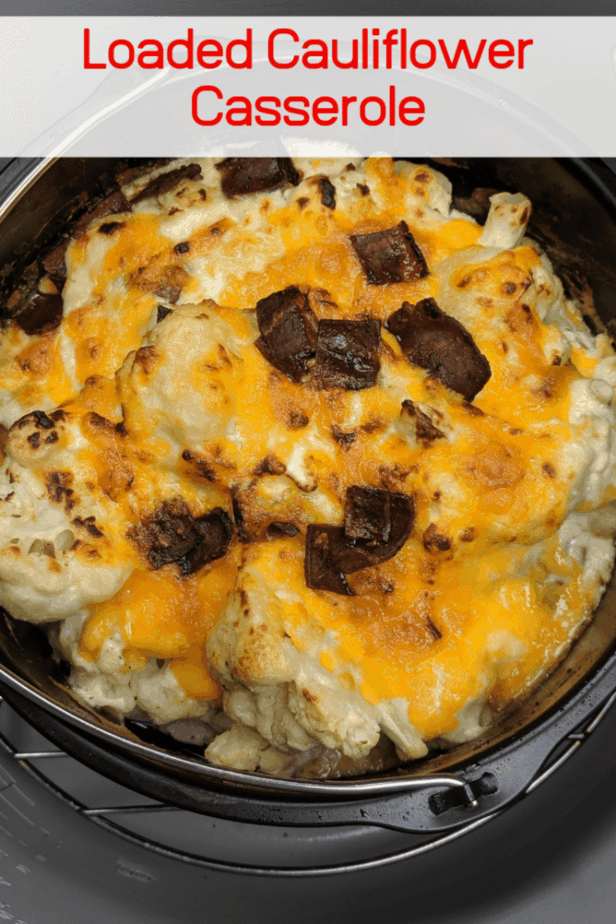 Loaded Cauliflower Casserole
BLUE PLAN: 3 Points

GREEN PLAN: 3 Points

PURPLE PLAN: 3 Points
We started Smileys Points with the intent of sharing great tasting recipes that will make you smile. If a recipe is lacking in flavor, it does not make us smile and we assume that it will not be on your favorites list either. We are counting the points using the Weight Watchers Freestyle program, but truthfully this dish is good enough to be served even if you aren't counting points. If you are looking for a delicious meal, that is healthy and filling you have found it. Trying to find new ideas for the same old veggies can be a challenge. This is a real winner. If you have not tried any of my recipes in a while you really must try this one! Even our 12-year-old loves my Loaded Cauliflower Casserole. Forget the loaded potato casserole and make this lower carb better-tasting version with cauliflower. I used the Ninja Foodi to make this recipe but scroll down a bit I included the instructions for making it in the oven 🙂 I make a few smaller batches and portion it out, this recipe will make more than will fit in the Foodi baking pan at one time. If you have more than one pan that will fit in the Foodi you can use the reversible rack and layer your pans and cook 2 batches at once.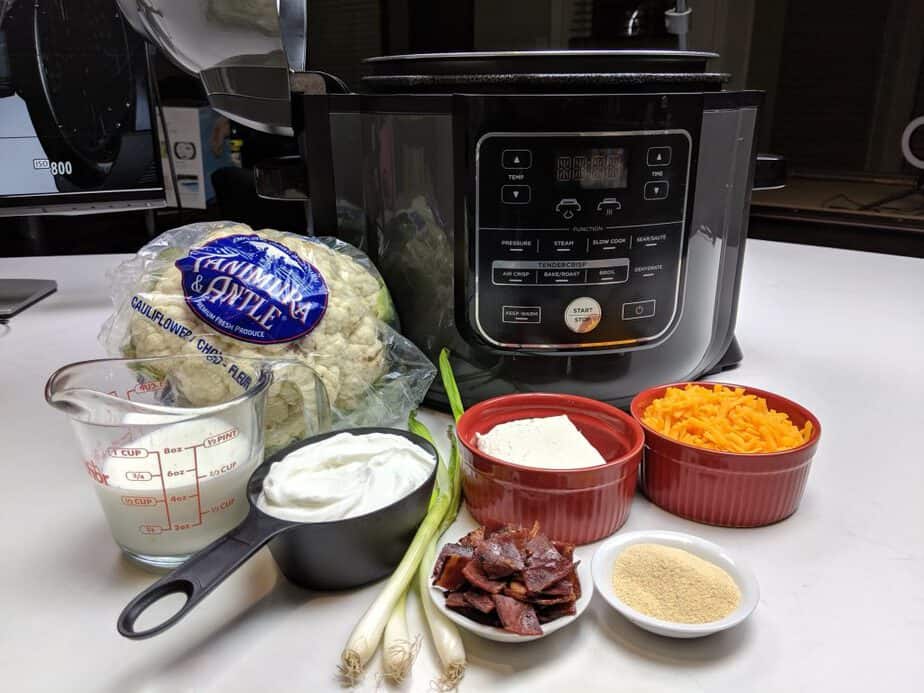 Can you use frozen cauliflower in Loaded Cauliflower Casserole?
Yes, you can! Follow the instructions for steaming the cauliflower and drain it very well. Next, follow the recipe the same as using fresh cauliflower. Frozen cauliflower is more economical, saves you time and is easier to measure. It is already cut into florets saving you time during preparation also.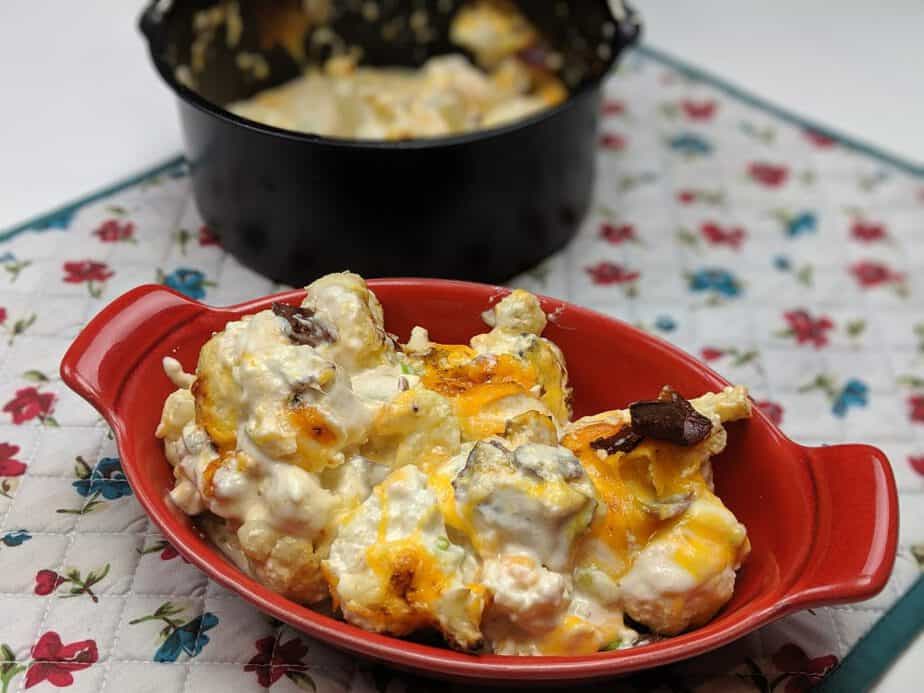 Can you prepare Loaded Cauliflower Casserole ahead of time?
In a hurry? You can steam the cauliflower ahead of time. As a matter of fact, you can prepare the whole dish in advance. All you have to do is cover with plastic wrap and store in the refrigerator. Take it out and set it on the counter for about thirty minutes to warm up a bit. Then into the oven, it goes for twenty-five minutes before serving.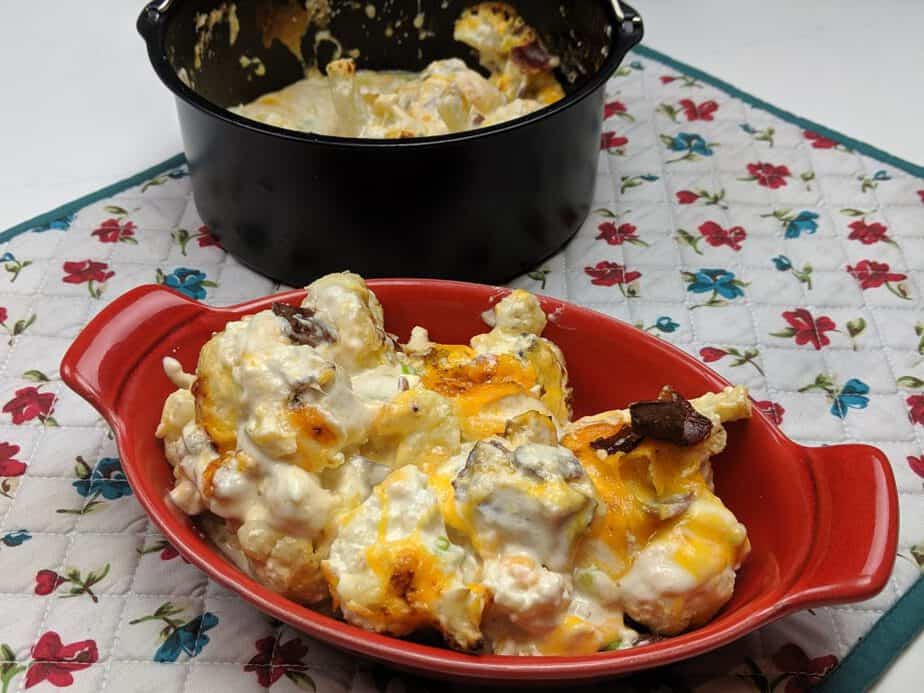 How do you make Cauliflower Casserole in the Oven?
Start by steaming your cauliflower until fork tender I steamed them for 5 minutes. Then drain well because you don't want any added moisture in this dish, it will be watery if you skip this step. I use a steamer basket so the cauliflower isn't sitting in the water this helps a ton with the consistency. In a large bowl mix together the fat-free cream cheese, fat-free sour cream, 1/2 of the fat-free cheddar cheese, 4 slices of turkey bacon, and garlic powder until smooth and creamy. Slowly and gently stir in the steamed cauliflower, and 1/2 of the chives. Spoon into a casserole dish and top with a little more bacon and the rest of the cheese. Bake until the cheese is melted. Garnish with remaining chives and serve hot. I didn't get to garnish with chives for the pictures because my family smelled it cooking and came from their respective rooms to eat it all. Tonight it was the main course 🙂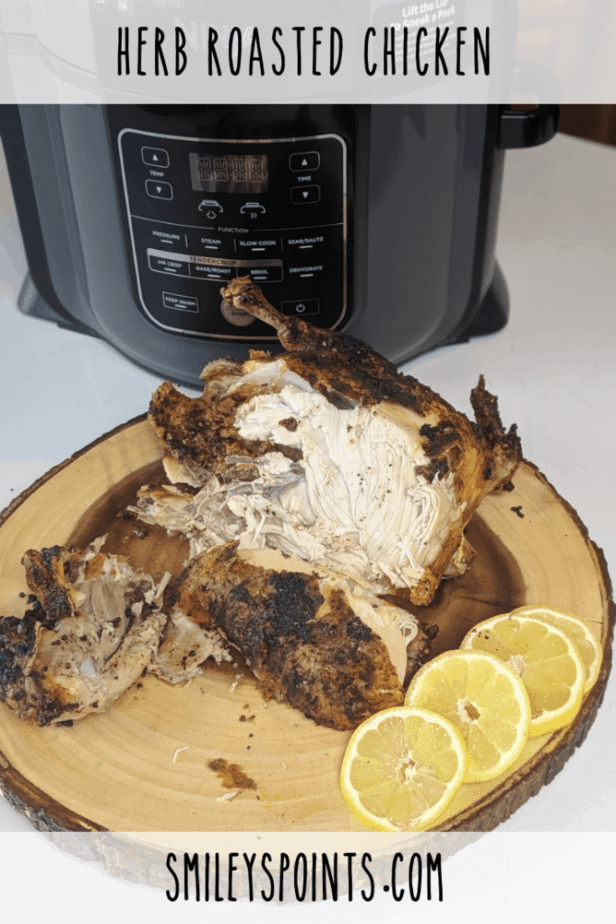 What to serve with Loaded Cauliflower Casserole
I have made this as a main dish or as a side dish. If you want it as a side it pairs well with just about anything try them with Herb Roasted Chicken, you won't believe how amazing this pairs with my roasted chicken give it a whirl.
Turkey and Sweet Potatoes, Want to jazz up your turkey? My cauliflower Casserole is sure to please as a side paired with sweet potatoes. Grab some chicken strips and Cauliflower Casserole and you have a quick lunch the kids will love. BBQ Chicken Strips. You cant go wrong adding these as a side to your meals.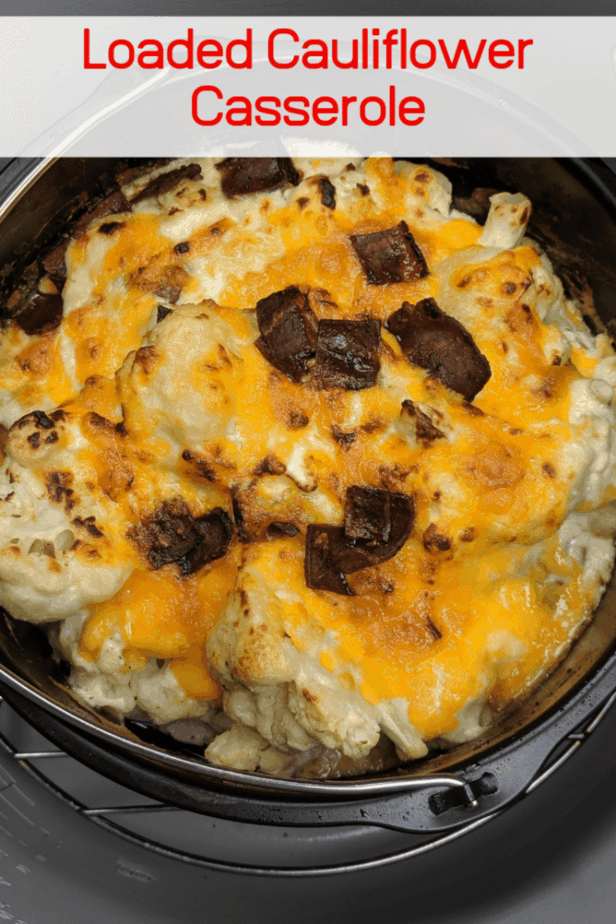 Print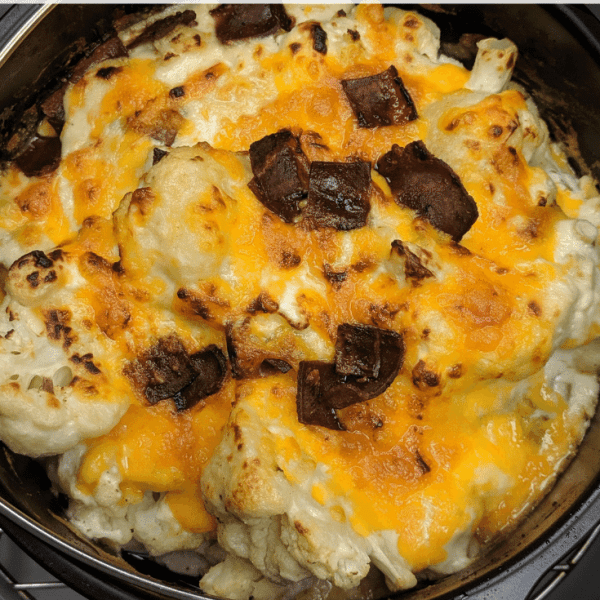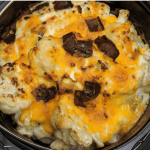 Loaded Cauliflower Casserole
---
Author:

Yield:

6

servings

1

x
3

slices Turkey Bacon (

3

points)

1 1/2 tablespoons

Garlic powder

3

Green onions chopped

4 cups

Cauliflower cut into florets
Salt & pepper to taste

1 cup

Fat-free Cheddar cheese (

4

points)

4 oz

Fat-free Cream cheese (at room temperature

4

points)

1/2 cup

Skim milk (

2

points)

1 cup

Fat-free Sour cream (

5

points)
---
Instructions
Pour 1 1/2 cups of water into the Ninja Foodi
Place cauliflower florets in a steamer basket ensure the Foodie is set to vent!!!
Press steam and set the timer for 5 minutes
Steam Cauliflower florets for 5 minutes remove and set aside.
Cook the bacon in a medium nonstick skillet over medium heat, turning occasionally, until brown and crispy, 6 to 7 minutes. Cool and cut into pieces.
Put the cauliflower florets Foodi baking pan.
Toss with 3/4 teaspoon salt and 1/2 teaspoon pepper. Air fry until the florets are soft and begin to brown, about 15 minutes.
Preheat Foodi to 400 degrees.
In a large bowl mix together the fat-free cream cheese, fat-free sour cream, 1/2 of the fat-free cheddar cheese, 1/2 cup of milk, 1/2 of the chopped turkey bacon, and garlic powder until smooth and creamy.
Spoon over the cauliflower, toss lightly then sprinkle with the remaining 1/2 cup cheese and bacon pieces
Place in the Foodi and close the crisping lid.
Press bake set temp to 400 and set the time to 7 minutes
Bake until the cheese is melted and bubbly, check after 5 minutes and if needed bake for 2 minutes longer.
Top with scallions for garnish and enjoy.
Category:

Main Course, Side Dish