Skip the taters and the deep-fryer in favor of this quick and healthy recipe for Baked Cauliflower Tots. Are you having trouble getting the little ones to eat their veggies? You are in luck because now your baked cauliflower tots will do the trick. (Just don't tell them it made from a veggie.) The new zero point list on Weight Watchers freestyle has changed the game for us. We can now have eggs and chicken breast without guilt. One of the wonderful things about this program is you can eat what you want (in moderation of course) and still lose weight.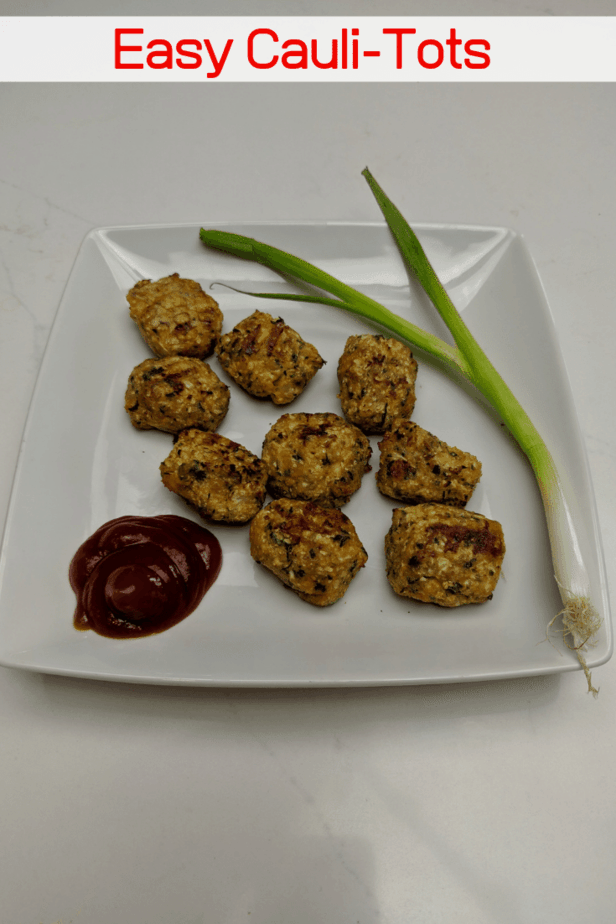 Cauliflower Tots
BLUE PLAN: 2 points for 8 of them

GREEN PLAN: 3 points

PURPLE PLAN: 2 Points
My wife loves potatoes in all of their forms, with the exception of sweet potatoes, but I love them so together we cover all of the potatoes. We want to eat healthier and live longer so we have been exploring better options. We still want quick, easy finger foods that we can snack on or use as a side dish. We came across a few recipes for cauli-tots that were missing the mark when it came to flavor and crispness. We followed the instructions to the letter but still could not get that crisp outside and hot tender inside we were looking for. So in true Smiley style, I got to experimenting and came up with some great Cauliflower tots that are baked, not fried, which keeps them lighter, and allows the edges to crisp up and gets the cheese a little toasty. I am getting hungry for these just writing this.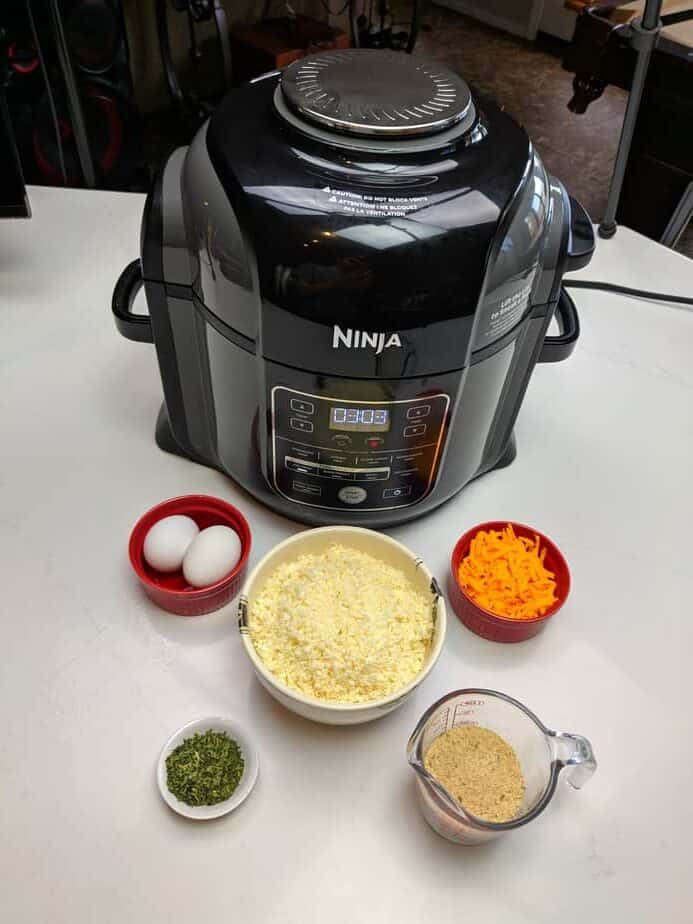 Gluten Free
I had to take a break and get some:) I am back now lol. Cauliflower Tots are going to become your family's new favorite side dish. Cheesy, crispy, and a totally kid-approved, our 12-year-old loves them, these are the best alternative to traditional tater tots I have found that the kids and wife both like. You don't even have to tell them cauli-tots are veggie-packed and gluten-free. I sit back and enjoy the smiles these little tots put on my family's faces when I make them. Whoever thought you could make veggies taste so good? I hope my mom isn't reading this next part 🙂
What are Cauliflower Tots?
These tasty little finger food bites are the veggie alternative to tater tots made with shredded cauliflower instead of shredded potatoes. This recipe was inspired by Buffalo Cauliflower Bites. I got to thinking what else can I do with cauliflower? Well as I said earlier, my wife loves potatoes, so using cauliflower as an alternative has really changed how we eat and making healthier decisions has become a goal for us. Don't read the next line mom. I wish my mom had discovered how to make these when I was younger. I would have gladly eaten my "veggies" then. Well, maybe not all of them ;).
Print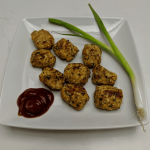 Baked Cauliflower Tots
---
Description
A delicious potato alternative.
---
2 cups

riced cauliflower

2

large eggs

1/2 cup

onion (minced or

1/4

c. onion powder)

3 tbsp

minced fresh parsley

1/2 cup

reduced-fat sharp cheddar cheese (grated)

1/2 cup

seasoned breadcrumbs (can substitute with gluten-free bread crumbs)
---
Instructions
To cook the cauliflower florets, steam a little over 2 cups riced cauliflower over a 1/3 cup water covered for 4 to 5 minutes or until tender but not mushy, then drain well and dry on paper towel. Using a knife, finely chop and set 2 cups aside.
Preheat air fryer or Ninja Foodi to 375°F using the air fry option on the Foodi.
Spray the nonstick air fryer basket with cooking spray.
In a medium bowl, combine all of the ingredients and season with salt and pepper to taste.
Spoon 1 tablespoon of mixture in your hands and roll into small ovals.
Place in the air fryer basket air fry at 375 for 10 minutes turning halfway through cooking until golden.
Makes about 32 – 34 tots.
Notes
serving size about 8 tots
Category:

Side Dish, Snack