My Aunt makes the best Stuffed Eggplant I have ever tasted. I got her recipe from her and I want to share it with you so you all can enjoy this wonderful dish. I modified it a tad bit to lower the points but I did not change anything that would alter the taste.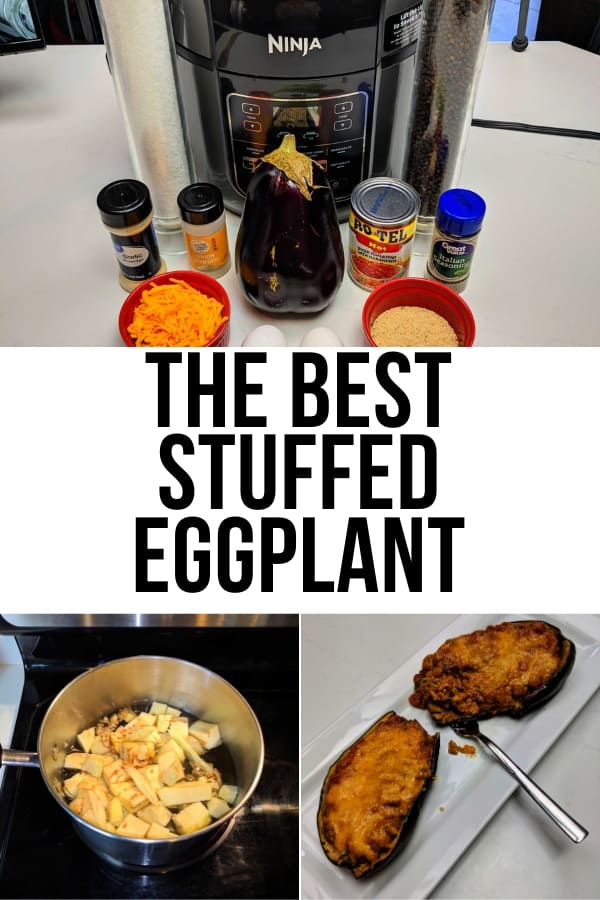 My Aunt has been cooking good home southern food for her whole life and I am lucky enough to not only get to eat all of her cooked meals but I get the recipe so I can make it in my kitchen too. Now you know she adds a little of this and a little of that to the mix well I got all of the spices and seasonings she uses right here 🙂
Stuffed Eggplant
BLUE PLAN: 4 Points

GREEN PLAN: 4 Points

PURPLE PLAN: 4 Points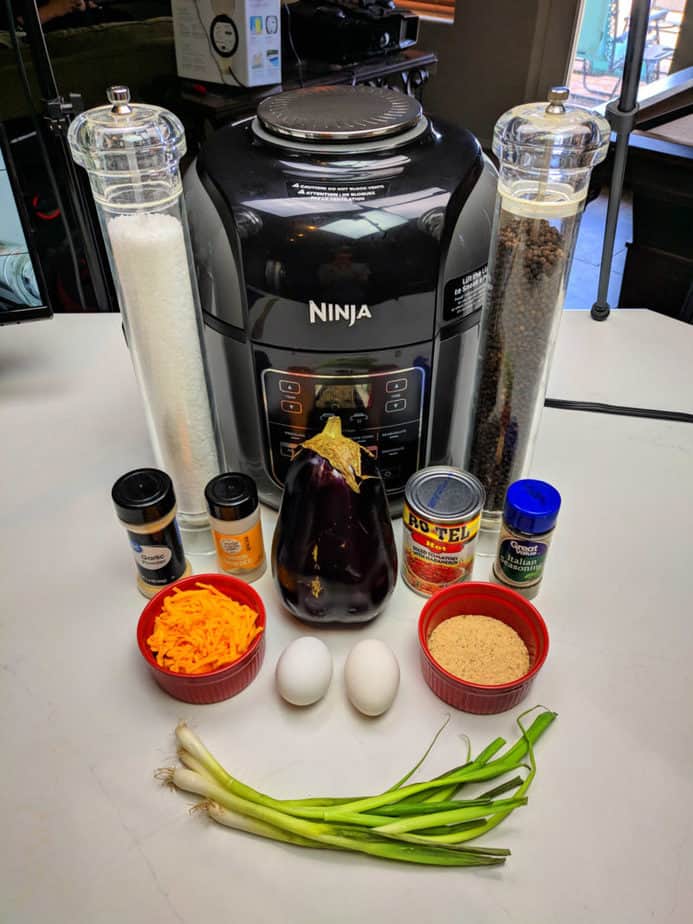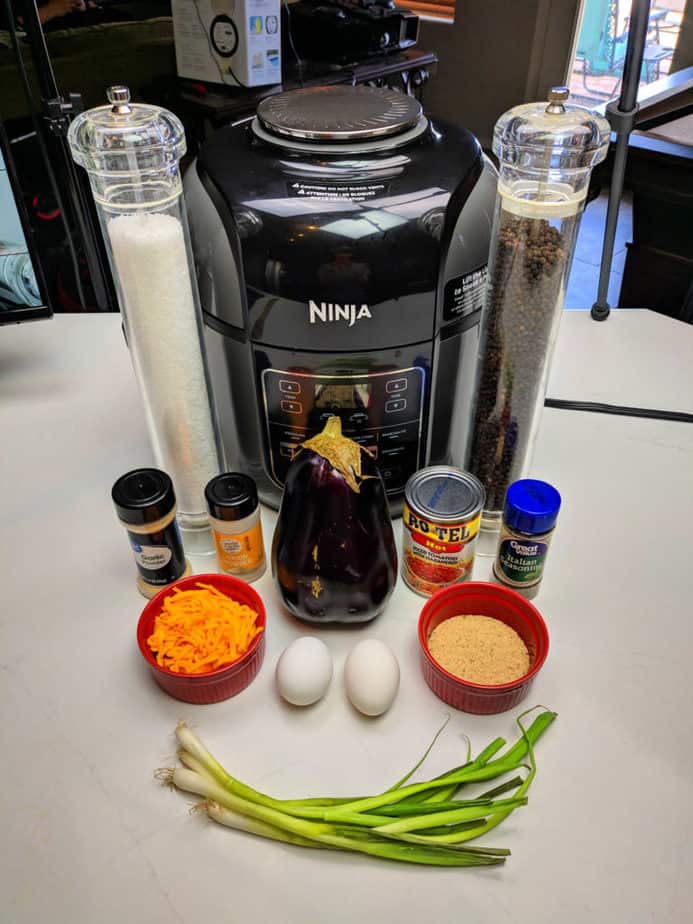 Try out the recipe and then next time add or subtract as you see fit to create a flavor all your own. (you can even say it is your recipe:) I have always been amazed at how my mom and aunt's dishes always come out perfect and full of flavor. What I didn't know is that they both have done Weight Watchers in the past with success. They have always stressed eating healthy and making sure I am taking care of myself. Now they know I am cooking their meals for my family and sharing them with you my extended family.
The Best Eggplants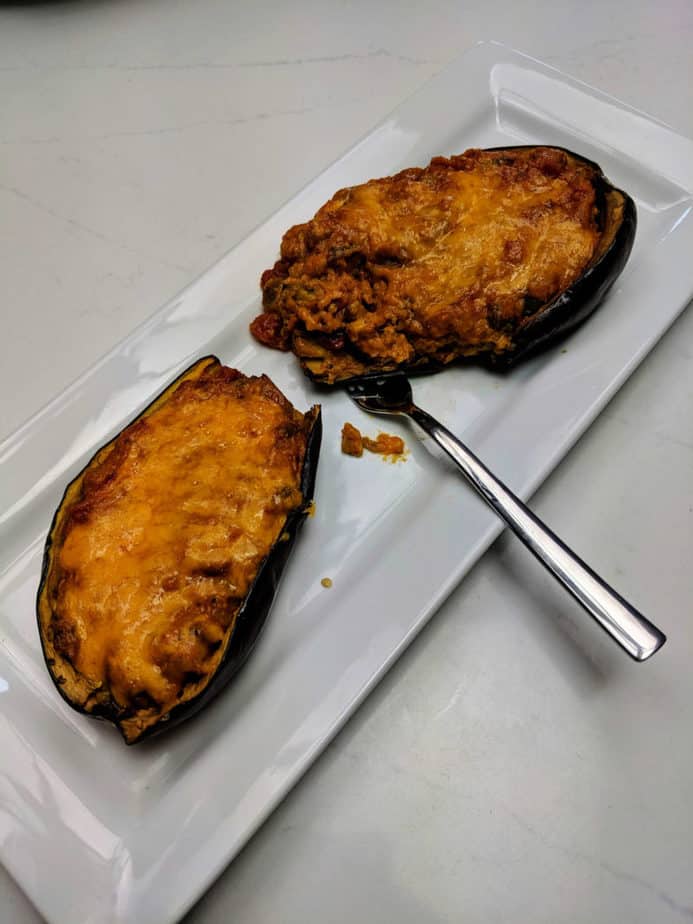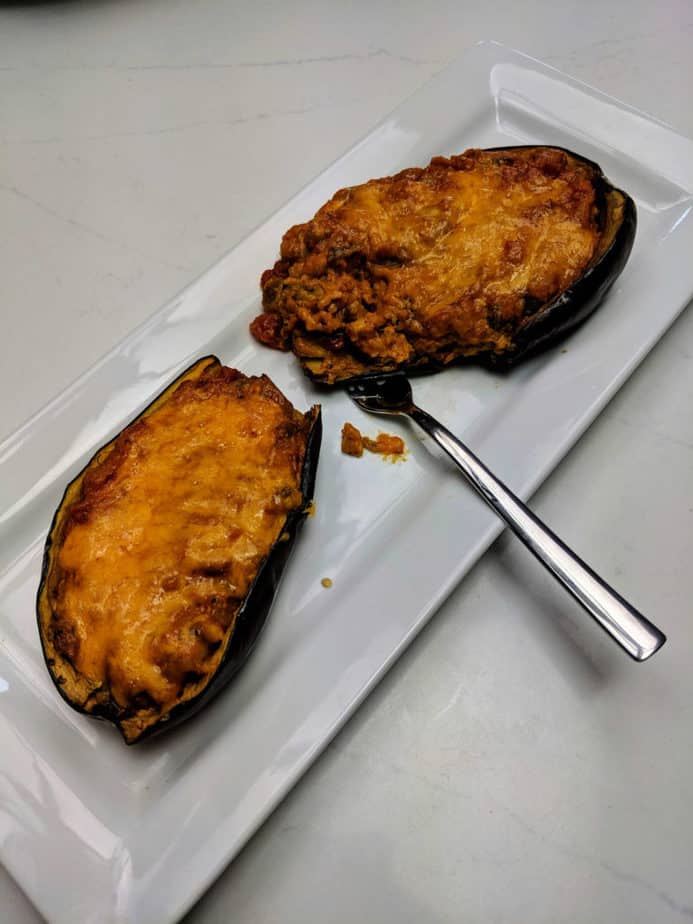 When choosing an eggplant for stuffing, it's important to know that some varieties and sizes work better than others. I use Italian eggplants because they are multi-purpose and are the best picks for this recipe. They're large and sturdy enough to be turned into boats, with bulb-shaped bottoms that can hold a lot of filling. The key is leaving about a 1/2-inch border around the outside of each eggplant half, which ensures the boats are sturdy enough to be filled. Just use a spoon to scoop out the flesh but make sure there is a bit left to keep the boat intact.
Do You Have Leftovers?
Leftovers can be refrigerated in an airtight container for up to 4 days making this a meal you can take for lunch the next day and your points are already counted. Tracking and meal planning all in one. 🙂 I love it when the points are already calculated saves time and frustration. For more ideas on saving time check out my freezer meals.
More Great Weight Watchers recipes from Smileyspoints.com
Chicken Chili
Turkey and Sweet Potatoes
Beef and Broccoli Skillet
Air Fryer Egg Souffle
Print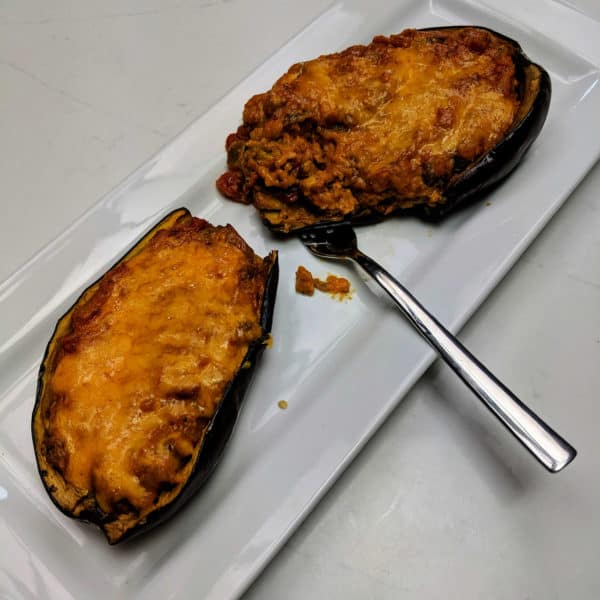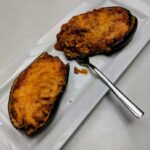 Stuffed Eggplant
---
2 sprays of pan spray
1 large eggplant (unbruised)
1 medium yellow onion, chopped (optional)
1 medium bell pepper (about 1/2 a cup)
1 large can diced tomatoes (15 oz) or 3 large tomatoes, diced
1 Tbs. Italian seasoning
1 tsp. garlic powder
1tsp. onion powder
(salt to taste is optional)
1 cup fat free shredded cheddar cheese (4 points)
1/4 cup of bread crumbs (Panko)(3 points)
---
Instructions
Pre-heat Ninja Foodi to bake at 400. For 5 minutes
Cut eggplant lengthwise.
Scoop out eggplant leaving a thin layer. I leave it about 1/4 inch thick.
Use pan spray to coat the inside of eggplant skin.
Place in the Ninja Foodi air crisping basket
Put in the Ninja Foodi and bake for 10 minutes on 400 set aside
Add 2 cups of water to a pan, add the scooped out eggplant and boil until eggplant can
be mashed. 5-8 minutes
Pour off water. Set aside.
Put the Ninja Foodi on saute med-hi, add pan spray bell peppers and onions, saute until the onions are clear.
Add tomatoes and Italian seasoning, garlic and onion powder, salt
Stir occasionally until ingredients are heated and blended well.
Add mashed eggplant and stir until blended.
Add 1/2 cup cheese. Stir until blended and melted.
Add bread crumbs until mixture is firm but not dry.
Scoop mixture into both eggplant shells evenly.
Top halves with remaining ½ cup of cheese.
Bake in the Foodi for 5 minutes on 400 Or until the cheese is melted
Nutrition
Serving Size:

1/2 eggplant
Keywords: Stuffed Eggplant, Weight Watchers Stuffed Eggplant