Maple Balsamic Boneless Pork Chops
Maple balsamic boneless pork chops is a keeper of a recipe! Just a few ingredients and a few minutes and you will have a delicious dinner on the table.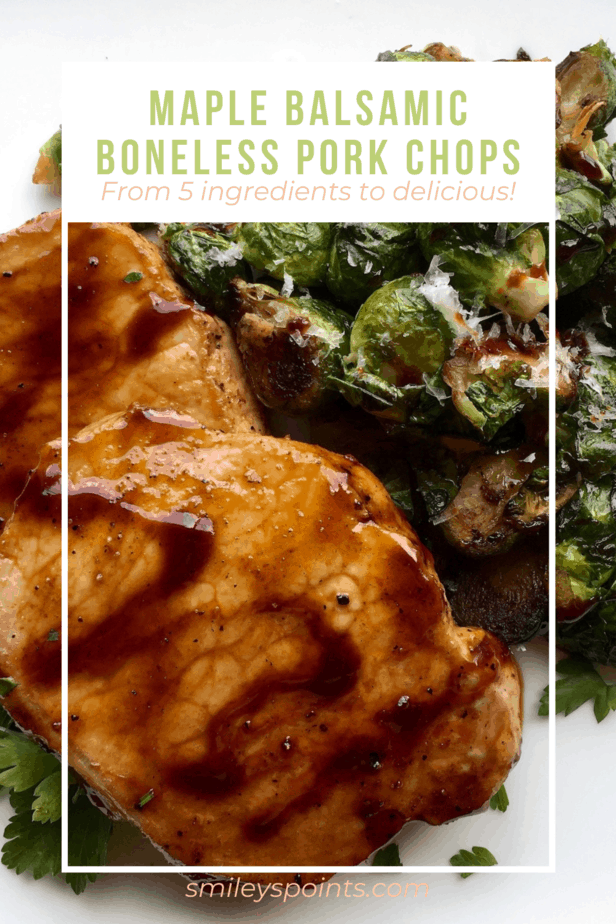 ---
"Healthi formerly iTrackbites is an alternative to Weight Watchers. "

---
5 ingredient dinners are awesome
In our house, we love recipes that have just a few ingredients. As much as I love to cook, there are nights where we want a healthy, hearty, delicious meal but don't want to do a lot of work to put it on the table. Maple balsamic boneless pork chops fit the bill!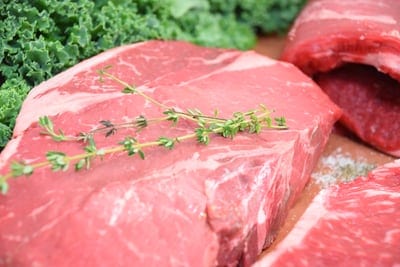 Some helpful cooking tips for boneless pork chops
Boneless pork chops are not difficult to cook, but here are a few simple tips to make it even easier!
First, take your meat out of the fridge before you cook it. You want it to sit out for 30 minutes or so to come to room temperature. This will help it to cook evenly and retain moisture while it's cooking.
Second, use a meat thermometer to keep track of cook time. We all know to take the temperature to see if the meat is done, but if you take it while it's cooking, you can gauge how much longer you need to cook it. Boneless pork chops are recommended to cook to 145ºF. But, it's better to take it off the heat between 140ºF and 145ºF. It will finish cooking as it rests.
Last, let it rest. Boneless pork chops should rest, covered, for 10 minutes before you slice them up. This helps the juices become redistributed back into the meat, making it tender and juicy.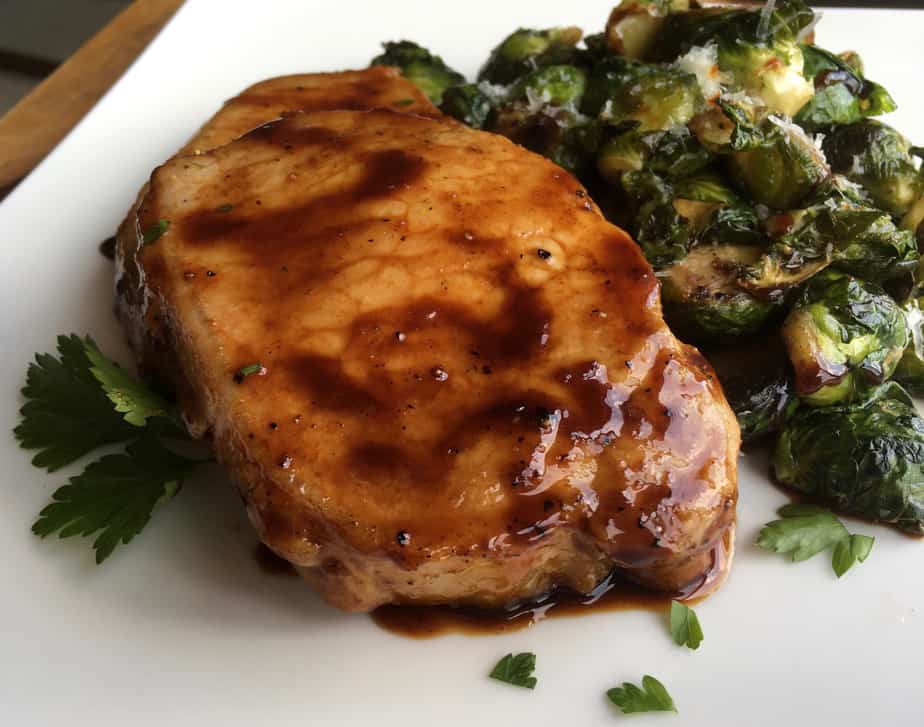 Health benefits of balsamic vinegar
Balsamic vinegar, made from unfermented grape juice, aged in barrels for months or even years, is a wonderful part of a heart-healthy diet. It adds so much flavor with minimal calories. And while it's delish to cook with, there are people who swear by drinking it straight. It has been suggested that it can help with weight loss, lowering cholesterol, and even a glowing complexion.
The most researched benefit is lowering cholesterol. The antioxidants found in balsamic vinegar have been shown to target "scavenger cells" that are toxic to your body. These cells inflate your LDL levels, which is unhealthy cholesterol. Consuming enough of this delicious substance will help your body protect itself against clogged arteries.
The main active compound in balsamic vinegar is acetic acid. This contains strains of a probiotic bacteria which helps to enable healthy digestion and to improve gut health. It's amazing that your maple balsamic boneless pork chop dinner can help with heart and gut health!
If you're diabetic, or worried about your glucose levels, balsamic vinegar is the condiment for you! It can help you to avoid blood sugar spikes after you eat it.
You can learn more about the health benefits of balsamic vinegar here.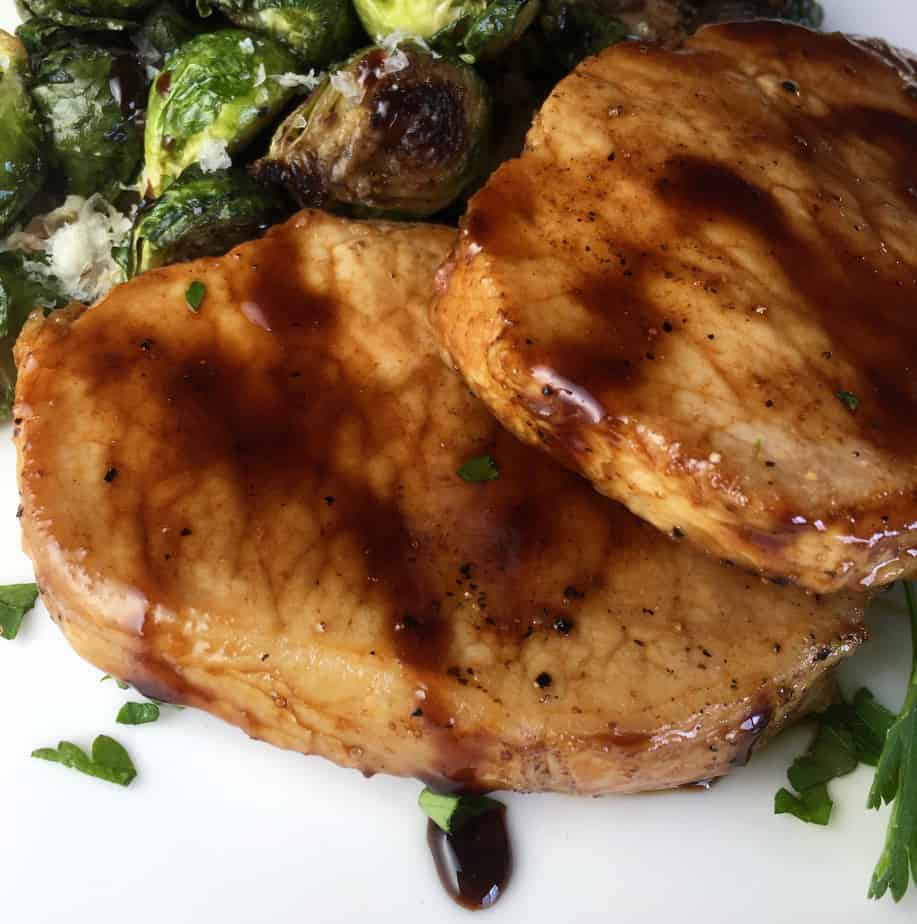 What to serve with maple balsamic boneless pork chops
Now that you have made this delicious dinner, you need some amazing sides to go with it. Cauliflower mash with crispy Brussels sprouts would be perfect if you are living the low carb life. If carbs are your thing, check out these instant pot rosemary and garlic mashed potatoes.
If you're looking for an easy way to manage what you eat, look no further. Healthi formerly iTrackbites is an amazing program! It's super easy and very affordable.
cost: Healthi formerly iTrackBites costs $36 for the year (using this link for 40% off makes it $36 – use COACH_SMILEY to save!!), WW is $20+ for the month, and it's the same formula and less options
choices: I can choose PointsPlus, Freestyle, or any other plan I want with Healthi formerly iTrackBites. Even with the new WW changes, they only offer 3 plan options (not PointsPlus).
logs: You can export your tracker data by the week, month, or quarter with Healthi formerly iTrackBites. WW does not give you access to quarterly data.
accuracy: I've found inaccurate info in the WW app due to members submitting and not paying attention to the right numbers. With Healthi formerly iTrackBites, I know if I see the green check, it's been verified as accurate. This puts my mind at ease!
BLUE PLAN: 7 POINTS

GREEN PLAN: 7 POINTS

PURPLE PLAN: 7 POINTS
Print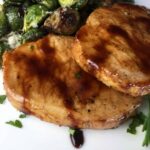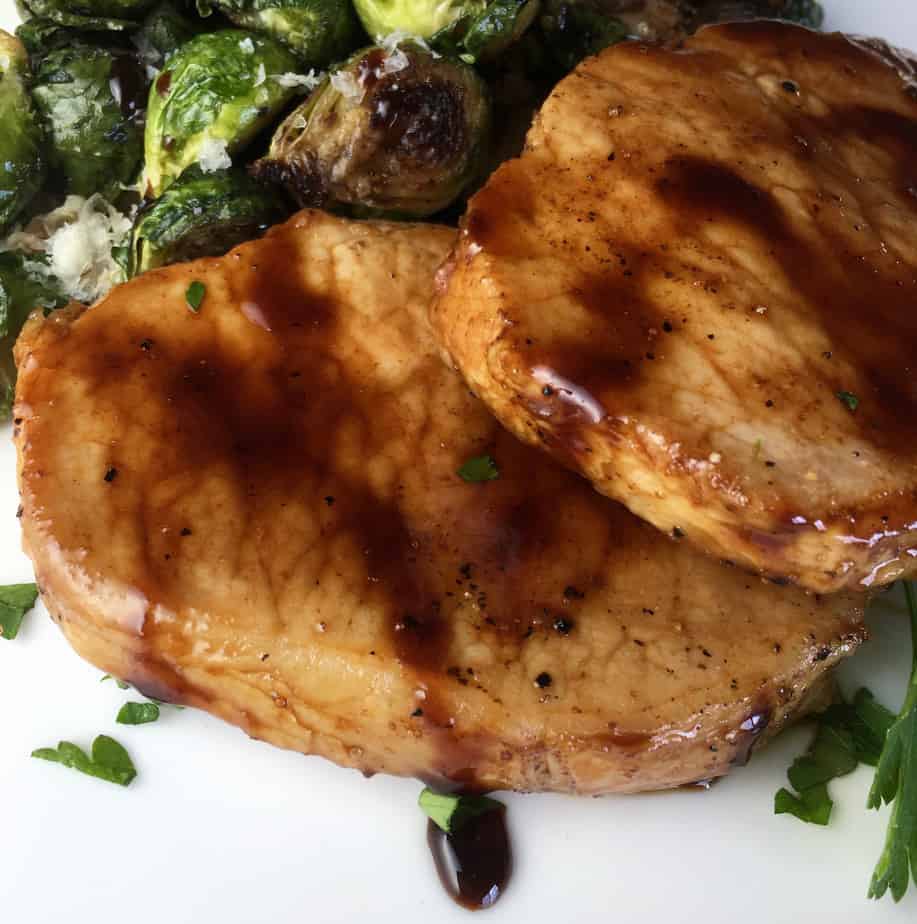 Maple Balsamic Boneless Pork Chops
---
Author:

Total Time:

20 minutes

Yield:

4

1

x
1 Tbsp extra virgin olive oil
4 4-oz. boneless pork chops
Salt and black pepper, to taste
½ c. balsamic vinegar
2½ Tbsp real maple syrup
---
Instructions
In a large, heavy-duty skillet heat olive oil over medium-high heat.
Season pork chops on each side with salt and pepper, to taste, and add to the skillet. Brown pork chops on each side, approximately 3 minutes per side. Remove from pan and set aside on a rimmed dish.

Add balsamic vinegar and maple syrup to hot skillet and bring to a boil, stirring constantly. Reduce heat to medium and cook mixture until it is reduced to about 1/3 of its original volume. When ready, the glaze will become thick and syrupy. (Do not overcook or the mixture will become hard and sticky).

Return the pork chops to the skillet along with the juices that collected on the plate. Stir liquid to blend juices into the syrup and cook for another 1-2 minutes.
Transfer chops to a serving platter or individual serving plate and drizzle with pan sauce. 
Prep Time:

5

Cook Time:

15