Weight Watchers Purple Plan: Everything You Need to Know
The WW Purple Plan is known as Freestyle Plus. Freestyle, or the Blue Plan, gives us 200+ Zero Point foods. The Purple Plan gives us 300+ Zero Point foods!
---
"Healthi formerly iTrackbites is an alternative to Weight Watchers. "

---
Weight Watchers Purple Plan
Are you excited about the new WW plans?! I am! Right now, I'm in the middle of calculating points for each plan so keep checking back for updates. 🙂
If you can handle the freedom of lots of "free" foods, the Purple Plan is perfect for you.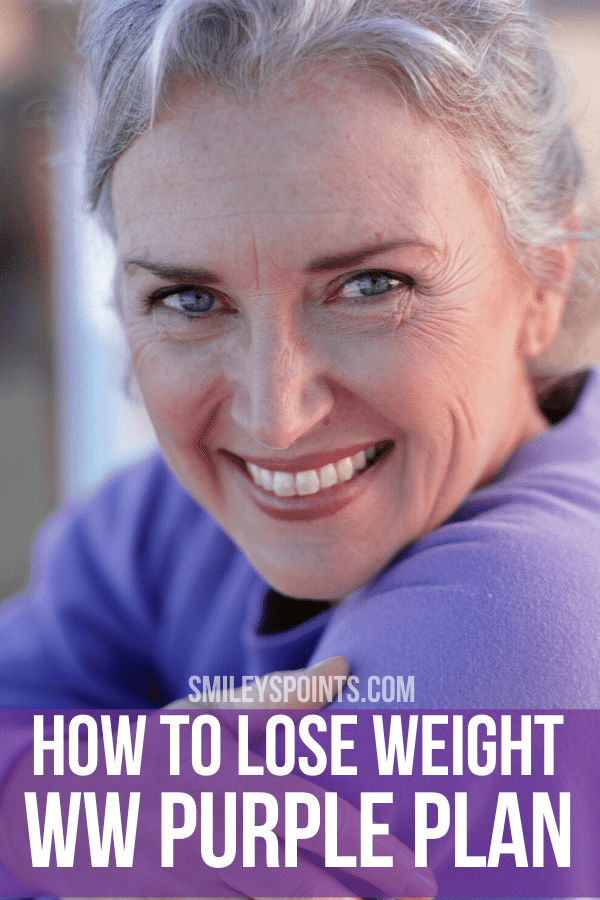 On the WW website, you will find 5-Day Sample Meal Plans to help you get adjusted to the Purple Program, including vegetarian and vegan meal plans. The app also has 7,000+ recipes for the Purple Plan to get you started!
Tip: When you switch to the Purple Plan, all of your saved recipes will be converted. This was one of the most exciting parts for me!
WW Assessment
New members get an assessment with questions to help them decide which plan to choose. Current members don't always see this assessment.
In place of an assessment, this is what my app says:
Would you rather have more SmartPoints to spend and would be happy limiting your Zero Point foods to fruits and vegetables (not including corn, peas, beans, or other starchy veggies)? Switching to GREEN may be right to you.
Are you already seeing success on WW Freestyle? BLUE is probably the way to go.
Do you really like the Zero Point foods list and want more of them (and are happy to have fewer SmartPoints)? PURPLE might be a great option for you because of the addition of Zero Point foods like oatmeal, whole wheat pasta, potatoes, and fat-free cottage cheese.
There are different sections for each plan in Connect on the app. If you're on the Purple Plan, you'll be in the Purple Connect. The resources you have are unlimited! 🙂
Are All Plans Still Using SmartPoints?
Yes! And the points are calculated in the same way, but how many points we get will vary.
Grab the WW free 5-day Purple Meal Plan to get you started.
How are SmartPoints Calculated?
The SmartPoints formula is based on:
calories
saturated fat
protein
sugar
How many SmartPoints do I get on the Purple Plan?
On the Purple Plan, you'll get a minimum of 16 SmartPoints, being adjusted for height, weight, gender, etc.
Do I Get Rollover Points on the Purple Plan?
Yes.
Does the Purple Program Have FitPoints?
Yes!
Does the Purple Plan Have Weeklies?
Yes! All of the new plans have Weeklies.
Related: Should I Use My Weeklies?
Does the Purple Program have Zero Point Foods?
This plan has 300 Zero Point Foods. Remember, Zero Points does NOT mean zero calories – or carbs. It's important to exercise portion control with all foods.
My WW friend, Alyssa, has a post about what she eats on the Purple Plan. Check it out!
Another WW friend, Barrett, has a video about what she eats in a day on the Purple Plan:
You can switch between plans as you choose, but WW asks you to work each plan for at least two weeks before switching to a new one. This isn't to form a habit as many have assumed, it's because you need to give your body some time to adjust to a new way of eating!
Pros and Cons of WW Purple Plan
There are pros and cons to every plan. Here are a few to consider:
Pros: more freedom, more Zero Point foods to choose from (including dairy and rice).
Cons: less boundaries, many of the Zero Point foods are VERY high in carbs (like whole wheat pasta and brown/wild rice).
Eating on the Purple Plan with Barrett:
Quick Recap of Weight Watcher's Purple Plan
Here's a quick rundown of the Purple Plan:
SmartPoints start at 16 (vs 23 for Freestyle/Blue vs 30 for Green Plan)
300 Zero Point Foods (vs 200 for Freestyle/Blue vs 100 for Green Plan)
Rollover SmartPoints
Weeklies
FitPoints
300 Zero Point Foods
Here is a list of all of the 300 zero-point foods on the Purple Plan. I will include the carbs, calories, and fiber for each in another post. For me, carb counting is critical.
Whole Wheat Pasta and Grains
Air-Popped popcorn No Oil or sugar
Air-popped popcorn with salt and spices no sugar no oil
Amaranth
Ancient Grains mix, no seeds
Barley
Black bean pasta
Brown basmati rice
Brown rice
Brown rice cereal 100%
Brown rice noodles
Brown rice pasta
Brown rice quinoa blend
Buckwheat
Buckwheat Soba noodles
Bulgur
Chickpea Pasta
Corn pasta
Edamame pasta
Farro
Freekeh
Instant brown rice
Instant oatmeal plain
Kamut
Kasha
Lentil pasta

Popcorn kernels from at home popping
Quick cook barley
Quick-cooking brown rice
Quick-cooking steel cut oats
Quinoa
Red quinoa
Rolled oats
Rye berries
Shirataki noodles
Sorghum
Soybean pasta
Spelt
Spelt berries
Steel-cut oats
Teff
Thai brown rice
Tri-color quinoa
Wheat berries
Whole grain pasta
Whole grain sorghum
Whole-wheat couscous
Whole wheat pasta
Wild rice
Wild rice brown rice blend



Beans and Legumes
Adzuki beans
Alfalfa sprouts
Bean sprouts
Black beans
Cannellini beans
Chickpeas
Hominy
Kidney beans
Lentils
Lima beans
Lupini beans
Navy beans
Pinto beans
Refried beans canned fat-free
Soybeans
Chicken and Turkey Breast
Ground turkey breast
Ground turkey 98% fat-free
Ground turkey breast
Skinless chicken breast
Skinless turkey breast
Dairy and Dairy Alternatives
Cottage cheese plain non-fat
Greek yogurt plain non-fat
Plain yogurt non-fat
Quark plain up to 1% fat
Soy yogurt plain
Eggs
Egg Substitute
Egg whites
Egg yolks
Eggs
Fish and Shellfish
Abalone
Alaskan king crab
Anchovies
Arctic char
Bluefish
Branzino
Butterfish
Can tuna in water
Carp
Catfish
Caviar
Clams
Cod
Crabmeat lump
Crawfish
Cuttlefish
Dungeness crab
Eel
Fish roe
Flounder
Grouper
Haddock
Halibut
Herring
Lobster
Mahi Mahi
Monkfish
Mussels
Octopus
Orange roughy
Oysters
Perch
Pike
Pollock
Pompano
Salmon
Sardines canned in water or sauce
Sashimi
Scallops
Sea bass
Sea cucumber
Sea urchin
Shrimp
Smelt
Smoked haddock
Smoked salmon
Smoked sturgeon
Smoked trout
Smoked whitefish
Snails
Snapper
Sole
Squid
Steelhead trout
Striped bass
Sturgeon
Swordfish
Tilapia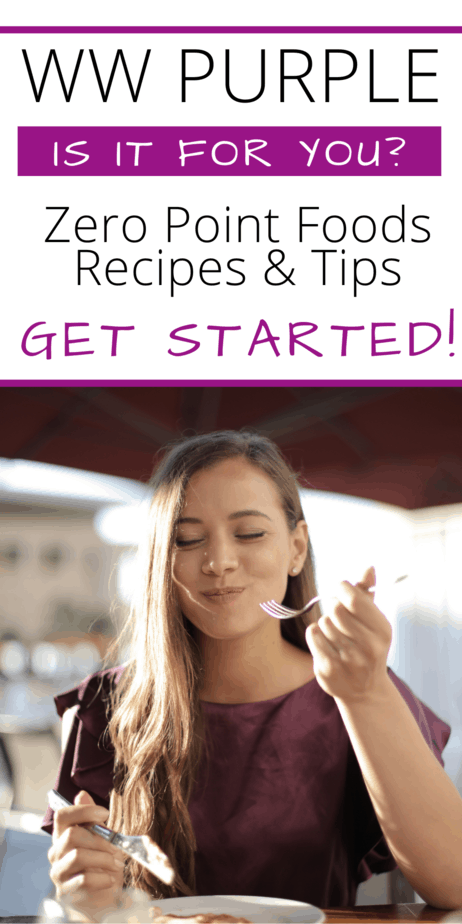 Who is the WW Purple Program best for?
The Purple Plan is going to be great for those of you who have been successful with Freestyle and can watch your carbs without being told to. WW does not require counting carbs, but if you're a woman over the age of 40, watching carbs may be a critical component of your weight loss success. Want more freedom? Have your portions under control? Try the Purple Plan and let me know what you think.
The keys to being successful on any Weight Watchers plan:
Ready to get started? Download my free PURPLE GUIDE. 🙂
On a budget? Try Healthi formerly iTrackbites!
Not everyone can afford the WW monthly fee and I totally understand that so I've teamed up with Healthi formerly iTrackbites to get you a 40% discount, making it $36 a YEAR.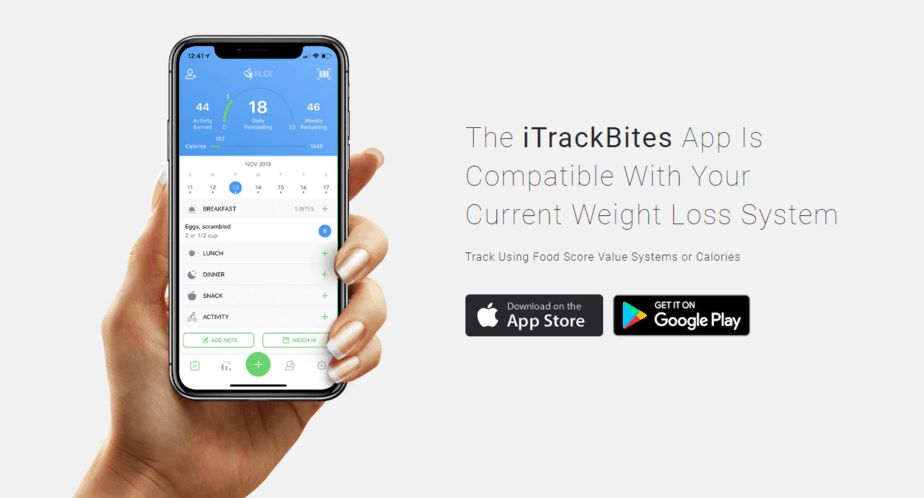 Healthi formally iTrackbites features:
cost: Healthi formerly iTrackbites costs $36 for the year (using this link for 40% off makes it $36 if you use COACH_SMILEY as the code. You need to put in the code to save the MOST $$$), WW is $16+ for the month, and it's the same formula! UPDATE JAN 2021 — sign up for a free account, then use code COACH_SMILEY after your profile is set up. Click DISCOVER PRO, enter the promo code, and you'll get Healthi formerly iTrackbites for just $24.99 a year!! Use this tutorial if you're unsure on how to use a promo code on iTrackBites. (They keep changing this!! So I update this tutorial often.)
choices: I can choose PointsPlus, Freestyle, or any other plan I want with Healthi formerly iTrackbites. Even with the new WW changes, they only offer 3 plan options (not PointsPlus).
logs: You can export your tracker data by the week, month, or quarter with Healthi formerly iTrackbites. WW does not give you access to quarterly data.
accuracy: I've found inaccurate info in the WW app due to members submitting and not paying attention to the right numbers. With Healthi formerly iTrackbites, I know if I see the green check, it's been verified as accurate. This puts my mind at ease!
How to do WW on Healthi formerly iTrackBites
Find info on the Purple Plan here.
Find info on the Blue Plan here.
Find info on the Green Plan here.
iTrackBites full overview