Slow Cooker Apple Cinnamon Oats
Waking up to slow cooker apple cinnamon oats will start your day off right! This delicious and hearty breakfast will delight your whole family.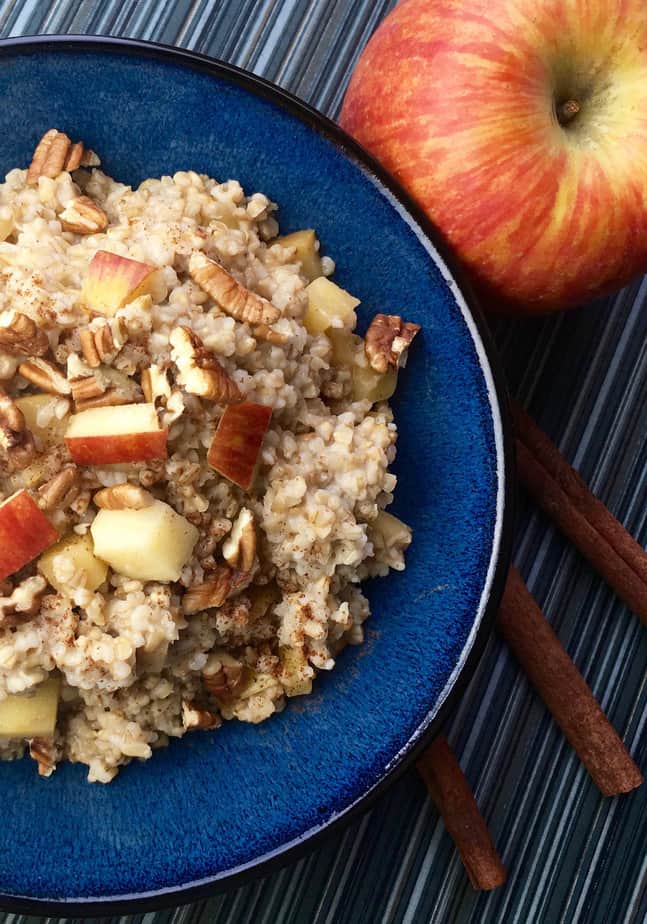 ---
"Healthi formerly iTrackbites is an alternative to Weight Watchers. "

---
Wake up to an amazing breakfast with slow cooker apple cinnamon oats
Mornings can be hectic and breakfast can end up falling by the wayside. With a bit of prep work the night before, you can have a hot and hearty breakfast waiting for you when you wake up. As an added bonus, this healthy and delicious overnight breakfast recipe will have your house smelling like freshly baked apple pie when you wake up in the morning.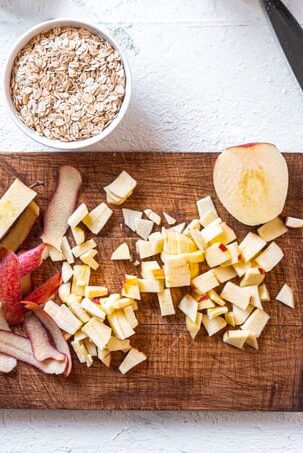 Health benefits to slow cooker apple cinnamon oats
Oats are a whole-grain food that are gluten-free. So if you are sensitive to gluten, oats are a wonderful choice to start your day.
There are so many nutrients in oats, manganese, phosphorus, magnesium, copper, iron, zinc, folate, vitamin B1, and vitamin B5 are all found in oats. They also have more protein and good fats than most other grains. Oats have 51 grams of carbs, 13 grams of protein, 5 grams for fat and 8 grams of fiber, but only 303 calories per serving. This means you will be having a filling and very healthy meal to start your day, making you less likely to snack between your delicious breakfast and lunch.
Oats are also a wonderful source of soluble fiber called beta-glucan. Beta-glucan partially dissolves in water and forms a tick, gel-like solution in the gut. This helps reduce LDL and total cholesterol, helps reduce blood sugar and insulin response, give you an increased feeling of fullness and increases the good bacteria in the digestive tract.
You can check out this article to learn more about the health benefits of oats.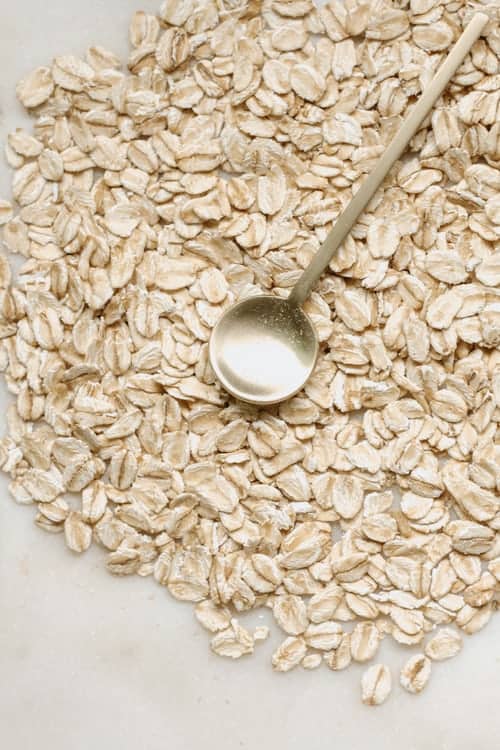 Slow cooker apple cinnamon oats needs steel-cut oats
There are many kinds of oats out there. Whole oat groats are the grain kernel. This is the result of simply harvesting the oats, cleaning them and removing their inedible hulls. These can be found in health food stores and take the longest to cook.
Steel-cut oats, the kind you need for this recipe, are when the groats are cut into two or three pieces with a sharp metal blade. These cook faster than whole oat groats because water can more easily penetrate the smaller pieces. YOU MUST USE THESE OATS FOR THIS RECIPE. The cooking times are based on steel-cut oats.
Rolled oats, or old fashioned oats, are created when oat groats are steamed and then roleld into flakes, This process stabilized the healthy oils in the oats, helping them stay fresher longer. They also cook faster as they have a greater surface area.
Rolled oats that are quick or instant are when the oat flakes are thinner. The nutrition is the same as rolled oats, but the texture is different.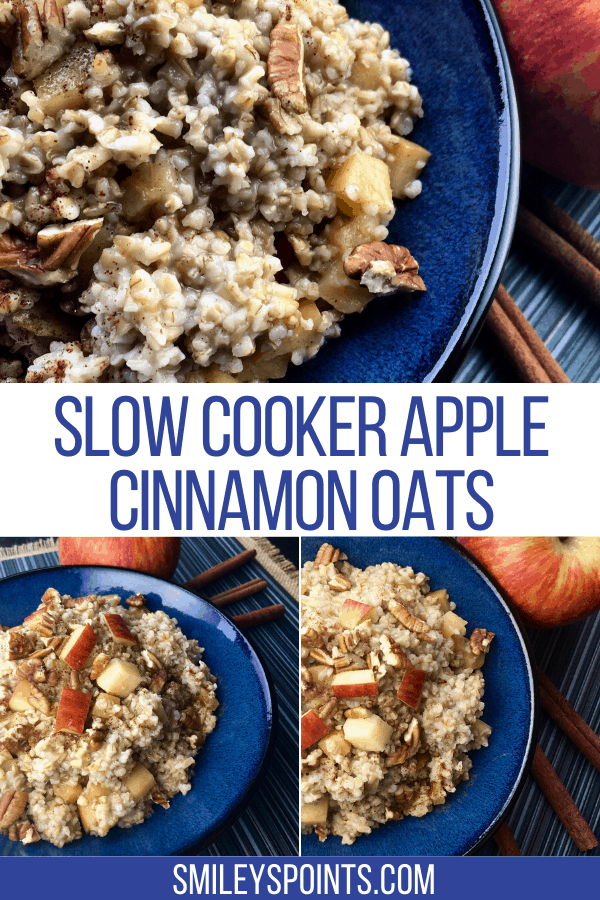 Cooking tip for slow cooked apple cinnamon oats
It very important to either line or heavily grease the sides of your slow cooker crock before preparing this recipe. If you skip this step, the oats will stick to the sides and will be very difficult to remove. I would use a stick of butter, rather than a cooking spray, if you are greasing the sides. It will create a better no stick barrier and won't slide as the spray could.
This recipe would be delicious with our cinnamon pear applesauce
This plan ahead meal is one of many I have used on my Healthi formerly iTrackBites plan. Planning ahead is key to healthy eating and Healthi formerly iTrackBites is an easy way to do that.
cost: Healthi formerly iTrackBites costs $36 for the year (using this link for 40% off makes it $36 – use COACH_SMILEY to save!!), WW is $20+ for the month, and it's the same formula and less options
choices: I can choose PointsPlus, Freestyle, or any other plan I want with Healthi formerly iTrackBites. Even with the new WW changes, they only offer 3 plan options (not PointsPlus).
logs: You can export your tracker data by the week, month, or quarter with Healthi formerly iTrackBites. WW does not give you access to quarterly data.
accuracy: I've found inaccurate info in the WW app due to members submitting and not paying attention to the right numbers. With Healthi formerly iTrackBites, I know if I see the green check, it's been verified as accurate. This puts my mind at ease!
BLUE PLAN: 5 Points
GREEN PLAN: 5 Points
PURPLE PLAN: 2 Points
Print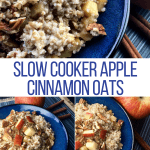 Slow Cooker Apple Cinnamon Oats
---
Author:

Total Time:

6 hours 15 minutes

Yield:

7

serving (3/4 cup)

1

x
3 c water
1 c steel-cut oats
1 c. fresh apple cider
2 medium apples, cored and diced
1½ T. honey, preferably local
1 t. ground cinnamon 
½ t. ground nutmeg
½ t. ground allspice
½ t. salt, to taste
To serve:
1 medium apple cored and diced
1/2 c pecans, chopped
real maple syrup
---
Instructions
Directions:
Add oats, water, cider, apples, honey, cinnamon, nutmeg, allspice, and salt to greased or lined slow cooker crock and stir to combine.
Cover and cook on low for 6-8 hours. Actual cooking time will vary depending on your slow cooker, so check for doneness after 5 hours and adjust cooking time accordingly.
To serve, allow to cool slightly before spooning into bowls and topping with fresh chopped apples, pecans, and some real maple syrup if desired.
Prep Time:

15

Cook Time:

6 hours