Who doesn't like beef and cheddar? Throw it together in these beef and cheddar quesadillas and you will have a winner of a dinner!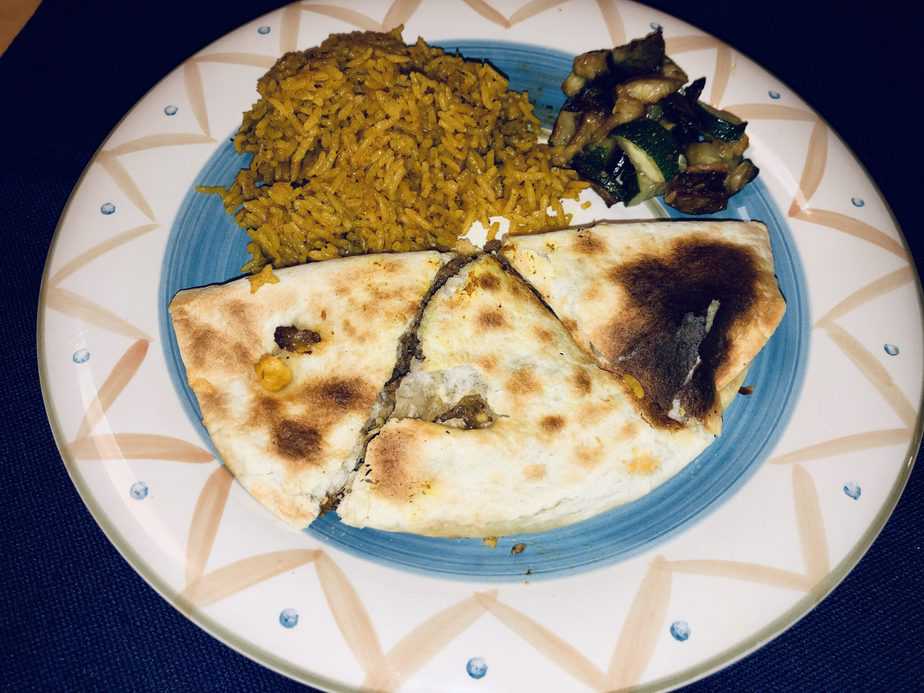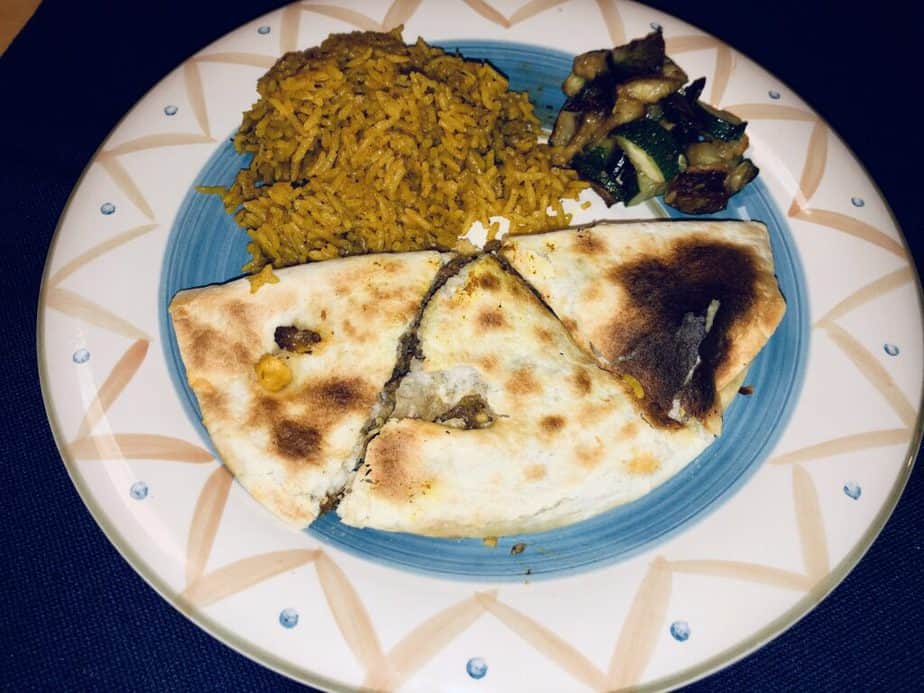 ---
"Healthi formerly iTrackbites is an alternative to Weight Watchers. "
---
Cheesy goodness your family will love
Our family is a huge fan of Mexican food. This beef and cheddar quesadilla is easy, delicious, and one that your whole family will love! It's so easy, it's a wonderful dish if you are trying to teach the kids their way around a kitchen.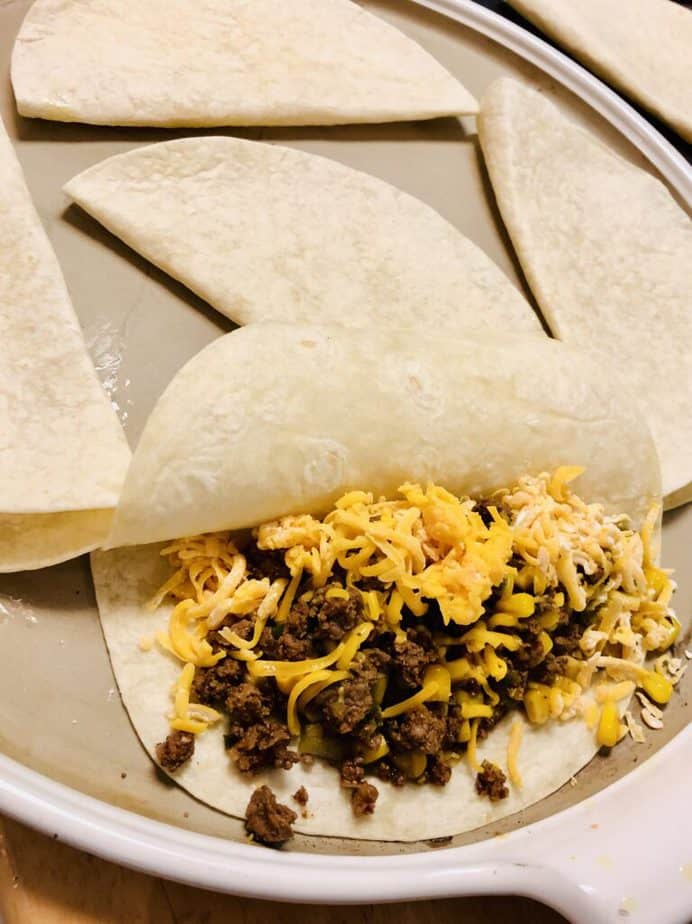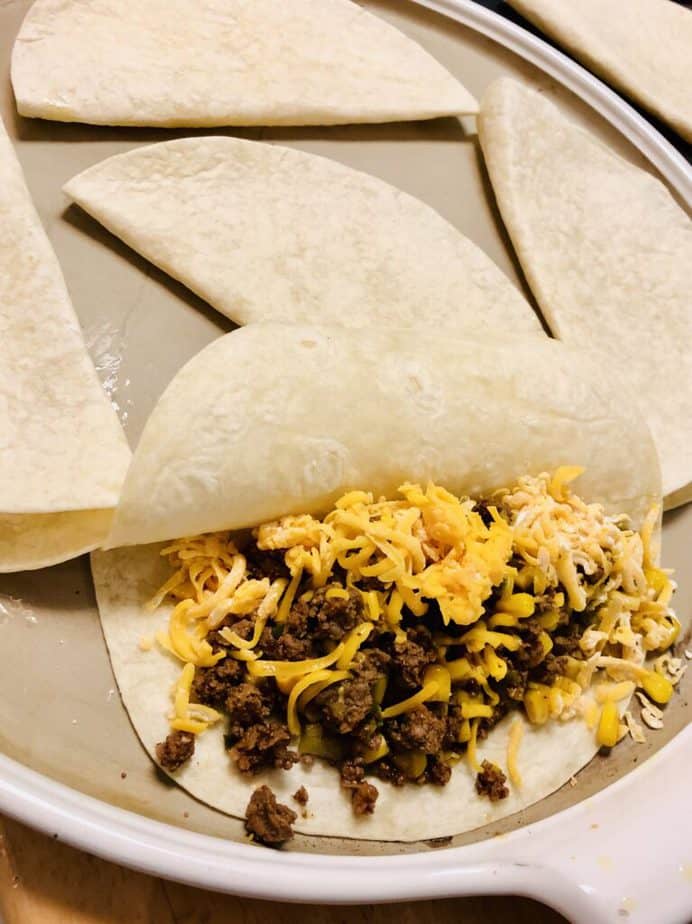 What is the best tortilla for beef and cheddar quesadilla?
This recipe calls for 8-inch flour tortillas. And while that makes for a nice-sized quesadilla that is quite filling, it's a bit high in points.
Ole Xtreme Wellness™ High Fiber/Carb Lean Flour Tortilla Wraps are only 1 point on all the plans! They are 8-inches, so the perfect size for this recipe. These tortillas will shave 3 points off the meal. Being that they are high in fiber, they will also help to fill you up.
Mission Carb Balance tortillas are only 2 points on all the plans, so that will shave 2 points off each beef and cheddar quesadilla.
Another option is La Tortilla Factory Fajita Size Whole Wheat Low Carb Tortillas. These are also one point, shaving 3 points off the total.
There may be other options hidden in your local grocery store. It often pays to poke around and see what's available.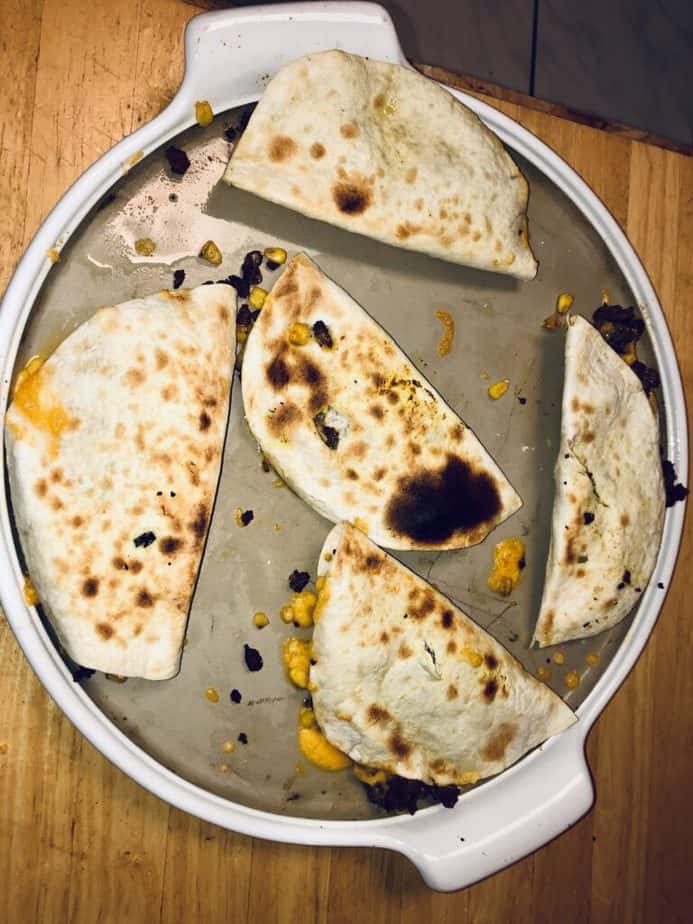 Toppings to make your beef and cheddar quesadillas even more delicious
We served this dish with sour cream, but the options are limitless! Normally, when I make a Mexican dish, I make homemade guacamole. Time got away from me this time, so that wasn't an option. But we love guacamole, as it's not only delicious, but it's filled with good fats.
You can top it with extra cheese for some extra crunch. You can either add extra cheese to the recipe or just use some that's meant to go inside and put it on the outside.
Salsa is another great option to top these quesadillas. You can use store bought or make your own!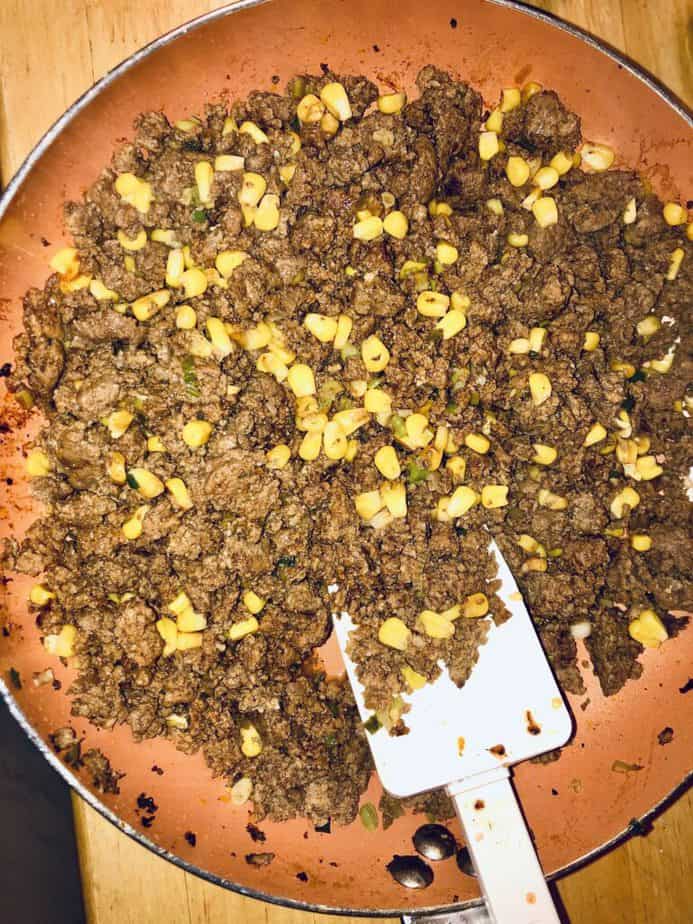 Add-ins to personalize your beef and cheddar quesadillas
Just like your toppings, you can personalize this dish on the inside! One of the kids isn't a huge fan of corn and wasn't thrilled with that addition. The rest of us like it, so it stayed. But if corn isn't your thing, it's easy enough to omit.
Scallions are also not my favorite vegetable. It's what I had on hand, so it's what I threw in the recipe. But sweet, red or white onions finely diced would work well too.
Any color of peppers would add some color and a delicious flavor to these beef and cheddar quesadillas.
If you like your food spicy, you could add some jalapeños, ghost peppers, or red pepper flakes.
There are so many options to chose from, you are limited only by your imagination!
When we have beef and cheddar quesadillas, we almost always serve them with yellow rice and zucchini. This yellow rice recipe is easy and free from preservatives and low in salt.
How do I keep on track with my weight loss?
So that I can enjoy foods such as beef and cheddar quesadillas, I have to plan and track. To help me do that, I use Healthi formerly iTrackbites.
cost: Healthi formerly iTrackBites costs $36 for the year (using this link for 40% off makes it $36 – use COACH_SMILEY to save!!), WW is $20+ for the month, and it's the same formula and less options
choices: I can choose PointsPlus, Freestyle, or any other plan I want with Healthi formerly iTrackBites. Even with the new WW changes, they only offer 3 plan options (not PointsPlus).
logs: You can export your tracker data by the week, month, or quarter with Healthi formerly iTrackBites. WW does not give you access to quarterly data.
accuracy: I've found inaccurate info in the WW app due to members submitting and not paying attention to the right numbers. With Healthi formerly iTrackBites, I know if I see the green check, it's been verified as accurate. This puts my mind at ease!
BLUE PLAN: 7 Points
GREEN PLAN: 7 Points
PURPLE PLAN: 7 points
Print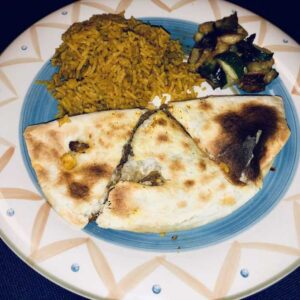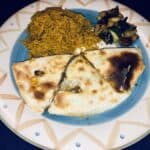 Beef and Cheddar Quesadillas
---
3 cloves of garlic
1 bunch scallions
8 oz low-fat cheddar cheese
5 oz corn
1 lb grass-fed ground beef
1 tsp taco seasoning
12 (8-inch) flour tortillas
2 Tbsp flour
---
Instructions
1. Finely chop 1 tablespoon garlic. Trim scallions, then thinly slice.

2. Heat 1½ tablespoons oil in a large skillet over medium-high until shimmering. Add corn and cook until browned in spots, 2–3 minutes. Transfer to a small bowl. Heat 1½ tablespoons oil in same skillet over medium-high. Add beef, taco seasoning, and a pinch each of salt and pepper. Cook, breaking up meat into small pieces, until browned, 4-5 minutes.

3. Carefully pour off any fat. Stir in chopped garlic, half of the scallions, and 2 tablespoons flour. Cook, stirring, until garlic is fragrant, about 30 seconds. Stir in 1 cup water and cook until liquid is reduced by half, 1–2 minutes. Stir in corn; season to taste with salt and pepper. Remove from heat.

4. Preheat broiler with top rack 6 inches from heat source. Brush 1 side of 8 of the tortillas (save rest) generously with oil, then arrange tortillas on a work surface, oiled sides down. Divide beef-corn mixture among tortillas, then top each with cheddar. Fold into half-moons to close.

5. Broil quesadillas on top oven rack until cheese is melted and tortillas are golden brown, rotating baking sheet and flipping quesadillas halfway through for even browning, 2–4 minutes total (watch closely as broilers vary). Let stand for 5 minutes. Cut quesadillas into wedges and garnish with remaining scallions.