What to Eat for Lunch to Lose Weight Fast – 8 Delicious Recipes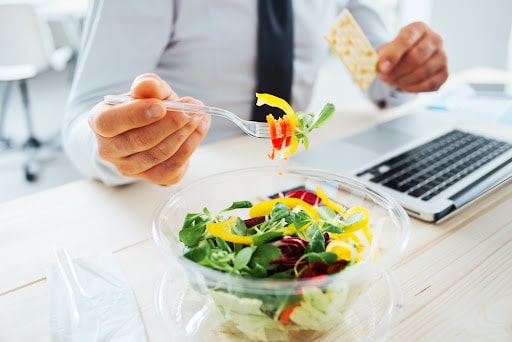 Consuming a lunch that is well balanced and includes lean proteins, vegetables, and other healthy food can assist in weight loss. While having a healthy lunch can be challenging in our fast-paced world, it is necessary for weight loss. You need to fuel your body throughout the day to maintain good health. We teach you what to eat for lunch to lose weight fast.
What to Eat for Lunch to Lose Weight Fast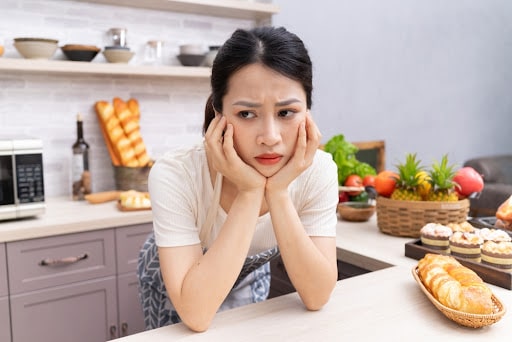 Having a list of go-to lunch recipes when you are in a hurry is critical for success when losing weight. It allows you to be prepared, avoid skipping meals, and resist the temptation to indulge in fast food or less-than-healthy options. The following healthy lunch recipes promote weight loss, including for those on low-carb, plant-based, paleo, and diabetic diets.
Best for Diabetic Diets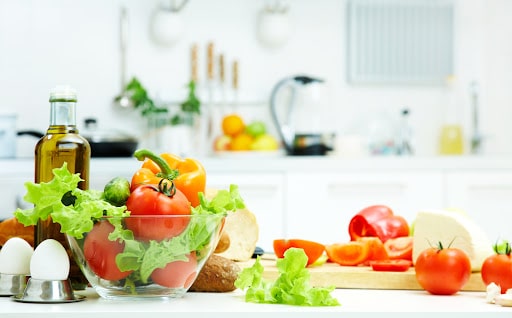 Consuming a healthy diet and maintaining a healthy weight are vital for regulating blood sugar levels. Healthcare professionals may advise you to limit carbs or keep them consistent. These recipes will help you manage your diabetes.
Black beans are high in protein and fiber. They are a great source of folate, a B vitamin essential to promote healthy fetal development and blood cells.
Ingredients:
1 cup diced onions
2 tbsp. olive oil
1 large carrot
3 cloves minced garlic
½ tsp. dried oregano
1 tsp. ground cumin
1 tbsp. red wine/apple cider vinegar or lime juice
1 (15 oz.) can of diced tomatoes
½ – 1 chipotle chile pepper
4 cups vegetable stock
4 (15 oz.) cans of black beans (drained and rinsed)
½ cup cilantro leaves
1 bay leaf
Directions:
Heat the olive oil over medium heat using a large Dutch oven or deep pot. Add in carrots and onions. Cook while stirring until they are slightly soft and smell sweet (about 5 minutes).
Mix in cumin, garlic, and oregano. Cook for 30 seconds. Add chipotle pepper, vinegar, the can of tomatoes, black beans, broth, and the bay leaf. Bring the mixture to a simmer, taste it, and season with salt and pepper.
Allow to simmer until broth slightly reduces and the carrots are tender (about 20 minutes). Stir in the cilantro and juice from half a lime.
For brothier soups, serve immediately. For thicker soups, transfer ¼ to a blender and blend until it is smooth. Pour it back into the pot, then serve.
This recipe provides a balanced meal with complex carbs, healthy fat, and fiber from non-starchy veggies.
Ingredients
Cottage cheese
Whole grain bread
Tomato
Avocado
Red onion
Directions:
Slice and toast whole grain bread.
Cut a fresh avocado into thin slices. Then, slice tomatoes.
Spread cottage cheese evenly on each bread slice.
Season using pepper and salt. Layer with tomato slices.
Top your tomato slices with avocado slices. Add one pinch of pepper and salt.
Finish by adding thinly sliced red onions over the avocados to top the toast.
Best for Paleo (or Keto, Whole 30, or Gluten-Free Diets)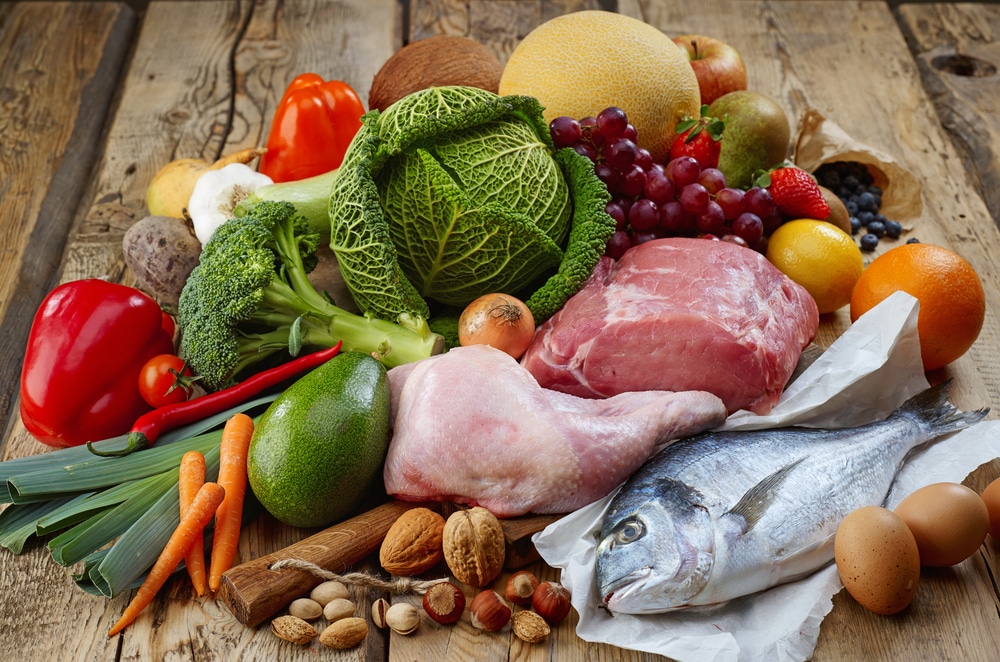 Paleo diets emphasize consuming fruits, vegetables, animal protein, seeds, nuts, and healthy fats. The diet eliminates grains, sugar, legumes, beans, vegetable oils, most forms of dairy, and alcohol and resembles a hunter-gatherer form of eating.
If you enjoy takeout egg rolls, you can easily obtain the flavors by creating a deconstructed lunch version. Egg roll bowls use lean protein, like ground chicken or turkey, and cabbage, which is rich in vitamin K.
Ingredients:
2 tbsp. olive or avocado oil
6 green onions containing white and green parts, divided
5 cloves minced garlic
1 lb. ground turkey or a substitute for a ground protein
3 tbsp. gluten-free Tamari or low-sodium soy sauce or coconut aminos
1 tsp. grated ginger (fresh)
2 tsp. fish sauce or miso paste
1 tsp. toasted sesame oil
2 tsp. rice or apple cider vinegar
6 cups shredded red cabbage
¾ cup matchstick or grated carrots
Black pepper and sea salt to taste
Instructions:
Heat oil in a large skillet or wok on medium heat. Add the white part of your green onion, ginger, and garlic, and cook for one minute, stirring frequently.
Add ground turkey. Cook until browned.
Add your green shredded cabbage, carrots, red cabbage, coconut aminos, sesame oil, fish sauce, and vinegar. Season with pepper and salt if required.
Cook until your vegetables are crispy-tender or cooked to your satisfaction (4 to 5 minutes). Taste it, then add salt, coconut aminos, and black pepper if necessary.
Garnish using green onions, sesame seeds, and cilantro. Add to a bowl and enjoy.
Best for Plant-Based, Vegetarian, or Vegan Diets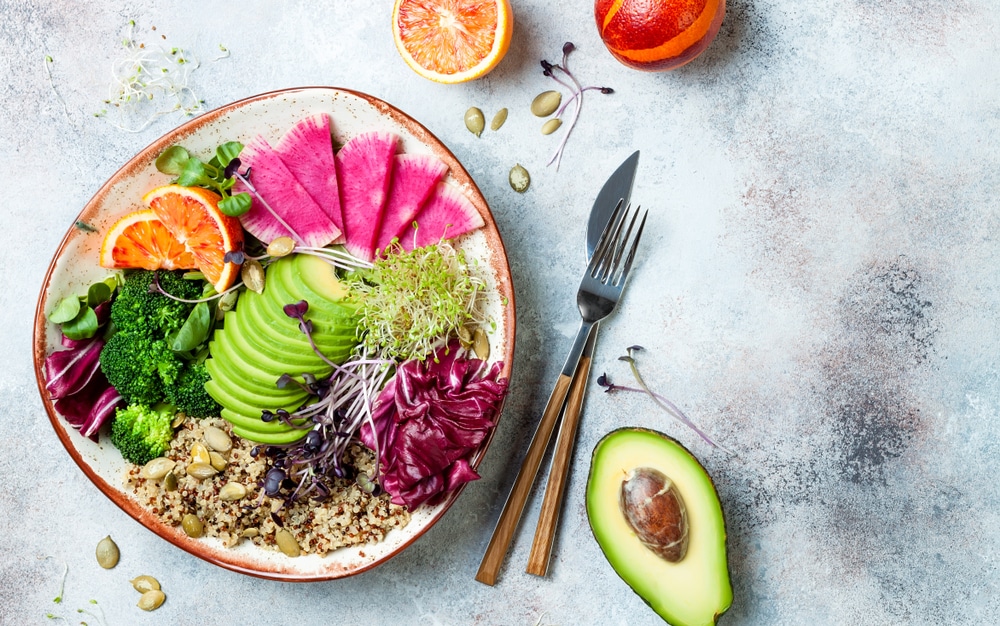 Fruits, legumes, vegetables, nuts, whole grains, and seeds are plant foods. They contain beneficial nutrients and have fiber. Overall, they are filling and lower in calories than processed foods.
Chickpeas are a wonderfully versatile vegetarian protein. Research suggests they help with weight loss because of the minerals, fiber, vitamins, and compounds found within them. The texture causes them to be squashed easily using a fork to create a sandwich filling for lunch.
Ingredients:
Salad
15 oz. drained and rinsed canned chickpeas
2 stalks of celery
3 stalks of green onion
¼ cup chopped, shredded carrots
¼ cup finely chopped dill pickles
¼ cup finely chopped red pepper
¼ cup regular or vegan mayonnaise
1-2 tsp. Dijon mustard
⅛ tsp. dried dill
1 tsp. yellow mustard
⅛ tsp. pepper
3 tbsp. unsalted, roasted sunflower seeds
2 tbsp. basil, freshly chopped
Sandwich
Multi-grain sandwich bread
Extra basil
Arugula or romaine lettuce
Red onions or tomatoes
Directions:
Rinse and drain chickpeas. Add to a large bowl. Mash using a potato masher until you get a flaky texture.
Chop celery, green onion, pepper, shredded carrots, and pickles.
Add them to the bowl containing chickpeas. Add Dijon, yellow mustard, mayo, dill, pepper, and salt. Make sure you coat the chickpeas evenly.
Fold in basil and sunflower seeds. Adjust to taste.
Put on bread with fixings or enjoy as a wrap, in a salad, or with crackers.
Wraps are healthy and offer a great lunch option. You can prep meals ahead of time, making them a quick and convenient choice. Plant-based wraps are easy to make. For healthier, more filling options, choose a whole wheat wrap or use lettuce. Then, add your protein.
Ingredients:
4 large tortillas (whole wheat)
1 cup edamame (shelled and cooked)
⅔ cup hummus
2 cups baby spinach leaves
1 large shredded carrot
1-2 peeled, seedless, thinly sliced avocados
1 chopped English cucumber
Freshly ground black pepper
Drizzle of olive oil
Other veggies: chopped tomato, alfalfa sprouts, radish, lettuce, corn, cabbage, bell peppers, beets
Directions:
Spread hummus over the tortilla.
Add spinach, avocado, carrot, edamame, cucumber, and other veggies.
Sprinkle using fresh ground black pepper.
Drizzle with olive oil.
Roll up the wrap and enjoy.
Tofu is a soy-based protein. It has all the amino acids you need from food and contains isoflavones that may protect against heart disease. Some people avoid tofu if they don't care for the texture or know how to cook it correctly, but the reality is that properly preparing this ingredient is very easy at home.
Ingredients:
Bowls:
1 (12 oz.) block of super or extra firm tofu
2 tbsp. divided extra virgin olive oil
1 tbsp. cornstarch
1 tbsp. soy sauce (reduced sodium)
2 heads of broccoli cut into florets
1 julienned or grated carrot
½ cup chopped peanuts
2 cups cooked brown rice
Peanut Sauce:
¼ cup creamy peanut butter
1 tbsp. maple syrup
2 tbsp. reduced-sodium soy sauce
1 tbsp. red curry paste
1 juiced lime
1 minced clove of garlic
Directions:
Remove tofu from the package. Remove excess water using a tofu press or place it between plates stacked with books.
Prep other ingredients while waiting for water to drain from the tofu. Make your rice and prepare the veggies.
Preheat the oven to 400°F, then line a baking sheet using parchment paper.
Once drained, slice tofu into slabs, then cubes. Place it in a glass bowl with a lid. Drizzle olive oil over the cubes evenly. Repeat with soy sauce. Evenly sprinkle cornstarch, put on the lid, and gently shake.
Spread in a layer in the center of a baking sheet. Toss broccoli florets with a tablespoon of olive oil. Season with salt and pepper and add to the tray. Bake for 25 minutes or until the broccoli is cooked and the tofu is crispy and browned.
While baking, whisk soy sauce, peanut butter, red curry paste, maple syrup, garlic, and lime juice. Add a bit of water, one tablespoon at one time, to thin the sauce to your desired thickness.
When everything is ready, arrange it into bowls combining broccoli, tofu, rice, peanuts, and carrots. Drizzle it with peanut sauce.
Best for Low Carb Diets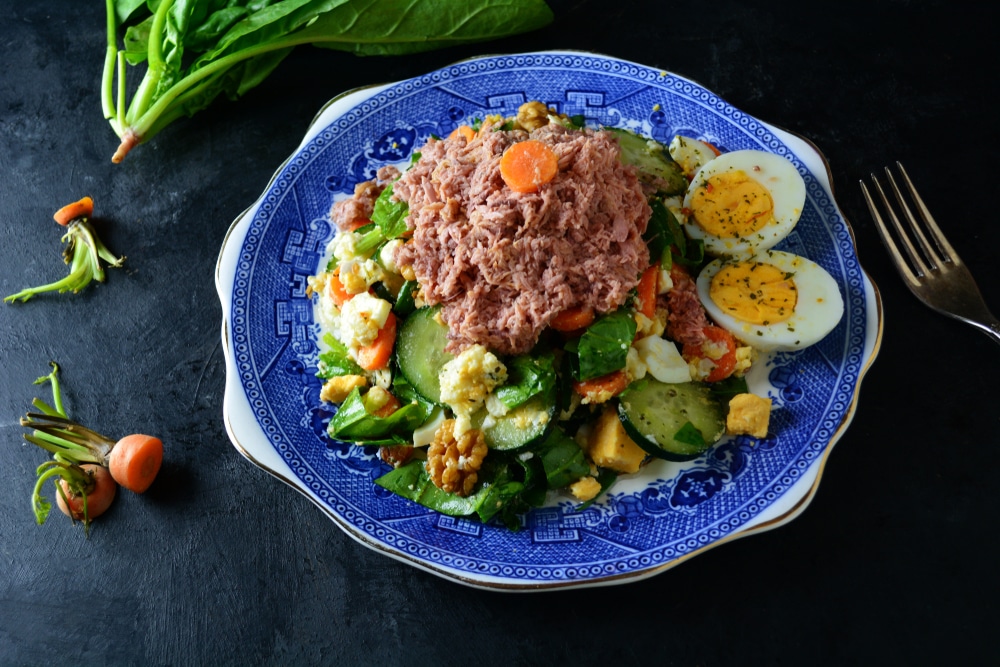 Many people discover that keto or low-carb diets help them in their weight loss. This diet emphasizes limiting food that is high in carbs and increasing protein and fat consumption. 
The only downfall may be weight gain once you stop the diet and add carbs again. Some fiber-containing, low-carb whole grains may also prevent the person from feeling fuller for longer durations. Therefore, the lack of carbohydrates at lunch may cause some people not to feel satiated. But a keto diet is a great way to increase awareness of what you are eating in a day.
Eggs and tuna are high-protein foods that will keep you feeling satisfied. Consuming eggs instead of a meal high in carbs reduces calorie consumption and hunger, aiding in weight loss. For many recipes, you can swap ingredients as well. 
Ingredients:
12 oz. tuna packed in water
4 hard-boiled eggs
Dijon mustard
Avocado mayo
Sweet pickle relish
4 red peppers
4 cups mixed greens
Green onions
Avocado
Celery
Directions:
Remove the stem from the pepper.
Chop up four hard-boiled eggs.
Mix the eggs, tuna, and all salad ingredients in a bowl.
Stuff the salad firmly into your pepper.
Place on a bed of greens for an excellent presentation.
Using cauliflower rice with regular rice is a wonderful way to reduce carb intake. Cauliflower not only lowers the carb intake but adds vitamin C.
Ingredients:
1 lb. lean chicken, ground meat, or turkey
2 tbsp. taco seasoning
1 medium diced red/yellow onion
2 tbsp. divided olive oil
3 minced cloves of garlic
2 diced bell peppers
2 diced zucchinis
1 (15 oz.) can of black beans (drained and rinsed)
4 cups riced cauliflower (approximately one head)
1 (14 ½ oz.) can of fire-roasted tomatoes
Lime juice
½ cup chopped fresh cilantro
1 diced avocado
Greek yogurt
Shredded cheese
Directions:
Heat a pan over medium heat. Cook ground meat and break it up using a spatula until thoroughly cooked and no longer pink, which should take 6 to 8 minutes. Stir in one tbsp. of taco seasoning.
Transfer the cooked meat to a plate and place it to the side.
Return the pan to the stove on medium heat. Add olive oil, garlic, onion, bell peppers, and zucchini to the pan. Cook until the veggies are soft (7 to 10 minutes).
Add riced cauliflower, black beans, 1 tbsp. Mexican seasoning, and fire-roasted tomatoes. Cook for another 3 to 4 minutes. Stir cilantro and lime juice into the pan.
Serve in bowls topped with cheese, avocado, and Greek yogurt.
Final Thoughts
Wondering what to eat for lunch to lose weight fast? We offer some simple, easy recipes you can make if you are on the go and don't have time to prepare a meal. Place several of these in the fridge for when you need something fast. You can also check out apps like Noom and Healthi for other quick, healthy recipes.