Woo hoo! The myWW Purple Plan is HERE! And the plan has more than 300 Zero Point foods? WHAT?! This is great… but not so fast: Zero Points does NOT equal zero carbs or calories. What does that mean? It means we need to watch how much and how many of these foods we are eating, or we may not have success with Weight Watchers.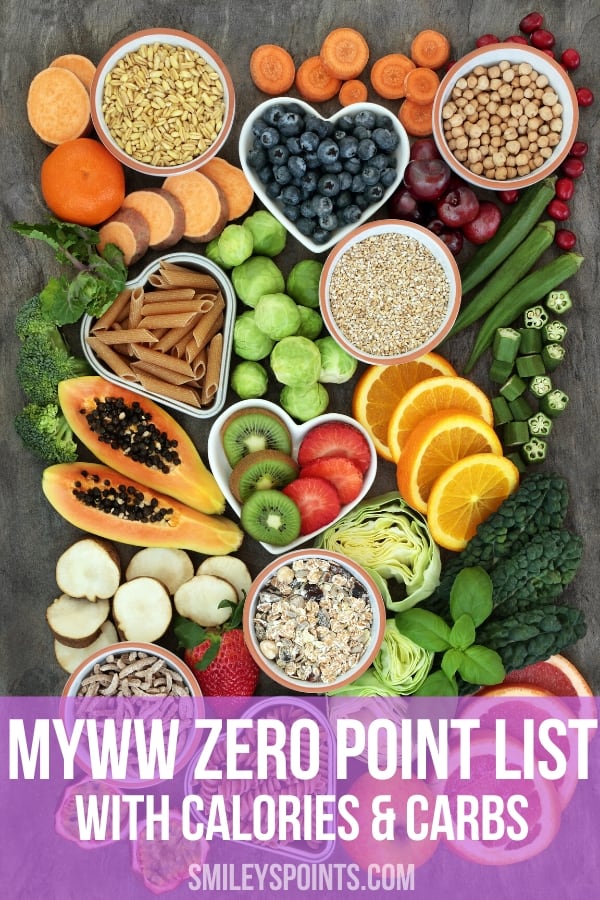 ---
"Healthi formerly iTrackbites is an alternative to Weight Watchers. "
---
myWW Purple Plan Zero Point Food List With Serving Sizes, Calories, and Carbs
These Zero Point foods are the base of many of my meals. I always watch my portions (grab my portions cheat sheet) and I keep carb count in mind. Carbs are not my friend! I don't do Keto, and though you can do Keto Weight Watchers, I do low to mid carbs.
Note: 99% of the data in this sheet comes from nutrionata.self.com a great resource for tracking all of the nutritional information in the foods you eat 🙂 If you see a mistake, email me at smileyspoints AT gmail.com
How to do WW on Healthi formerly iTrackBites
Find info on the Purple Plan here.
Find info on the Blue Plan here.
Find info on the Green Plan here.
iTrackBites full overview
Beans and Legumes
I'm so happy you're here. 🙂 Note: Smiley's Points participates in affiliate programs. That's how the bills get paid! There is no additional charge to you and I only recommend products I know and love.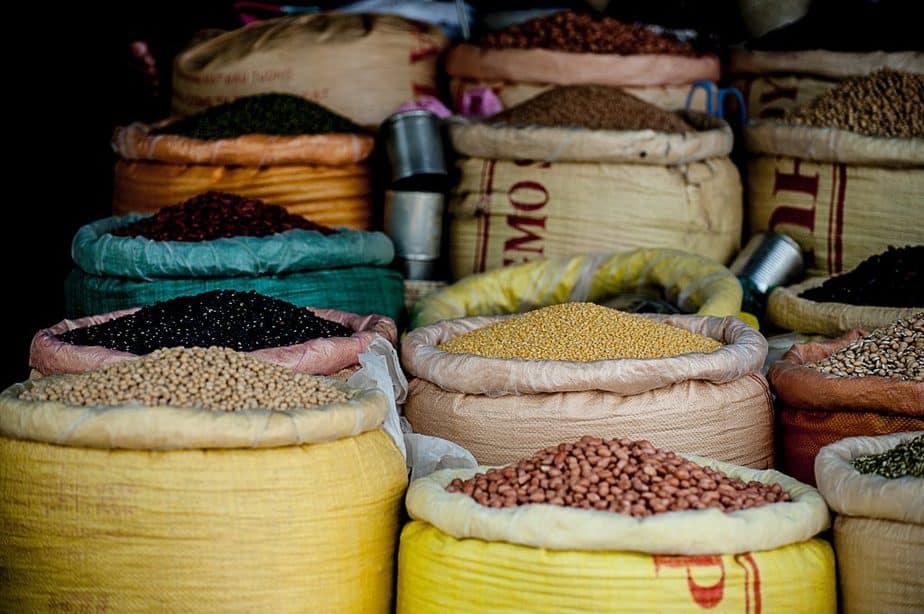 | | | | | |
| --- | --- | --- | --- | --- |
| Beans | Serving Size | Calories | Carbs | Fiber |
| Adzuki beans | 1 cup | 294 | 57 | 16.8 |
| Alfalfa sprouts | 1 cup | 7.6 | .7 | .6 |
| Bean sprouts | 1 cup | 31.2 | 6.2 | 1.9 |
| Black Beans | 1 cup | 227 | 40.8 | 15 |
| Black-eyed peas | ¾ cup | 200 | 36 | 11 |
| Cannellini beans | 1 cup | 296 | 53.6 | 13.4 |
| Chickpeas | 1 cup | 756 | 121 | 34.8 |
| Edamame | 1 cup | 130 | 11.5 | 5.7 |
| Fava beans | 1 cup | 111 | 22.2 | 0 |
| Great Northern Beans | 1 cup | 620 | 114 | 37.0 |
| Hominy | 1 cup | 119 | 24 | 4.1 |
| Kidney Beans | 1 cup | 215 | 41.1 | 13.6 |
| Lentils | 1 cup | 678 | 115 | 58.6 |
| Lima beans | 1 cup | 190 | 35.9 | 11.6 |
| Lupini beans | 1 cup | 198 | 16.4 | 4.6 |
| Navy beans | 1 cup | 296 | 53.6 | 13.4 |
| Pinto beans | 1 cup | 206 | 36.6 | 11.0 |
| Refried beans | 1 cup | 182 | 32.2 | 10.9 |
| Soybeans | 1 cup | 254 | 19.9 | 7.6 |
Chicken and Turkey Breast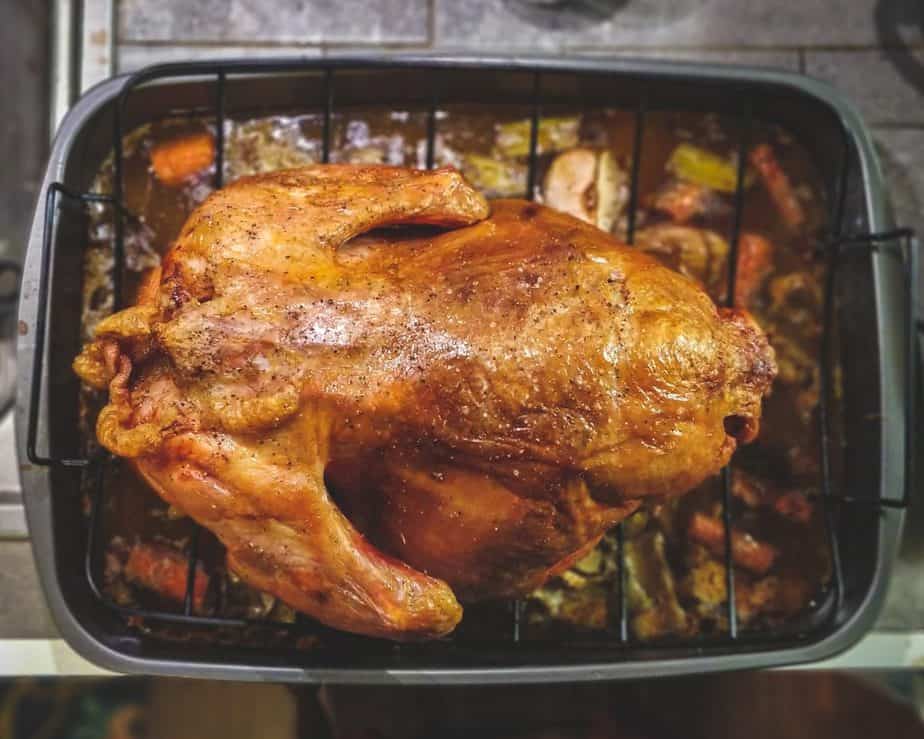 | | | | | |
| --- | --- | --- | --- | --- |
| Meat | Serving Size | Calories | Carbs | Protein |
| Ground Chicken Breast | 4 ounces | 170 | 0 | 25 |
| Ground Turkey 98% fat-free | 4 ounces | 120 | 0 | 26 |
| Ground turkey breast | 4 ounces | 170 | 0 | 21 |
| Skinless chicken breast | 4 ounces | 130 | 0 | 27.2 |
| Skinless turkey breast | 4 ounces | 123 | 0 | 27.3 |
Dairy and Dairy Alternatives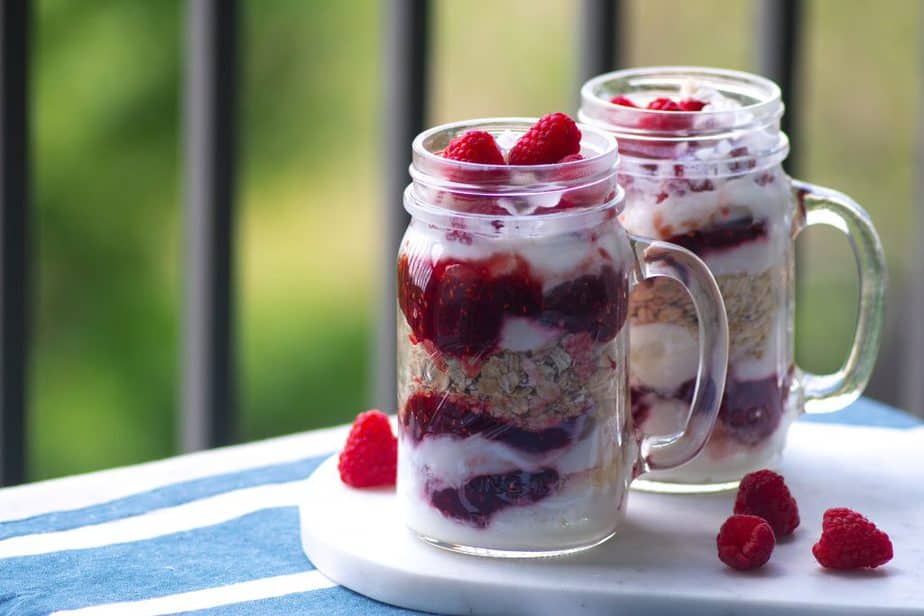 | | | | | |
| --- | --- | --- | --- | --- |
| Dairy | Serving Size | Calories | Carbs | Fiber |
| Cottage Cheese plain non-fat | 1 cup | 104 | 9.7 | 15 |
| Greek yogurt plain non-fat | 1 cup | 220 | 9 | 23 |
| Quark, plain up to 1% fat | 1 cup | 173 | 9.8 | 0 |
| Soy yogurt, plain | 1 cup | 150 | 22 | .9 |
Eggs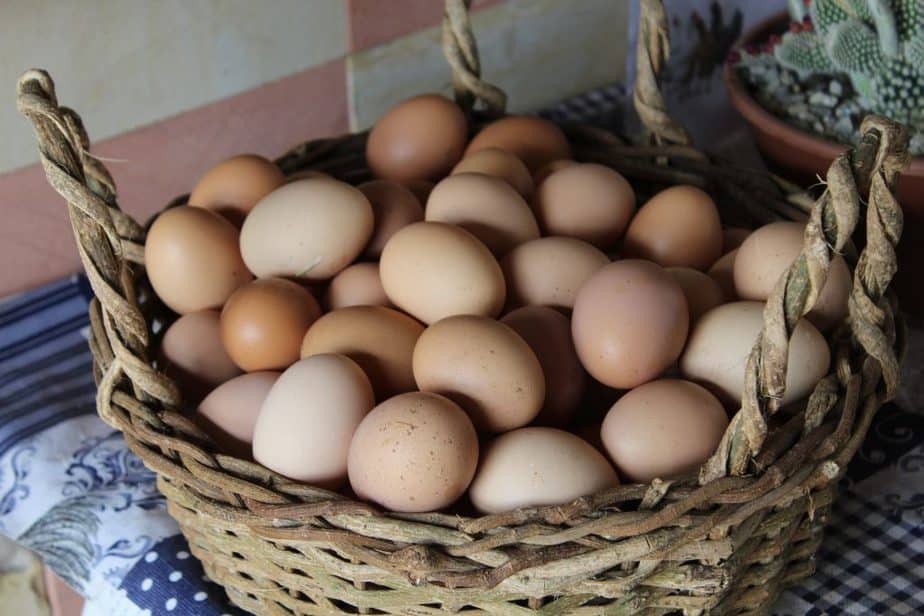 | | | | | |
| --- | --- | --- | --- | --- |
| Egg | Serving Size | Calories | Carbs | Fiber |
| Egg substitute liquid | 4 ounces | 84 | .6 | 12 |
| Egg whites | 1 large | 15.8 | .2 | 3.6 |
| Egg yolks | 1 large | 53.9 | .6 | 2.7 |
| Eggs | 1 extra-large | 80 | .4 | 7.0 protein |
Fish and Shellfish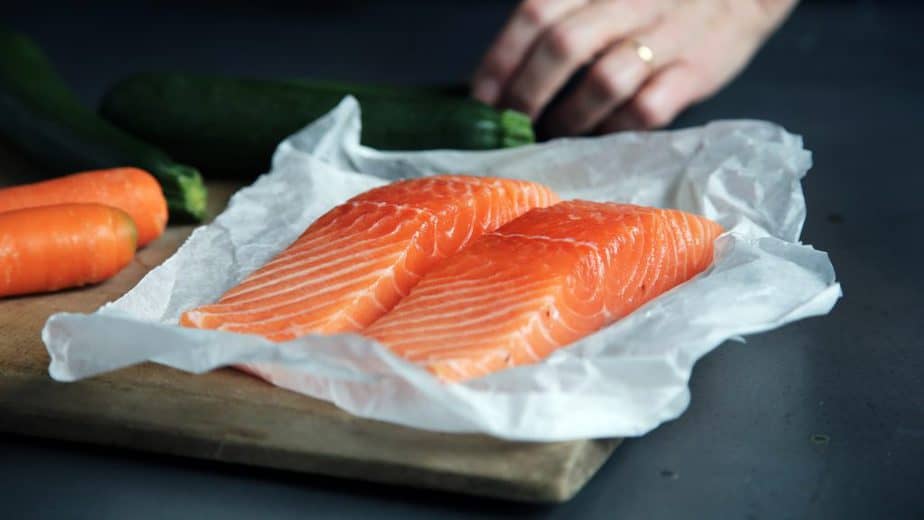 | | | | | |
| --- | --- | --- | --- | --- |
| Fish | Serving Size | Calories | Carbs | Fiber |
| Abalone | 3 ounces | 89.3 | 5.1 | 0 |
| Alaskan king crab | 1 leg | 144 | 0 | 0 |
| anchovies | 3 ounces | 111 | 0 | 0 |
| Arctic char | 8 ounces | 468 | 0 | 0 |
| Bluefish | 5 ounces | 186 | 0 | 0 |
| Canned tuna in water | 1 cup | 179 | 0 | 0 |
| carp | 7 ounces | 277 | 0 | 0 |
| Catfish | 5 ½ ounces | 215 | 0 | 0 |
| Caviar | 1 tablespoon | 40.3 | .6 | 0 |
| Clams | 1 cup | 168 | 5.8 | 0 |
| Cod Atlantic | 8 ounces | 189 | 0 | 0 |
| Cod Pacific | 4 ounces | 95.1 | 0 | 0 |
| Crabmeat lump | 1 cup | 134 | 0 | 0 |
| Crayfish | 3 ounces | 61.2 | 0 | 0 |
| Cuttlefish | 3 ounces | 67.2 | .7 | 0 |
| Dungeness Crab | 3 ounces | 73.1 | .6 | 0 |
| Eel | 7 ounces | 375 | 0 | 0 |
| Fish roe | 1 tablespoon | 20 | .2 | 0 |
| Flounder | 6 ounces | 148 | 0 | 0 |
| Grouper | 9 ounces | 238 | 0 | 0 |
| Haddock | 7 ounces | 168 | 0 | 0 |
| Halibut | 7 ounces | 224 | 0 | 0 |
| Herring | 6.5 ounces | 291 | 0 | 0 |
| Lobster | 1 whole | 135 | .7 | 0 |
| Mahi Mahi | 7 ounces | 173 | 0 | 0 |
| Monkfish | 3 ounces | 64.6 | 0 | 0 |
| Mussels | 1 cup | 129 | 5.5 | 0 |
| Octopus | 3 ounces | 69.7 | 1.9 | 0 |
| Orange Roughy | 3 ounces | 64.6 | 0 | 0 |
| Oyster | 1 medium | 40 | 2.5 | 0 |
| Perch | 2 ounces | 54.6 | 0 | 0 |
| Pike | 5.5 ounces | 148 | 0 | 0 |
| Pollock | 7 ounces | 178 | 0 | 0 |
| Pompano | 4 ounces | 184 | 0 | 0 |
| Salmon | 3 ounces | 175 | .2 | 0 |
| Sardines, canned in water or sauce | 3 ounces | 166 | .7 | .1 |
| Sashimi | 4 ounces | 140 | 1 | 0 |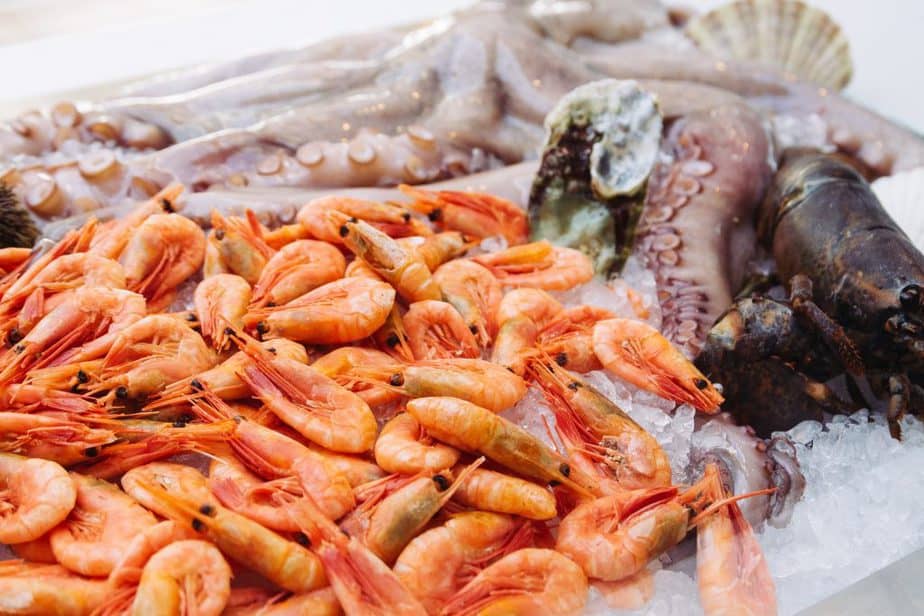 | | | | | |
| --- | --- | --- | --- | --- |
| Fish | Serving Size | Calories | Carbs | Fiber |
| Scallops | 3 ounces | 74.8 | 2.0 | 0 |
| Sea Bass | 4.5 ounces | 125 | 0 | 0 |
| Sea Cucumber | 1 ounce | 15.7 | 0 | 0 |
| Sea Urchin | 3 ounces | 102 | 3 | 0 |
| Shrimp | 4 large | 29.7 | .3 | 0 |
| Smelt | 3 ounces | 82.5 | 0 | 0 |
| Smoked haddock | 3 ounces | 98.6 | 0 | 0 |
| Smoked Salmon | 1 cup | 159 | 0 | 0 |
| Smoked sturgeon | 3 ounces | 147 | 0 | 0 |
| Smoked trout | 3 ounces | 144 | 0 | 0 |
| Smoked whitefish | 1 cup | 147 | 0 | 0 |
| Snails | 1 ounce | 25.2 | .6 | 0 |
| Snapper | 7 ounces | 218 | 0 | 0 |
| Sole | 6 ounces | 148 | 0 | 0 |
| Squid | 3 ounces | 78.2 | 2.6 | 0 |
| Steelhead Trout | 4 ounces | 159 | 0 | 0 |
| Striped Bass | 5.5 ounces | 154 | 0 | 0 |
| Sturgeon | 3 ounces | 89.3 | 0 | 0 |
| Swordfish | 5 ounces | 165 | 0 | 0 |
| Tilapia | 4 ounces | 96 | 0 | 0 |
| Trout | 3 ounces | 117 | 0 | 0 |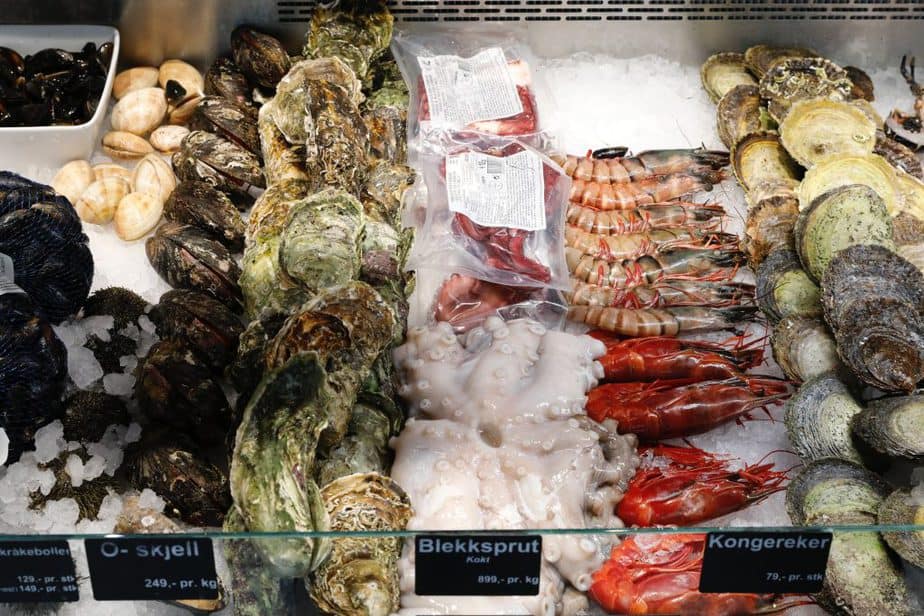 | | | | | |
| --- | --- | --- | --- | --- |
| Fish | Serving Size | Calories | Carbs | Fiber |
| Tuna | 1 can in water | 191 | 0 | 0 |
| Turbot | 7 ounces | 194 | 0 | 0 |
| Wahoo | 8 ounces | 356 | 0 | 0 |
| Whitefish | 7 ounces | 265 | 0 | 0 |
Fruits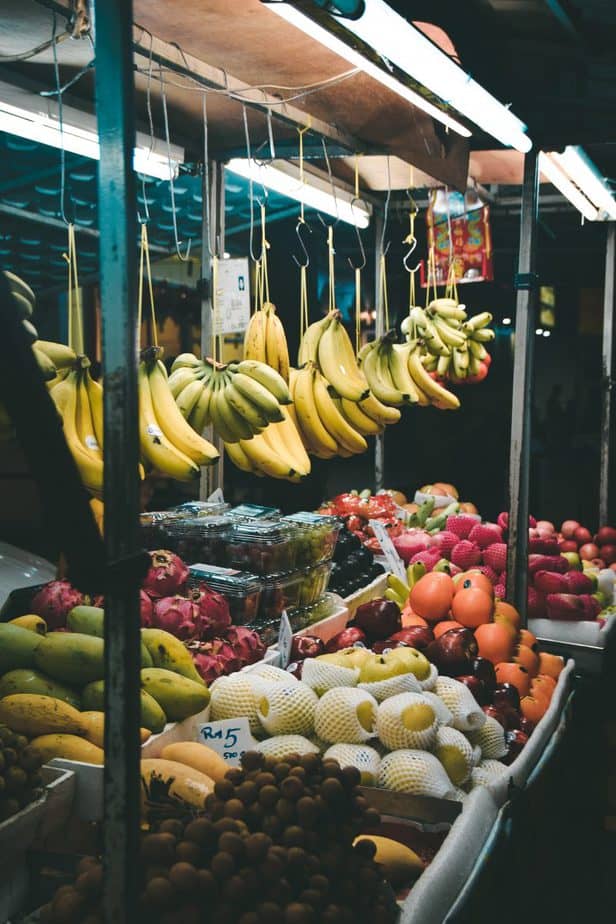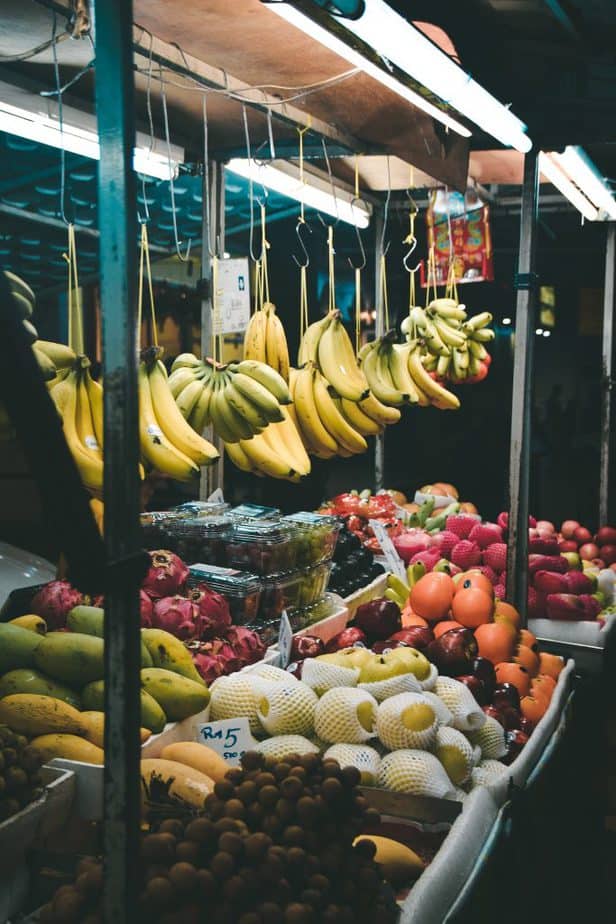 | | | | | |
| --- | --- | --- | --- | --- |
| Fruit | Serving Size | Calories | Carbs | Fiber |
| Apples | 1 large | 116 | 30.8 | 5.4 |
| Applesauce (unsweetened) | 1 cup | 102 | 27.5 | 2.7 |
| Apricots | 1 cup | 74.4 | 17.4 | 3.1 |
| Bananas | 1 medium | 105 | 27.0 | 3.1 |
| Blackberries | 1 cup | 61.9 | 14.7 | 7.6 |
| Blueberries | 1 cup | 84.4 | 21.4 | 3.6 |
| Cantaloupe | 1 cup | 60.2 | 15.6 | 1.6 |
| Cherries | 1 cup | 86.9 | 22.1 | 2.9 |
| Clementines | 1 fruit | 34.8 | 8.9 | 1.3 |
| Cranberries (fresh) | 1 cup | 50.6 | 13.4 | 5.1 |
| Dragonfruit | 1 fruit | 61 | 15 | 3 |
| Figs (fresh) | 1 large | 47.4 | 12.3 | 1.9 |
| Frozen mixed berries (unsweetened) | 1 cup | 65 | 15 | 5.6 |
| Fruit cocktail (unsweetened) | 4 ounces | 40 | 11 | 1 |
| Grapefruit | ½ fruit | 51.7 | 13.1 | 2.0 |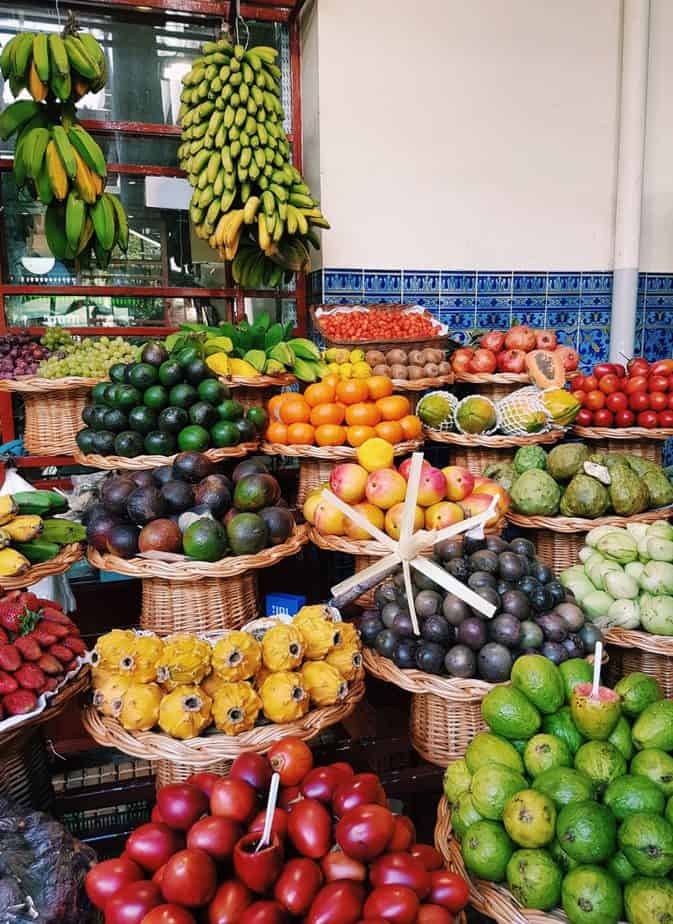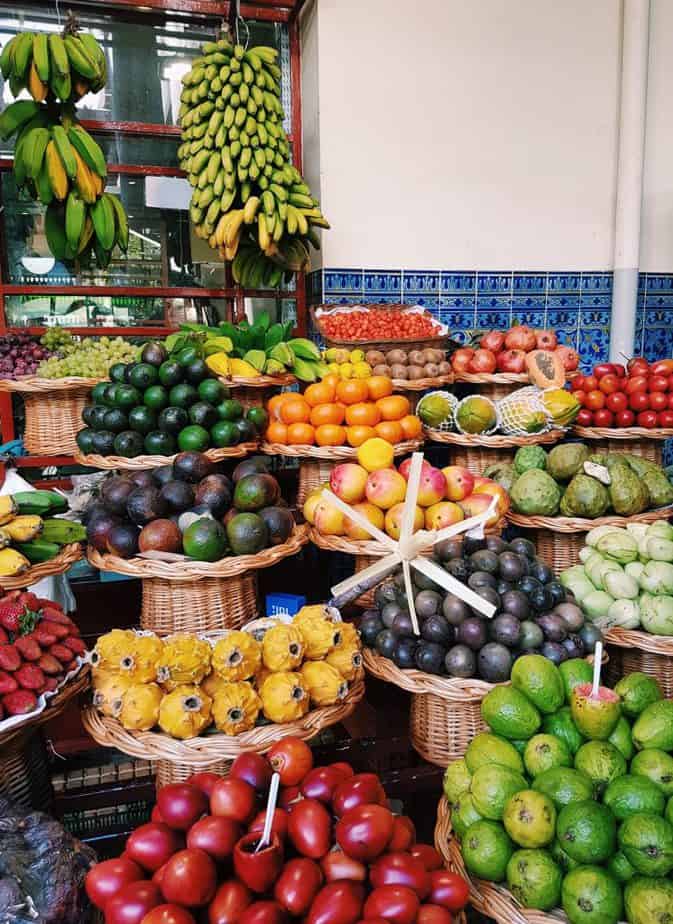 | | | | | |
| --- | --- | --- | --- | --- |
| Fruit | Serving Size | Calories | Carbs | Fiber |
| Grapes | 1 cup | 61 | 15.8 | .8 |
| Guava | 1 cup | 112 | 23.6 | 8.9 |
| Honeydew | 1 cup | 63.7 | 16.1 | 1.4 |
| Kiwi | 1 large fruit | 55.5 | 13.3 | 2.7 |
| Kumquats | 1 fruit | 13.5 | 3.0 | 1.2 |
| Lemons | 1 fruit | 21.6 | 11.6 | 5.1 |
| Limes | 1 fruit | 20.1 | 7.1 | 1.9 |
| Mangoes | 1 cup sliced | 107 | 28.1 | 3.0 |
| Nectarines | 1 large | 68.6 | 16.5 | 2.7 |
| Oranges | 1 fruit | 69.4 | 17.4 | 3.6 |
| Papayas | 1 large | 148 | 37.3 | 6.8 |
| Peaches | 1 large | 68.3 | 17.3 | 2.6 |
| Pears | 1 small | 85.8 | 22.9 | 4.6 |
| Persimmons | 1 fruit | 31.8 | 8.4 | 0 |
| Pineapples | 1 cup | 82.5 | 21.6 | 2.3 |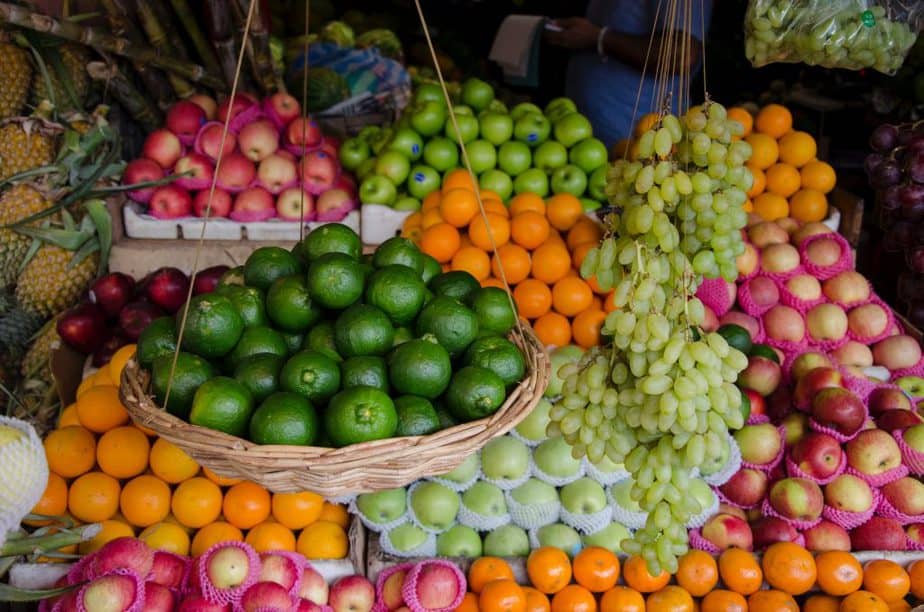 | | | | | |
| --- | --- | --- | --- | --- |
| Fruit | Serving Size | Calories | Carbs | Fiber |
| Plums | 1 fruit | 30.4 | 7.5 | .9 |
| Pomegranates | 1 fruit | 234 | 52.7 | 11.3 |
| Pomelo | 1 cup | 72.2 | 18.3 | 1.9 |
| Raspberries | 1 cup | 64.0 | 14.7 | 8.0 |
| Star Fruit | 1 large | 38.4 | 8.4 | 3.5 |
| Strawberries | 1 cup halves | 48.6 | 11.07 | 3.0 |
| Tangerines | 1 large | 63.6 | 16.0 | 2.2 |
| Watermelon | 1 cup balls | 46.2 | 11.6 | .6 |
Potatoes and Sweet Potatoes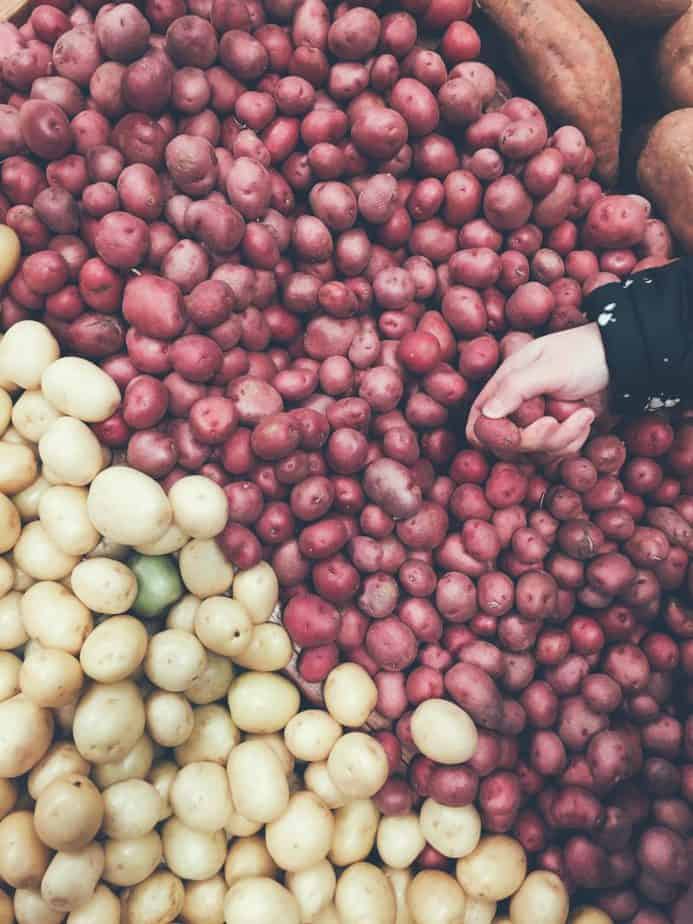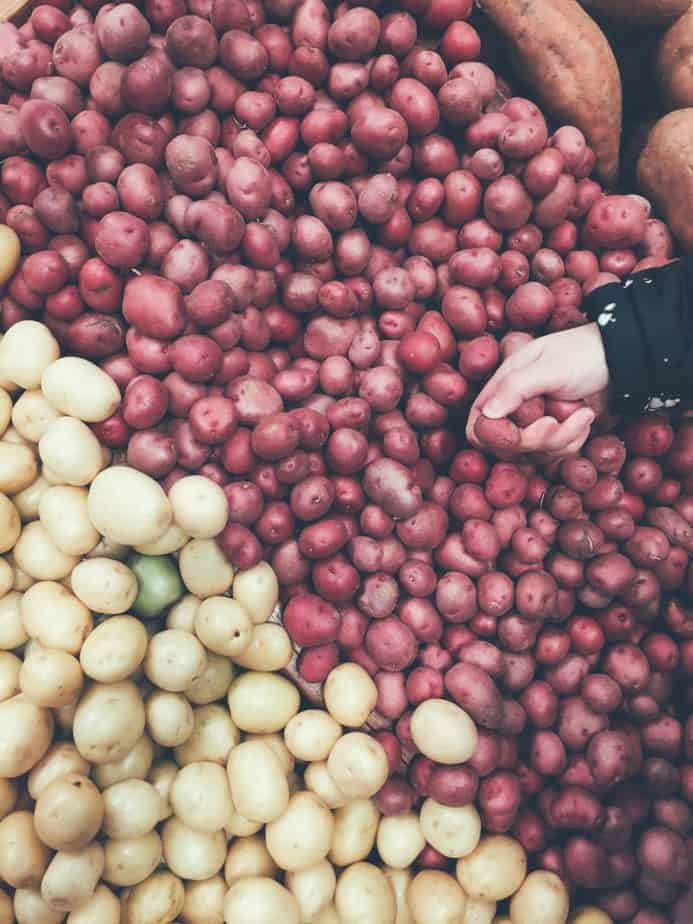 | | | | | |
| --- | --- | --- | --- | --- |
| Potatoes | Serving Size | Calories | Carbs | Fiber |
| Baby Potatoes | 1 cup | 67.9 | 15.7 | 1.4 |
| Baked Potatoes | 1 large | 278 | 63.2 | 6.6 |
| Baked sweet potatoes | 1 cup | 180 | 41.4 | 6.6 |
| Canned sweet potatoes (unsweetened) | 7 ounces | 200 | 46.1 | 2.49 |
| Cassava | 1 cup | 330 | 78.4 | 3.7 |
| Fingerling Potatoes | 1 cup | 148 | 34 | 3.1 |
| Frozen potatoes | 1 cup | 142 | 31.8 | 2.2 |
| Idaho potatoes | 1 cup diced | 113 | 26 | 2.7 |
| Japanese sweet potatoes | 1 medium | 264 | 63 | 4.6 |
| Mashed potatoes plain | 1 cup | 237 | 36 | 3.2 |
| New potatoes | ⅔ cup | 87 | 20.1 | 1.8 |
| Oven-roasted potato wedges without oil | 10 pieces | 275 | 36 | 3.3 |
| Oven-roasted sweet potato fries without oil | 1 cup | 180 | 41.4 | 6.6 |
| Purple potatoes | 3.5 ounces | 87 | 20 | 3.3 |
| Red potatoes | | | | |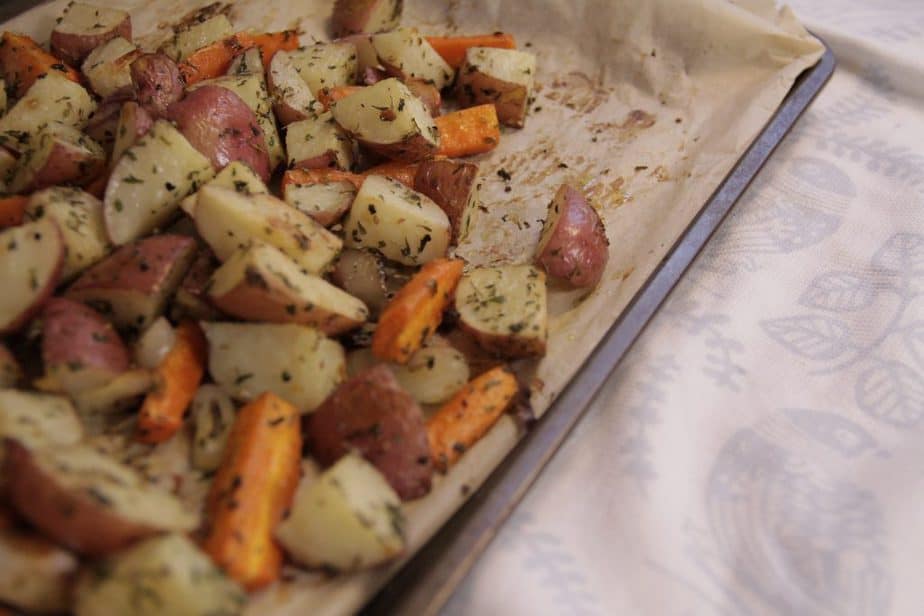 | | | | | |
| --- | --- | --- | --- | --- |
| Potatoes | Serving Size | Calories | Carbs | Fiber |
| Roasted Potatoes without oil | 1 potato | 266 | 58.6 | 5.4 |
| Roasted sweet potatoes without oil | 1 large | 162 | 37.3 | 5.9 |
| Russet potatoes | 1 medium | 168 | 38.5 | 2.8 |
| Sweet potatoes | 1 potato | 112 | 26.2 | 3.9 |
| Taro | 1 cup | 116 | 27.5 | 4.3 |
| White potatoes | 1 large | 255 | 62.9 | 8.9 |
| Yams | 1 cup cubed | 177 | 41.8 | 6.1 |
| Yellow Potatoes | ⅔ cup | 87 | 20.1 | 1.8 |
| Yucca | 1 cup | 330 | 78.4 | 3.7 |
| Yukon gold Potatoes | 1 medium | 164 | 39 | 5 |
Tofu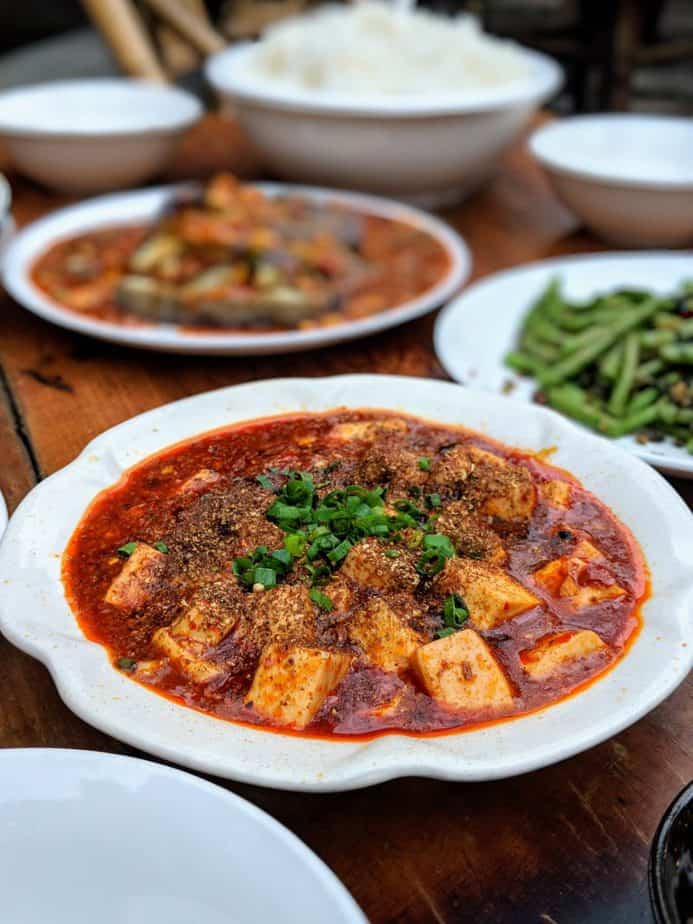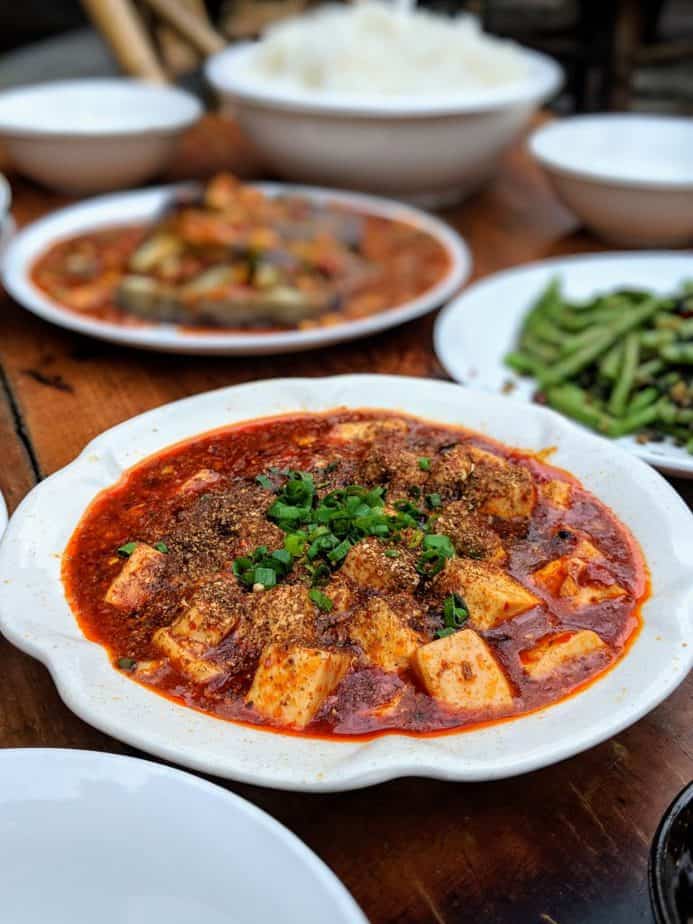 | | | | | |
| --- | --- | --- | --- | --- |
| Tofu | Serving Size | Calories | Carbs | Fiber |
| Firm tofu | ½ cup | 183 | 5.4 | 2.9 |
| Silken tofu | 3 ounces | 62.0 | 2.4 | .1 |
| Smoked Tofu | 3 ounces | 140 | 2 | 1 |
| Soft tofu | 1 cup | 151 | 4.5 | .5 |
| Tempeh | 1 cup | 320 | 15.6 | 0 |
Vegetables (Starchy)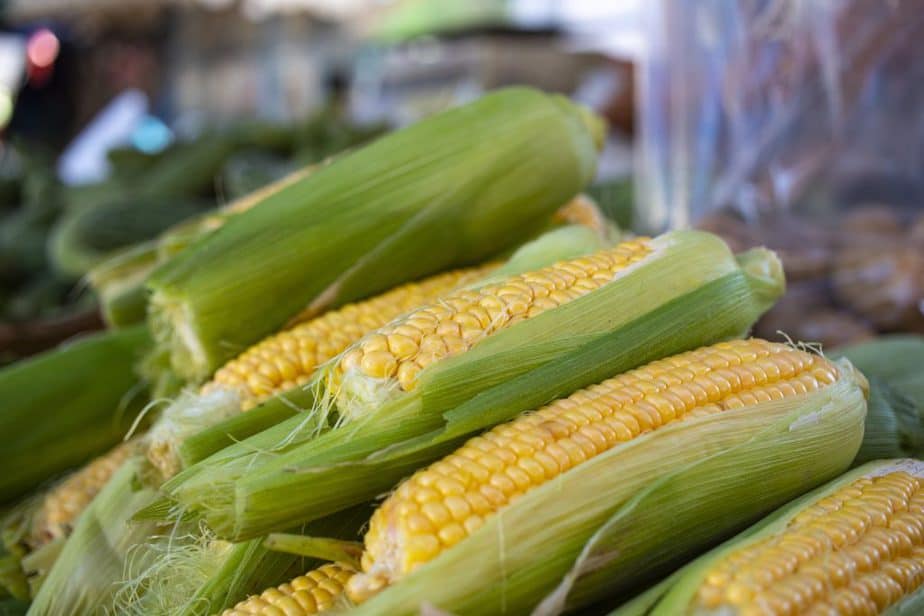 | | | | | |
| --- | --- | --- | --- | --- |
| Vegetable | Serving Size | Calories | Carbs | Fiber |
| Canned Corn | 1 cup | 133 | 30.8 | 3.1 |
| Corn | 1 ear | 58.6 | 14.1 | 1.8 |
| Green Peas | 1 cup | 117 | 21.0 | 7.4 |
| Parsnips | 1 cup | 99.7 | 23.9 | 6.5 |
| Peas | 1 cup | 117 | 21.0 | 7.4 |
| Split Peas | 3 ounces | 341 | 60.4 | 25.5 |
| Succotash | 3 ounces | 99 | 19.6 | 3.8 |
Vegetables (non-starchy)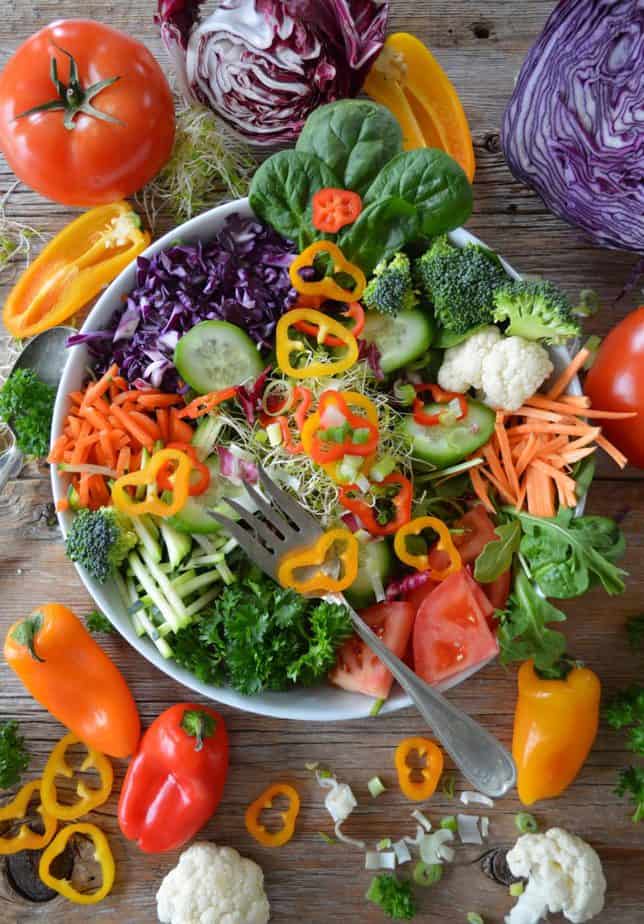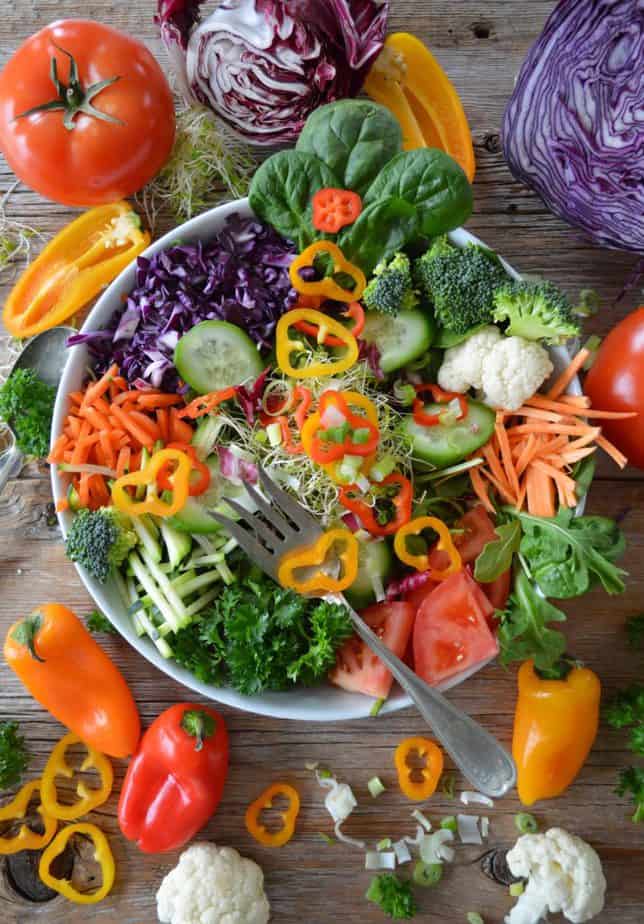 | | | | | |
| --- | --- | --- | --- | --- |
| Vegetables (non starchy | Serving Size | Calories | Carbs | Fiber |
| Acorn squash | 3 ounces | 40 | 10.4 | 1.5 |
| Artichoke hearts no oil | 1 medium | 63.6 | 14.3 | 10.3 |
| Artichokes | 1 medium | 63.6 | 14.3 | 10.3 |
| Arugula | ½ cup | 2.5 | .4 | .2 |
| Asparagus | 1 cup | 26.8 | 5.3 | 2.8 |
| Baby corn | ½ cup | 25.3 | 5.6 | .6 |
| Bamboo shoots | 1 cup | 24.9 | 4.3 | 1.8 |
| Basil | 2 Tbsp | 1.2 | .1 | .1 |
| Beet Greens | 1 cup chopped | 38.8 | 7.8 | 4.18 |
| Beets | 1 cup | 58.5 | 13.0 | 3.8 |
| Bok Choy | 1 cup | 20.4 | 3.1 | 1.7 |
| Broccoli | 1 cup | 30.9 | 1.2 | 1.1 |
| Broccoli rabe | 1 cup | 8.8 | 14.3 | 10.3 |
| Broccoli slaw | 3 ounces | 25 | 5 | 2 |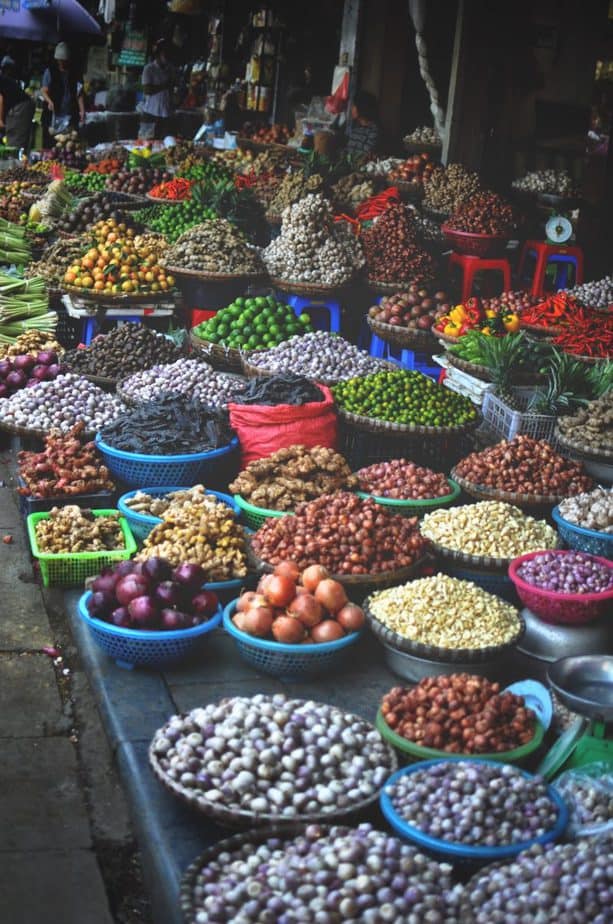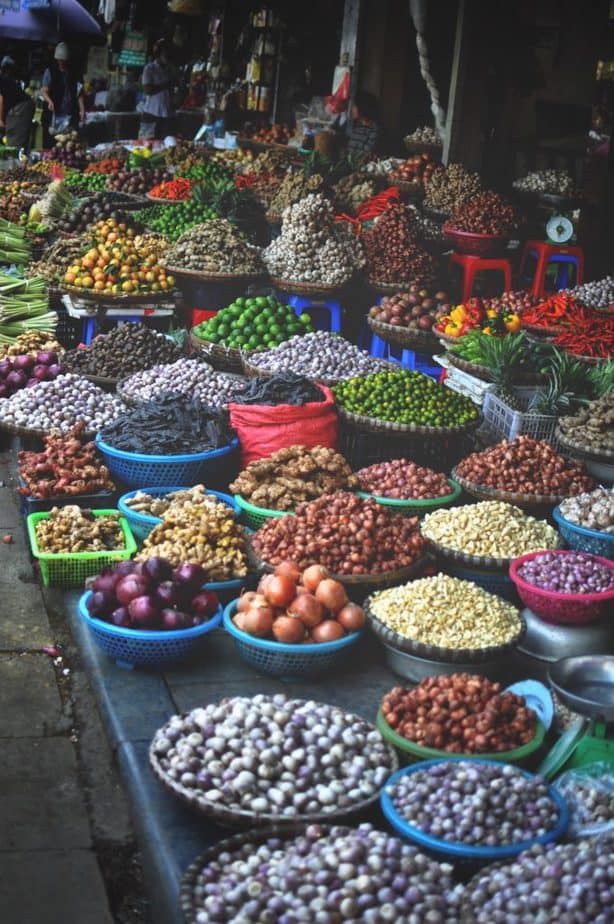 | | | | | |
| --- | --- | --- | --- | --- |
| Vegetable | Serving Size | Calories | Carbs | Fiber |
| Brussels sprouts | 1 cup | 37.8 | 7.9 | 3.3 |
| Butter Bibb Lettuce | 1 cup | 7.2 | 1.2 | .6 |
| Butternut Squash | 1 cup | 63 | 16.4 | 2.8 |
| Cabbage | 1 cup chopped | 22.2 | 5.2 | 2.2 |
| Canned pimientos | 1 cup | 44.2 | 9.8 | 3.6 |
| Carrots | 1 cup chopped | 52.2 | 12.3 | 3.6 |
| Cauliflower | 1 cup florets | 25 | 5.3 | 2.5 |
| Cauliflower Rice | 1 cup | 25 | 5.3 | 2.5 |
| Celery | 1 cup chopped | 16.2 | 3.5 | 1.6 |
| Chives | 1 Tbsp | .9 | .5 | .1 |
| Cilantro | ¼ cup | .9 | .1 | .1 |
| Coleslaw mix | 3 ounces Taylor Farms | 20 | 5 | 2 |
| Collard Greens | 1 cup chopped | 10.8 | 2.0 | 1.3 |
| Cucumber | 1 cup peeled | 16 | 2 | .6 |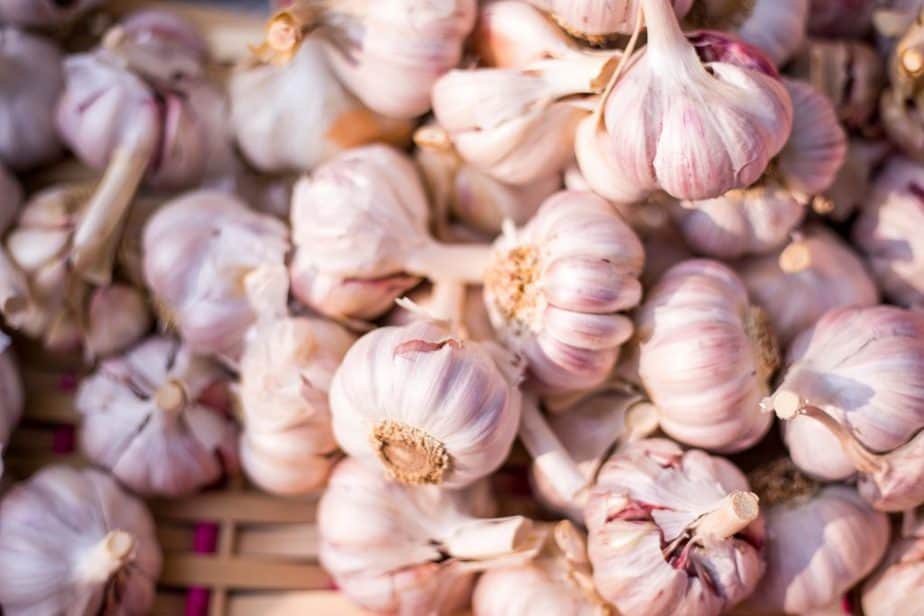 | | | | | |
| --- | --- | --- | --- | --- |
| Vegetable | Serving Size | Calories | Carbs | Fiber |
| Eggplant | 1 cup | 32.7 | 8.1 | 2.5 |
| Endive | 1/2 cup chopped | 4.3 | .8 | .8 |
| Escarole | ½ cup | 107 | 21 | 11 |
| Fennel | 1 Tbsp | 19.8 | 3 | 2.3 |
| Frozen stir fry vegetables | 3 ounces | 40 | 8 | 2 |
| Garlic | 1 cup florets | 41.7 | 9.3 | .6 |
| Ginger | 1 Tbsp | 18 | 3.7 | .7 |
| Green leaf lettuce | 1 cup shredded | 5.4 | 1 | .5 |
| Hearts of Palm | 1 ounce | 32.2 | 7.2 | .4 |
| Iceberg lettuce | 1 cup shredded | 10.1 | 2.3 | .9 |
| Jicama | 1 medium | 38 | 8.82 | 4.9 |
| Kale | 1 cup chopped | 33.5 | 6.7 | 2.5 |
| Kohlrabi | 1 cup sliced | 47.8 | 11.0 | 1.8 |
| Leeks | 1 head | 32.7 | 8.1 | 2.5 |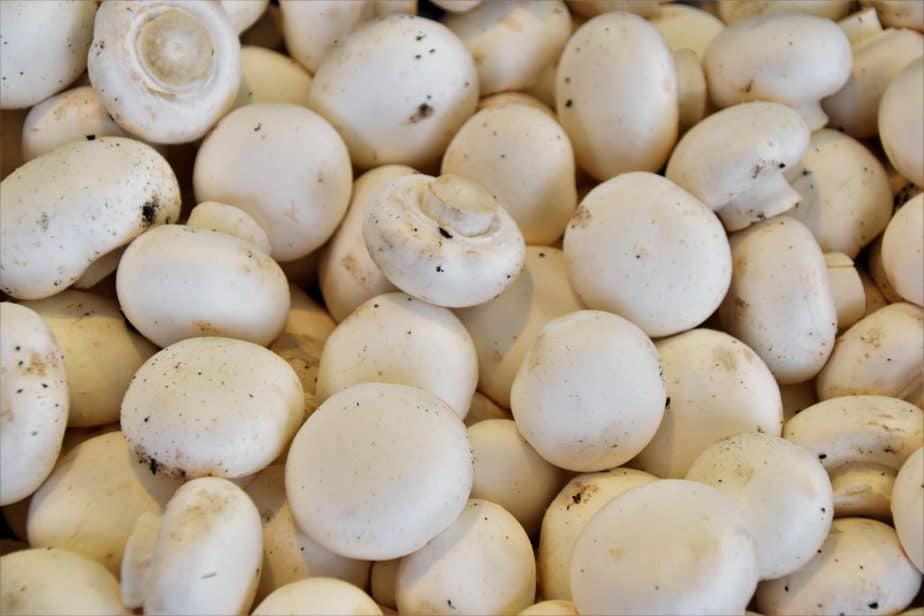 | | | | | |
| --- | --- | --- | --- | --- |
| Vegetable | Serving Size | Calories | Carbs | Fiber |
| Mint | 2 Tbsp | 2 | .48 | .3 |
| Mixed greens | 3 ounces | 24 | 4.4 | 1.7 |
| Mushrooms Portabello | 1 cup | 22.4 | 4.4 | 1.3 |
| Mushrooms white | 1 cup | 15.4 | 2.3 | .7 |
| Mustard greens | 1 cup chopped | 14.6 | 2.7 | 1.8 |
| Napa Cabbage | 1 cup | 13.1 | 2.4 | 2 |
| Nori | 26 grams | 9 | 1.3 | .1 |
| Oakleaf lettuce | 1 cup shredded | 5 | 1 | .5 |
| Okra | 1 cup | 33 | 7 | 3 |
| Onions | 1 medium | 44 | 10.3 | 1.9 |
| Oregano | 1 tsp | 3.1 | .6 | .4 |
| Parsley | 1 Tbsp | 4.1 | .8 | .5 |
| Pea Shoots | 1 cup | 40 | 8 | 3 |
| Peppers (green) | 1 cup chopped | 29.8 | 6.9 | 2.5 |
| Pickles (unsweetened) | 1 medium | 11.7 | 2.7 | .8 |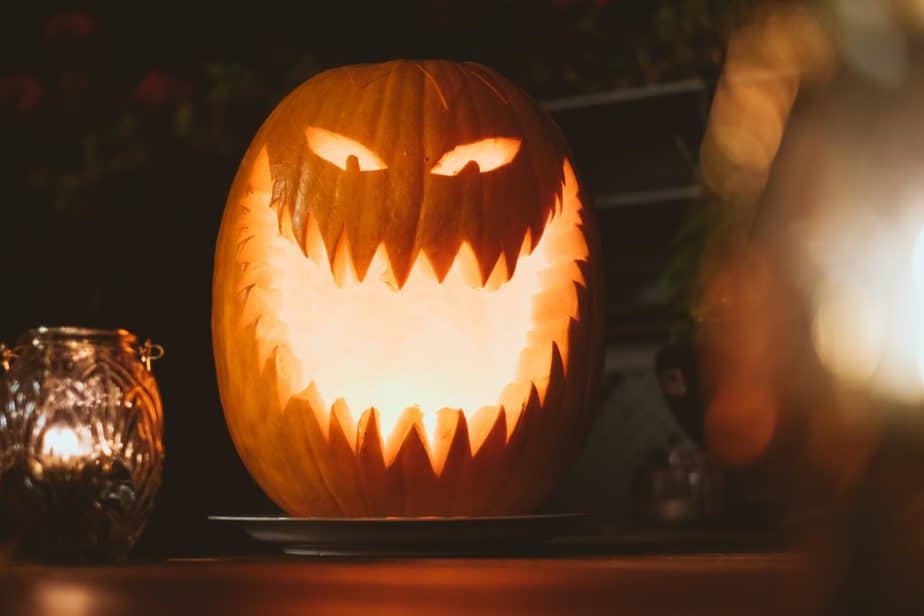 | | | | | |
| --- | --- | --- | --- | --- |
| Vegetable | Serving Size | Calories | Carbs | Fiber |
| Pico de gallo | ¼ cup | 11 | 2 | 1 |
| Pumpkin | 1 cup | 49 | 12.01 | 2.7 |
| Pumpkin puree | 1 cup | 83.3 | 19.8 | 7.1 |
| Radishes | 1 cup | 18.6 | 4.0 | 1.9 |
| Red leaf Lettuce | 1 cup | 4.5 | .6 | .3 |
| Romaine Lettuce | 1 cup shredded | 4.5 | .6 | .3 |
| Rosemary | 1 Tbsp | 2 | .3 | .2 |
| Rutabaga | 1 cup | 50.4 | 11.4 | 3.5 |
| Salsa fat-free | 2 Tbsp | 10 | 2 | 0 |
| Sauerkraut | 1 cup | 32 | 7.3 | 2.6 |
| Scallions | 1 cup | 32 | 7.3 | 2.6 |
| Shallots | 1 tablespoon | 7.2 | 1.7 | >.1 |
| Spaghetti Squash | 1 cup cubed | 31.3 | 7 | 0 |
| Spinach | 1 cup chopped | 6.9 | 1.1 | .7 |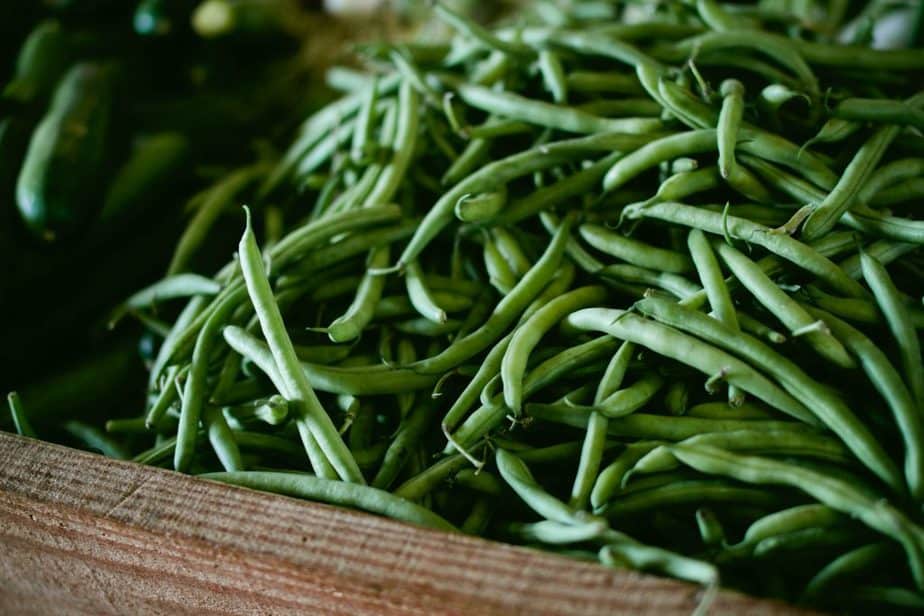 | | | | | |
| --- | --- | --- | --- | --- |
| Vegetables | Serving Size | Calories | Carbs | Fiber |
| String Beans | 1 cup | 34.1 | 7.8 | 3.7 |
| Summer Squash | 1 cup sliced | 18.1 | 3.8 | 1.2 |
| Swiss Chard | 1 cup chopped | 6.8 | 1.3 | .6 |
| Tarragon | 1 tsp | 1.5 | .3 | 0 |
| Thyme | 1 tsp | 2.8 | .6 | .4 |
| Tomatillos | 1 medium | 10.9 | 2.0 | .6 |
| Tomato puree canned | 1 cup | 95 | 22.5 | 4.8 |
| Tomato sauce Canned | 1 cup | 58.8 | 14.1 | 3.7 |
| Tomatoes | 1 plum | 11.2 | 2.4 | .7 |
| Turnips | 1 cup cubed | 36.4 | 8.4 | 2.3 |
| Water chestnuts | 3.5 ounces | 97 | 23.9 | 3 |
| Wax beans | ½ cup | 15 | 3 | 1 |
| Zucchini | 1 cup | 17 | 3 | 1 |
Whole Wheat Pasta and Grains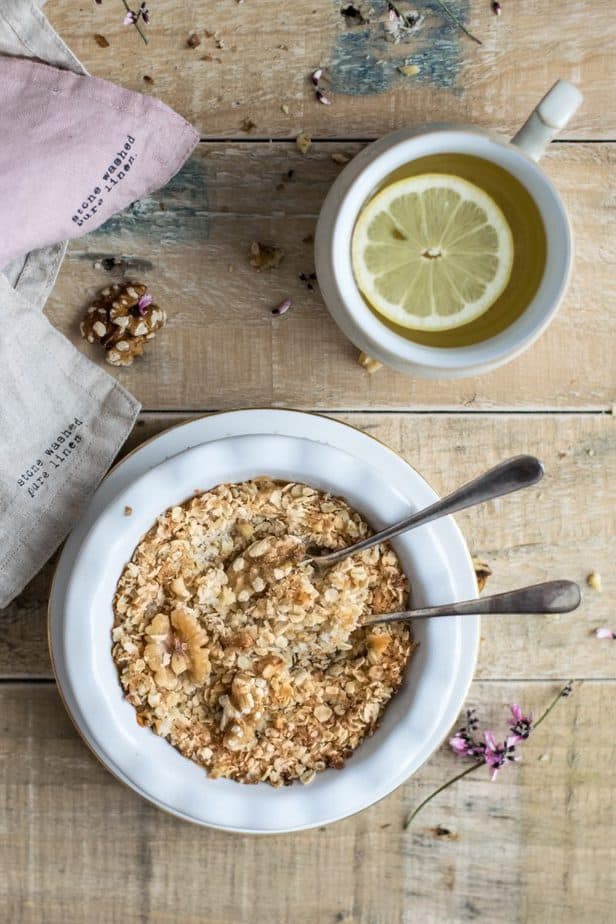 | | | | | |
| --- | --- | --- | --- | --- |
| Pasta and Grains | Serving Size | Calories | Carbs | Fiber |
| Air popped popcorn no oil or sugar | 1 cup | 31 | 6.2 | 1.2 |
| Air popped popcorn with salt or spices | 1 cup | 31 | 6.2 | 1.2 |
| Amaranth | 1 cup | 716 | 127 | 12.9 |
| Ancient grain mix,no seeds | 1 cup | 251 | 46 | 5 |
| Barley, pearled | 1 cup | 704 | 155 | 31.2 |
| Black bean pasta | 2 ounces | 212 | 28 | 7.4 |
| Brown basmati rice | ¼ cup | 180 | 40 | 4 |
| Brown rice | 1 cup | 685 | 143 | 6.5 |
| Brown rice cereal 100% | 1 cup | 124 | 27.5 | 2.3 |
| Brown rice noodles | 1 cup | 491 | 121 | .7 |
| Brown rice pasta | 1 cup | 491 | 121 | 7 |
| | | | | |
| --- | --- | --- | --- | --- |
| Pasta and Grains | Serving size | Calories | Carbs | Fiber |
| Brown rice -quinoa blend | 1 cup | 220 | 43 | 2 |
| Buckwheat | 1 cup | 583 | 122 | 17 |
| Buckwheat soba noodles | 6 ounces | 249.9 | 52 | 2 |
| Bulgur | 1 cup | 479 | 106 | 25.6 |
| Chickpea pasta | 2 ounces | 190 | 32 | 8 |
| Corn pasta | 1 cup | 176 | 39.1 | 6.7 |
| Edamame pasta | 4 ounces | 420 | 44 | 22 |
| Farro | ¼ cup | 140 | 30 | 3 |
| Freekeh | ¼ cup | 130 | 28 | 4 |
| Instant brown rice | 1 cup | 216 | 44.8 | 3.5 |
| Instant oatmeal plain | 1 cup | 159 | 29.3 | 4 |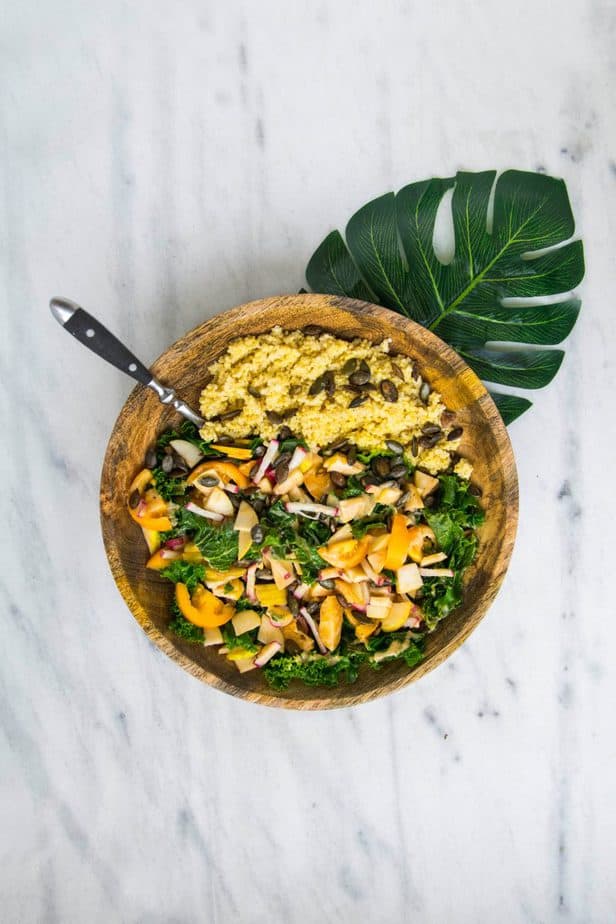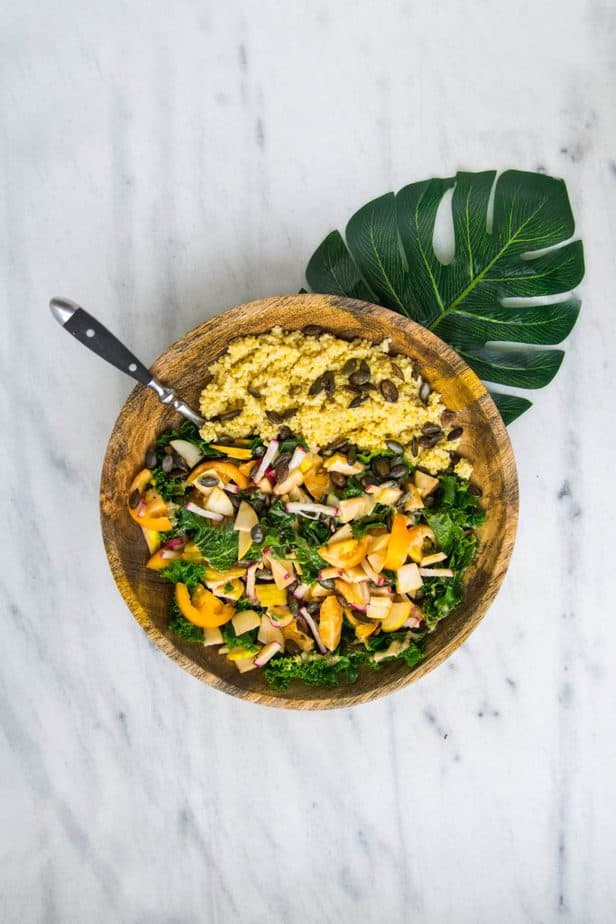 | | | | | |
| --- | --- | --- | --- | --- |
| Pasta and Grains | Serving Size | Calories | Carbs | Fiber |
| Kamut | 4 ounce | 337 | 70.4 | 9.1 |
| Kasha | 1 cup | 346 | 74.9 | 10.3 |
| Lentil pasta (red) | 2 ounces | 180 | 34 | 6 |
| Millet | 4 ounces | 378 | 72.9 | 8.5 |
| Oatmeal plain | ⅓ cup | 102 | 18.6 | 2.7 |
| Oats | 1/3 cup | 102 | 18.6 | 2.7 |
| Pea pasta | ¾ cup | 190 | 30 | 5 |
| Popcorn kernels for at home popping | 1 ounce | 105 | 20.8 | 3.6 |
| Quick-cooking regular oats | ⅓ cup | 102 | 18.6 | 2.7 |
| Quick-cooking steel-cut oats | ¼ cup | 170 | 28 | 4 |
| Quinoa | 3.5 ounces | 368 | 64.2 | 7.0 |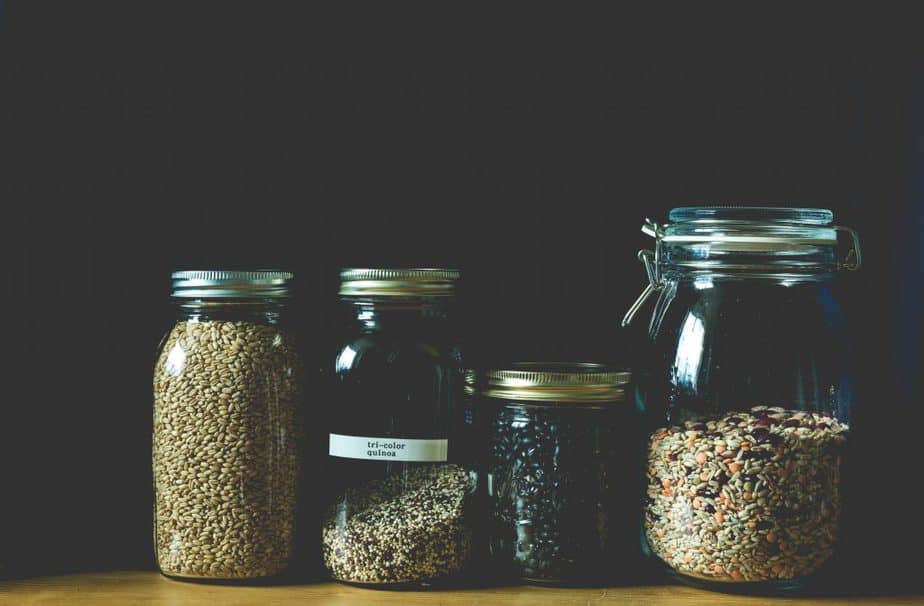 | | | | | |
| --- | --- | --- | --- | --- |
| Pasta and Grains | Serving Size | calories | Carbs | Fiber |
| Quinoa pasta | 1 cup | 226 | 46 | 4.9 |
| Red quinoa | 1 cup | 222 | 40 | 5 |
| Rolled oats | 1 cup | 307 | 55.9 | 8.2 |
| Rye berries | 1 cup | 556 | 118 | 24.7 |
| Shirataki noodles | 4 ounces | 10 | 3 | 3 |
| Sorghum | 1 cup | 651 | 143 | 12.1 |
| Soybean pasta | 2 ounces | 212 | 28 | 7.4 |
| Spelt | 4 ounces | 338 | 71.4 | 10.7 |
| Spelt berries | 1 cup | 246 | 51 | 7.6 |
| Steel-cut oats | ½ cup | 170 | 28 | 4 |
| Teff | ½ cup | 354 | 70.6 | 7.7 |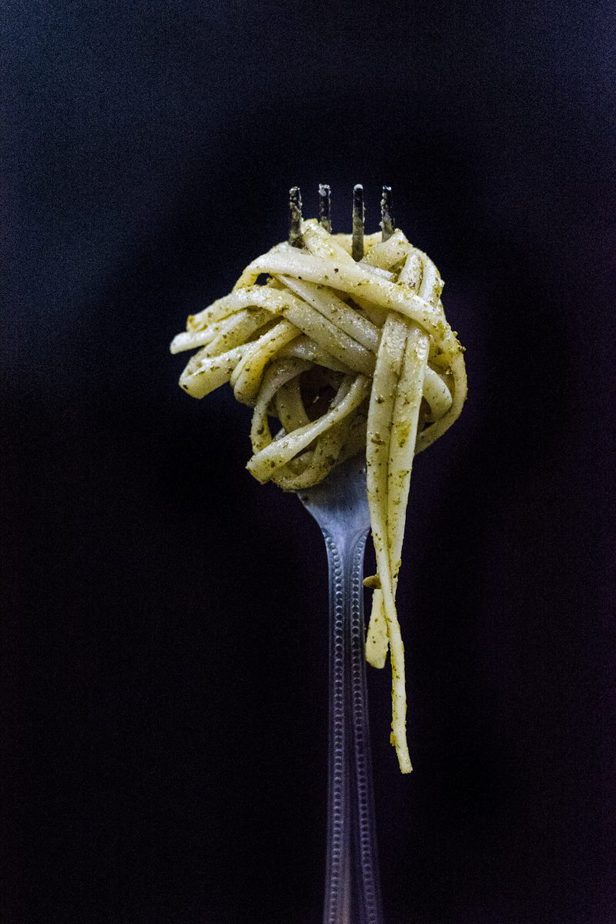 | | | | | |
| --- | --- | --- | --- | --- |
| Pasta and Grains | Serving Size | Calories | carbs | Fiber |
| Thai brown rice | 3.5 ounces | 320 | 64 | 4 |
| Tri-color quinoa | 1 cup | 120 | 21.3 | 2.8 |
| Wheat berries | 3.5 ounces | 329 | 68 | 12.2 |
| Whole-grain pasta | 1 cup | 174 | 37.2 | 6.3 |
| Whole-grain sorghum | 1 cup | 651 | 143 | 12.1 |
| Whole-wheat couscous | 1 cup | 651 | 134 | 8.7 |
| Whole-wheat pasta | 1 cup | 174 | 37.2 | 6.3 |
| Wild-Rice | 1 cup | 571 | 120 | 9.9 |
| Wild rice-brown rice blend | 3.5 | 101 | 21 | 2 |
Need more support? Join my Facebook Groups!

WW Recipes and Support With Smiley's Points (All Plans)
Low Point Recipes Only (All Plans)
PURPLE PLAN Group
BLUE PLAN Group
GREEN PLAN Group