How to Do the WW Purple Plan on Healthi formerly iTrackbites
You know I'm a huge fan of Healthi formerly iTrackbites (who wouldn't be? It's WW for 1/10 of the cost), but with the new WW plans the app needs a little work around to make each plan work. If you want to follow the WW Purple Plan, this is how you do it in Healthi formerly iTrackbites!
The information in this post is directly from an iTrackBites coach and deemed accurate at time of posting.
Full iTrackBites Review | WW vs iTrackBites
---
"Healthi formerly iTrackbites is an alternative to Weight Watchers. "

---
How to Do the WW Purple Plan on Healthi formerly iTrackbites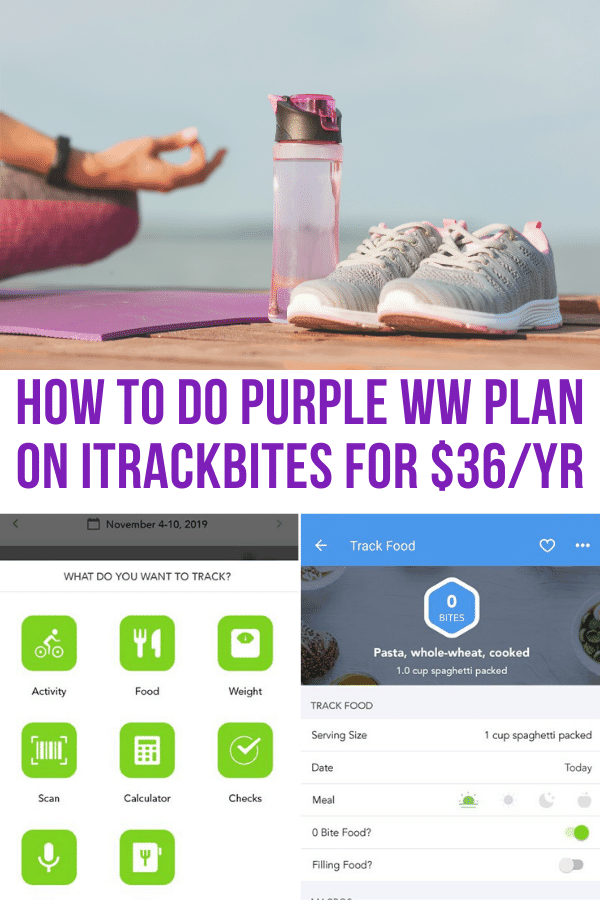 It's very simple to do WW Purple on Healthi formerly iTrackbites, but you will need to set up your Bites (Points) manually to do so. This is the formula you use:
Better Balance: Daily Allowance – 30% = Purple Plan
I did get 36 points on Better Balance, now I get 25. It seems like a big drop but there are 100 extra Zero Bite foods to keep you on track with fewer points needed.
Note: If there is a food item on the Purple list that is not on the Blue (Freestyle) list when you go to add these foods in Healthi formerly iTrackbites, toggle it to a zero Bite food. You don't have to track Zero bite foods at all, but I need to keep an eye on my carbs so I track everything.
Dumpy to Diva explains how to do this in the video below:
I have my secondary tracking set up as MACROS. I don't care about calories so much, so Macros make sense for me.
Note: Better Balance is a subscription feature so you must be a paid member to access it.
Can You Lose Weight on the WW Purple Plan?
Yes, yes, yes you can! While the Purple plan isn't the best for those who need help with portion control or watching carbs, Barrett (who describes herself as carb sensitive, like I am) had great luck with the Purple Plan!
Healthi formerly iTrackbites Features
Why should you switch from WW to Healthi formerly iTrackbites? Honestly, you don't have to! You can stick with WW if you love the program and don't mind the extra cost. But Healthi formerly iTrackbites uses the same formulas, is accurate, and is about 1/10 of the price of WW Online.
cost: Healthi formerly iTrackbites costs $36 for the year (using this link for 40% off makes it $36 if you use COACH_SMILEY as the code. You need to put in the code to save the MOST $$$), WW is $16+ for the month, and it's the same formula! UPDATE JAN 2021 — sign up for a free account, then use code COACH_SMILEY after your profile is set up. Click DISCOVER PRO, enter the promo code, and you'll get Healthi formerly iTrackbites for just $24.99 a year!! Use this tutorial if you're unsure on how to use a promo code on iTrackBites. (They keep changing this!! So I update this tutorial often.)
choices: I can choose PointsPlus, Freestyle, or any other plan I want with Healthi formerly iTrackbites. Even with the new WW changes, they only offer 3 plan options (not PointsPlus).
logs: You can export your tracker data by the week, month, or quarter with Healthi formerly iTrackbites. WW does not give you access to quarterly data.
accuracy: I've found inaccurate info in the WW app due to members submitting and not paying attention to the right numbers. With Healthi formerly iTrackbites, I know if I see the green check, it's been verified as accurate. This puts my mind at ease!
Have you tried Healthi formerly iTrackbites?
Sign up for FREE through my referral link (mobile) and
leave a comment letting me know what you think!
Use code COACH_SMILEY as a PROMO CODE at checkout to get Healthi formerly iTrackbites for just $24.99 a year!
How to do WW on Healthi formerly iTrackBites
Find info on the Purple Plan here.
Find info on the Blue Plan here.
Find info on the Green Plan here.
iTrackBites full overview