How to Use a Healthi formerly iTrackBites Promo Code
Beginning September 1, 2020, Healthi formerly iTrackBites is changing their coupon code structure, but thankfully, using an Healthi formerly iTrackBites promo code is SUPER simple! For best results, sign up on your COMPUTER – not a tablet or phone.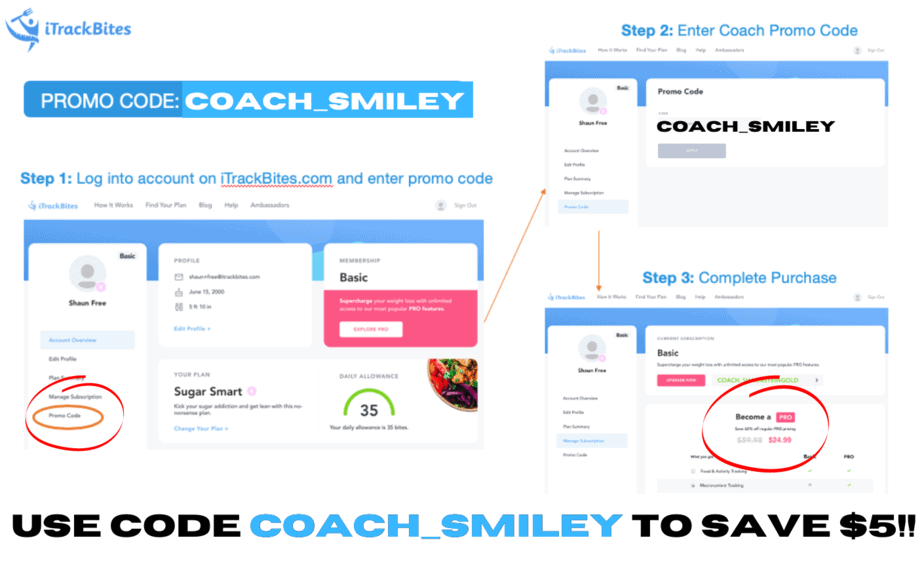 ---
"Healthi formerly iTrackbites is an alternative to Weight Watchers. "

---
Healthi formerly iTrackBites Coupons
Log into your account (on your computer) on iTrackBites.com and click "PROMO CODE".
Enter COACH_SMILEY into the promo code box, and you'll be able to upgrade your FREE account to a PRO account for just $24.99 a year!
Read some of my posts about why I use Healthi formerly iTrackBites instead of Weight Watchers here on my blog.
How to do WW on Healthi formerly iTrackBites
Find info on the Purple Plan here.
Find info on the Blue Plan here.
Find info on the Green Plan here.
iTrackBites full overview
Visit iTrackBites.com, sign into your account. If you don't have one, sign up for the free version and take the small quiz.
Click on the Menu button in the top left (it will look like 3 horizontal stacked lines) and then Promo Code.
Enter in Coach_Smiley (don't forget the underscore!) and then tap on Apply.
Click on the Menu button again, then on Manage Subscription.
Click on Upgrade and your price should display as $24.99 per year.
Enter in your credit or debit card info and you're all set!
NOTE: When you sign up for a free account, you're offered a discount that makes it $29.99. Take the quiz and THEN you will be offered $24.99 if you use COACH_SMILEY. If you have ANY problems at all using our promo code, please email us! smileyspoints AT gmail.com
Here's a video walking you through the process if the one above does not work!