We try to keep this blog super positive all the time but sometimes we have to discuss the REAL stuff, too. Today, we were made aware of a situation concerning racism and ww (formerly Weight Watchers) that has made us decide to distance ourselves from the company entirely.
The competitor we regularly (already) promote, iTrackBites, is now our #1 priority. We will still share healthy recipes, of course, but our goal is to move away from ww entirely because we do NOT stand with racism. Until they put out a statement saying they don't, either, we aren't interested in giving them MORE free advertising like we have for the past two years!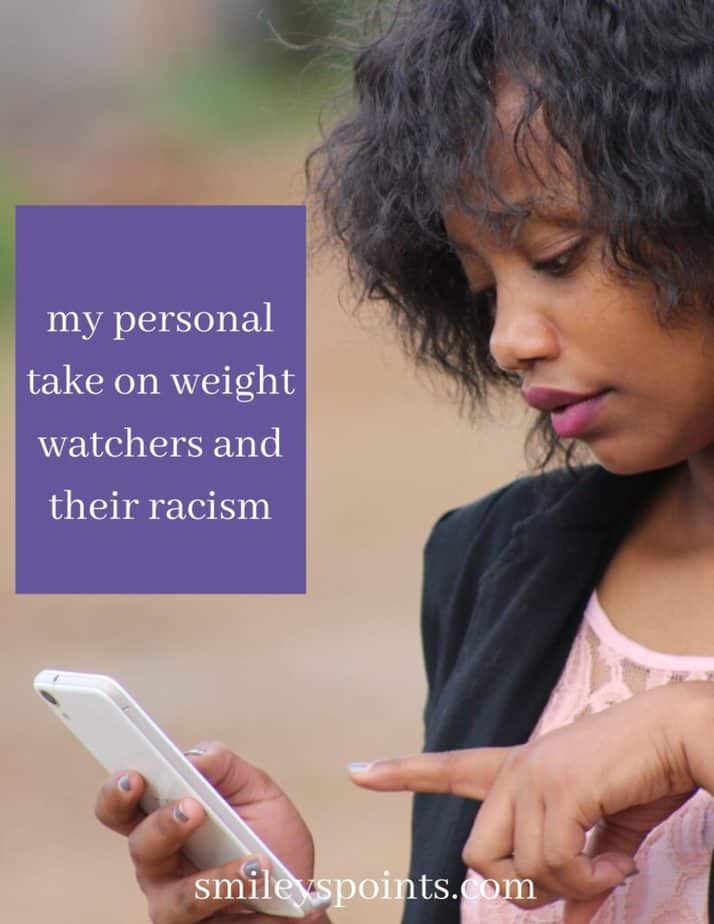 Keep in mind this is my opinion, and I'm basically sharing what I've learned from others. If you find something concrete that is contradictory, feel free to forward it to me. Until then, I'm going to spread the word so others can be aware of how WW is behaving as a company.
---
"Healthi formerly iTrackbites is an alternative to Weight Watchers. "
---
So, what happened? Here's a rundown:
WW and Racism: What is going on?
I reached out to a few of the IG folks who are talking about this. Here is their info if you want to check out their highlights (that is where the stories are posted):
IG peeps… if I missed you, leave your handle in the comments and I will add it! THANK YOU for sharing this info!
ww + racist ambassador(s)
As far as we can tell, thanks to elizabetheatingweeklies and other accounts sharing the stories, ww hired an ambassador who was involved with some racist people – most notably, her boyfriend. He posted about being anti-choice, mocked the #metoo movement, is very anti-Black Lives Matter.
There was some uproar about this, which of course was quickly covered up, and ww said nothing about it. If Weight Watchers had taken a stand and said "we don't tolerate racism", got rid of the ambassador (who others have said *is* racist but I didn't see any proof of that so I won't say that for sure), etc then it wouldn't have been an issue. We all make mistakes so if ww accidentally hired a racist ambassador, they would have stood up and said something about it. At least, that's how I see it.
WW was called out about it so they did remove the ambassador, but they didn't make a statement. Silence is violence.
American Dream Nut Butter + Racism: the facts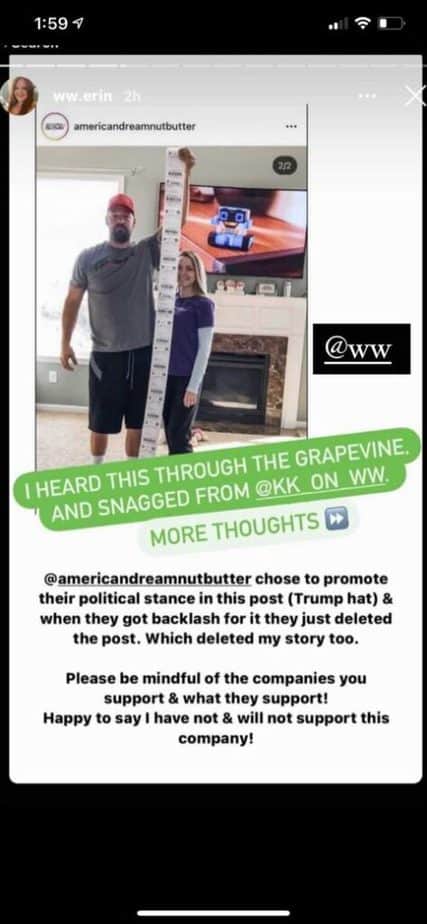 We don't like to share things unless we know they're accurate, so we've done some digging to make sure the rumors were true before sharing it. These are the facts we know so far:
Screenshots were shared of ADNB company's owner wearing a MAGA hat, on his company page. Because of the backlash, he deleted it. Their other company is American Mayhem, which is worth noting! Also worth noting, this isn't a post about politics – his making fun of "Black lives matter" with "Jacked lives matter" is context.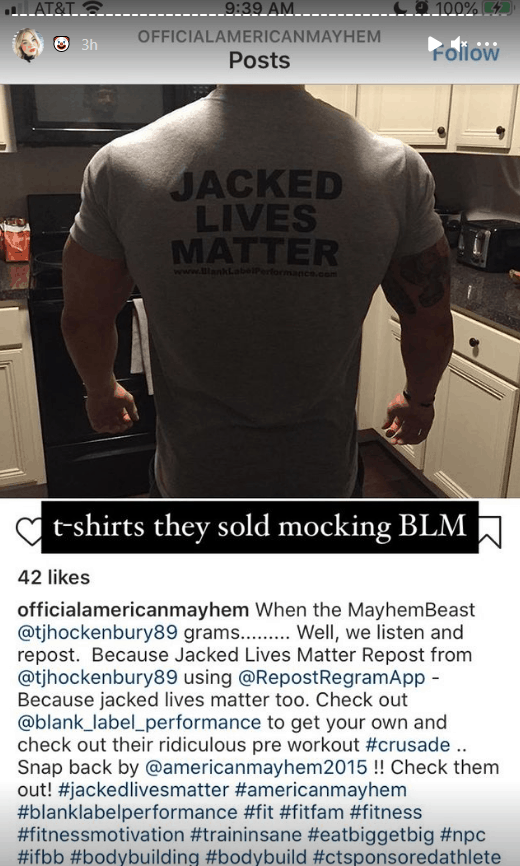 Then, more screenshots were discovered from his personal Instagram. The account has now gone private, and the name has been changed, so we can't find the account anymore but there are screenshots proving there were SEVERAL problematic posts. His defense? "This is my personal account." Go through the IG highlights from the creators above and you will see the receipts.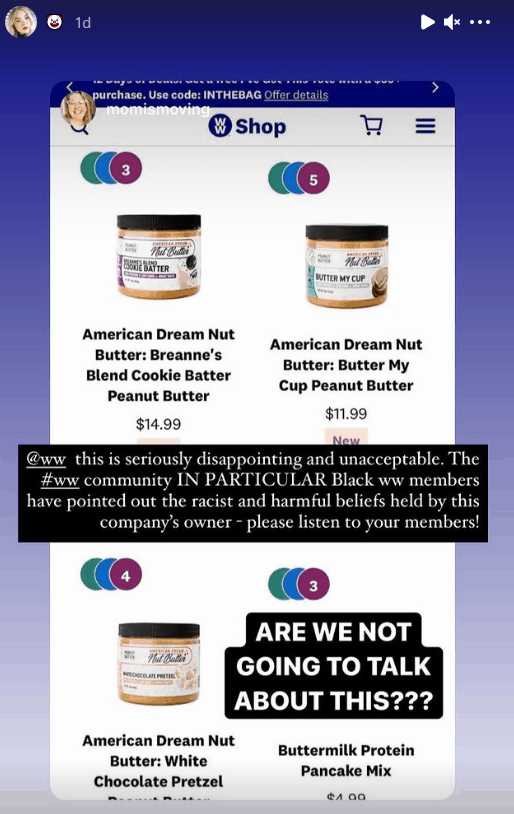 The problem? ww has promoted them – AFTER the information about them being racist went public. While they did a good job hiding the info, we have no doubt Weight Watchers was aware. Since being called out on promoting ADNB, they deleted the products from their page… but again, have said nothing.
Oprah and ww
I didn't think I'd have to cover this, but I've seen several comments today surrounding the issue where people were saying, "but what about Oprah? She owns part of ww, they can't be racist". I'm not even going to address how absurd that is, but I'll give you this:
Perry's reflective and encouraging letter brought up many important points not just about Oprah Winfrey's achievements, but also on the state of Black women in America and the pressure to achieve in all aspects of our lives: academically, professionally, and physically. We strive to measure up in a system rigged to favor whiteness. Despite the obstacles, Black women are defying odds; Oprah Winfrey is only one example of this phenomenon. For example, half of all black women ages 18-24 are pursuing higher education and are beating all other racial and gender groups when it comes to college enrollment. However, despite these impressive statistics, it's still an uphill battle. For example, many sources quote the wage gap between men and women (22 percent to be exact), but when the data are stratified, we find that Black women make 64 cents to every white man's dollar. (Source)
What can we do?
Stand up. Say something. If you feel led, leave Weight Watchers. Tell your friends so they can do the same. Silence is compliance. Silence is violence. We have to stand up! We cannot accept racism in any way, shape, or form.
Action. Racism must be fought. Using every vote, influence, platform, network and audience that you have. Publicly and privately. No one in your circle should feel comfortable espousing racist views around you. Because they know you will call them out. (Source)
We know you still need to stay on track with healthy living and weight loss, which is why we highly suggest switching to iTrackBites. It's a very similar program, with Bites instead of Points, it's only $30 a year (less if you use my code!!), and the owner (Shaun) has made it VERY clear he will not tolerate racism in his company, in the groups associated with his company, and especially among coaches.
Here at Smiley's Points, we feel the same way. We must stand together to end systemic racism, and it starts with each of us as individuals. We are distancing ourselves from WW and will be transitioning to Healthi formerly iTrackbites completely. We encourage you to do the same.
Echoing what Elizabeth said in her highlights:
We need to listen to Black and Brown people, and trust them. Period.
Take a stand with me.